Looking for a new brunch spot in a casual and inviting environment?  Then you might want to consider heading over to Rocky Mountain Flatbread.  I was recently invited to try Rocky Mountain Flatbread's brunch menu featuring some new spring items.
Disclosure:  All food and drinks in this review were complimentary.  Opinions are my own.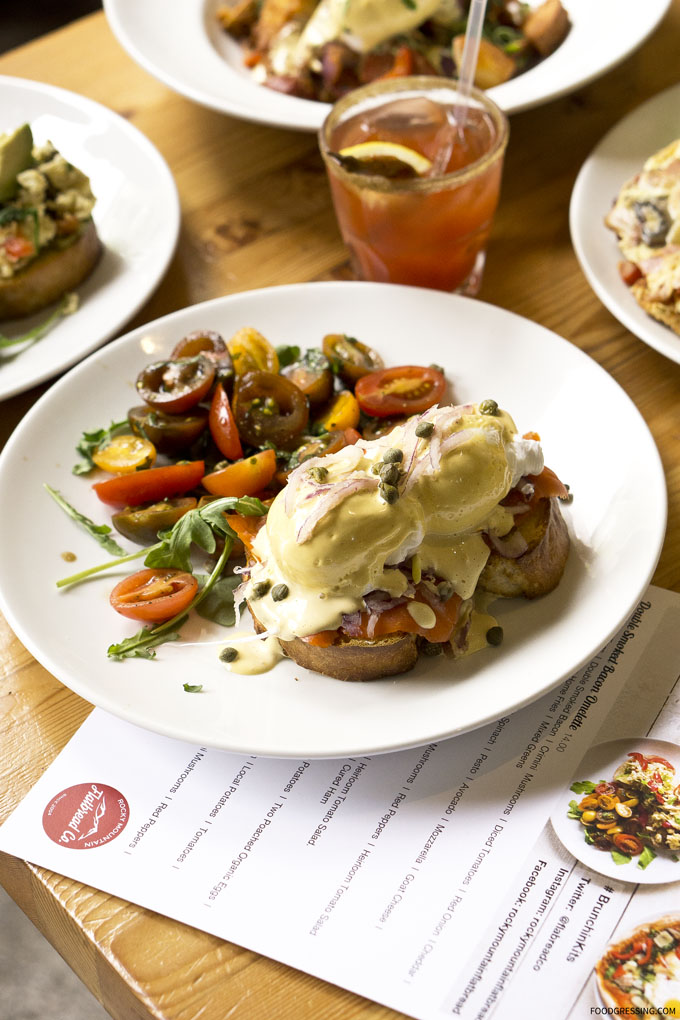 Rocky Mountain Flatbread Brunch Menu
Kits serves brunch on weekends 10 am – 2 pm.  Main Street serves brunch Monday – Friday 11 am – 2 pm and Saturday and Sunday 10 am – 2 pm.  Some egg-citing offerings include Double Smoked Bacon Omelette, Avocado Omelette, Scrambler, Eggs Benedict, and Chorizo Hash.  For a sweeter brunch item, there is the LeBeau Sweet Belgium Waffle.  But really Rocky Mountain Flatbread is known for their pizza so the Yukon Pizza and Market Breakfast Pizza are ideal to order.  Brunch entrees range around $14 – $17.   Rocky Mountain also takes pride in using a lot of organic ingredients so you'll find that they use organic eggs and organic tomato sauce in their dishes.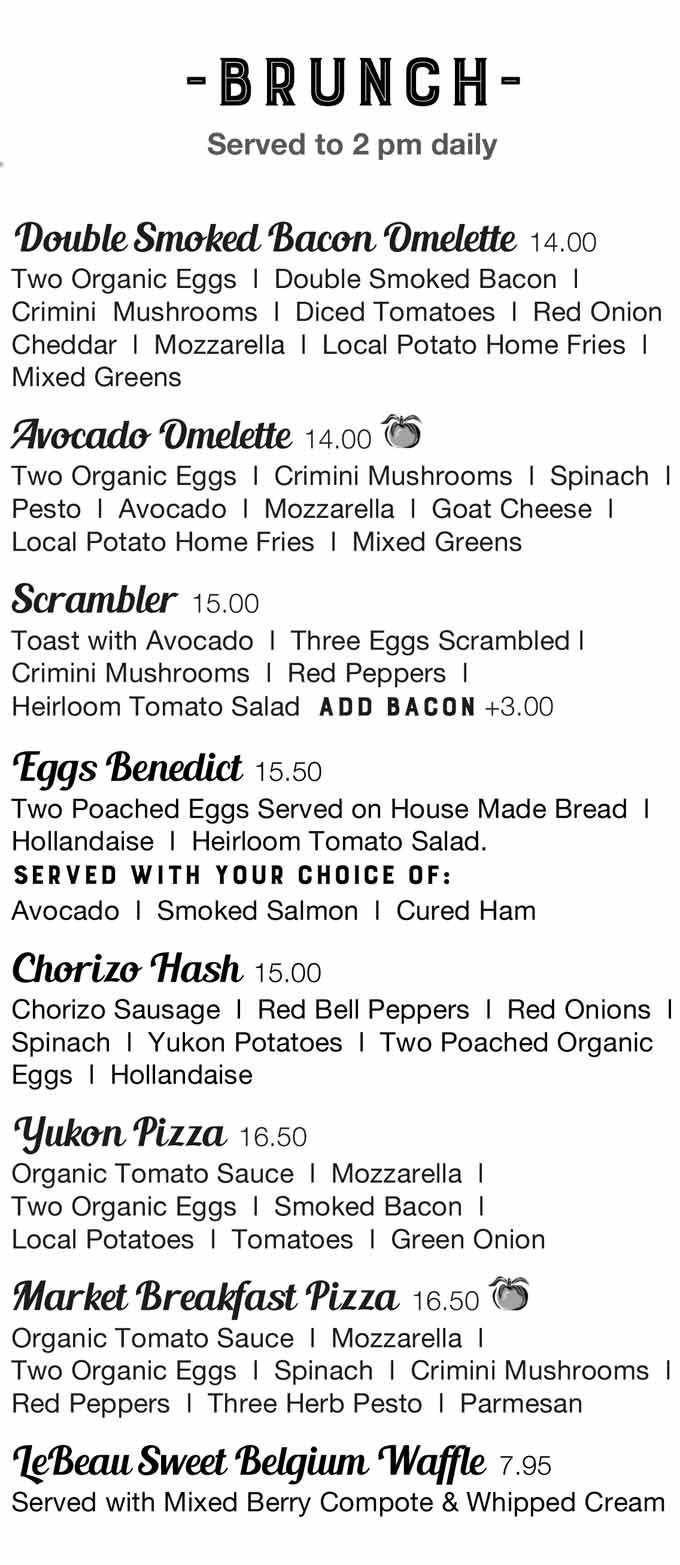 What We Tried
We tried the entire brunch menu noted above plus a few lunch menu items: Bacon & Avocado Sandwich and Oceanwise Shrimp Sandwich (both $13.50).   Both are served on house made organic bread.
In general, I thought the dishes were solid and ingredients tasting fresh with great flavour overall.  The potatoes were nicely fried golden brown and were crispy.  The heirloom tomato salads were light and refreshing.  As for the poached eggs, they were more on the well-done side with a yolk that's still soft.  I personally prefer a gooey-but-still-runny yolk.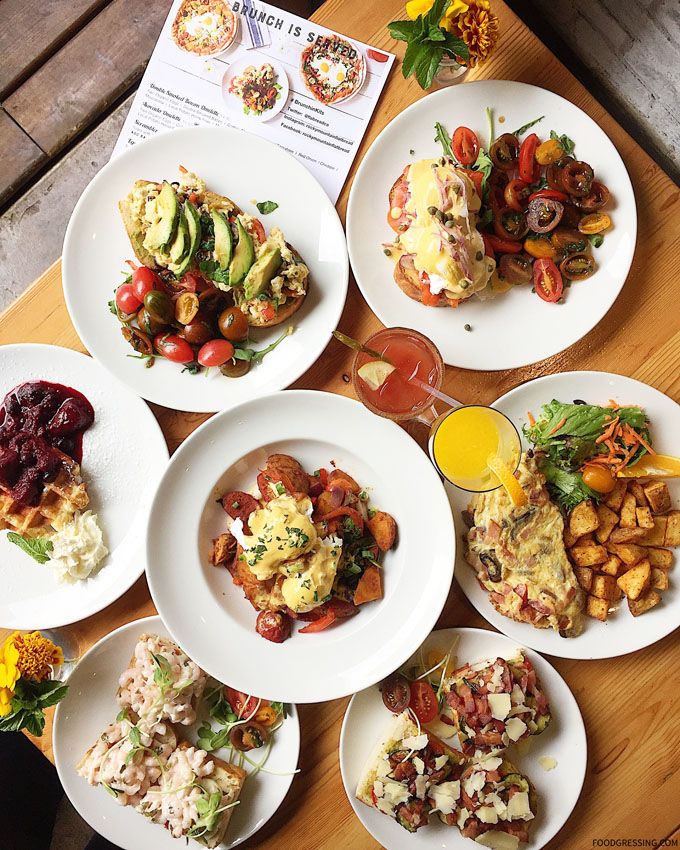 My Top 3 from the brunch were the Scrambler, Chorizo Hash, and Market Breakfast Pizza.  The Scrambler featured avocado on toast (what can I say, I'm a millennial who loves avocado on toast), three eggs scrambled, crimini mushrooms, red peppers and an heirloom tomato salad.  I really loved the crunchy house made organic bread for the toast.  The Chorizo Hash is one of my favorite brunch dishes in general and Rocky Mountain Flatbread's version was delicious.  It had Chorizo sausage, red bell peppers, red onions, spinach, yukon potatoes, two poached organic eggs and hollandaise.  The Market Breakfast Pizza really appealed to me featuring organic tomato sauce, organic eggs, spinach, crimini mushrooms, red peppers, mozzarella, three herb pesto and parmesan.  The crispy, think crust hit all the right spots.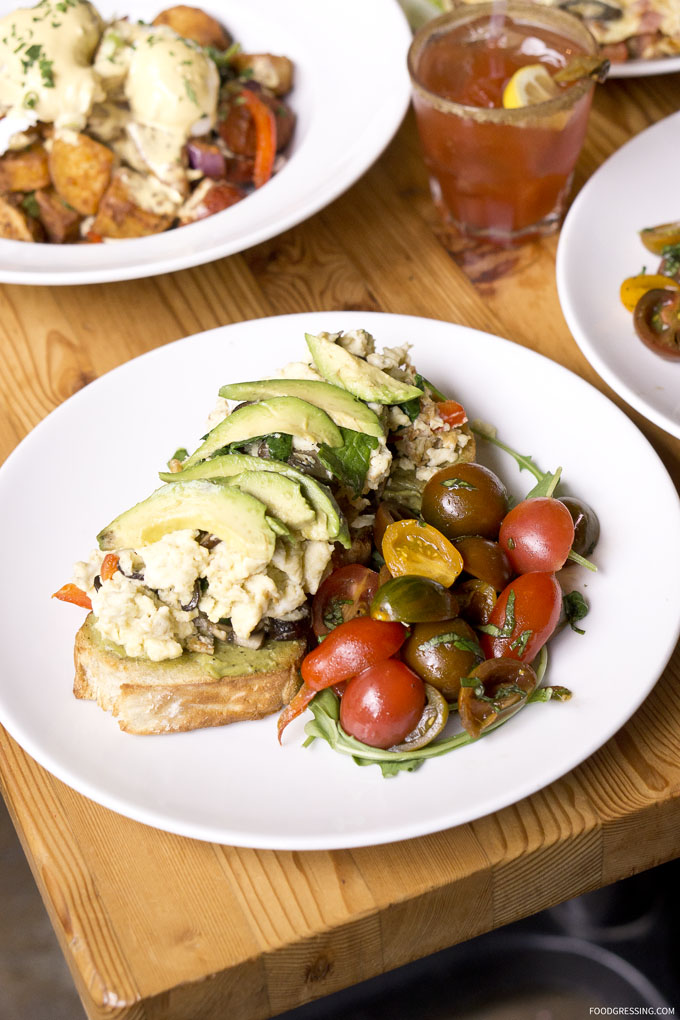 20% off Brunch Discount Offer
Rocky Mountain is offering 20% off brunch right now at both the Main and Kitsilano locations.  Just mention the code "brunch" to your server.
Rocky Mountain has two locations in Vancouver ( 1876 W 1st Ave and 4186 Main Street).  For more information, visit rockymountainflatbread.ca