Did you know that Turkish Bread is one of the most versatile breads available? It's a bread that's perfect for dipping, topping, and filling with your favourite accompaniments.  Its crumb is open and airy, yet absorbs the perfect amount when dipped into oil and vinegar.  At COBS Bread, an assortment of stone-baked Turkish Breads are baked from scratch every day and available at every COBS bakery.  They offer some rather delicious varieties including Olive, Red Pepper, Jalapeno, Chilli & Garlic, and Herb.
What is one secret as to why COBS' Turkish Bread is so delicious?  The dough is brushed with Olive Oil before being baked it on stone at a high temperature for a short amount of time.  The olive oil that's on the outside helps crisp it up when you toast the bread.
Disclosure:  I was provided complimentary product to review.   All opinions are my own.
I was recently contacted by COBS Bread to try out their Turkish Bread.  And what did I make?  An easy weekday meal of Turkish Bread pizza with spinach, feta, mushrooms, tomatoes, and Taves Farm red bell peppers.  I just loved the crisp and airiness of the Turkish Bread pizza crust – oh-so-addictive!  To take things up a notch, I added a bit of Green Atomic Hot Sauce made by Maan Farms.  Both Taves Farm and Maan Farms are located in Abbotsford, BC.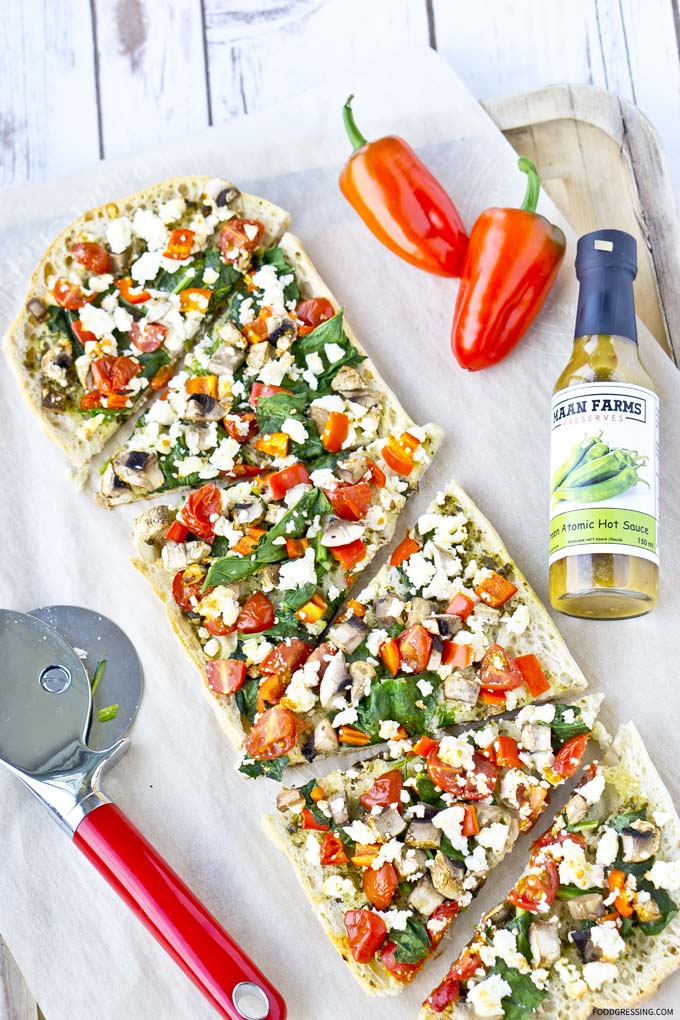 To find out more recipes on how to serve Turkish Bread at your next meal, visit www.cobsbread.com/what-we-bake/discover-turkish.