This past week, I had the opportunity to attend a media sneak peak of a new noodle bar in Chinatown, Rhinofish, set to open in July.  With the menu not finalized, the event was meant to give media a preview of what they would be offering and to provide feedback.  Here's a look at the story behind Rhinofish and what sort of dishes you can expect from them.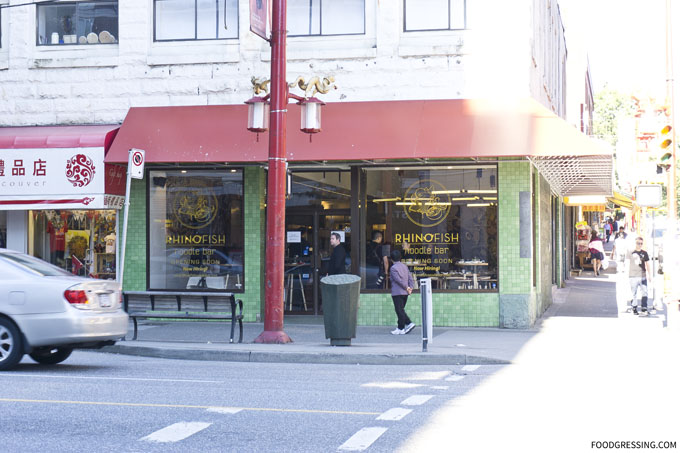 Located at the corner of Main and Keefer in Historic Chinatown, Rhinofish is the first restaurant venture by David Wu.  The focus of Rhinofish's menu is Taiwanese street-style food including  Niu Rou Mian (Taiwanese beef noodles) as well as snacks like Yan Su Ji (Cripsy Chicken Nuggets) and Gua Bao (Steamed Buns).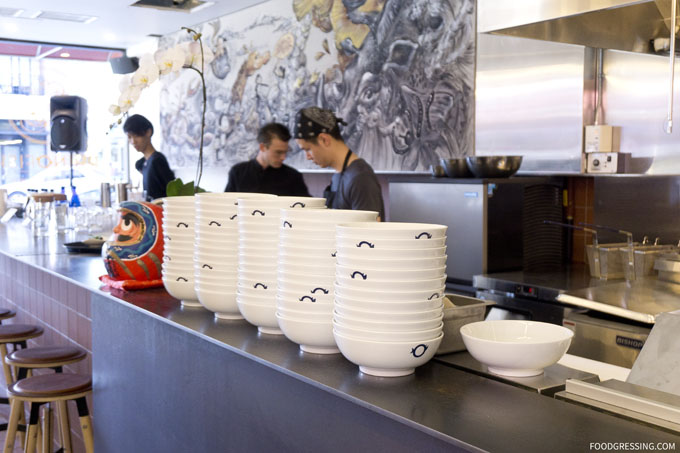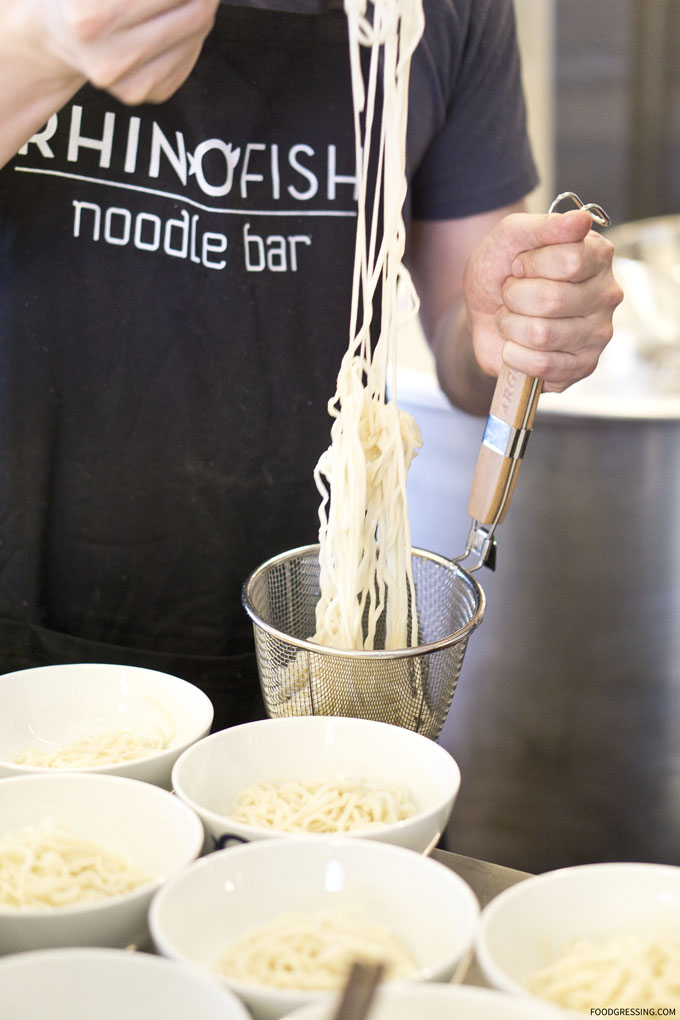 Owner David Wu noted that he needed a catchy name for the restaurant and came up with Rhinofish.  "Rhino" symbolizes courage and "fish" represents "adaptability and flexibility" as Wu mentions in an interview last year.  As this his first business venture, he will need all those attributes in order to be successful.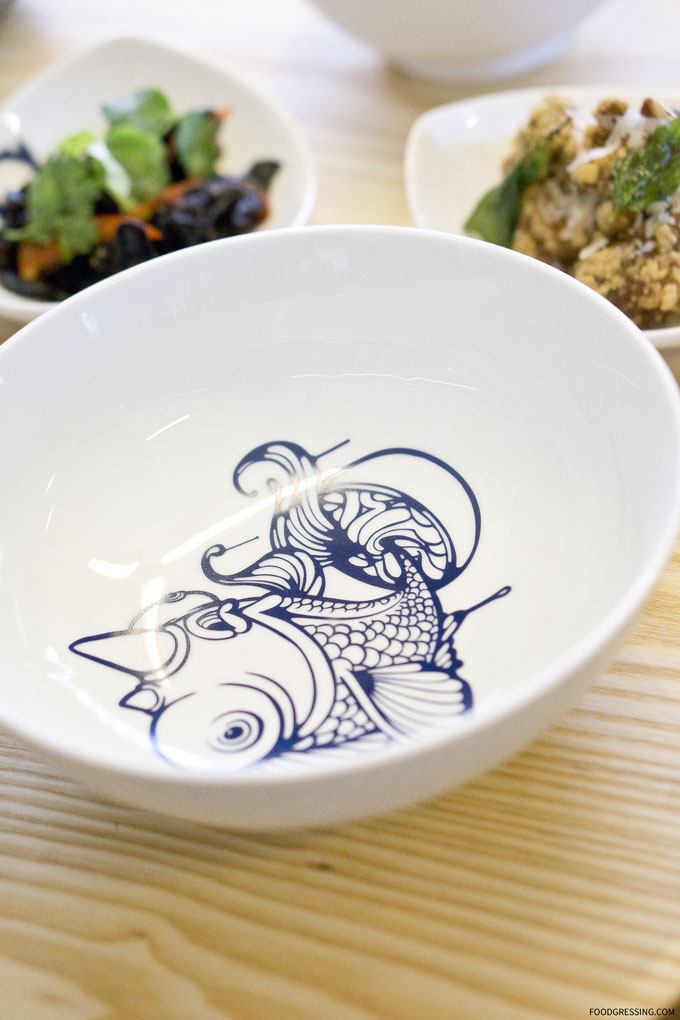 Rhinofish's interior had undergone renovation since last year.  Scout Magazine reported that the space was most recently the headquarters of Green party candidate Pete Fry and before that home to Ten Ren Tea & Ginseng Company.  A few eye-catching murals occupy two of the walls and one of the walls features exposed brick.  There are a mix of round tables for 3, a communal table and high top tables.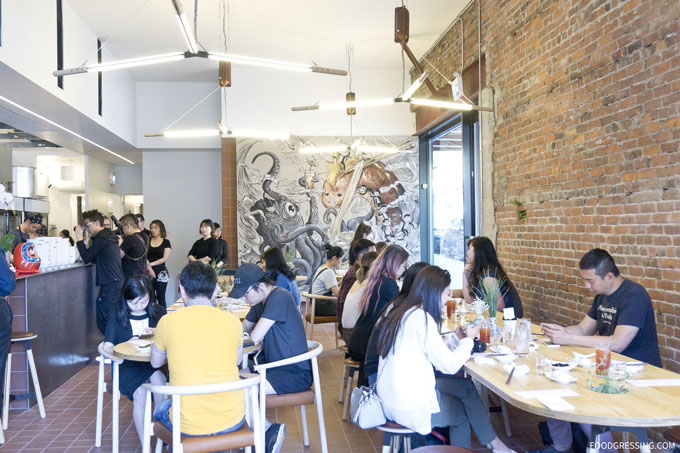 Media were then treated to a tasting menu of 8 dishes including small plates, noodle bowls and an ice cream dessert.  As mentioned above, the menu is still to be finalized so these are just some dishes that might be offered on the regular menu.
To start, we tried the Mu Er, a palate-cleanser small plate featuring wood ear mushroom with sesame soy dressing and plum salt.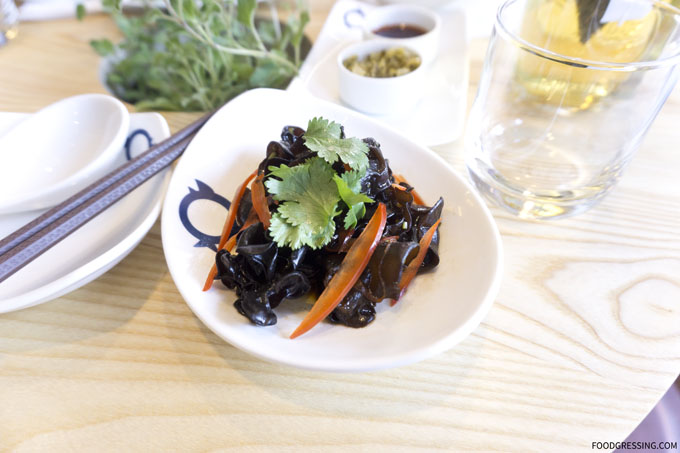 We also had the Xiao Huang Gua which is pickled Japanese cucumber with garlic and chili.  A dish to help stimulate the appetite.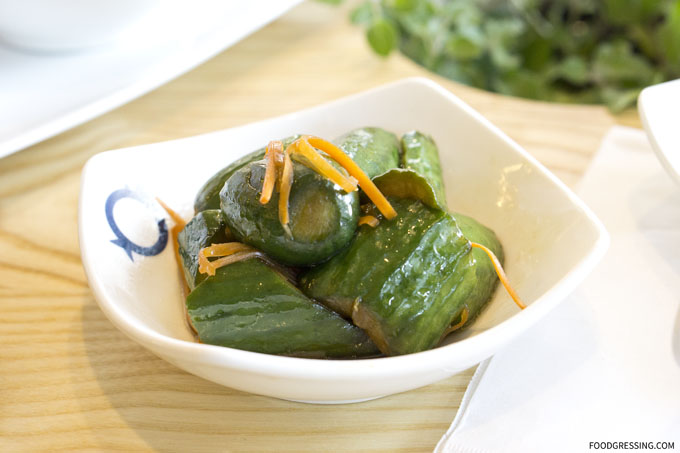 Moving on to street-style snacks, we tried the Yan Su Ji which were crispy chicken nuggets served with two types of sauces: parmesan & truffle and nanjing sauce.  I'm a fan of Taiwanese popcorn nuggets and thought that Rhinofish's version needed to be more crispy on the outside.  While other versions I have had elsewhere come seasoned in salt and pepper, Rhinofish's nuggets aren't so much and so the the dipping sauces here are integral to providing the flavour.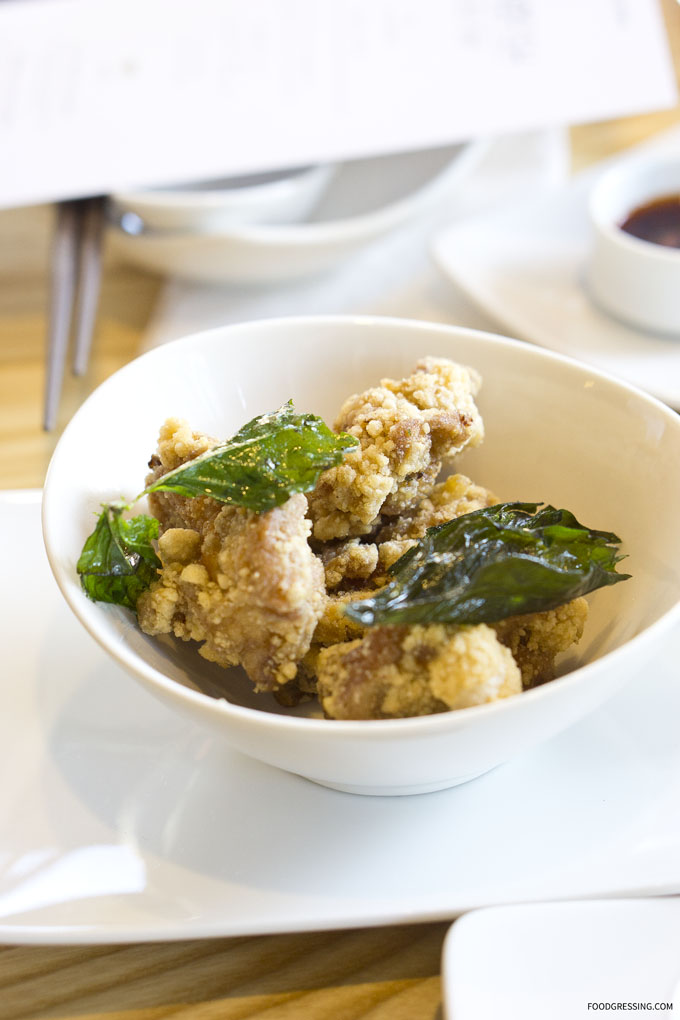 We also tried the Gua Bao otherwise known as Taiwanese steamed buns.  The bun was reasonably light and fluffy and the braised pork belly was nicely tender.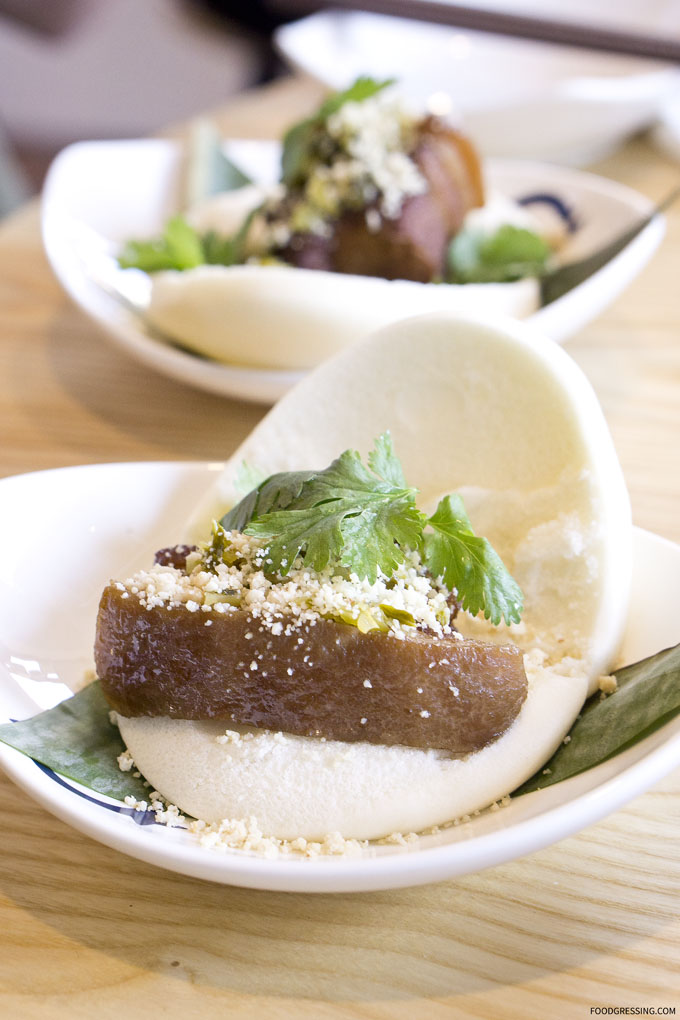 As for the noodle bowls, there was the Hua Diao Ji Mian.  It had huadiao rice wine chicken broth, sous vide chicken breast and a tea-infused egg.  The broth was very lightly flavoured and I enjoyed the tender chicken slices.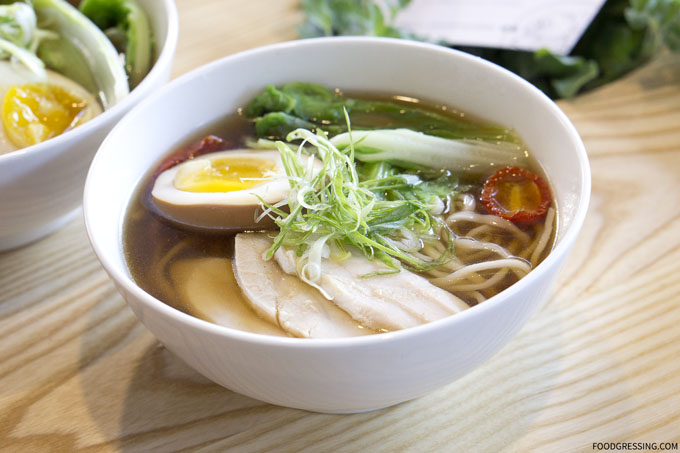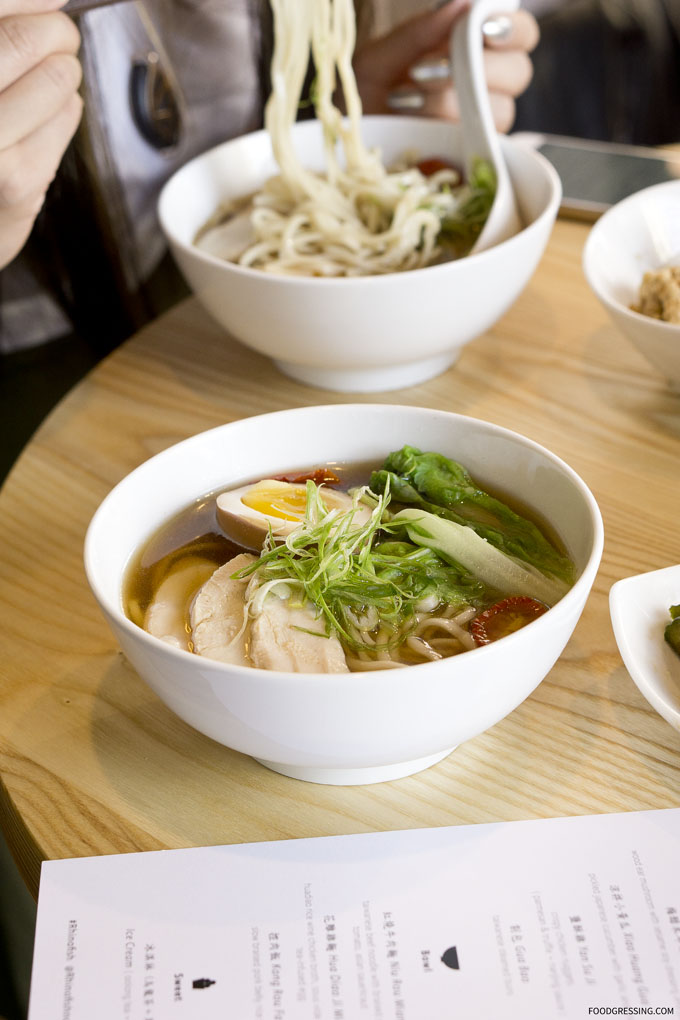 Rhinofish's signature dish is the Niu Rou Mian which is a Taiwanese beef noodle with braised soup, tomato and Asia sauerkraut.  The noodles were nicely al dente but I thought the soup flavour was a little too overpowering.  Feedback was given to the owner in regards to that.  I also would have liked the beef to be a bit more tender.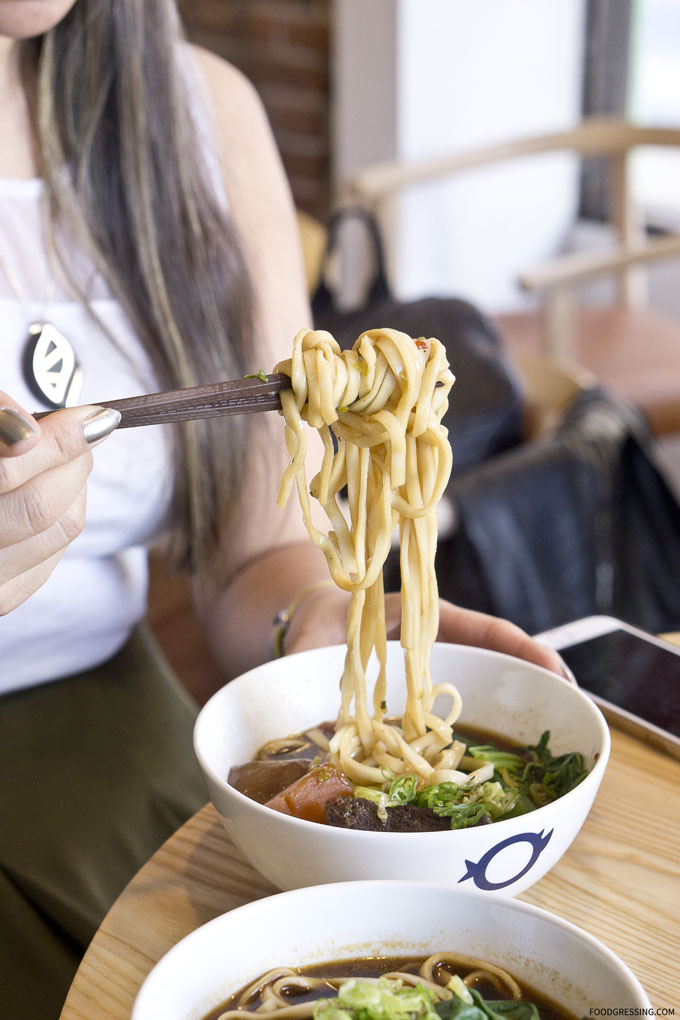 To finish off, we enjoyed some housemade oolong tea and ice cream topped with pineapple and a wafter.  This was a perfect palate cleanser and very refreshing.  I quite enjoyed the mix of tea and citrus flavours.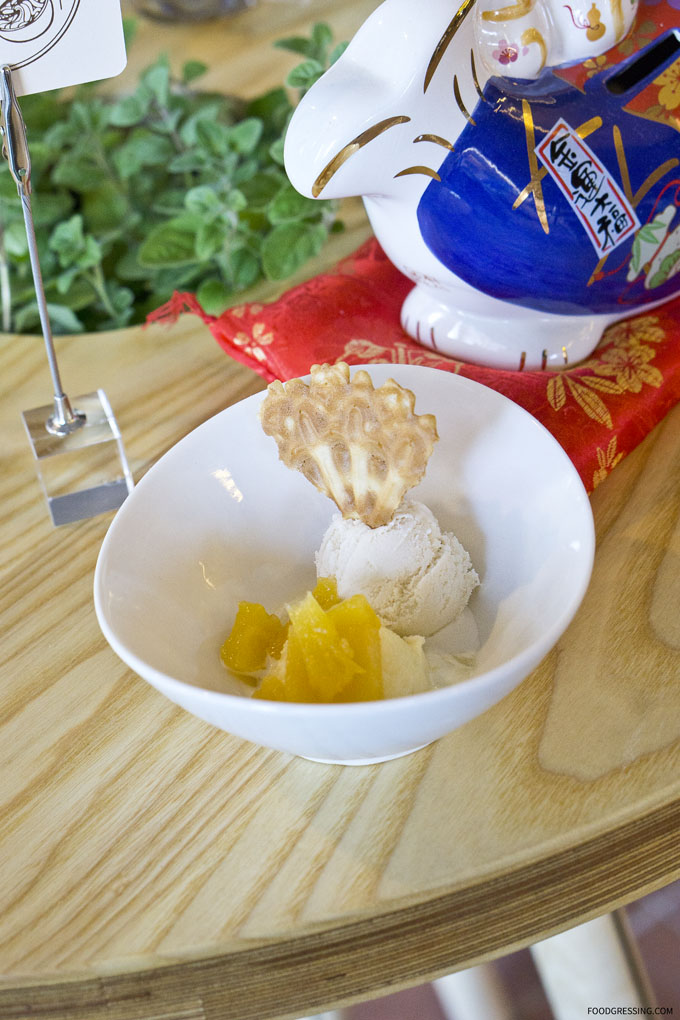 Rhinofish is slated to be open in July.  For updates, follow them on social media (Facebook and Instagram) or their website www.rhinofishnoodlebar.com