Jinya Ramen's Robson location has now relocated into a more stylish and modern space. Opening April 31, Jinya Ramen takes up a 3,000 square-feet location inside the Telus Building at 541 Robson Street. Jinya Ramen was founded by Tomonori Takahashi's and it was inspired by his first visit to North America when he struggled to find a satisfying bowl of ramen. The first Jinya location was established in Tokyo in 2000 and then expanded to California. The franchise now operates locations in the Los Angeles area, Las Vegas, Houston, Vancouver, and Seattle. I attended a media preview of Jinya's new digs on Robson Street. Here is a first look at what is in store: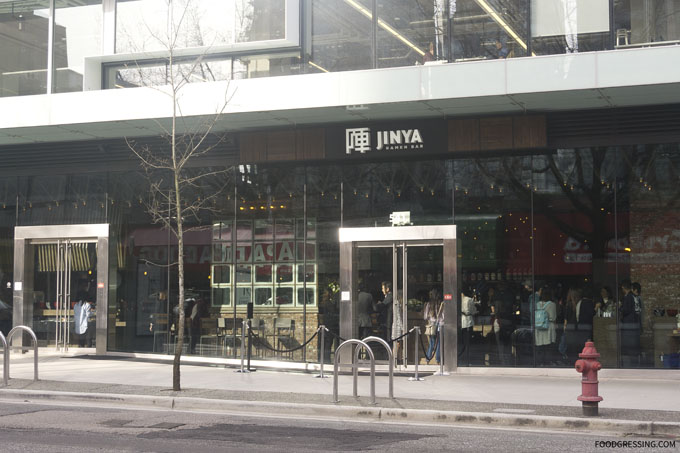 Disclosure: I was invited to a media event. All drinks and food in this review were complimentary. Opinions are my own.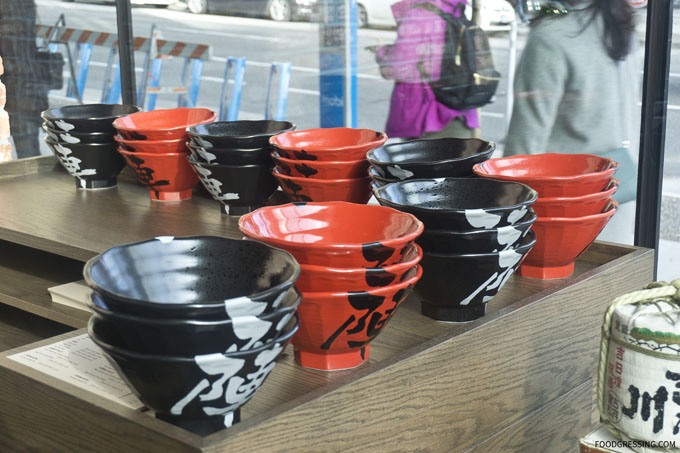 Jinya Ramen Menu

Jinya Ramen's new menu features a wider selection of appetizers and sides. You'll find salads (like spicy tofu and quinoa salads) and mini tacos (salmon poke and pork chasu & kimchee). For small plates, some interesting offerings include spicy creamy shrimp tempura, steamed buns, brussels sprouts tempura, caramelized cauliflower and takoyaki.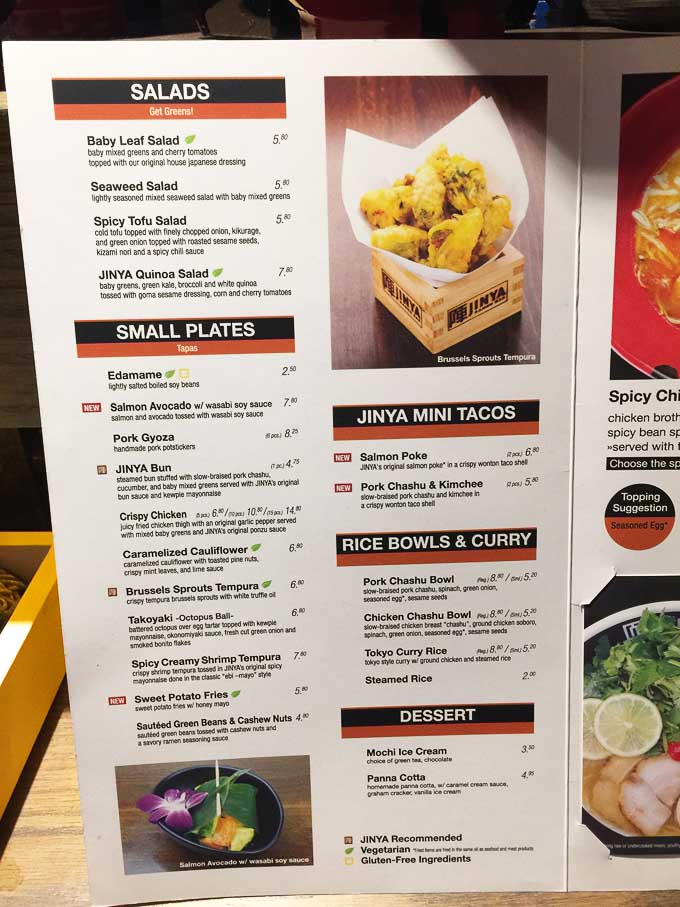 Ramen bowls items come in three types: Tonkotsu, Chicken and Vegetable. Jinya's ramen broths simmer for more than ten hours for optimal flavour. Tonkotsu options include Sprouting Up Ramen, Spicy, Black, White, Cha Cha Cha (garlic) and Spicy Umami Miso. For Chicken, there is regular, spicy, and wonton. Vegetarian and Vegan ramen flavours are available. They also offer spinach noodles for an additional $2.00. Customize your bowl with additional toppings like wonton, mushroom, bok choy and more. The ramen bowls are priced $13 – $18 a bit on the higher end compared to other ramen houses in the city.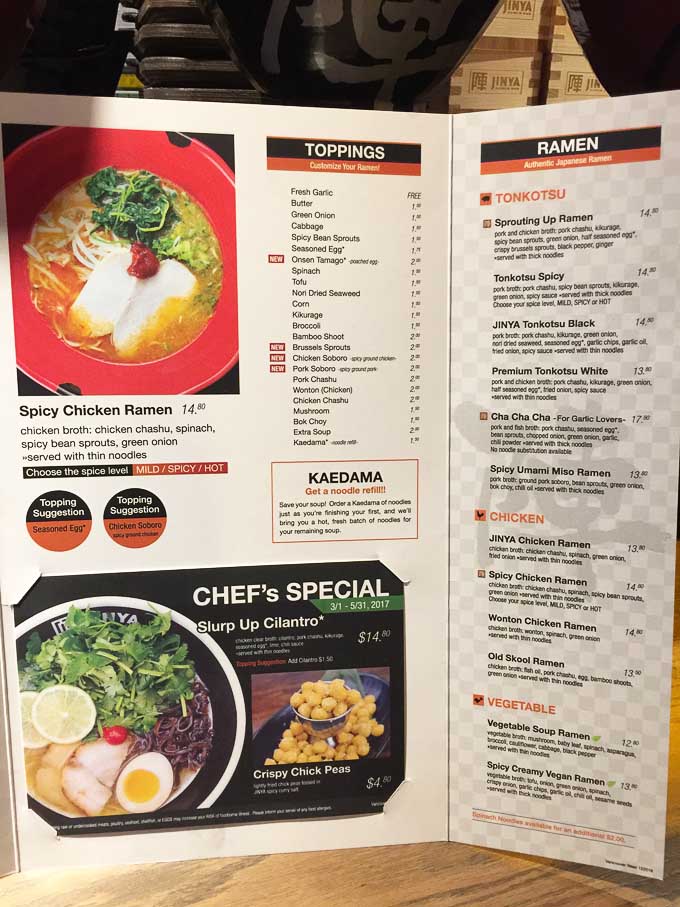 Happy Hour is between 3pm – 5pm and includes a menu of salad, small plates, mini tacos and desserts. To finish off a ramen meal, there is also mochi ice cream and panna cotta for dessert.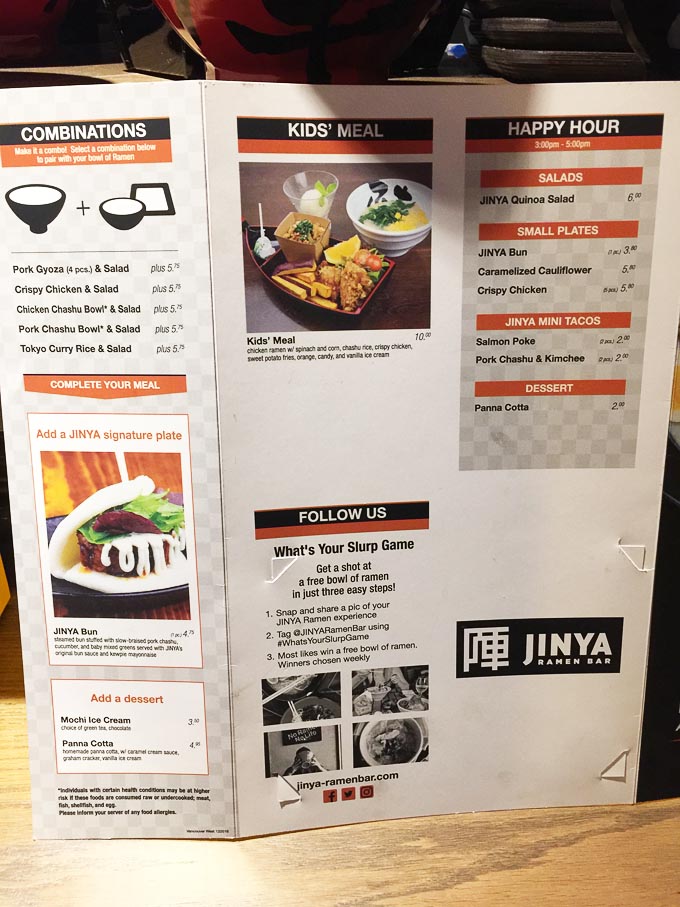 Jinya Ramen takes pride in that that their noodles are house-made.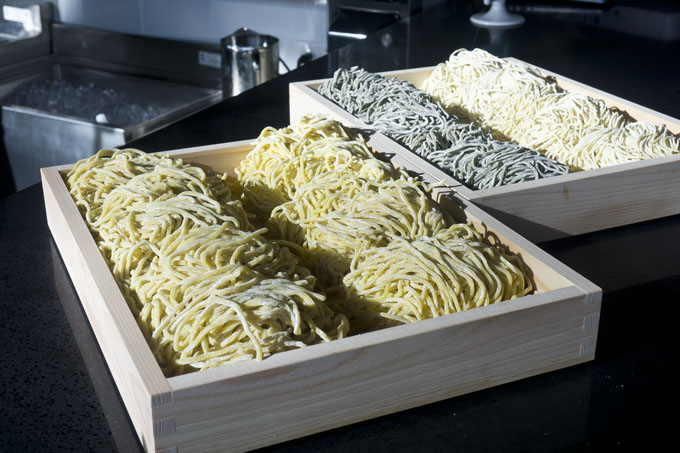 A main focal point in Jinya's new space is the bar which is stocked with Japanese liquors as well as local beers.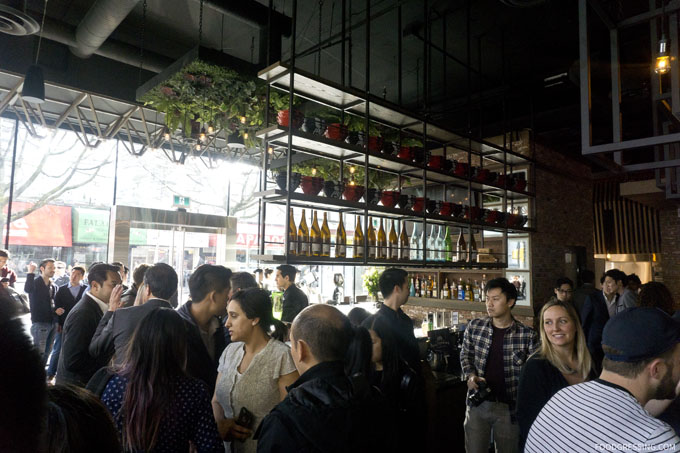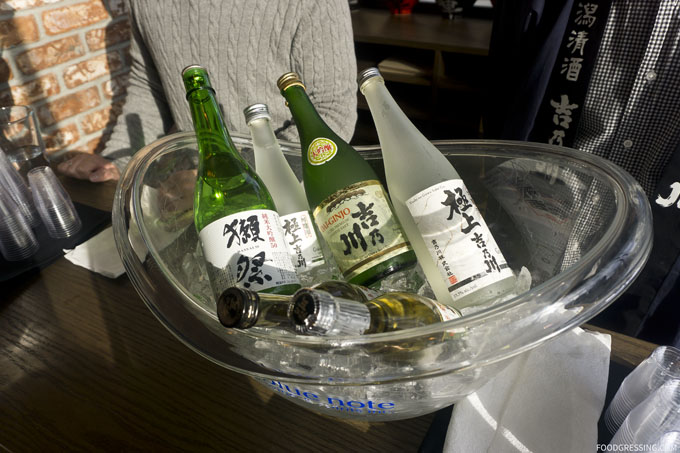 What I Tried
Small Plates
I very much enjoyed the Brussels Sprouts Tempura which were very addictive. They were crispy on the outside, tender on the inside and had white truffle oil.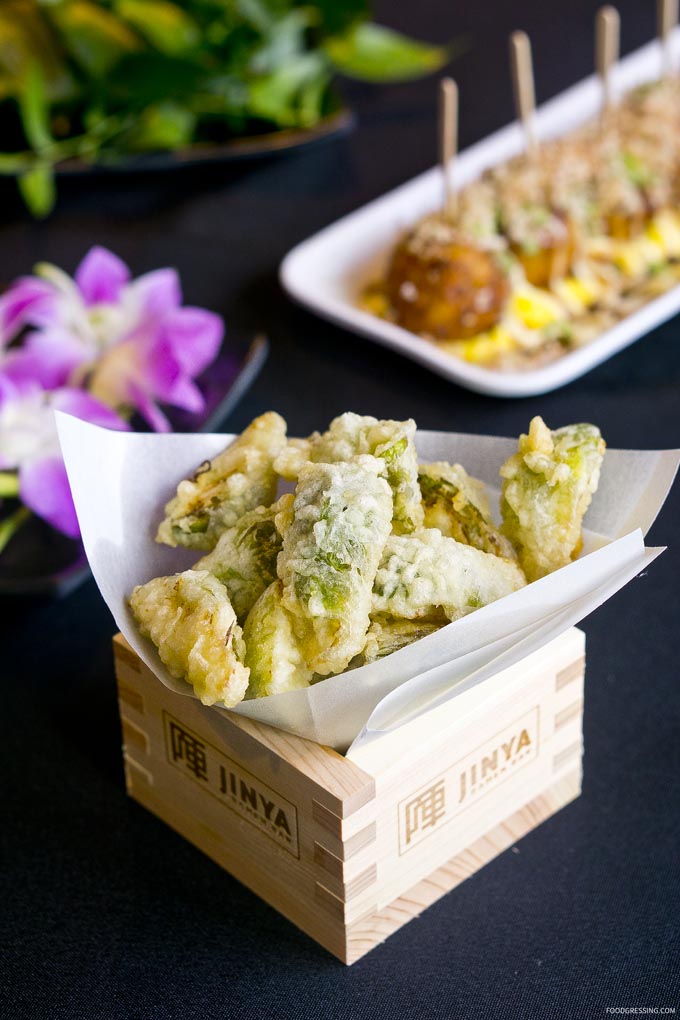 The Takoyaki (Octopus Balls) did not disappoint. They were made by battering octopus with egg tartar, mayo, okonomiyaki, green onion and smoked bonito flakes. A little bit sweet and savoury, these deep-fried balls were melt-in-your-mouth scrumptious.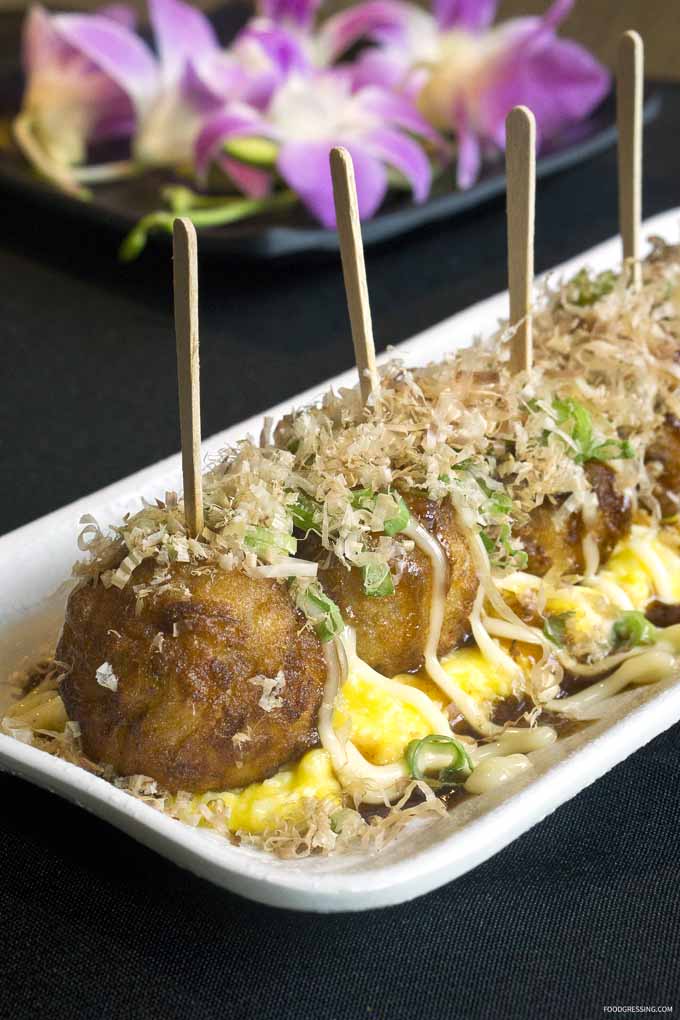 Also very good were the Salmon Poke Mini Tacos in a crispy wonton taco shell.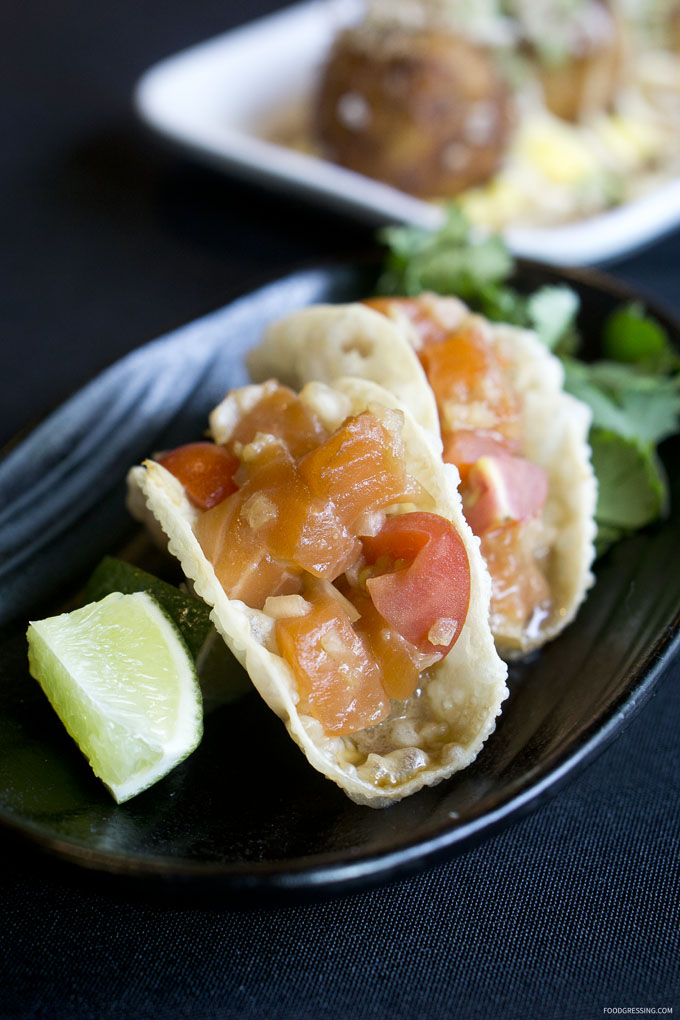 Tonkotsu Black
The Tonkotsu Black is made with pork broth, pork chashu, spicy bean sprouts, kikurage, green onion, spicy sauce with thick noodles. I enjoyed the rich, creamy flavourful pork broth with the melt-in-your-mouth delicious chashu. A classic ramen flavour that does not disappoint.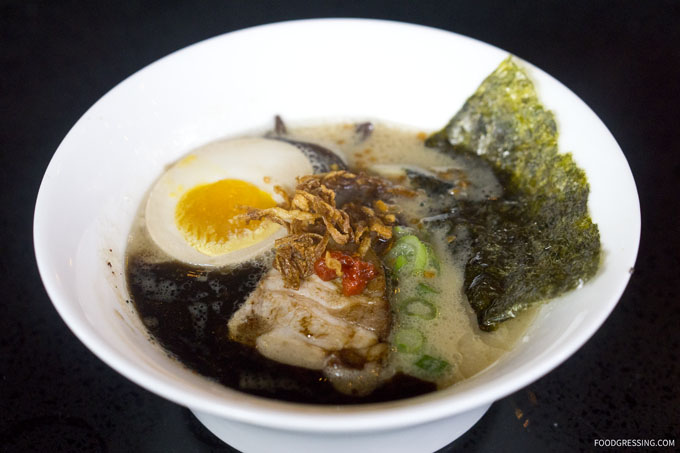 Vegetable Soup Ramen
The vegetarian ramen option comes with thin noodles and is made with vegetable broth and an array of veggies: mushroom, baby leaf, spinach, asparagus, broccoli, cauliflower, cabbage, black pepper. This ramen flavour didn't particularly appeal to me. The broth tasted too lean. Just because it doesn't have meat doesn't mean it can't be good..read on more.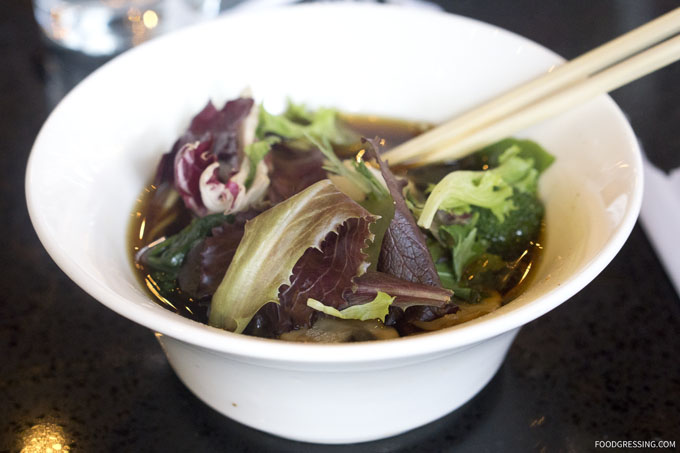 Spicy Creamy Vegan
The big surprise hit of the evening was how delicious the spicy creamy vegan ramen was. It is made with vegetable broth, tofu, onion, green onion, spinach, crispy onion, garlic chips, garlic oil, chili oil, sesame seeds with thick noodles. Packed with great flavour, oozing of creaminess and overall a ramen that is worth getting. Bonus points for the chili oil and seasame seeds. Totally recommend this for meat lovers.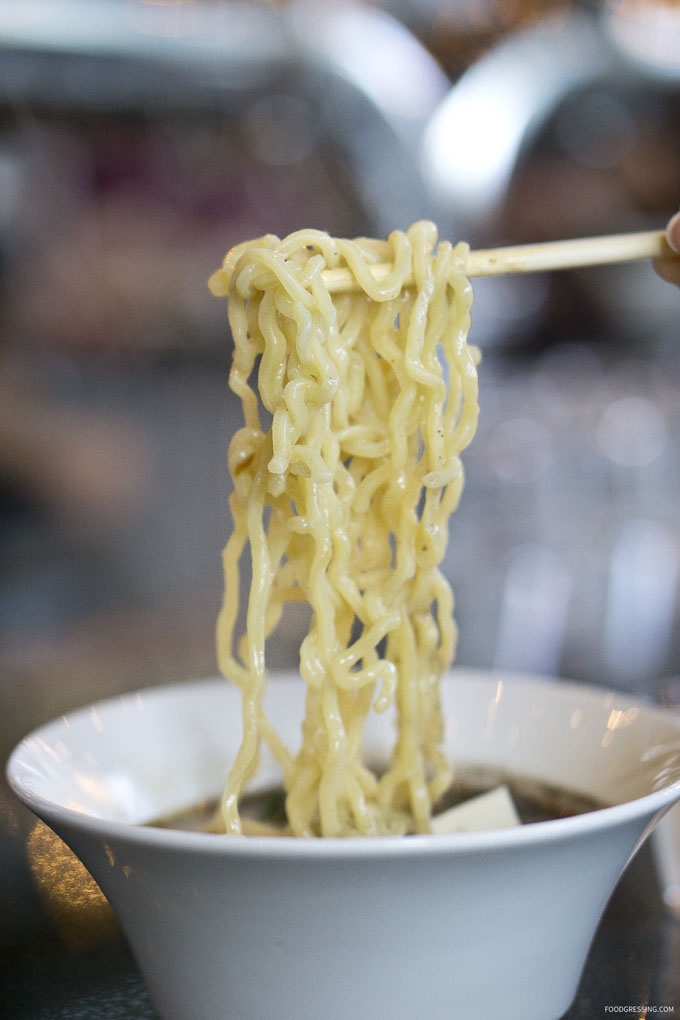 Spicy Chicken Ramen
The spicy chicken ramen had just enough heat to tickle the tongue. A solid chicken option made with chicken broth, chicken chashu, spinach, spicy bean sprouts, green onion with thin noodles.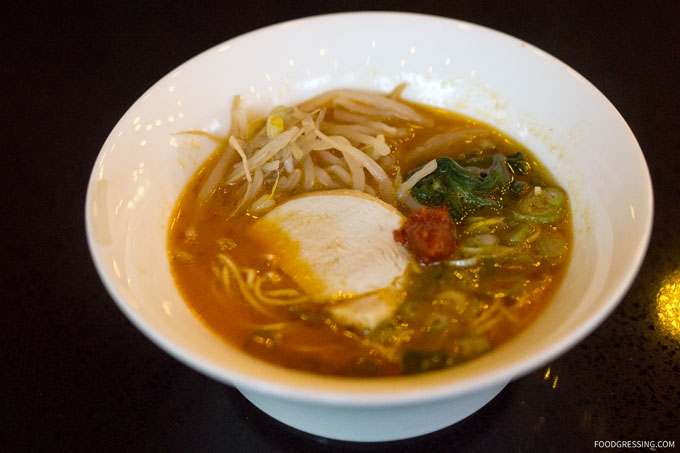 Cha Cha Cha
For garlic lovers, the Cha Cha Cha is the recommended option. Made with pork and fish broth with pork chashu, seasoned egg, bean sprouts, chopped onion, green onion, garlic, chili powder and thick noodles. Maybe I'm a purist but the mix of pork and fish broth didn't appeal to me as much.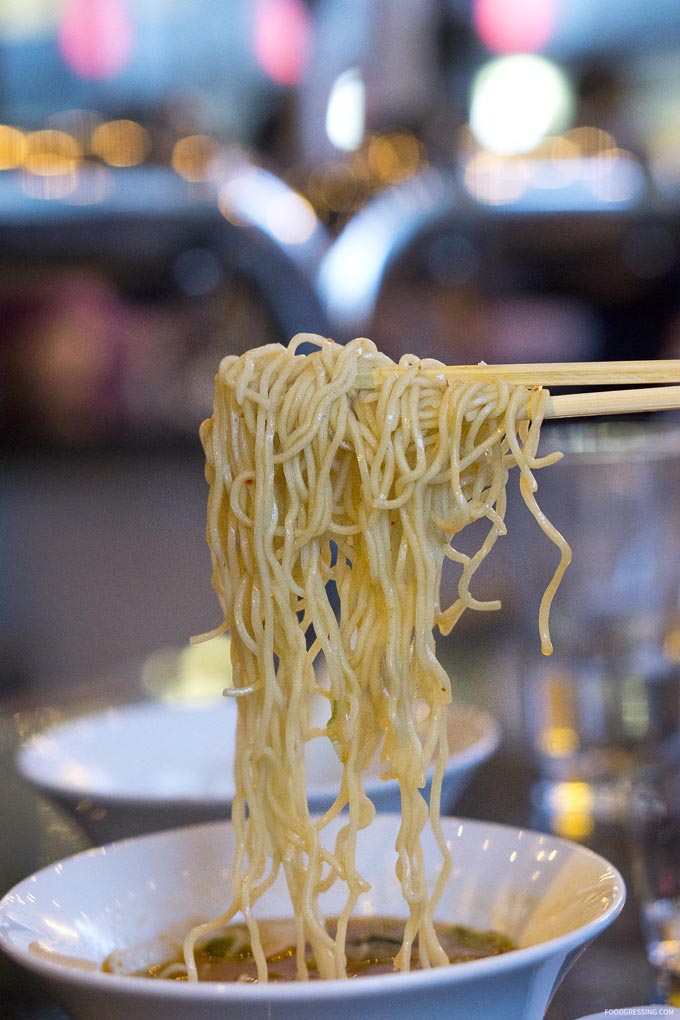 Overall Impression
My favourite items of the evening were the Brussels Sprouts Tempura, Takoyaki, Tonkotsu Black Ramen and Spicy Creamy Vegan Ramen. Congrats to Jinya Ramen on their new location and expanded menu. Looks like it's going to be a good one.
Website: jinya-ramenbar.com