Platito Filipino Soul Food Restaurant is a place that I came to know about after seeing a viral Insider Dessert video about them. They were labelled as a Toronto restaurant that was a "gold mine for purple desserts" as they served ube-inspired dishes. I'm a bit fascinated with the ube food trend having tried some ube cookies and cheesecake in Seattle. However, the trend hasn't really caught on here in Vancouver. So when I visited Toronto last month, I thought it would be a fun adventure to visit Platito for some ube overload. Since my last visit, Platito has closed for an indefinite amount of time due to a fire in the neighbourhood. Here's a lookback at how things were last month when I went there.
Relaxed, Inviting Vibe
From the exterior, it's hard to see that Platito is a restaurant as it appeared more like a two-storey residential home.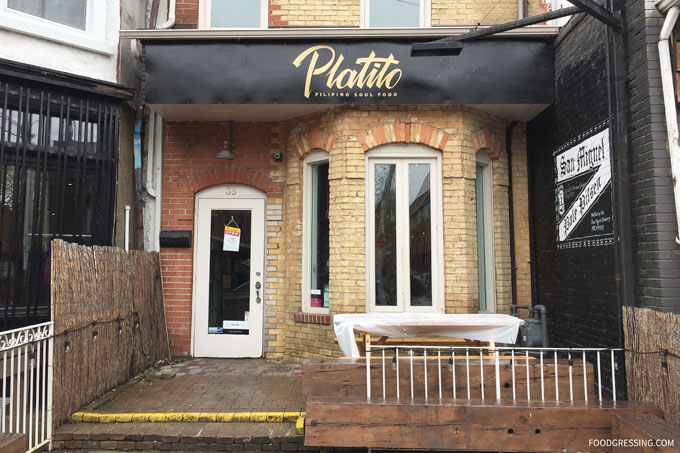 Our party of three sat on the second level which featured a floor-to-ceiling mural.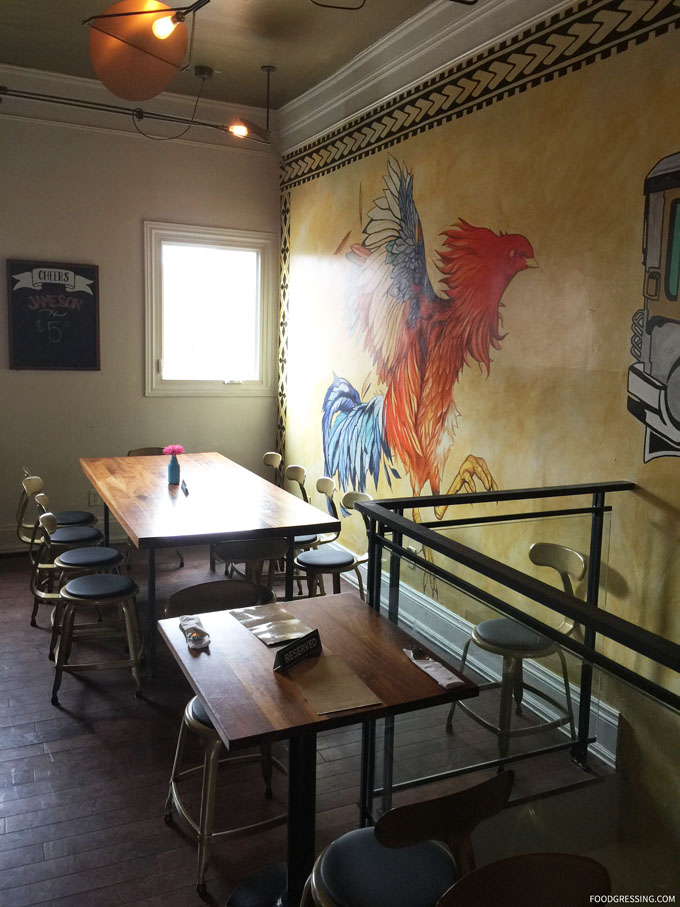 The upstairs dining area is rather dimly lit and has tables of various sizes. Good for group dining or intimate dates.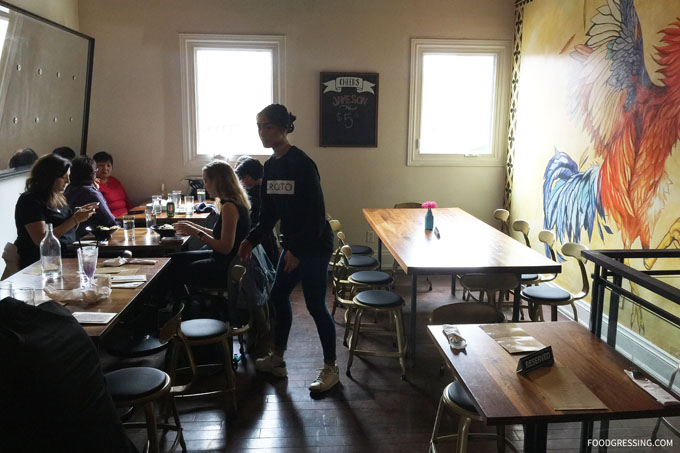 What We Ordered
For brunch, we tried the following ube-inspired dishes:
Bok Bok Chicken & Ube Waffles ($16)
Ube Waffle ($12)
Ube Milkshake ($7)
Starting with the Bok Bok Chicken & Ube Waffles, I liked the mix of sweet and salty flavours. The chicken, which was cooked sous vide, had a nicely crisp exterior and juicy, tender meat. The coleslaw on top of the chicken lightened up the taste. The waffle was not too sweet and didn't taste too starchy. In terms of price, I'm thinking $16 is a bit much given the portions. I'd expect more chicken for that price.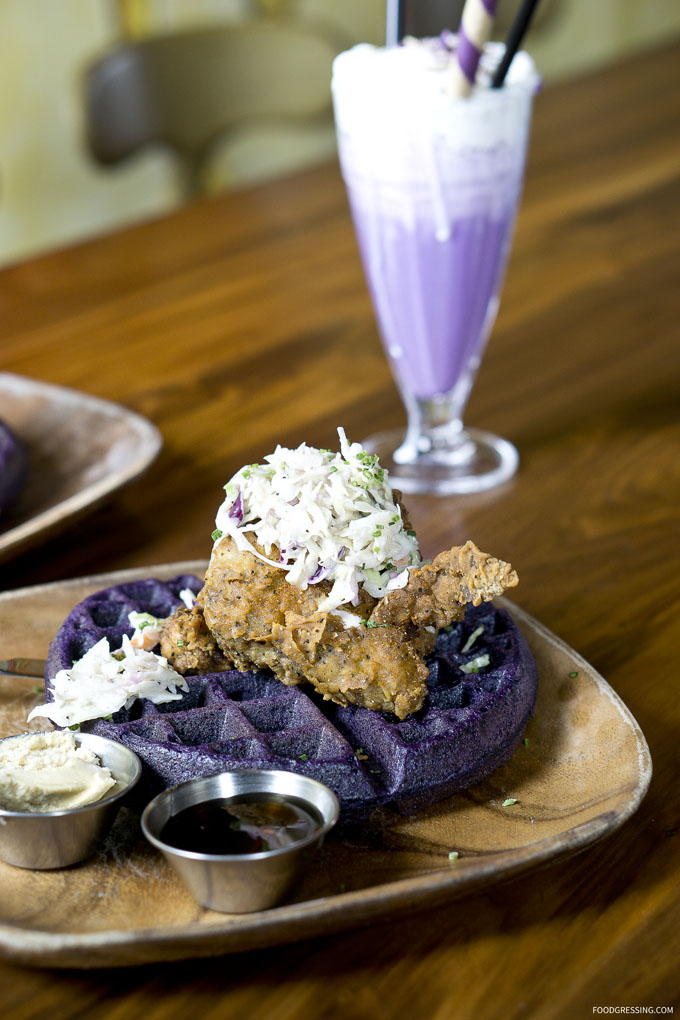 The Ube Waffle was definitely a sweet dessert and was topped with ube ice cream, macapuno (soft jelly-like coconut flesh), drizzle of vema sauce, and Stick-O brand wafers. Lots of interesting textures in this dish – crispy, crunchy, gelatinous, creamy and saucy. It's a fun dessert that is better to be shared with friends otherwise it might really be ube overload. Again, I thought that $12 was a bit much for a waffle and some ice cream.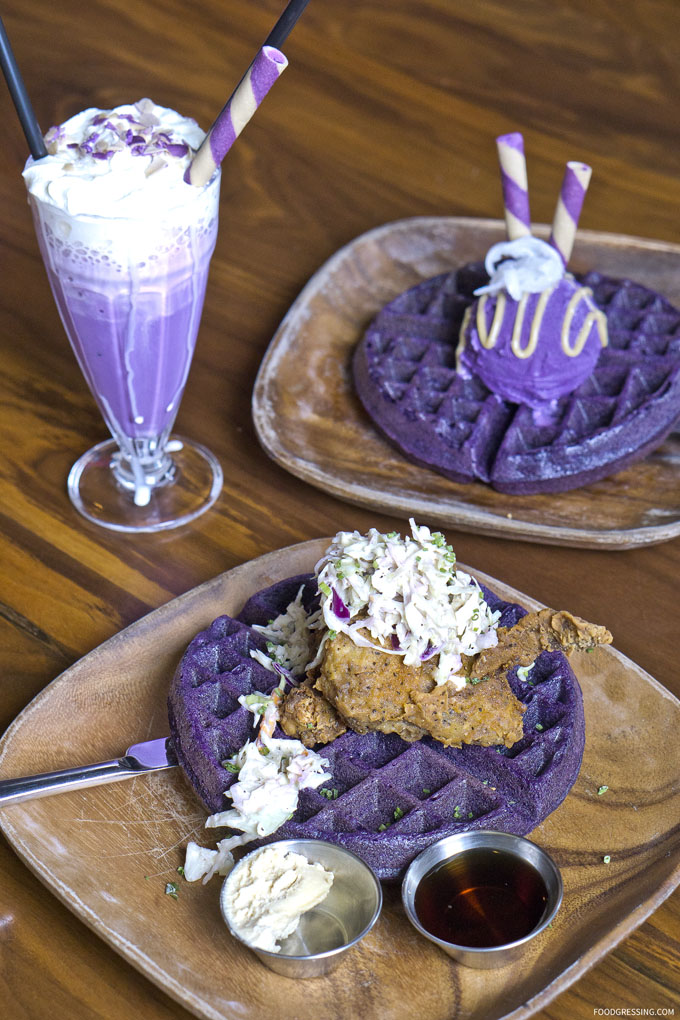 The Ube Milkshake was less sweet than I expected. Smooth, creamy but still had that ube taste.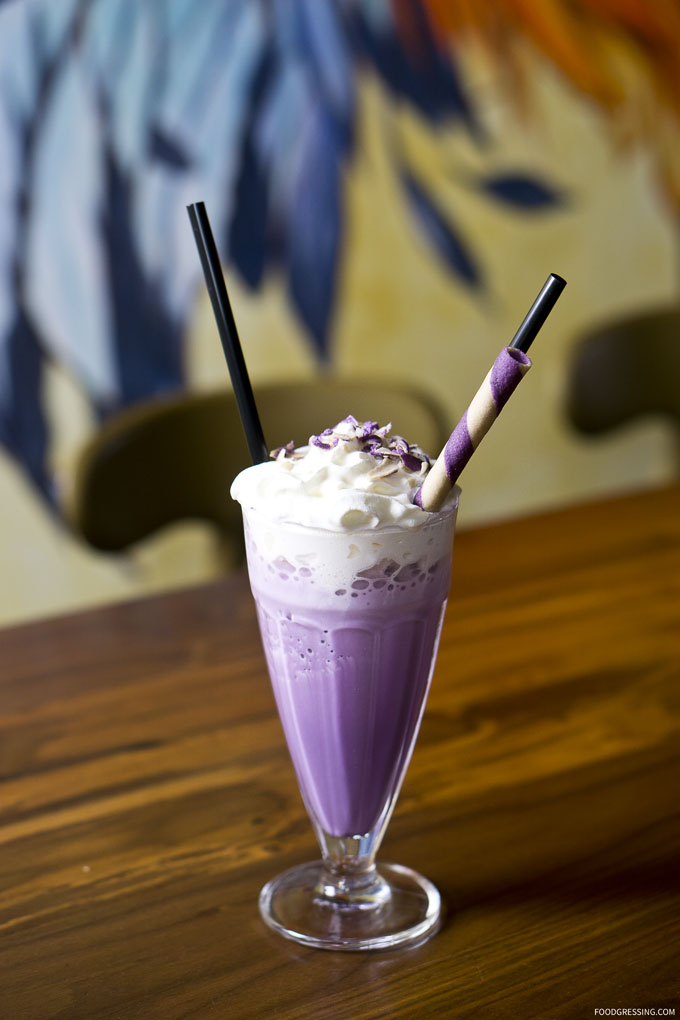 Service
The servers at Platito seemed friendly and relaxed. They were attentive and the timing of our dishes from order to arrival was also reasonable.
Overall Impression
I thought the ube-centric dining experience at Platito was fun, Instagram-worthy and interesting though prices seemed a bit high for what you get. I probably wouldn't order all the ube dishes at once again. Having more savoury dishes would balance out the sweetness of the ube-inspired ones. Hopefully, the restaurant will recover soon from the fire incident. Rating: 3.5/5
Website: platitotoronto.com