Folks, the wait is over.  Whistler's beloved Australian-style meat pie eatery, Peaked Pies, is now open at 995 Denman Street in Vancouver.  The grand opening of Peaked Pies Vancouver happened yesterday with much anticipation from people who have indulged in their delicious pies in Whistler.  Having visited them before (see review here), I had been looking forward to them opening right here in my neighbourhood, the West End.  Today, I went in for a late lunch to enjoy some of their famous peaked pies.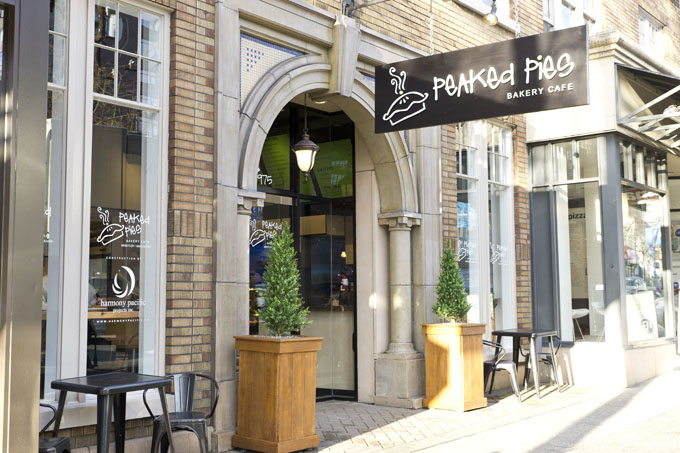 Bright, Modern & Cozy
Those of you who have been to Peaked Pies in Whistler will enjoy their larger location in Vancouver.  There is one large communal table, a few two person tables, a counter by the window and even two tables outside.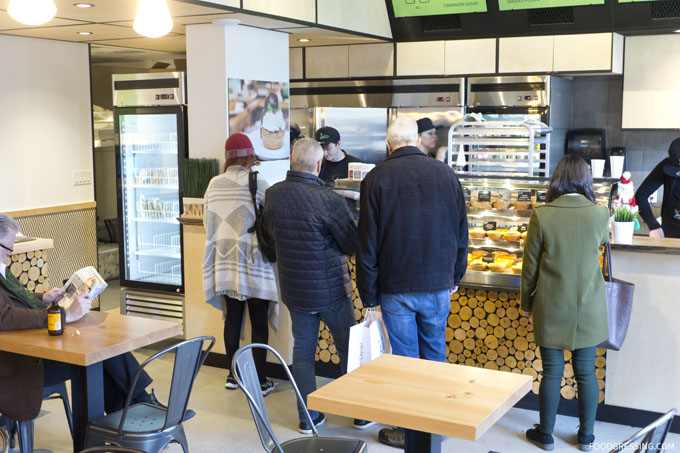 Peaked Pies Menu
Peaked Pies has nine savoury pie options for around $7-$8 including Traditional Aussie, Chunky Pepper Steak, Butter Chicken and more.  Sweet pies are $6-$7 and include Mixed Berry and Apple Crumble.  Breakfast goers can enjoy some of their breakfast pies like the Ned Kelley and Rise & Shine.  If you don't fancy a pie, there are Sausage Rolls, Spinach & Ricotta Rolls.  You can also enjoy a thick sliced toast with a spread (peanut butter, honey and more).  For an authentic Aussie experience, go for the vegemite spread 🙂
The best part of Peaked Pies is the option to "peak" your pie with a heap of mashed potato, mushy peas and gravy ($3.25).  You can also "peak" the pie in moderation for $1-$2.  Coffee lovers may be interested to know that coffee at Peaked Pies is by Milano Coffee.  The full Peaked Pies menu is available online.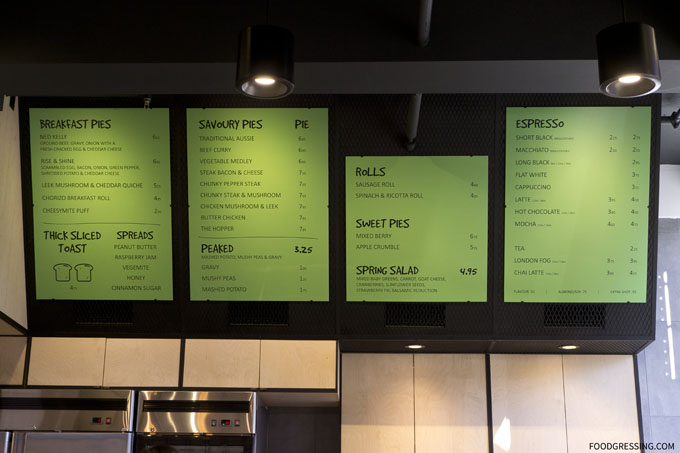 The "Peaking" Process
If you haven't seen how the pies are peaked before, check out my video below:
What I Tried
For lunch today, we had the Traditional Aussie ($6.95) and Beef Curry ($6.95) with peaked tops ($3.25).   The meat filling inside the pie was nice and hot, had good flavour and a nice proportion of meat.  The crust was good but not as buttery and flaky today as I've had from them before.  And the mashed potatoes, mushy peas and luscious gravy toppings made it an overall hearty meal.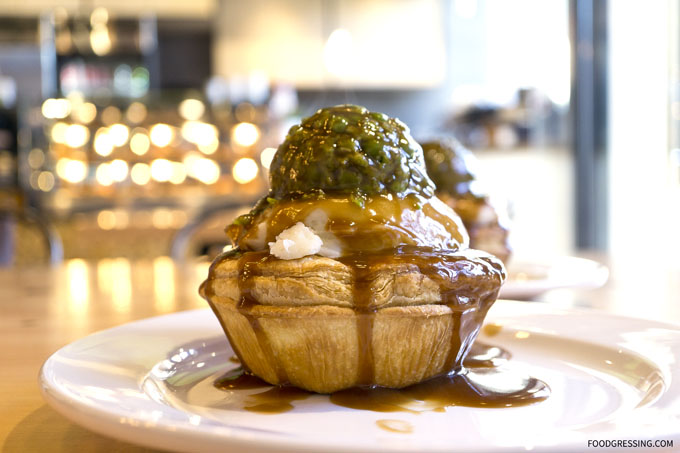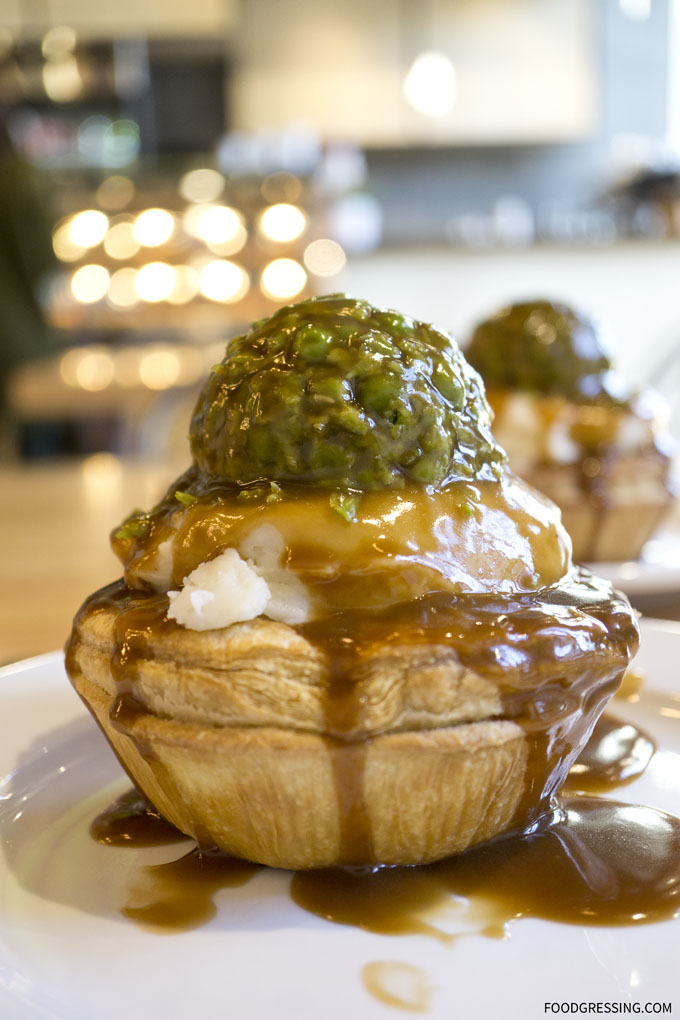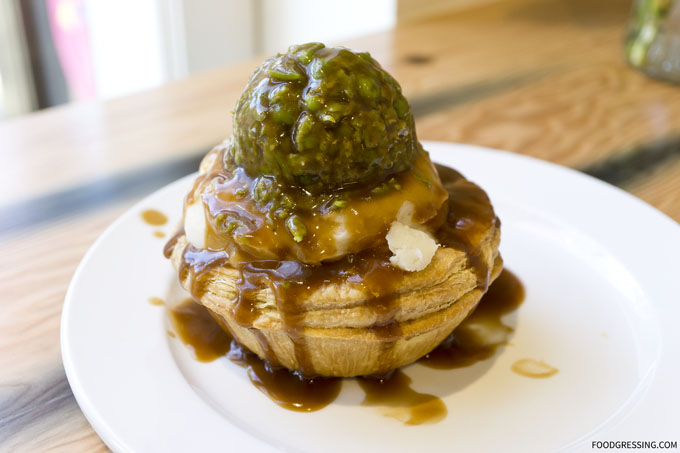 For dessert, we enjoyed a Peaked Lamington ($5).  I've had this before at their Whistler location and it is delicious!  A traditional Aussie treat, it is a sponge cake coated in chocolate and shredded coconut.  The peaked version consists of jam and whipped cream.  The whipped cream didn't turn out as perfectly as usual because when the staff member pumped out the whipped cream, it came out in a splat.  So, the topping was a lot messier than normal.  The cake is still very moist and delicious – I would recommend it.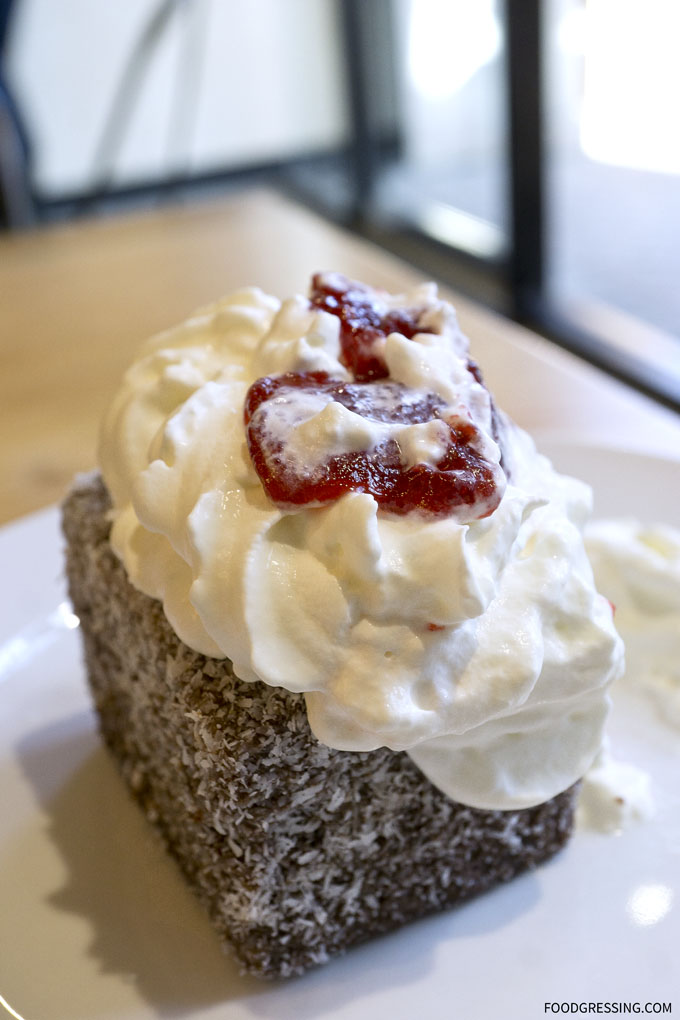 Overall Impression of Peaked Pies Vancouver
Tasty, hearty, filling.  A peaked pie is certainly a satisfying and affordable meal at $10.  I will definitely be returning to Peaked Pies Vancouver sometime soon.  Rating: 4.5/5