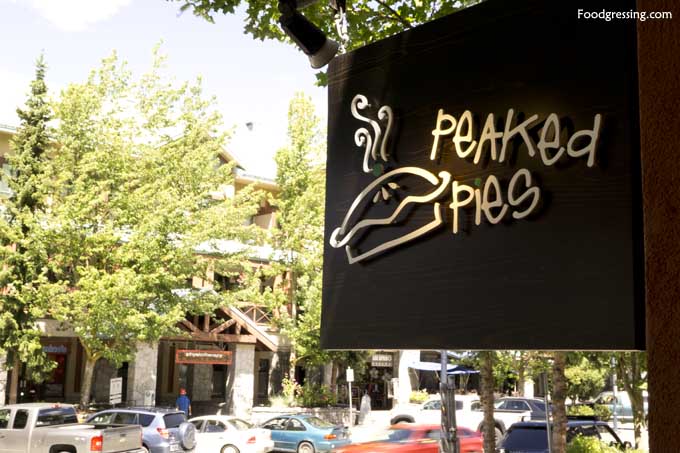 A few years ago, my husband and I traveled along the east coast of Australia from Cairns down to Sydney. Aside from trying a kangaroo steak for the first time, my most memorable food experience was indulging in Australian meat pies. I tried many pies from the Pie Face chain as well as some from smaller local shops. The pies were so good and baked to perfection: delicious fillings, flavoursome gravy in a flaky buttery crust. I miss those mouthwatering pies, but here in Vancouver, I get to relive a bit of the Australian pie experience through Aussie Pie Guy.
It has been a few years since I visited Whistler. While I was researching places to eat in Whistler for my recent visit, I learned of a new pie shop that opened called Peaked Pies. They have been open for two years and they serve amazing Australian meat pies from what I read. I was excited to try out their offerings and made it my first food stop when I arrived in Whistler.
Location
Peaked Pies is a small shop that is located just on the far side of the Whistler Village. For those who are familiar with Crepe Montagne, Peaked Pies is across it. There are a few dining tables inside, a counter with stools, and two tables outside.
Peaked Pies Menu
Peaked Pies has eight savoury pie options for around $7, including traditional Aussie and steak and mushroom. Sweet pies are $6-$7 and include mixed berry and apple crumble. If you don't fancy a pie, you can get a sausage roll or a spinach and ricotta roll ($4.50). The best part of Peaked Pies is the option to "peak" your pie with a heap of mashed potato, mushy peas and gravy ($3.25). You can also "peak" the pie in moderation for $1-$2.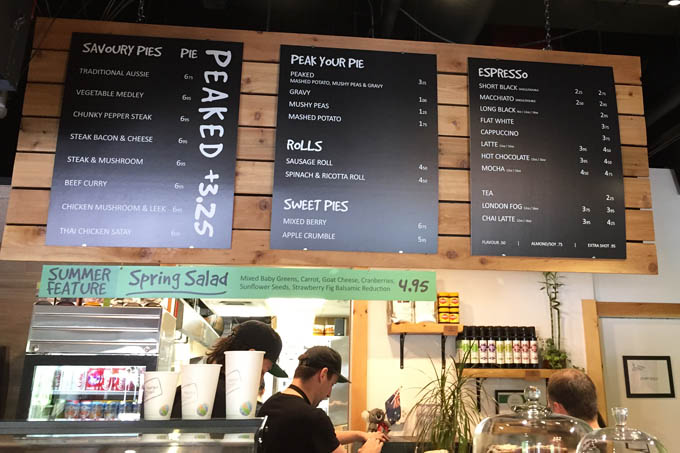 What We Tried
We tried the traditional Aussie pie ($7) with a peak (+$3.25). The presentation of the peaked pie was just mouthwatering. The pie was hot and hearty with yummy gravy from the peak and from the filling inside. The portion of ground beef on the inside was reasonable as well. The crust was deliciously flaky and buttery. The pie was filling between two people as we were not too hungry at the time.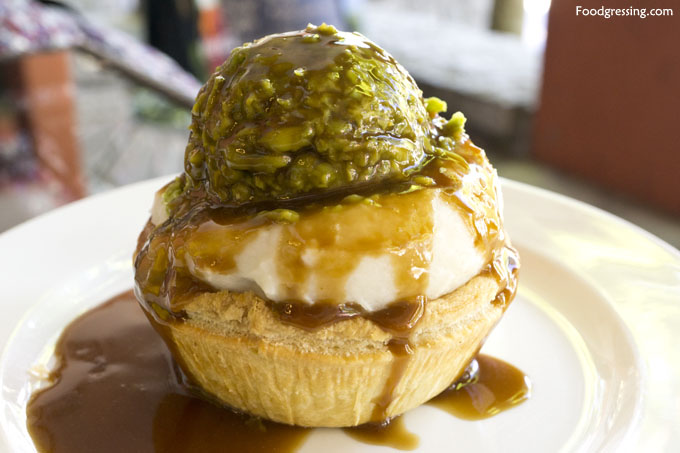 The next morning, we had one of their breakfast pies called "Rise and Shine " ($5.95). It had egg, bacon, green bell pepper, fine minced onion, cheddar and potatoes. I think it was the perfect breakfast pie to start the day because it did not feel heavy. The top of the pie had a nice crunchy texture.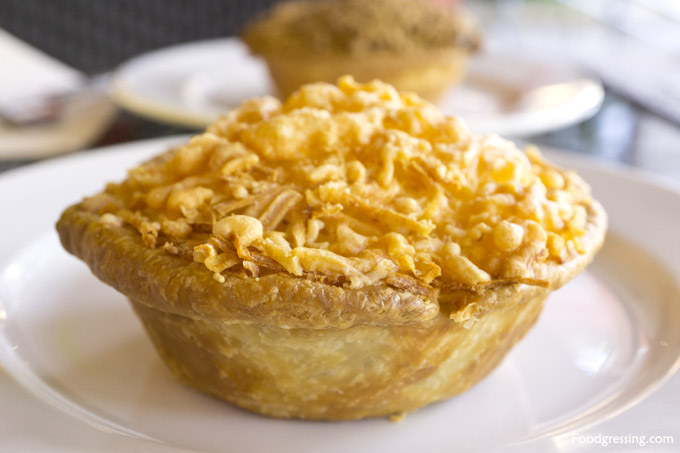 The sweet pie that we tried was the apple crumble, which had sweet warm apples with a delicious golden crust. It had just the right amount of sweetness and was a wonderful dessert option.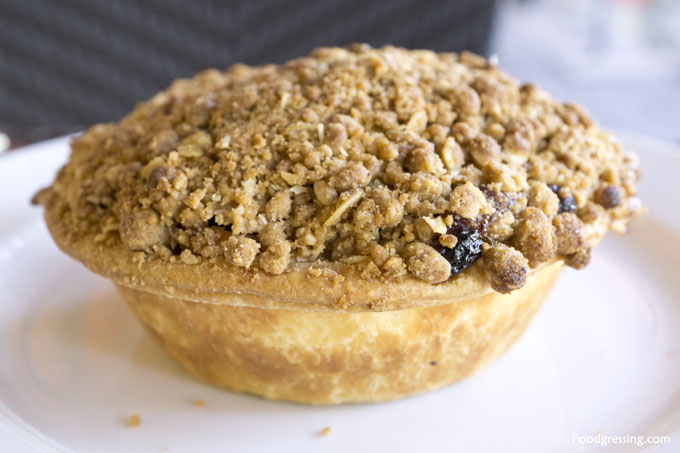 Peaked Pies also has frozen pies that you can buy, but only in the savoury varieties.
Overall Impression

The food at Peaked Pie was very hearty and it made me feel good! The quality, taste and portions of the pies were excellent. The peaked pie is a definite must-try in Whistler unless you are on a diet. It is hard to say no to mashed potatoes, peas and gravy topped on a delicious pie. There was a lot of mouthwatering on my part and I look forward to going back to Peak Pies!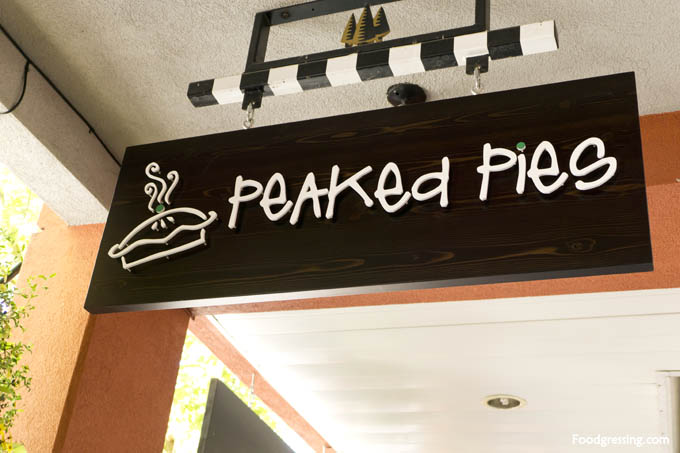 For more about Peaked Pies, see a Youtube video about them circa 2013 by Shaw TV:
Website: http://www.peakedpies.com