One of the most anticipated restaurant openings this year was Nightingale.  Opened this past spring, Hawksworth is the third restaurant venture by one of Canada's top chefs, David Hawksworth, whose flagship restaurant is ranked #3 for Canada's Best Restaurants 2016.  Having very much enjoyed my dining experience at Hawksworth, I was excited to try Nightingale – the more casual counterpart.  On this gastronomic journey for brunch this time were Hanson (Nosh & Nibble), Sherman (Sherman's Food Adventures), David (Picky Diner), Kristina (Drunken Noms) and Maggi (Vie A Maggi).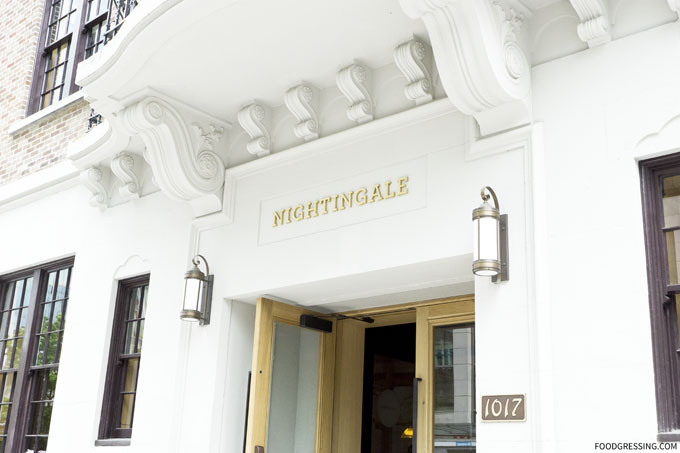 Elegant, Rustic, Chic Space
Located in Coal Harbour's MNP Tower at 1017 West Hastings Street, Nightingale is a sizeable two-level restaurant over an impressive 7,400 square feet of space.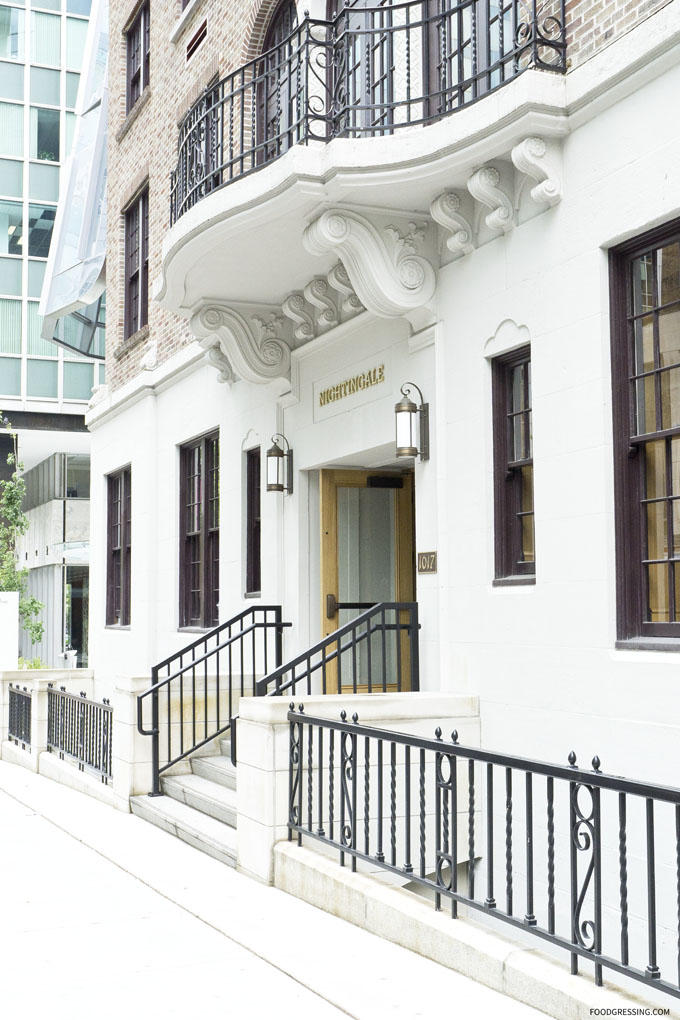 The contemporary dining room feels warm, inviting and chic.  It features a soaring high ceiling and a beautiful cocktail bar.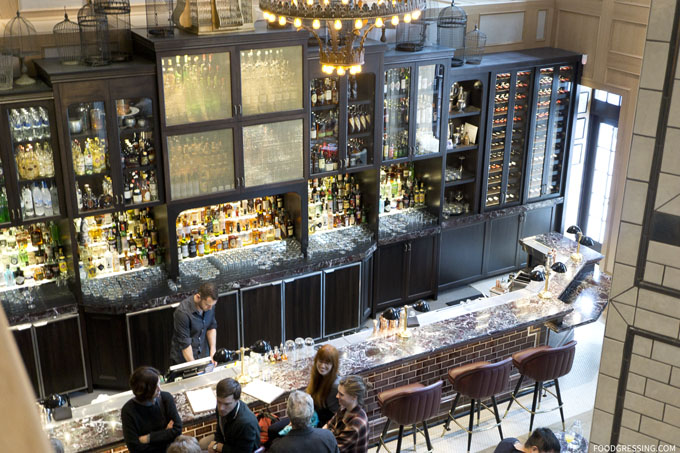 The ground level dining area has cozy banquette seating as well as dining tables.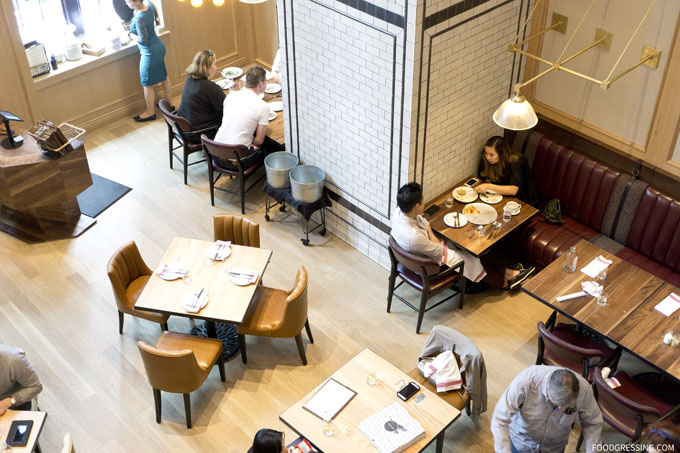 The walls were adorned with geometrically designed nightingales.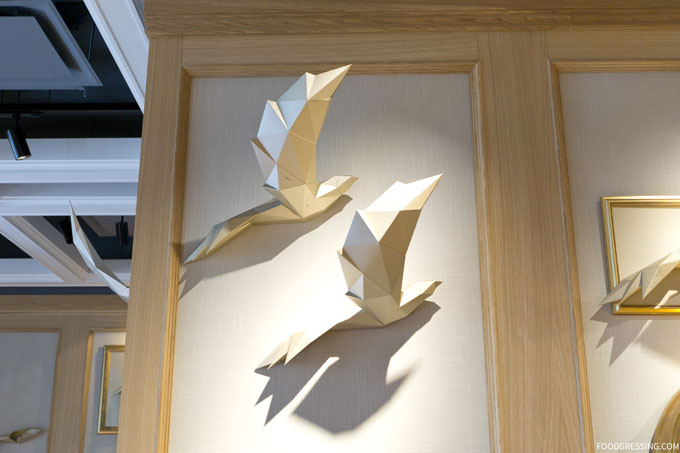 The mezzanine level is host to a more intimate dining area that seems catered towards private parties.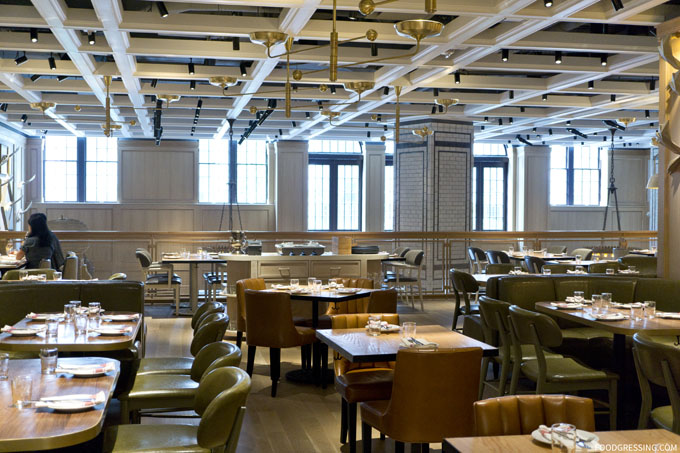 You'll also find the open kitchen, featuring a pizza oven, where all the magic happens.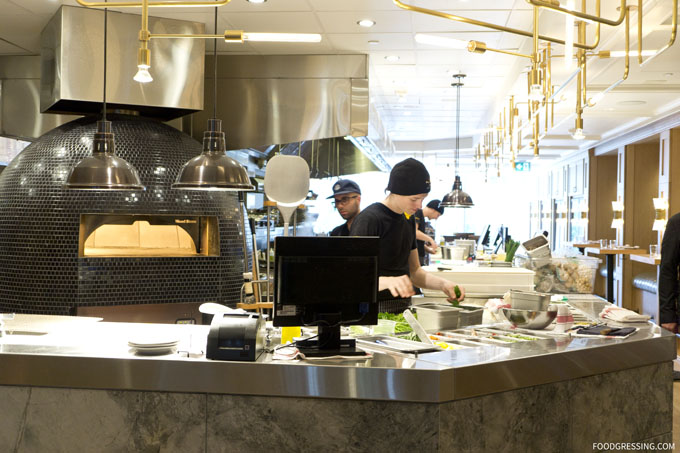 Nightingale Menu
Like the flagship Hawksworth restaurant, Nightingale's cuisine is described as contemporary Canadian food with international influences.  Menu items are more casual and are at a lower price point.  You'll find share plates, house-made pastas, creative wood-fired pizzas, seasonal salads, charcuterie, crudo and more.  The menu changes depending on what is in season.
What We Tried
(as compiled by Nosh & Nibble)
Raw
Vegetables

Oven Roasted Cauliflower ($12)

Pizza

Spicy Spaniata Salumi ($17)

Small

Pacific Octopus ($19)
Braised Tripe ($15)

Large

Casarecce Pasta ($26)
Grilled Pork Belly ($24)

Dessert

Lime Crème ($12)
Salted Caramel Pot ($12)
Yogurt Panna Cotta ($12)
Hazelnut Financier ($12)
Strawberry Shortcake Ice Cream Sandwich ($12)
We started off with a savoury appetizer, the beef heart tartare.   It was a melt-in-your-mouth sort of delicacy seasoned with cured egg yolk, horseradish, kale pistou and on grilled bread.  The meat had a beautiful, buttery and velvety feel.  It's a more interesting take on a traditional tartare using cured egg yolk rather than raw egg yolk.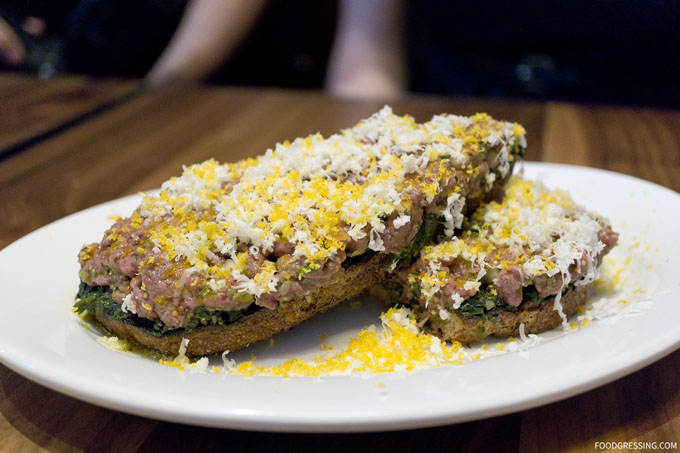 The oven roasted cauliflower with sunflower seeds and green harissa is the sort of dish that makes you want to eat your veggies.  The crispiness of the cauliflower was just heavenly.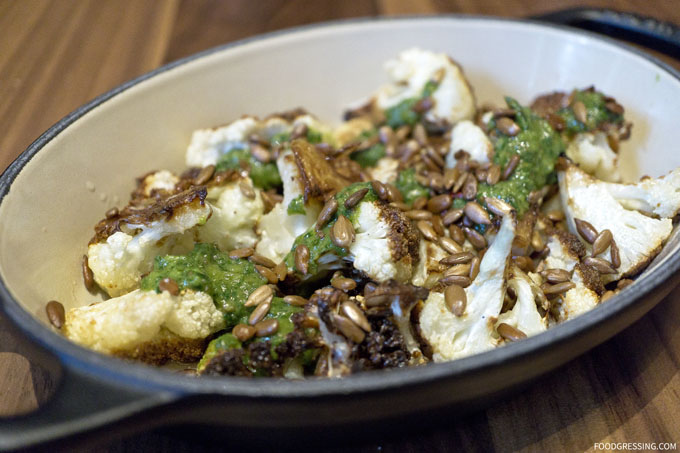 As for pizza, we had the spicy spianata salumi, piquillo pepper, san marzano and fior di latte.  The crust was nicely thin, chewy and crispy.  Sauce to topping to dough ratios were on point, making a very tasty pizza.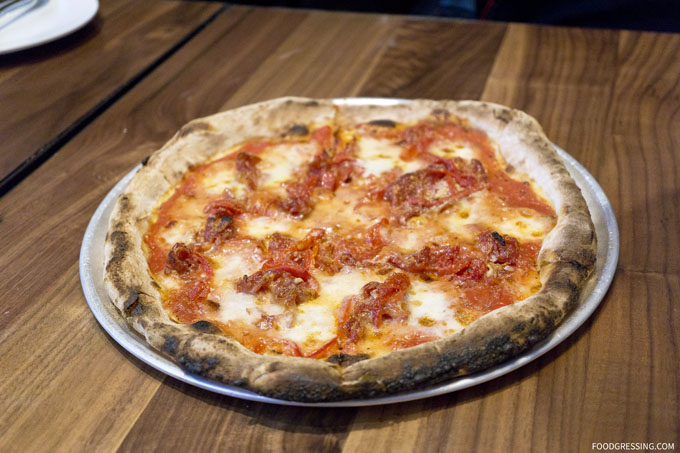 The Pacific octopus  had blistered capers, parsley, fermented chili, and vinegar.  It was tasty though I wouldn't order it again.  The dish itself is a pricier one ($19) and the portions are small.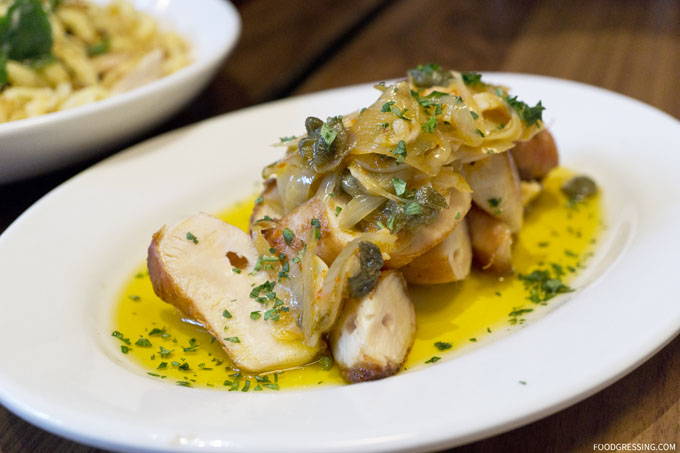 The braised tripe with was an interesting dish though hard to share among six people.  The tripe pieces were cooked with chorizo and san marzano tomato sauce.  The grilled bread had a layer of kale pistou.  The tripe with tomato was very flavourful which was then balanced with the kale pistou and the bread.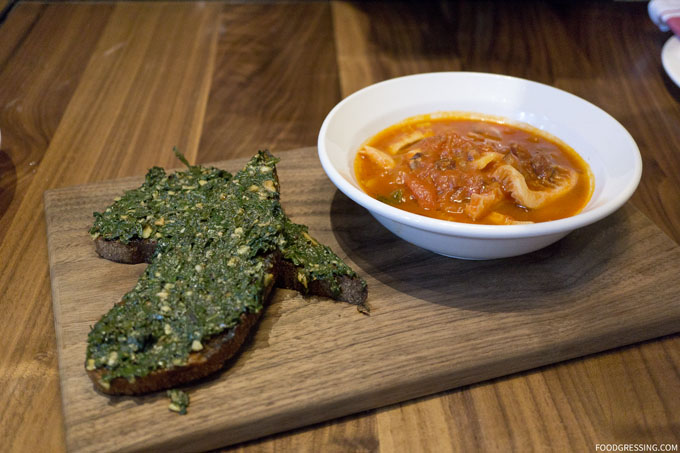 The casarecce pasta featured braised rabbit with rapini and white wine.  The pasta shaped as narrow, twisted and rolled tube was al-dente.  Good though not very memorable.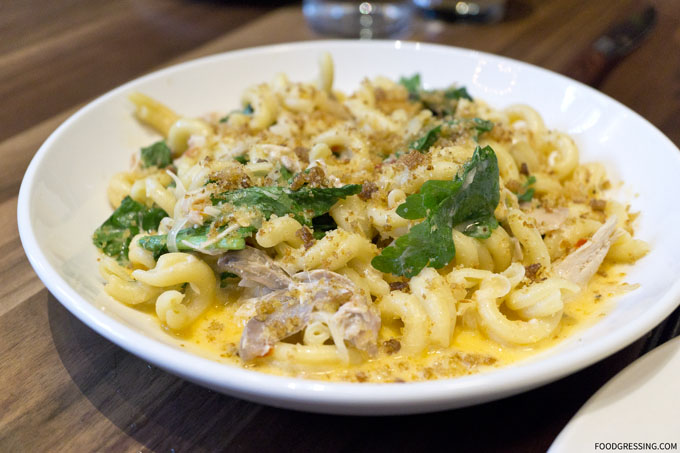 The grilled pork belly had some fruitiness to it as it came with slices of nectarines.  Pistachios added some crunchiness to the dish which was a fun textural contrast.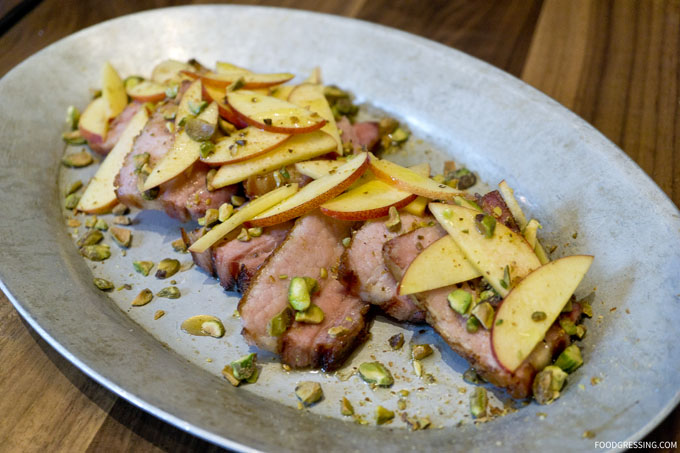 Moving on to desserts, we ordered all the options that were available at the time.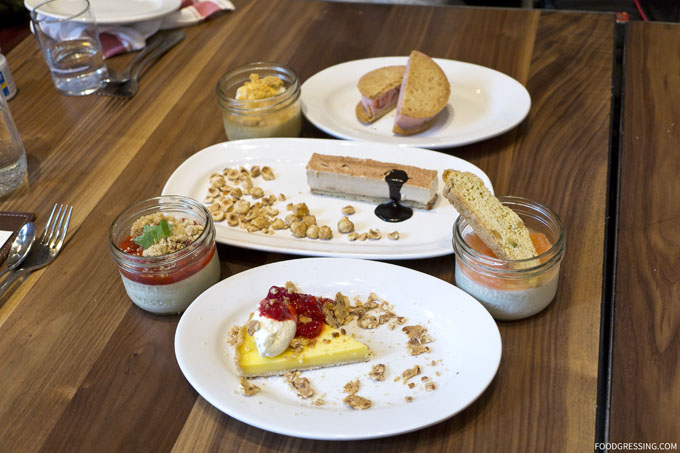 The mason jar desserts were the lime crème, salted caramel pot and yogurt panna cotta.  They were tasty and refreshing with a balance of fruitiness or salated caramel with the creamy custard.  I liked the tangy-sweet flavours of the lime crème the most.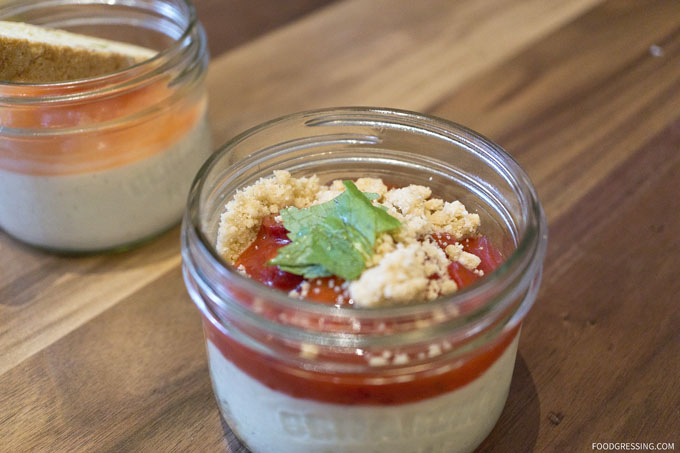 The hazlenut financier was rich, buttery and tasty.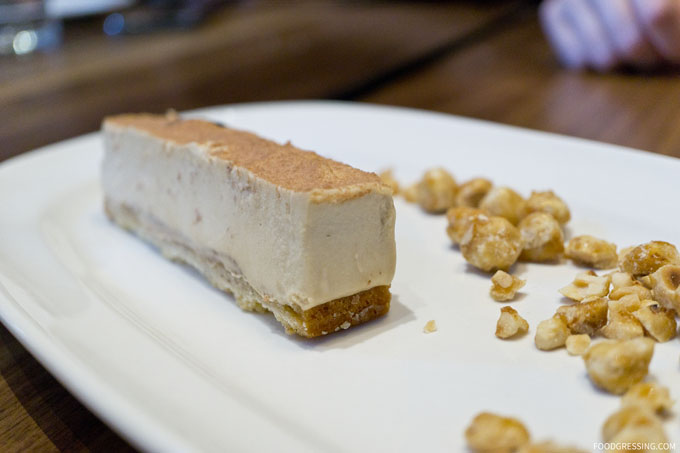 The strawberry shortcake ice cream sandwich was my favourite.  I particularly liked the outer shortbread cookie shells.  The nuts on the ice cream gave it a fun texture.  The strawberry shortcake flavour was solid.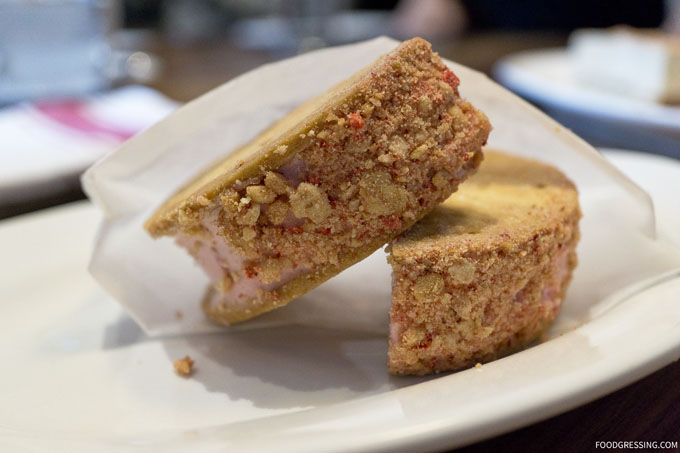 As a lemon dessert lover, I thought that Nightingale's version was good but small in size.  I also thought it was a bit overloaded in the strawberry compote which sort of took away from the zestiness of lemon flavour.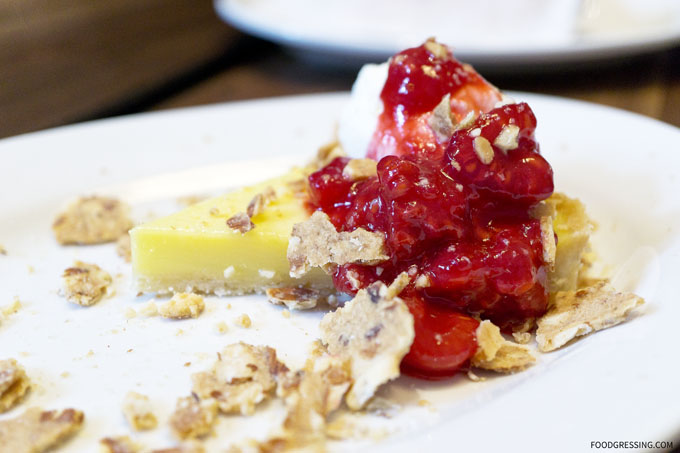 Overall Impression of Nightingale
I thought that our brunch at Nightingale was good and I wouldn't mind visiting in the future.  My favorites were the beef heart tartare, braised tripe, and strawberry shortcake ice cream sandwich.  The pizza was good too but I think I would go for fancier options at Nightingale.  Rating: 3.5/5