In this Mooncakes Vancouver 2021 post, I cover some places where you can buy mooncakes locally from the classic to the unique flavours. There is also a section on special restaurant features.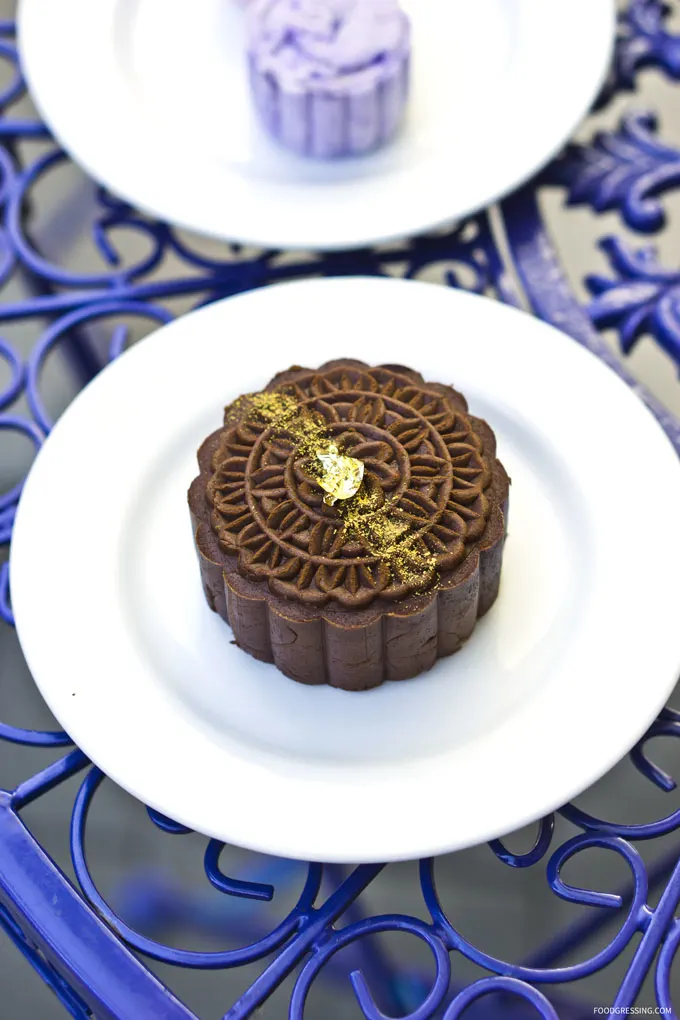 As summer fades away and the leaves turn brown, it's that wonderful time of year to gather and give thanks under the Harvest moon.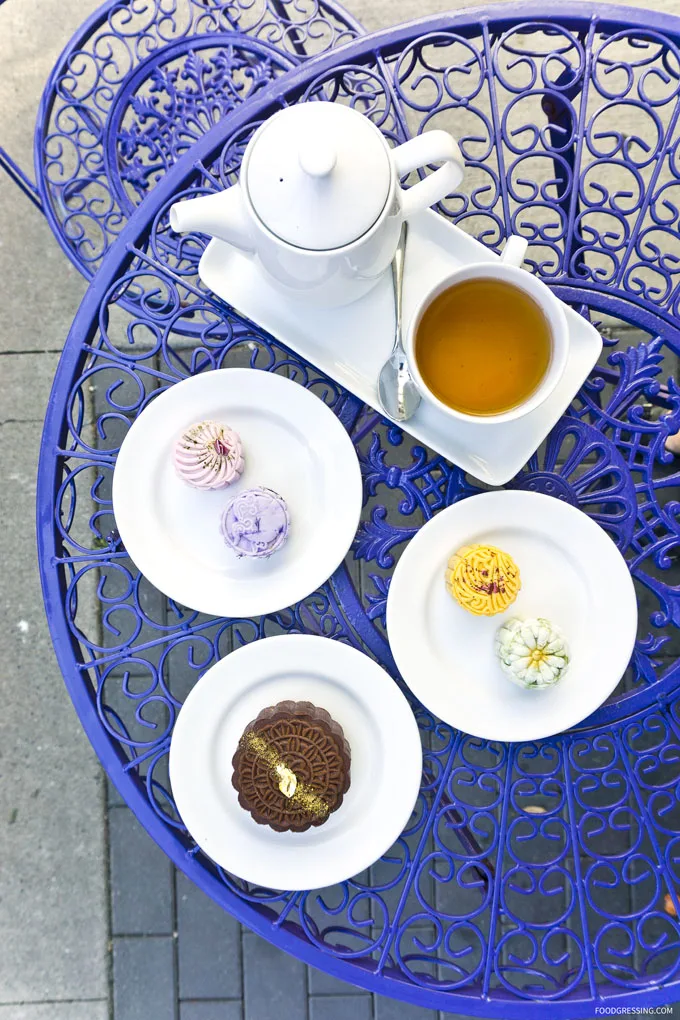 Mid-Autumn Festival 2021 is a harvest festival celebrated in Chinese culture and some people compare it to North American Thanksgiving.
This year, Mid-Autumn Festival falls on Tuesday, September 21, 2021.
The most iconic food associated with the Mid-Autumn festival is mooncake.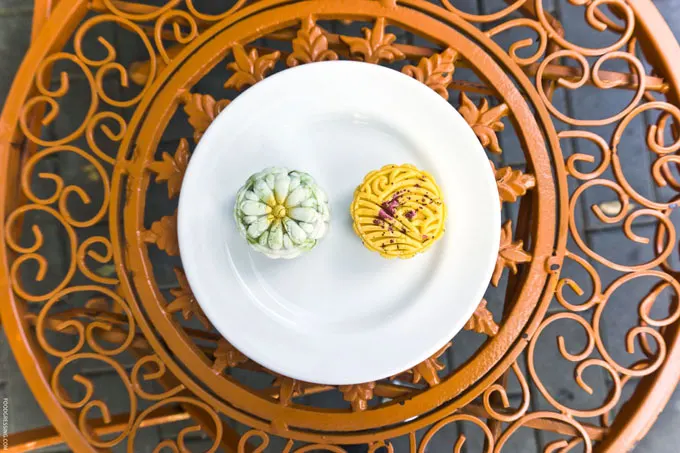 The mooncake is stuffed traditionally with red bean paste, fruit, egg yolk, nuts or lotus seed paste.
However, there have been more unique and creative fillings in modern times.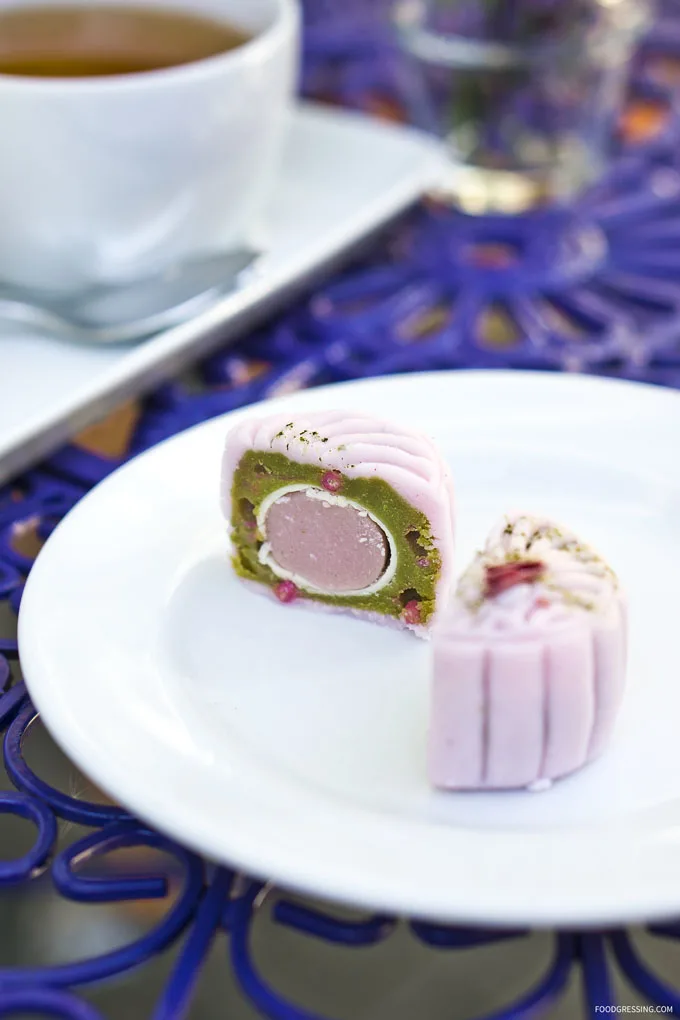 Its round shape symbolizes "unity" or "reunion" and best wishes.
In general, you can find mooncakes sold at Chinese bakeries and supermarkets.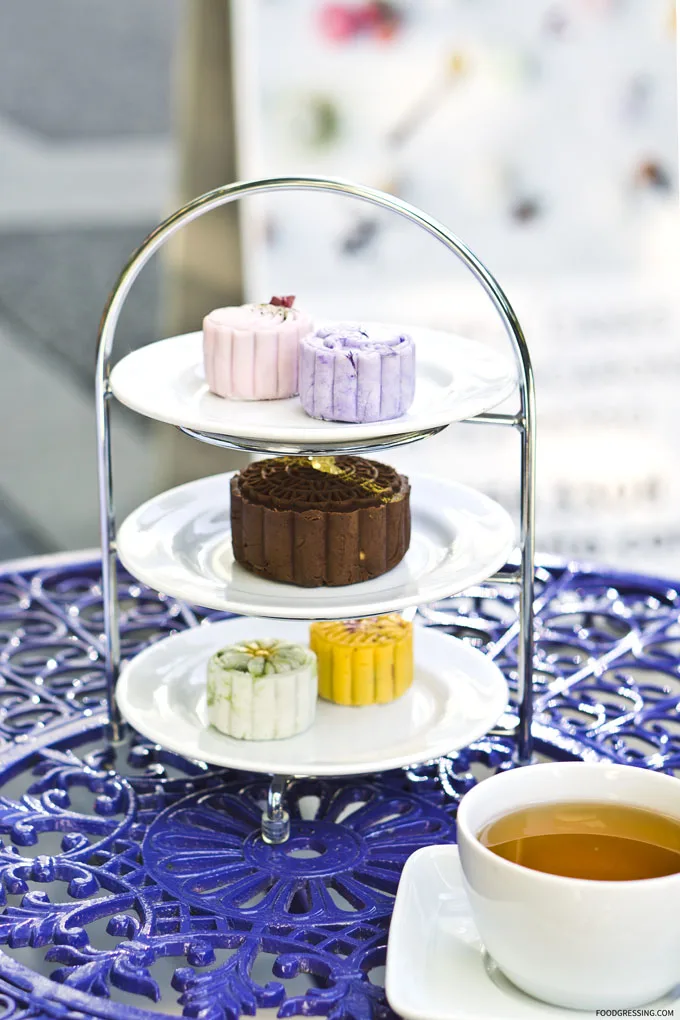 From the traditional to the modern and unique, here are a few specific places to find Mooncakes Vancouver 2021 for your Mid-Autumn Festival 2021 celebration.
This Mooncakes Vancouver 2021 list is updated as more information becomes available. Please contact me at [email protected] or @foodgressing on social media to be featured.
Chinese Bakeries/Restaurants
Maxim's Bakery
Maxim's Bakery will be offering mooncakes again this year. Here are some highlights:
Maxim's Lava Custard Mooncake
Made with fresh local butter, coconut cream, whipping cream and supreme salted egg yolks, Maxim's Lava custard mooncake brings you a new level of gastronomy enjoyment.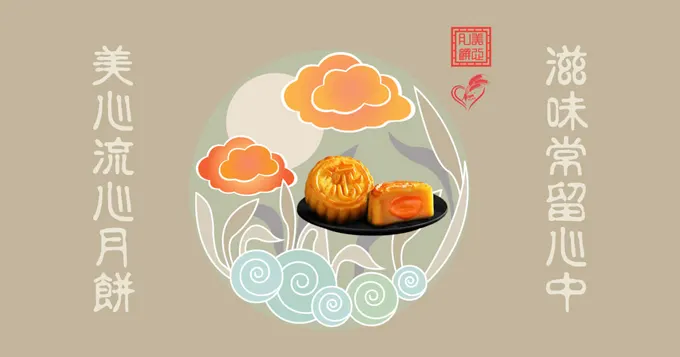 Maxim's Traditional Mooncake Series
Savor authentic mooncakes made with rich, fragrant lotus seed paste (red bean, mung bean or red date paste).
Some options include truffle, abalone, dried scallop, Jinhua ham, mixed nuts as well as supreme salted egg yolks.
Maxim's Snowy Mooncake Series
Snowy mooncakes are made with frozen glutinous rice.
A variety of filling options are offered including mung bean; chocolate & mocha; mango & pomelo; cheese & blueberry; durian; green tea & raspberry; and red bean.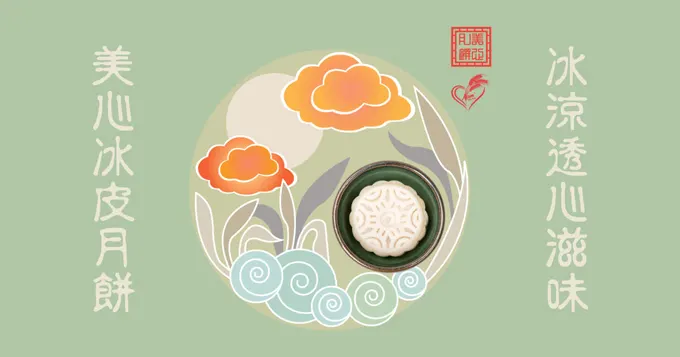 Maxim's Bakery has 8 locations in Greater Vancouver: Vancouver (Commerical Drive, Vancouver Chinatown, Victoria Drive, Fraser Street), Burnaby (Metrotown), Coquitlam, Richmond Centre and Surrey.
Maxim's Bakery
3596 Commercial St, Vancouver
6387 Fraser St, Vancouver
257 Keefer St, Vancouver (Chinatown)
5613 Victoria Dr, Vancouver
4800 Kingsway, Burnaby (Metrotown)
6060 Minoru Blvd, Richmond (Richmond Centre)
10153 King George Blvd Unit 152, Surrey
1163 Pinetree Way #1136, Coquitlam
www.facebook.com/Maximscanada
Saint Germain Bakery
Saint Germain Bakery is another local bakery chain that usually offers mooncakes Vancouver 2021.
Their mooncakes are freshly baked daily.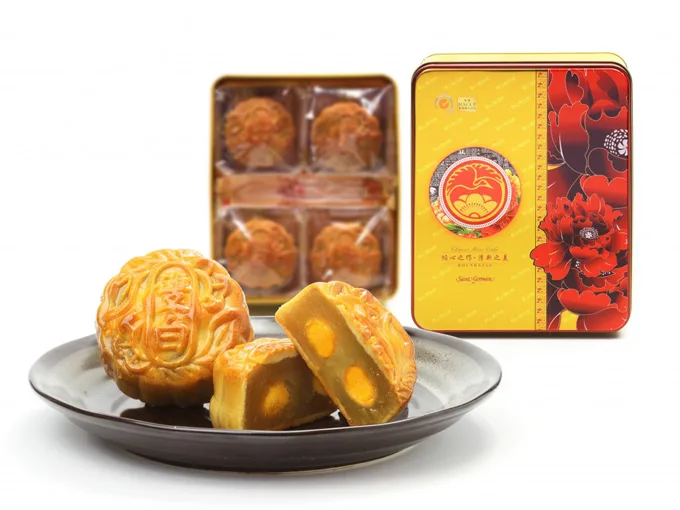 Their lineup includes:
Lava Salted Yolk Custard Mooncake
Double Yolks White Lotus Seed Paste Mooncake
Double Yolks With Lotus Seed Paste Mooncake
Pure White Lotus Seed Paste Mooncake
Dried Scallop Chinese Cured Ham And Mixed Nuts
Walnut and Dates Paste
Salted Egg Yolk Custard Mooncake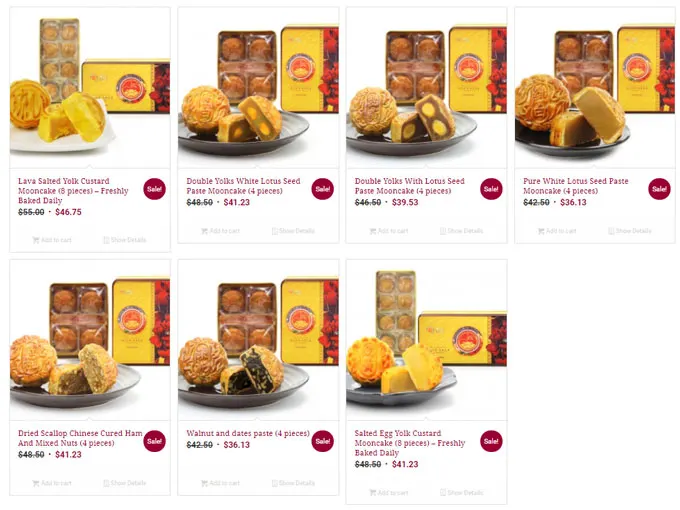 They are offering an early bird discount on mooncake orders until September 10. Automatic discount on checkout.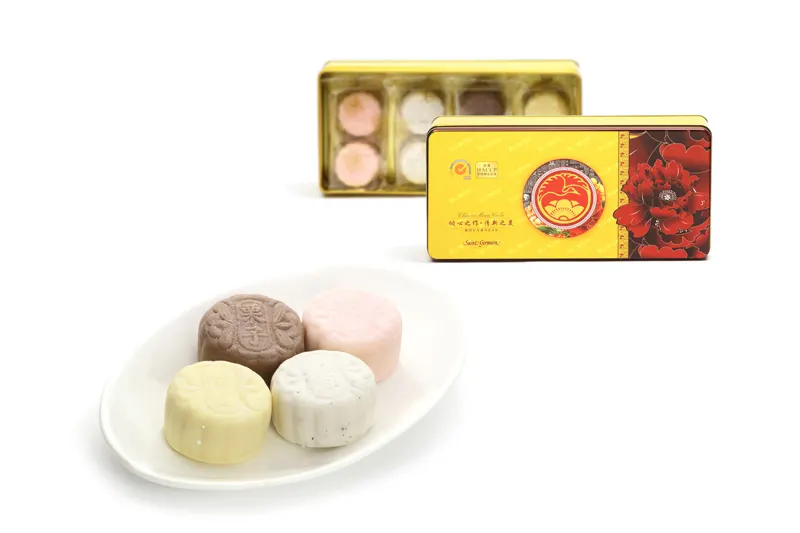 Saint Germain Bakery
Richmond Centre: Unit 2000, 6060 Minoru Boulevard, Richmond
Metropolis at Metrotown: Unit 1120C, 4720 Kingsway, Vancouver
Oakridge: Unit 137, 650 West 41st Ave, Vancouver
Aberdeen Centre: Unit 1428, 4151 Hazelbridge Way, Richmond
Coquitlam Centre: Unit 2841, 2929 Barnet Highway, Coquitlam
Guildford Centre: Unit 1077, 10355-152nd Street, Surrey
www.saintgermainbakery.com
Kam Do Bakery
Kam Do Bakery is offer mooncakes with Twin Yolks Lotus Seed Paste.
Kam Do Bakery
135-6211 No 3 Road, Richmond
110-4328 No 3 Road, Richmond
www.instagram.com/kamdobakery
Sun Fresh Bakery House 新發餅屋
This hidden gem, Sun Fresh Bakery House, in Chinatown usually has mooncakes.
Sun Fresh Bakery House
245 Keefer St., Vancouver, BC
New Town Bakery & Restaurant 新城餅家餐室
New Town Bakery usually has mini mooncakes.
New Town Bakery
148 E Pender St, Vancouver, BC
#7 – 10302 City Parkway Surrey, BC
newtownbakery.ca
La Patisserie
La Patisserie is a traditional Chinese bakery shop in Richmond that offers a lot of housemade mooncakes.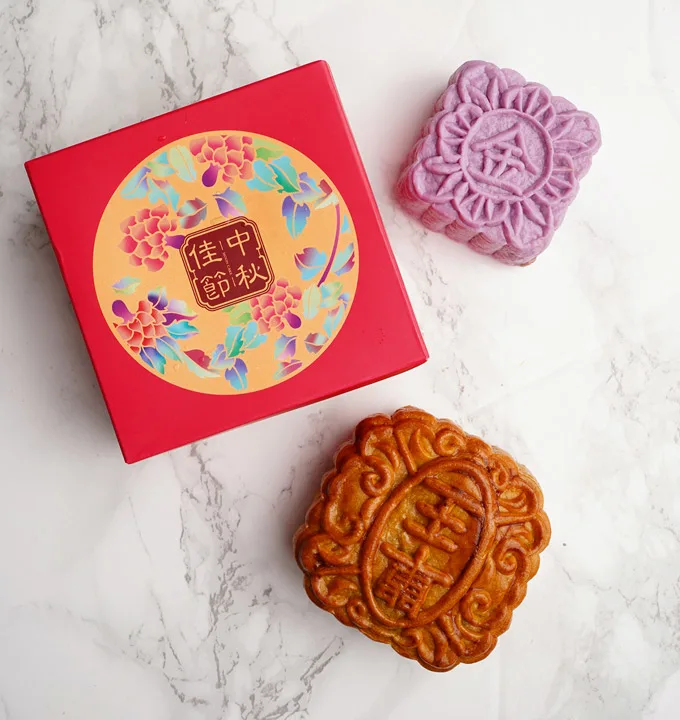 This year's lineup includes:
Tradational moon cakes (1, 2, 4 or 6 salted yolks)
White or red lotus paste (1, 2, 4 or 6 salted yolks)
Signature custard mooncake
Iced moon cake
Durian
Green tea
Chocolate
Taro
Green bean
Red bean
Purple yam (limited stock)
They have noted that they sold out before the Mid-Autumn Festival last year so customers are encouraged to buy the mooncakes ahead of time.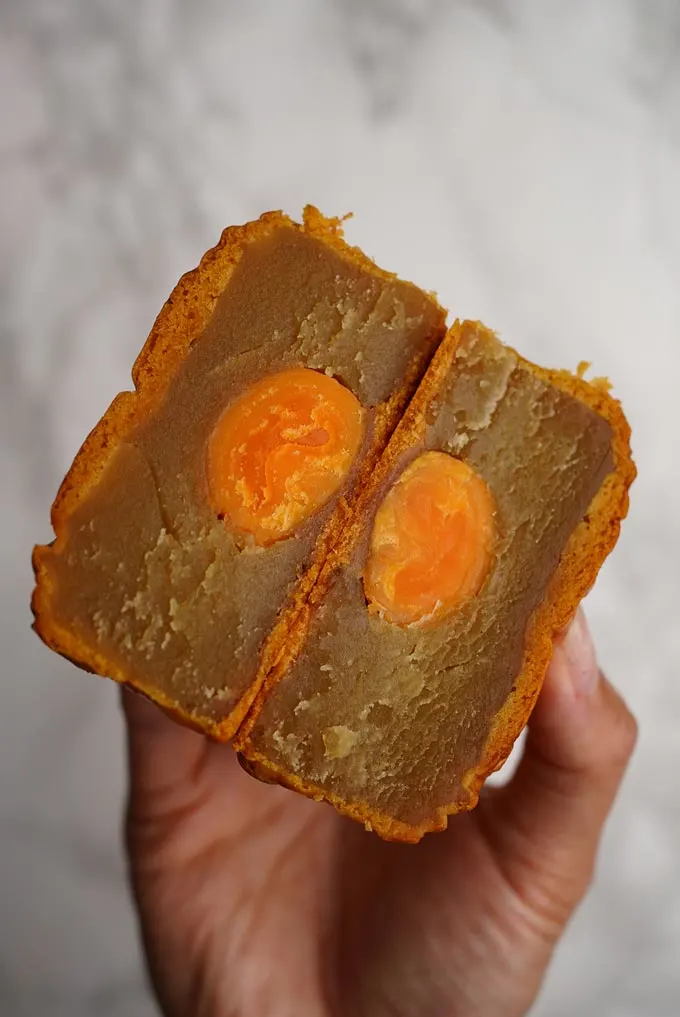 La Patisserie 金磨坊
1405-4771 Mcclelland Road, Richmond, BC
www.instagram.com/la_patisserie_bakery
Red Star Restaurant
Red Star Restaurant (Vancouver and Richmond locations) have offered mooncakes in the past.
Red Star Restaurant
8298 Granville Street Vancouver, BC
#2200 – 8181 Cambie Road, Richmond, BC
www.redstarvancouver.com
Grocery Stores
Pricesmart Foods
Pricesmart Foods has a selection of imported mooncakes. You can check online for what brands they offer.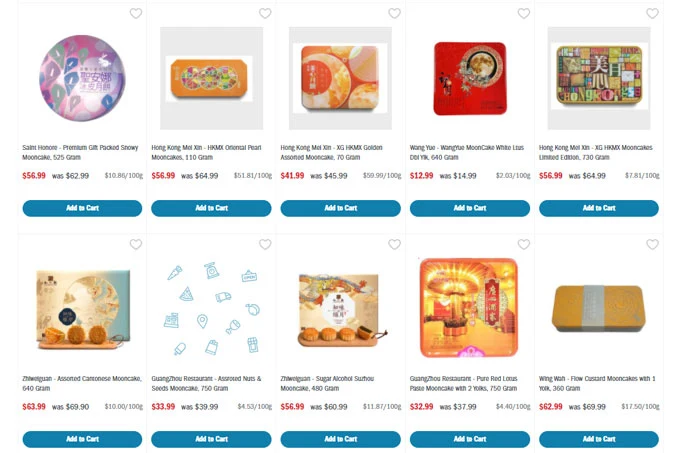 They have two locations: Station Square (Burnaby) and Acrokyd (Richmond).
Pricesmart Foods
8200 Ackroyd Rd, Richmond, BC
4650 Kingsway, Burnaby, BC
www.pricesmartfoods.ca
Sungiven Foods
Sungiven Foods usually offers a wide selection of mooncakes imported from Asia. Each store may have different inventory.
Sungiven Foods
City Square Store: #42, 555 West 12th Ave, Vancouver, BC
West Broadway: 3301, West Broadway Vancouver, BC
Burnaby: 4106 Hastings Street Burnaby, BC
White Rock: 1640 152nd Street Surrey, BC
Richmond: #9771 Bridgeport Road, Richmond, BC
North Vancouver: 1595 Marine Dr, North Vancouver, BC
sungivenfoods.ca
T&T Supermarket
T&T Supermarkets takes the "cake" in terms of options of mooncakes.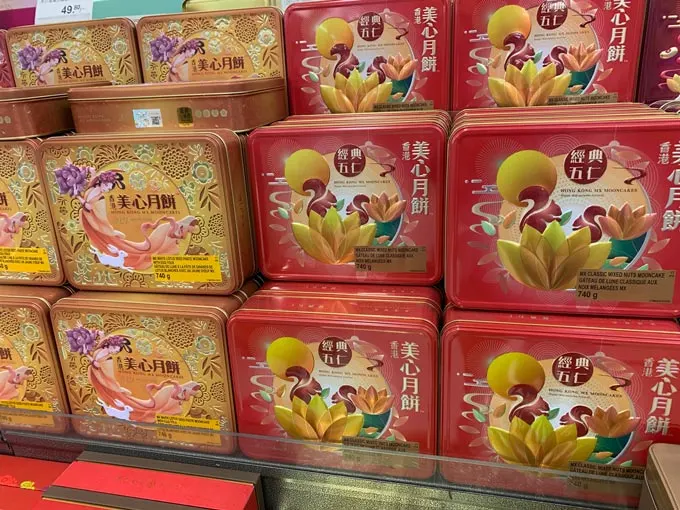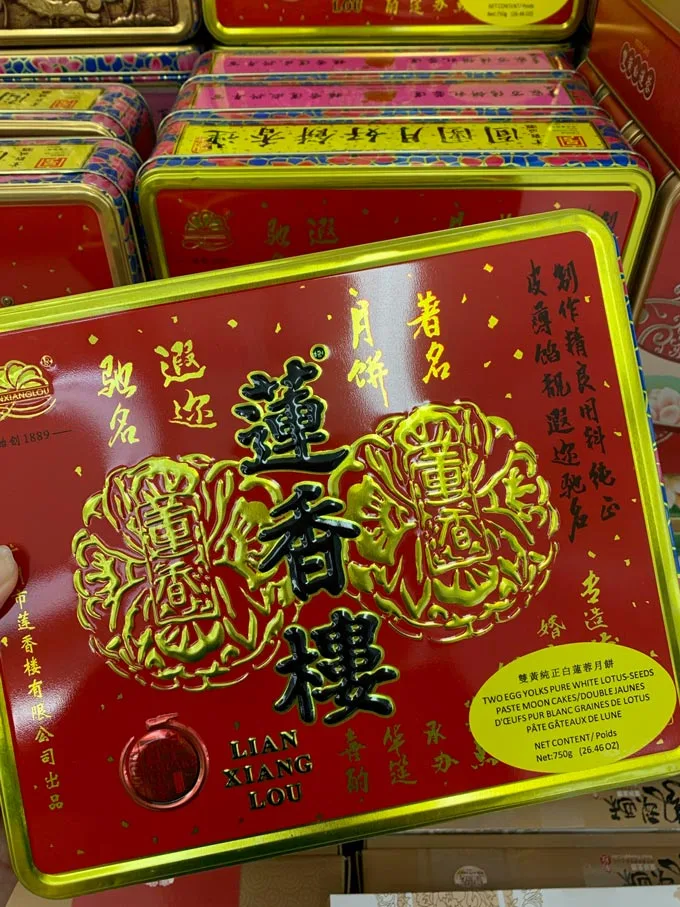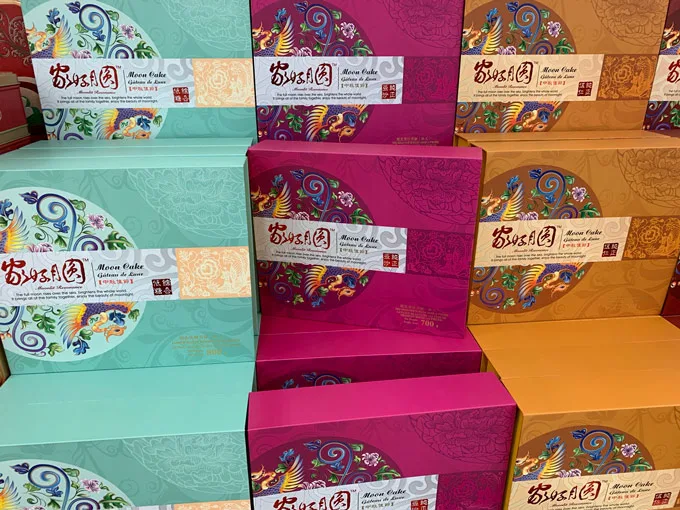 They import many mooncakes from Asia including brands like The Peninsula Hotels, Hang Heung, Wing Wah and so forth.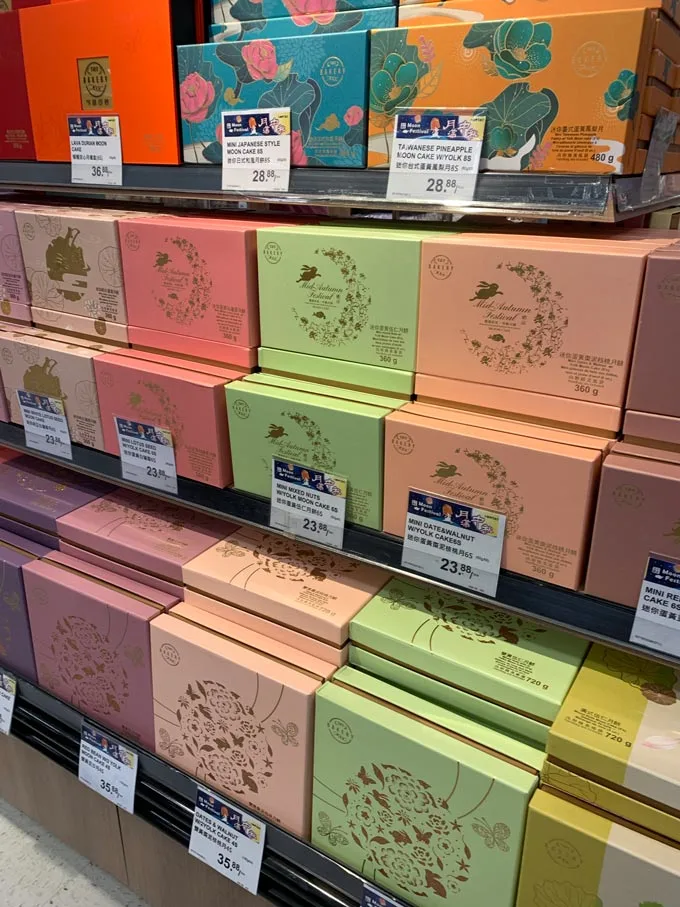 T&T also have their own branded mooncakes.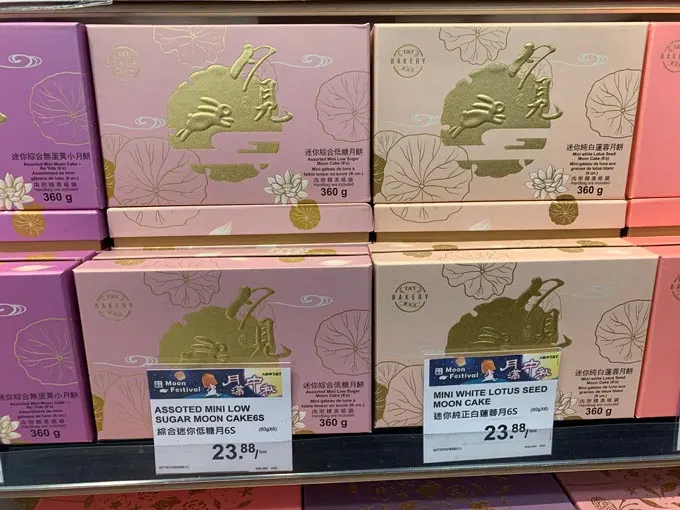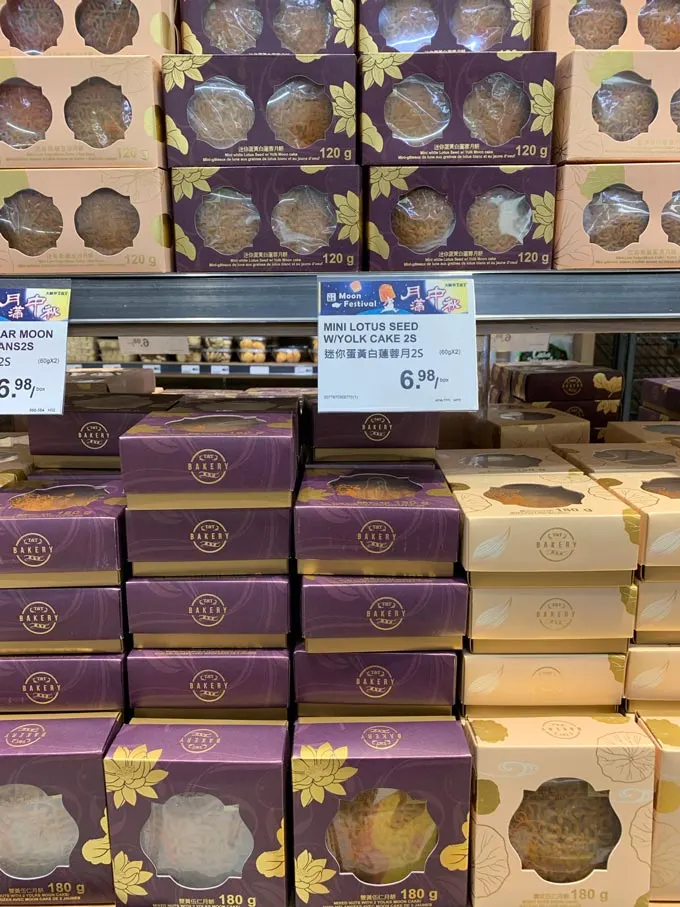 T&T Supermarket
Chinatown: 179 Keefer Place, Vancouver
Osaka: 2200 Park Royal South, Upper Level, West Vancouver
First Avenue Store: 100-2800 E. First Ave, Vancouver
Kingsway: 2206 Kingsway, Vancouver
Marine Gateway: 458 S.W. Marine Drive, Vancouver
Metrotown: 147-4800 Kingsway, Burnaby
Osaka: 1000-3700 No. 3 Rd, Richmond
Lansdowne: Unit #MAJ1, 8311 Lansdowne Road, Richmond
Olympic Oval: 135-5511 Hollybridge Way, Richmond
Coquitlam: 2740-2929 Barnet Highway, Coquitlam
Central City Surrey: 3000 Central City, 10153 King George Boulevard, Surrey
Surrey: 101T-15277 100th Ave, Surrey
www.tnt-supermarket.com
Boss Bakery (Fundraiser for BC Children's Hospital Foundation 2021)
The BC Children's Hospital Foundation is hosting a Mid-Autumn Festival fundraiser where they have partnered with local bakeries and restaurants to offer mooncake gift sets and restaurant gift certificates.
A portion of the purchase will support a $5 million initiative to help give BC Children's world-leading orthopedic experts the capabilities to expand and accelerate the world-class clinical care and research.
You can purchase Boss Bakery Lotus Seed Paste Mooncake with Double Yolk (4 Per Gift Box, $43.80) or White Lotus Seed Paste Mooncake with Double Yolk (4 Per Gift Box, $47.80) with some of the proceeds to support BC Children's.
There are also gift cards for Kirin, Cactus Club, Earls and White Spot.
Find out more about the BCCHF Mid-Autumn Festival here.
Unique/Creative Options for Mooncakes Vancouver 2021
Buttermere Patisserie
For the very first time, Buttermere Patisserie is offering charming mooncakes to celebrate this significant cultural tradition.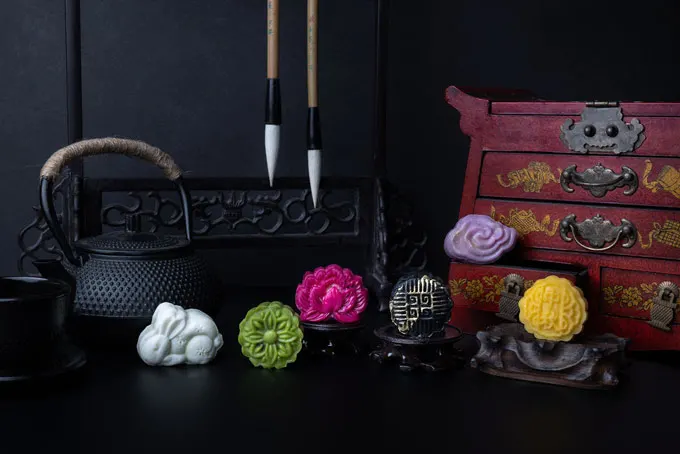 Buttermere Patisserie's mooncakes are made with steamed glutinous rice flour to make a mochi-like pastry shell and shaped to tell the mythical love story of Goddess Chang'e.
Each mooncake symbolizes a piece of the ancient legend: the white coconut pandan Jade Hare (玉兔) is the mythical moon rabbit sent to accompany Goddess Chang'e; the green matcha red bean Marigold (萬壽菊) is a symbol of love and despair; the dark pink cream cheese cranberry Lotus (蓮花) is a depiction of purity and union; the black sesame hazelnut Hua-Chuan (花窗) is the shape of the antique Chinese window pane from which one admires the moon; the purple milky taro Auspicious Cloud (祥雲) is a popular mark in the evening sky; and the classic yellow salted egg custard Mid-Autumn mooncake is an ode to the heritage folklore.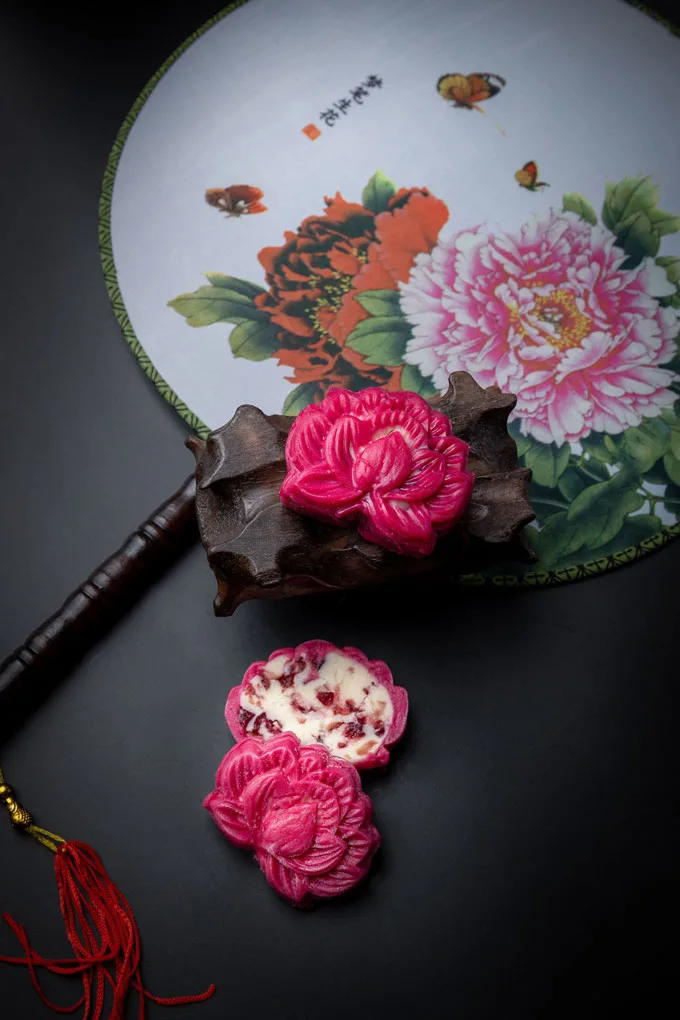 Sold only as a package of 6 in a Buttermere branded hand-carry box, each mooncake weighs about 50 grams and comes individually packed.
Buttermere's mooncakes are priced at $60 each set and available for pre-order August 23rd through to September 18th online for pick up or delivery from September 12th to September 21st.
Nam Dae Moon
Nam Dae Moon in Richmond is offering Rice Mooncakes and Snow Skin Mooncakes.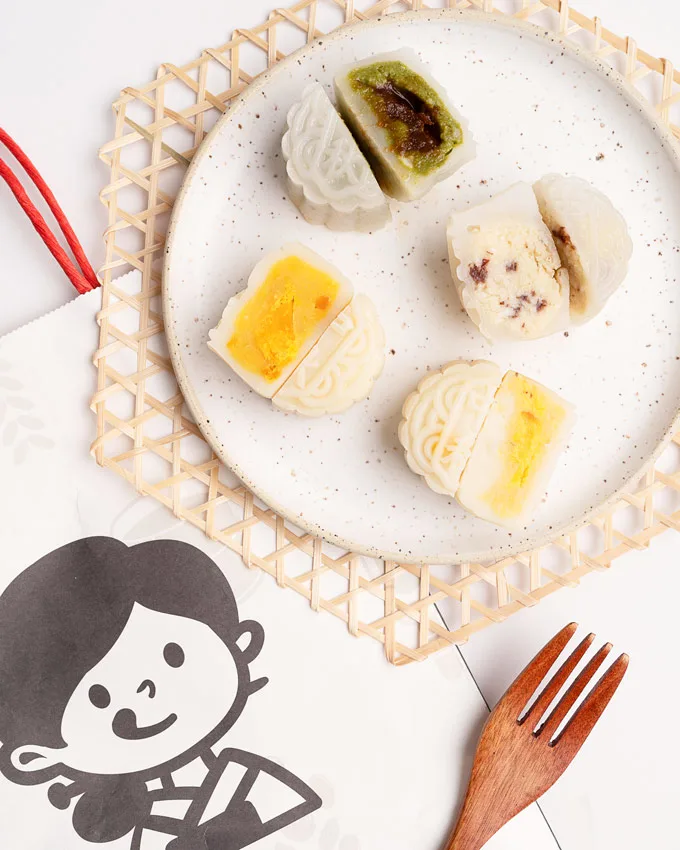 Made with high quality specialty rice freshly milled in-house, the Rice Mooncake skin is translucent and slightly chewy in texture, exhibiting an amazing rice aroma and a subtle sweet flavour. Available in Matcha & Red Bean or Coconut Cranberry.

The freshly made Rice Mooncakes can stay fresh for 2 days at room temperature. It can also be stored frozen up to 12 months, and once defrosted and re-steamed, it would taste like freshly made! And yes, Rice Mooncake can be enjoyed warm or steaming hot.
The Snow Skin Mooncake is available on the festive seasonal menu so that mochi lovers can enjoy moon cake with a bouncy texture with its glutinous skin. Available in Mung Bean Lava and Salted Egg Yolk Custard.
They are offering a Back-to-School special deal which includes one Rice Cake, one Glutinous Rice Cake, and one Specialty Drink for only $20.
Soirette
Soirette is offering a Deluxe Mooncake Gift Set with creative flavours.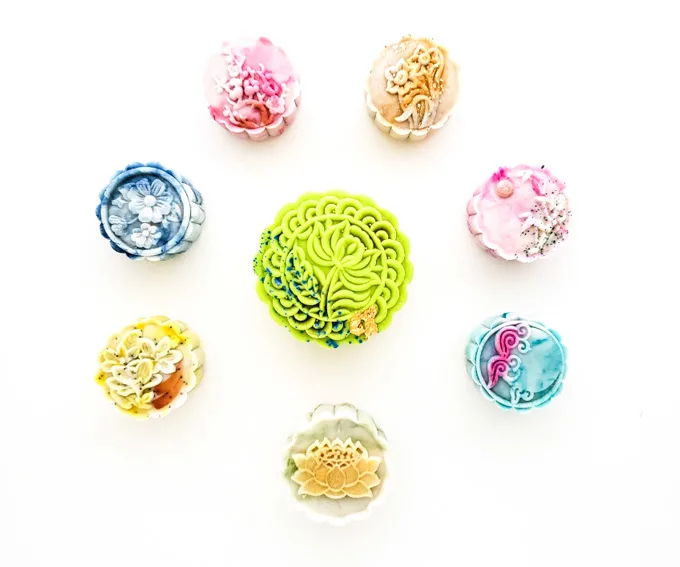 Each Mooncakes Vancouver 2021 gift box features 8 mooncakes is set in a beautiful square box with a clear tray to avoid shifting of these fresh and delicate treats.
Every component is made from scratch in small batches, with fresh ingredients and no preservatives.
This set comes with 8 unique mooncakes, including some wonderful favourites and some new ones inspired by childhood memories from Malaysia.
The special large floral mooncake is filled symbolizes prosperity, love, joy and longevity.
Pineapple & Soy Sauce
Laksa Delight & Lime Leaf
House made Kaya Toast
Durian & Gula Melaka Lotus Paste
Salted Duck Egg Cookie & Maple with Poppyseeds
Peach Belle Tea
Calamansi & Strawberry
Large – Double Pistachio Truffle & Kopi Tiam Latte
Soirette
1433 W Pender St, Vancouver, BC
www.soirette.com
Beaucoup Bakery
Beaucoup Bakery is offering their first-ever Mid-Autumn Festival collection, La Petite Lune ($55).⁠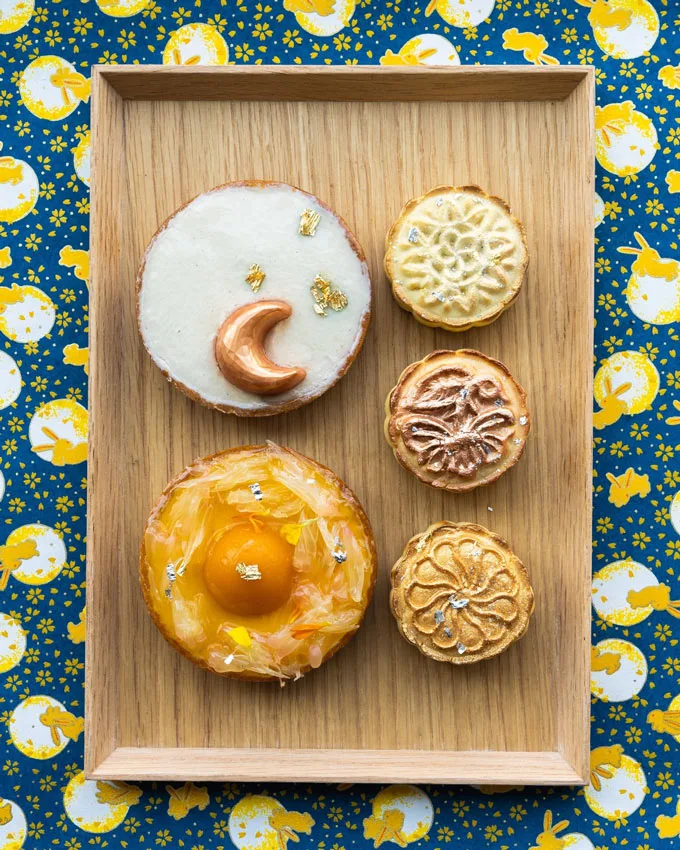 Available starting September 10, 2021, in three special packages, the limited-edition, artisanal treats are inspired by Jacky and Betty Hung's heritage, the adventures of the classic The Little Prince book, and love for innovating traditional flavours.
These include three modern-style mini mooncakes and two seasonal tarts. ⁠
⁠
The Little Moons is a pack of three 2-inch mooncakes, featuring brown butter sweet potato with roasted pecan marzipan; vanilla rice pudding with pistachio marzipan; and raspberry currant currant cheesecake.
They are baked with a golden buttery crust and custom stamped with artistic Chinese floral flourishes and designs.⁠
⁠
La Petite Lune Gift Set features two packs of the Mini Moons and two refreshing and shareable 3.25-inch tarts – mango sago pomelo and jasmine strawberry.⁠
⁠
The Prince and the Fox with one each of the 3.25-inch mango sago pomelo (The Prince) and jasmine strawberry tarts (The Fox).⁠
⁠
La Petite Lune, can be pre-ordered online now for pick-up from September 10 to 21, 2021.⁠
Azure Play Cafe
Azure Play Cafe in Richmond is offering boxes of mooncakes priced at $60 per box of 6.
Flavours include chocolate lava, matcha lava, durian lava, earl grey lava and original lava. These all ahve with crushed salted egg yolks inside.
Yandoux Patisserie
Yandoux Patisserie in Olympic Village is offering individual sized mooncakes. Pricing to be revealed.
Lady M Canada
This year, Lady M is offering a Celebration of Lights Mooncake Gift Set featuring an interactive spinning ferris wheel, twinkling lights, fireworks, holographic foil and the beloved moon rabbit.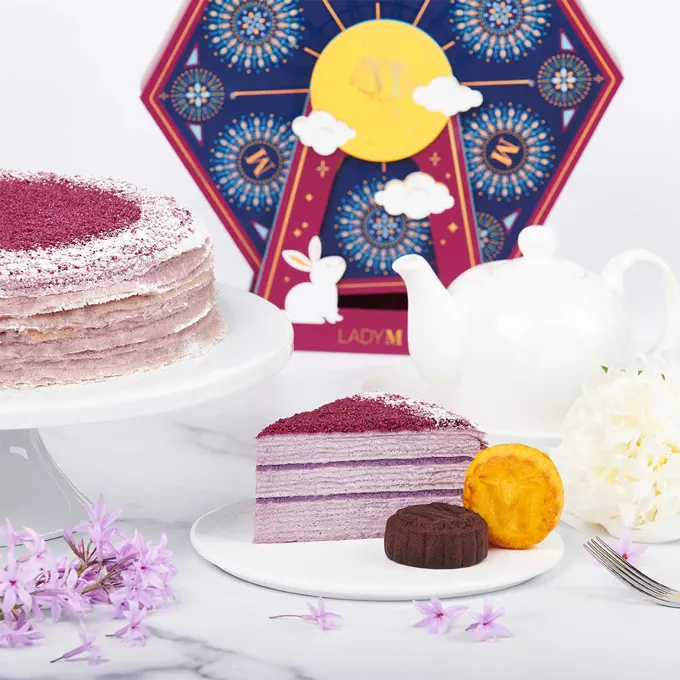 Open each side of the pentagon to reveal a fresh batch of Lady M mooncakes 2021, made in collaboration with Kee Wah Bakery.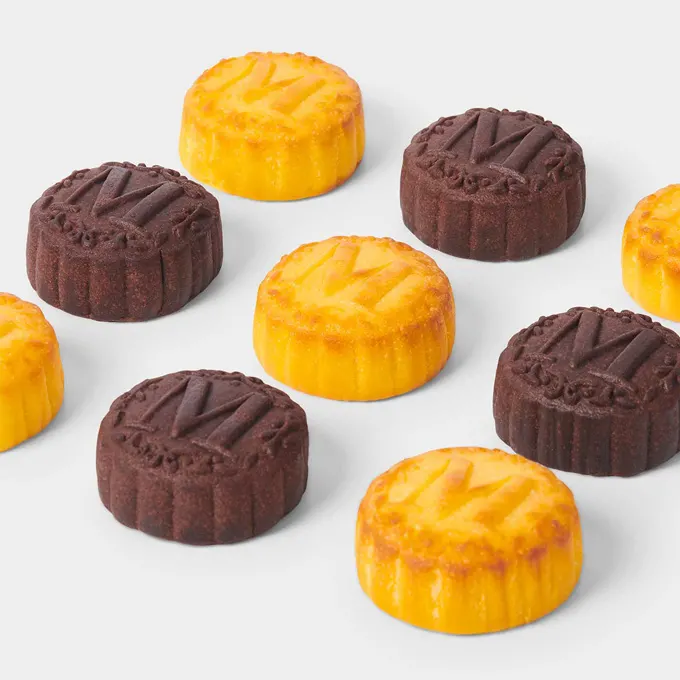 They also have a new creamy and sweet purple yam crêpes cake featuring layers of whipped purple yam cream and purple yam paste.
Read more in my post about Lady M Mooncakes 2021.
TWG Canada
TWG Canada is offering "Moon Dance Traditional Mooncake Musical Box" collection for 2021.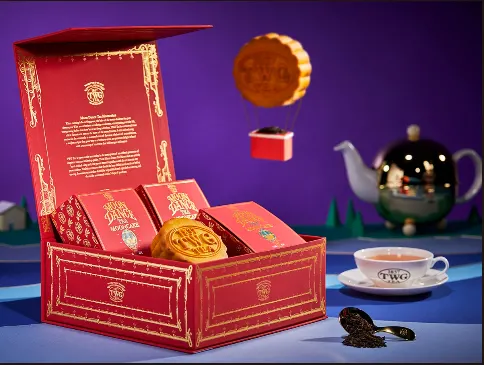 These chic and whimsical mooncake music boxes will delight with melodious music when they reveal a rainbow of tea-infused traditional or snowskin mooncakes.
The flavours include:
Constellation
This iconic signature of the mid-autumn festival holds within a golden crust a smooth and elegant brown lotus filling infused with Singapore Breakfast Tea, a scattering of roasted melon seeds and an embedded salted egg yolk heart.
Jewel
Adorned in a perfectly baked golden brown crust, this exclusive TWG Tea mooncake showcases an aromatic local favourite gula Melaka palm sugar lotus paste infused with Red Jasmine Tea, embellished with chopped roasted macadamia nuts.
Illumination
Emanating the warm glow of a lantern with a striking bright golden hue crust, this illuminating TWG Tea mooncake encases a refreshing Breakfast Yuzu Tea infused lotus paste with dried mango bits and a raspberry purée almond paste heart.
Harvest
Encased in a sumptuous baked crust, this TWG Tea mooncake boasts a rich and smooth red bean paste infused with Vanilla Tea, enveloping a citrusy sweet orange and almond paste heart.
TWG mooncakes can be picked up at their store in Vancouver or shipped across Canada.
Food Delivery Apps
Fantuan Delivery App
Check the Fantuan Delivery App special section for Mid-Autumn Festival. You'll find mooncakes from savoury Shanghai mooncakes to classic options.
Restaurant Features
Kinton Ramen
In celebration of Mid-Autumn festival, Kinton Ramen is introducing an exclusive special from September 1 to 30 only.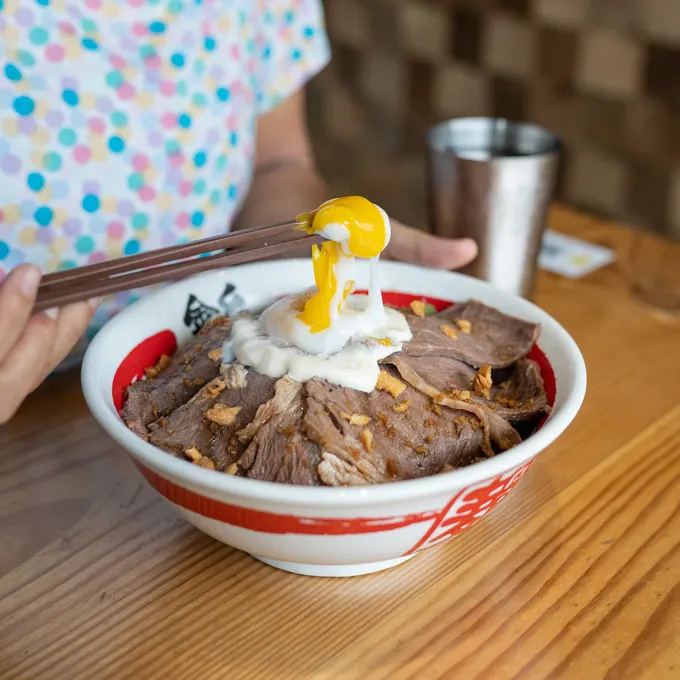 It's a Roast Beef Ra-moon ($15.99) featuring brothless ramen w/ 1.5x seasoned thick noodles, topped w/ roast beef, onsen tamago, arugula, white onion, garlic chips, mayonnaise and house-made yuzu soy sauce.
Available for dine-in, traditional takeout (walk-in/phone orders) and 3rd party apps in UberEats and DoorDash.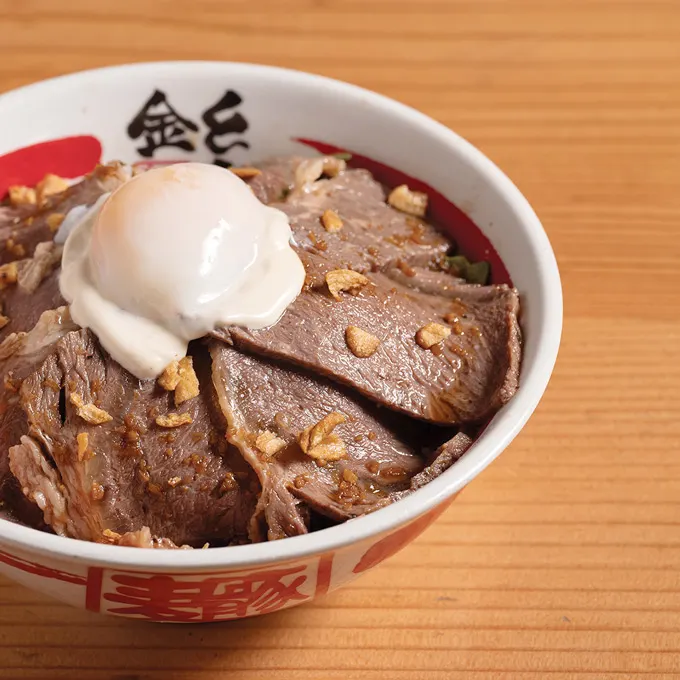 Mid-Autumn Dinner Ideas
T&T Supermarket
T&T Supermarket is offering various Mid-Autumn Celebration Combos including Peking Duck Combo, Lobster, Cream Crab, Sushi, BBQ and more.
Pre-order before September 2 for 10% early bird discount.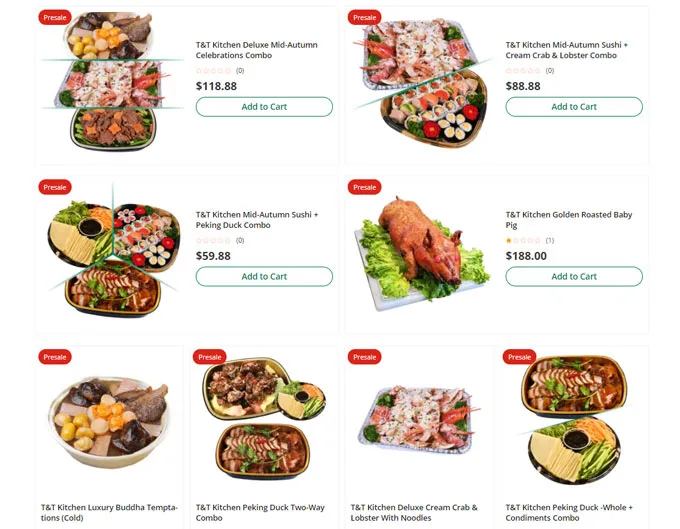 Things to Do
Dr. Sun Yat-Sen Classical Chinese Garden
Explore the Dr. Sun Yat-Sen Classical Chinese Garden during the Mid-Autumn Festival, celebrating the harvest moon, family, and togetherness.
Wander through this world-renowned Ming-dynasty inspired garden, enveloped by live music and colourful lantern decorations.
Activities presented by the Dr. Sun Yat-Sen Classical Chinese Garden and the Canadian International Dragon Boat Festival Society as part of the Concord Pacific Dragon Boat Festival.
Programming will start September 21st and end September 26th, and includes mooncake tasting, tea ceremony demonstration, live music, crafts, storytelling, and moon-watching with the HR Macmillan Space Centre.
Admission by donation(minimum recommended $5): online pre-booking recommended. Walk-ups will depend on space and availability.
Learn more at vancouverchinesegarden.com/events/mid-autumn-moon-activities
You might also like: