Mon Paris Patisserie is a new Parisian-style cafe that has opened in Burnaby's Metrotown neighbourhood at 4396 Beresford Street. It is owned and operated by Parisian-trained Chef Elena Krasnova and this is her first venture alone. I had seen some social media posts about Mon Paris Patisserie and had been interested in trying out their treats. This month, I am working with Pay By Phone to share with my readers about their expansion to Burnaby. Mon Paris Patisserie has metered parking just right in front and you can use Pay By Phone to enjoy simple, worry free parking while you are there. Here are a few thoughts on my visit to Mon Paris.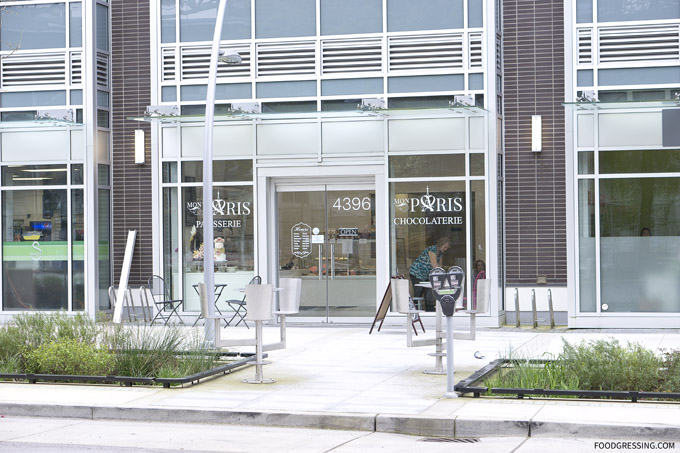 Disclosure: None of my food in this review was complimentary. The cafe did not know that I am a blogger. My parking was sponsored by Pay By Phone.
A Touch Of Paris
The 1,000 square foot cafe is bright, airy, clean and modern. When you walk in, a large photo of the Eiffel tower immediately catches your eye. There are a few two-seater tables inside the cafe as well as one table outside.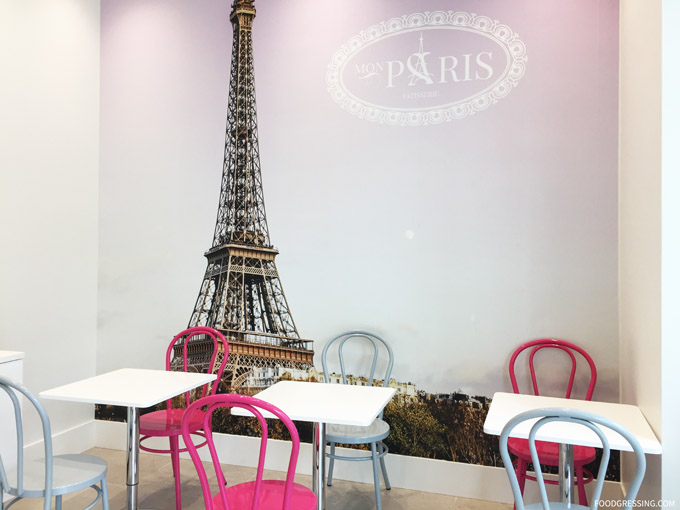 Mon Paris Patisserie's tantalizing display of goodies includes viennoiseries (scones, croissants, turnovers and more), confections (marshamallows and marmalades), macarons, chocolates, cakes and tarts. The style of the pastries seem to be French but with a modern twist. I noticed the vibrant colours of the treats which seem to be more of a modern appeal. Also on the menu are lunch specials like croissant sandwiches as well as espresso-based drinks and teas.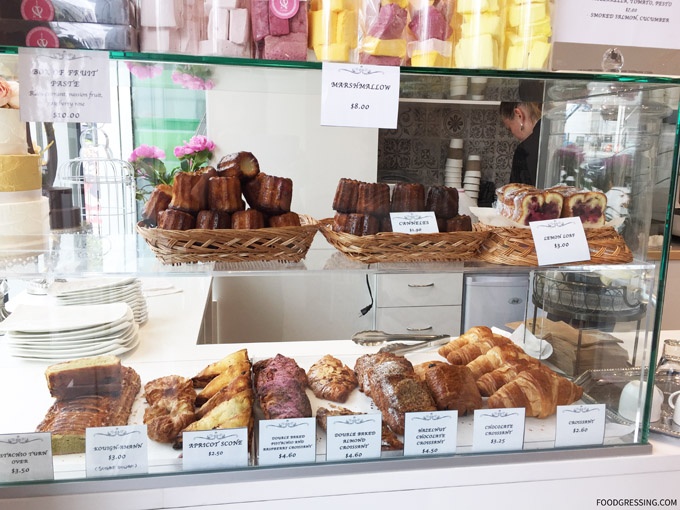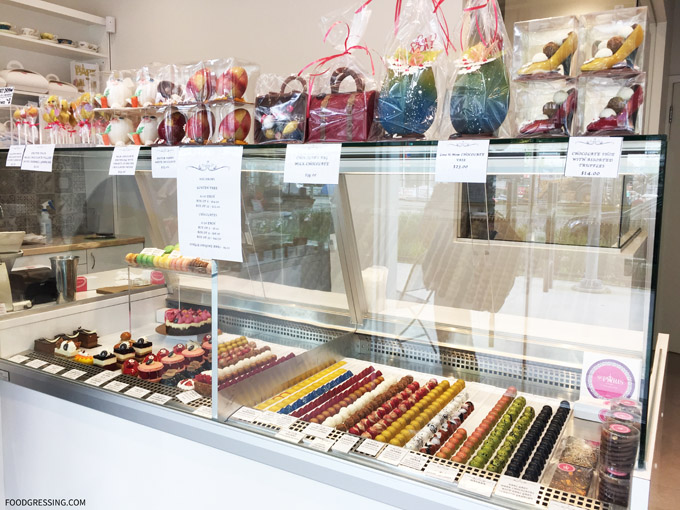 What I Tried
On my visit to Mon Paris patisserie, I tried the following:
Raspberry eclair ($4.00)
Strawberry and sour cream tart ($5.00)
Cappuccino, medium ($3.50)
While I quite enjoyed the modern and inviting atmosphere, things kind of went awry afterwards. The woman working the counter may have been a temporary fill-in or a relative of the Chef perhaps? She was friendly but didn't seem quite familiar with how things operated around there. To start, I noticed that she just used her bare hands when she removed my treats from the display case. Staff at other cafes would use tongs or use gloves to handle the food, I think. Also, the display case at Mon Patisserie is deeper such that there is no easy way to just slide out the treats. You literally need to lift them out of the case. I saw that the woman went from handling my treats to touching the tablet to process the payment.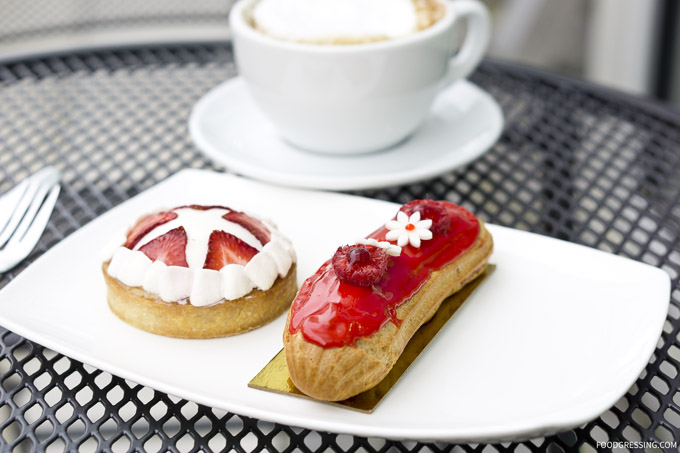 Next up, the cappuccino seemed a little off. The proportions of espresso and milk seemed wrong? The drink was loaded with milk foam and the espresso was rather weak in my opinion. It just didn't seem like an expertly crafted cappuccino.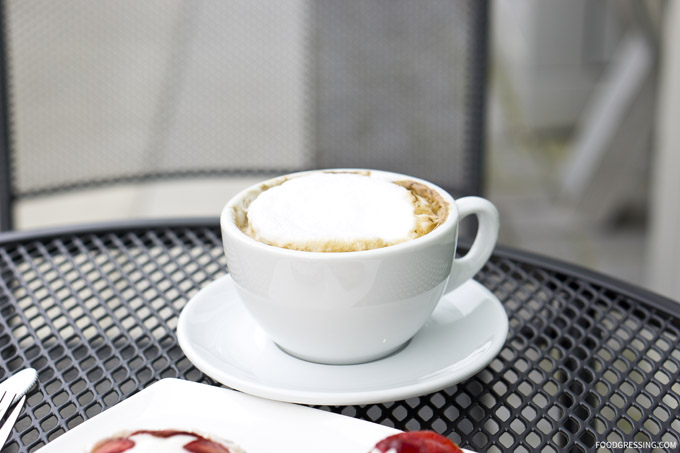 The raspberry eclair and strawberry and sour cream tart were very good. Both were not very sweet as high quality French pastries should be. The rapsberry eclair had a tasty raspberry-flavoured cream filling. However, I feel the filling from the new Eclair de Genie shop on Robson are better as they tasted fresher and lighter. Of course, there is a bit of a price difference as well: $4 for an eclair at Mon Paris versus upwards of $7 at Eclair de Genie. Another surprise was that my husband picked off some fibers from inside the tart. They didn't seem to be human hair but perhaps fibres from clothing? I didn't complain as I was not in a mood to deal with the staff about it. But otherwise, the dessert tasted quite good with a slightly tart flavour. The crust wasn't very sweet but was still buttery.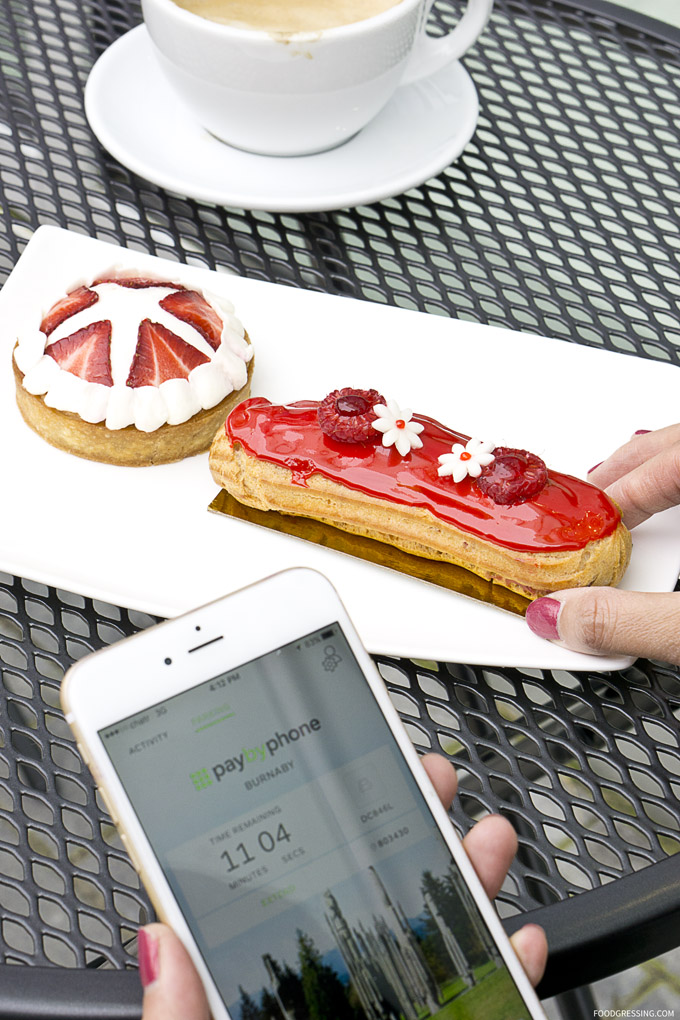 Overall Impression of Mon Paris Patisserie
I had high hopes of writing a great review of Mon Paris Patisserie, but unfortunately there were a few issues. The cafe is still new and I expect there to be improvements. At the moment, my experience didn't really entice me to return soon. Rating: 3/5
Website: www.monparis.ca