When it comes to must-try ice cream parlours in Seattle, Molly Moon's is certainly one of them. Around Seattle, they have 8 locations (now that's a lot!) and they known for using local and organic ingredients in their homemade ice cream. For example, they use milk and cream from hormone-free dairy cows and organic fruits and spices as much as possible. After having some deep dish pizza at Delfino's in University Village, we decided to enjoy some ice cream dessert at Molly Moon's (also inside the village). It was a nice Saturday night and the line up was outside the door for Molly Moon's. However, the line progressed at a reasonable pace and we were inside the ice cream parlour in no time.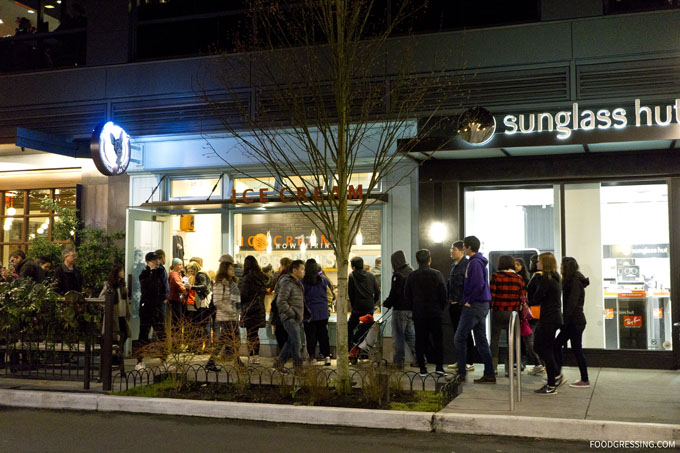 Note: This is not a sponsored post. The food was not complimentary. I did not receive any compensation or incentive to share about my experience. The eatery did not know that I am a blogger.
Molly Moon's Ice Cream Menu
Molly Moon ice cream flavours were categorized into "Always Flavors" and "Seasonals." Also on the menu were additional toppings and sundae options.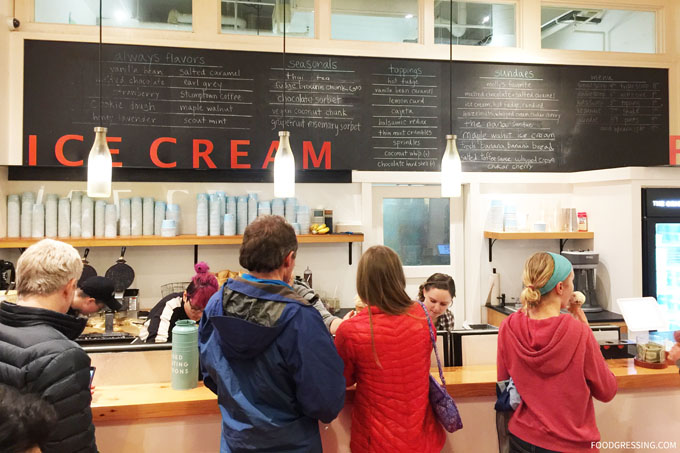 "Always Flavors" include vanilla bean, salted caramel, cookie dough and more. For "Seasonals," they had vegan coconut chunk, chocolate sorbet, fudge brownie chunk and others.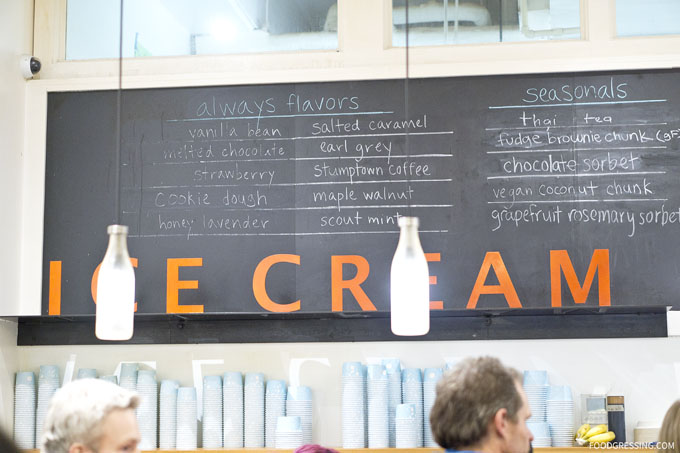 Some of the interesting topping choices were lemon curd, hot fudge, balsamic redux and vanilla bean caramel.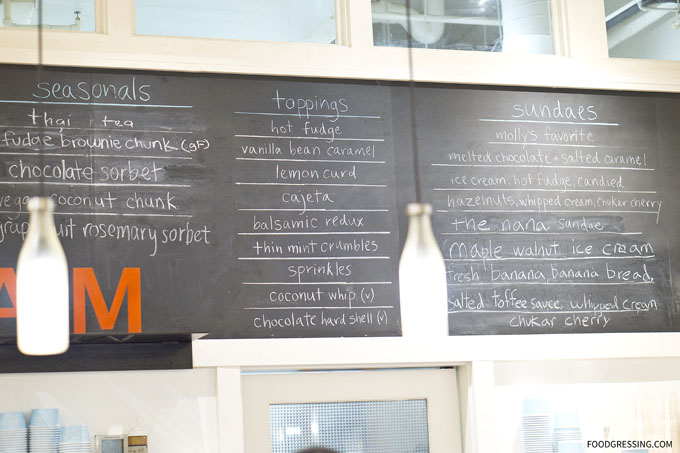 Customers can enjoy a single scoop ($4.50), double scoop ($6.50), and triple scoop ($8.50). Waffle cones and additional toppings are $1.25 each.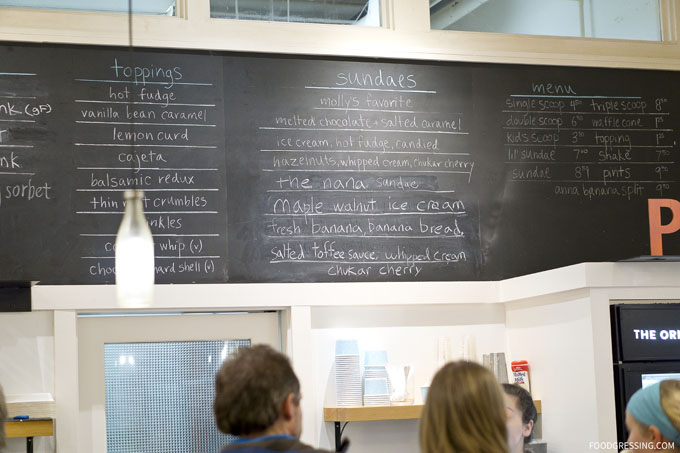 The staff seemed friendly and we sampled a few flavours before settling on a double scoop of Thai tea and Strawberry in a waffle cone ($7.75 + tax).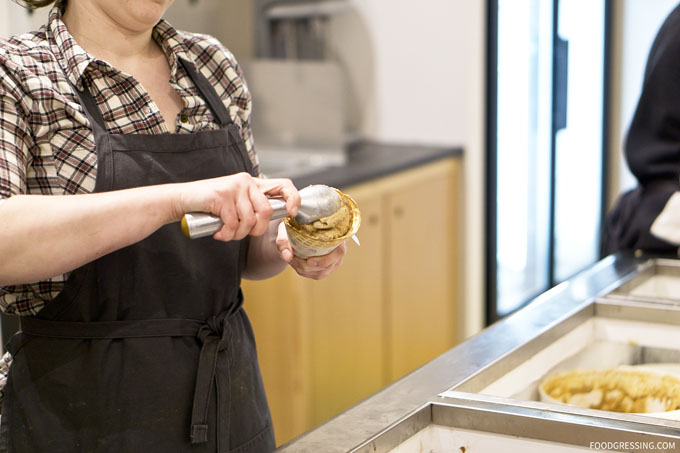 In general, the ice creams were rich, creamy and flavourful. The strawberry is one of their always-available flavours and is made with Washington-grown strawberries. They include chunks of strawberries and you can really taste them! I liked how they include real fruit bits in the flavour. Their seasonal Thai tea flavour is made by hot steeping organic rooibos red tea and organic assam black tea into their milk and cream before spinning it into ice cream. I really enjoyed the Thai tea which had hints of cinnamon, anise and vanilla.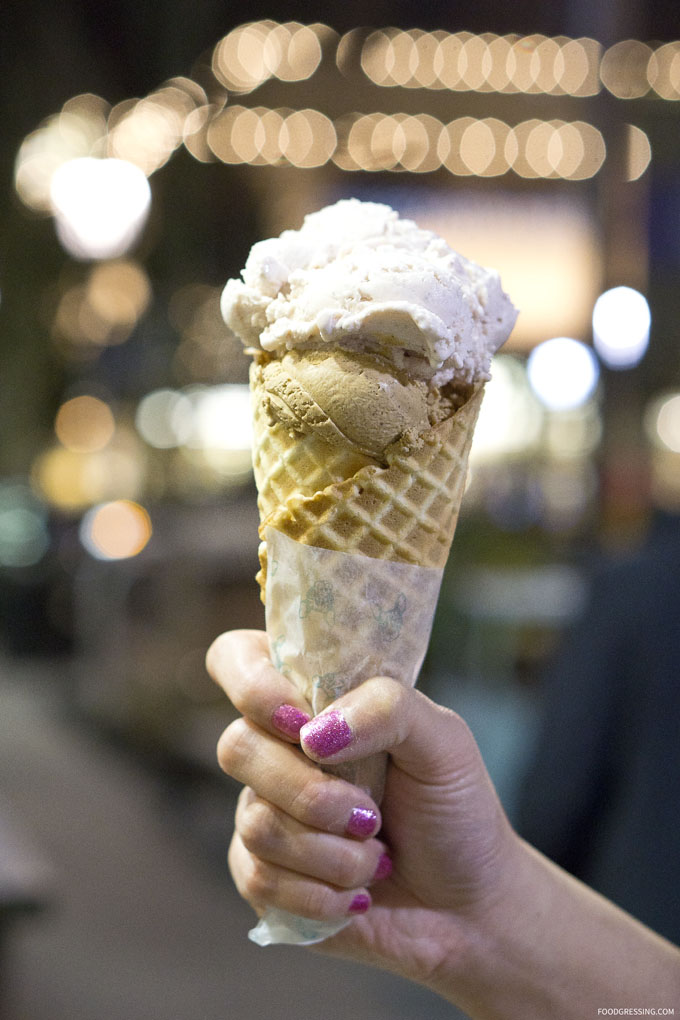 Overall Impression of Molly Moon's
The ice cream from Molly Moon's certainly did not disappoint. Although I didn't order a topping at the time, I wish I did as they seem very interesting and delicious. I'd love to visit another of their locations on my next trip to Seattle. Rating: 4.5/5
Website: www.mollymoon.com