Not having experienced deep dish pizza before, I decided to search for local pizzerias in the area and I made the decision to try it out on our recent visit to Seattle. Delfino's Chicago Style Pizza in University Village came up in my research as one of the few places that did serve deep dish pizza in Seattle.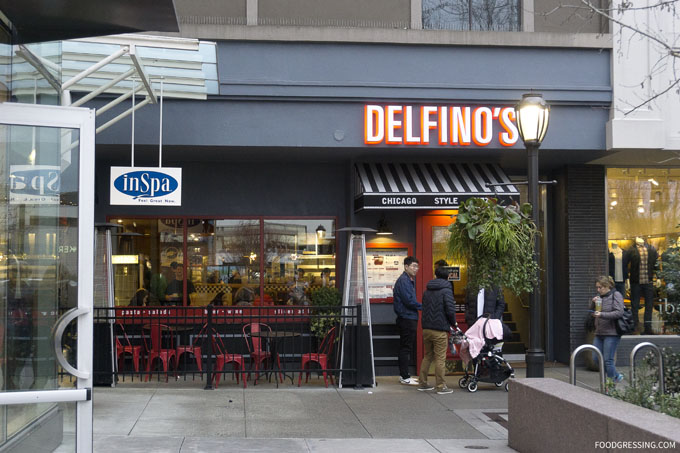 Note: This is not a sponsored post. The food was not complimentary. I did not receive any compensation or incentive to share about my experience. The restaurant did not know that I am a blogger.
Casual, Relaxed Eatery
Coming in on a Saturday night, the eatery was busy with a steady flow of dine-in and carry out customers. My family and I were (party of 3) didn't have to wait too long for a table. Seating seemed to be plentiful with a mix of booths and dining tables for 2 and 4. There is also another dining area in the back of the restaurant. Delfino's has a casual vibe to it with a casual, retro-inspired interior. And though it was busy, staff seemed pretty relaxed and on top of things.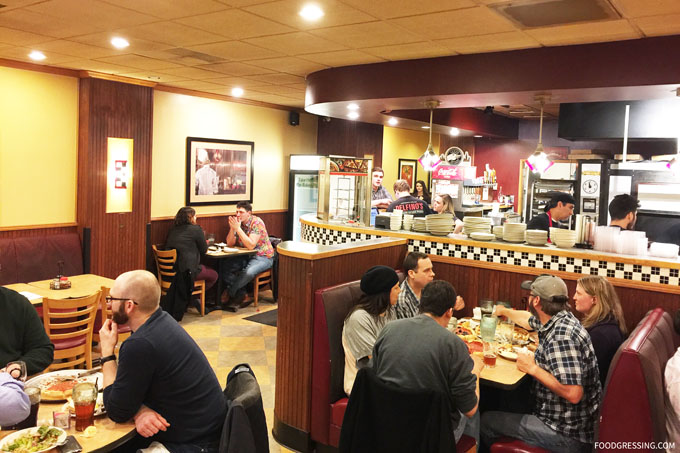 Delfino's Menu & Bake Times
Delfino's Chicago Style Pizza menu is rather extensive as they offer a wide range of items aside from pizza. You'll find appetizers (like chicken wings, Italian meatballs), salads, sandwiches, soups, pasta, desserts and more. As for the pizza pies, they come in mini (1 person), small (2 – 3 people), medium (3 -4 people) and large (4 – 5 people). Crust options include thin, deep dish and stuffed. The difference between a stuffed and a deep dish is that a stuffed pizza-pie starts with a deep dish crust, toppings, cheese and then is covered with another thin layer of crust, toppings and sauce. For a build-your-own pizza, deep dish starts at $9.00 (mini) up to $21.75 (large); stuffed pizzas range from $9.75 (mini) to $22.50 (large). Their signature combos cost a bit more. Delfino also notes the bake times for the pizzas: 15-20 min for thin; 25-30 min for deep dish and 30-35 min for stuffed. A kid's menu is also available with chicken tenders, pasta, cheese pasta and more. You can find Delfino's menu online.
What We Ordered
At Delfino's, we ordered the following:
Chicago Firehouse Stuffed Pizza, Small ($24.60)
Perfect Pesto Deep Dish Pizza, Mini ($13.00 – even though menu says $12.00)
Kid's Cheese Pizza ($7.00) with Pepperoni (+$1.00)
Diet coke ($2.50)
The Chicago Firehouse Stuffed Pizza was the star of the show. It was a thick, dense pizza pie made with signature sausage, bacon, sauteed onions, jalapeno, mozza and tomato sauce. My husband, who is a voracious pizza eater, thought that he could easily finish this stuffed pizza pie by himself. And he was so wrong – this pizza pie was fully loaded. He was able to eat only one slice. This thing is a beast and not for the faint of heart.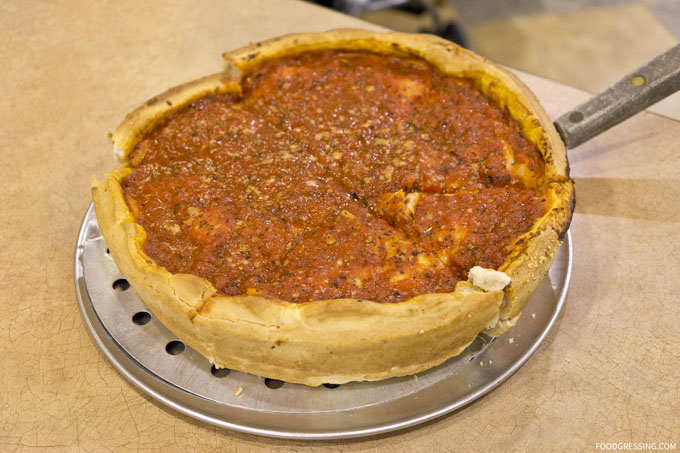 The crust was crispy on the outside and soft and chewy on the inside. The tomato tasted like it had herbs in it. The pizza also had a nice spicy kick to it from the jalapenos.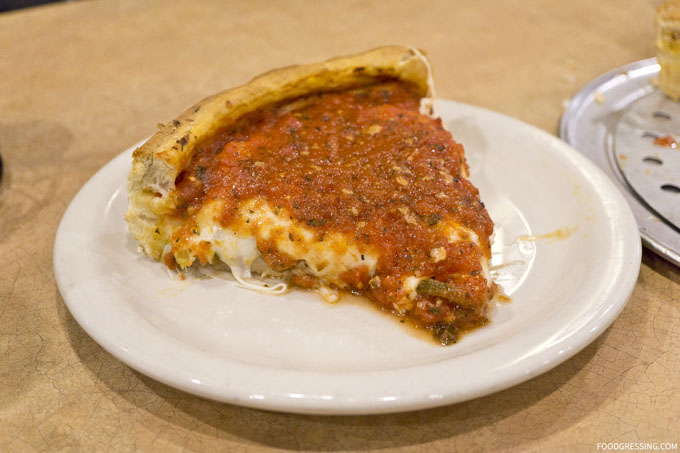 On the other hand, the Perfect Pesto Deep Dish Pizza was a tad disappointing because we couldn't really taste the pesto. It is supposed to be made with parsley pesto, pine nuts, garlic, parmesan, mozza and tomato sauce. The pine nuts were a nice touch and added some textural contrast to the cheesiness. I would describe it more as a cheese pizza.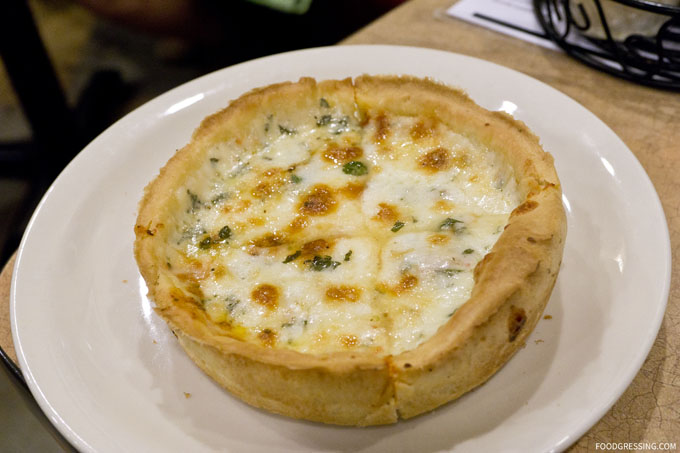 The Kid's Cheese & Pepperoni thin crust pizza was a hit with my son. He's a picky eater and he devoured the pizza. Loved how cheesy it was with a balance of pepperoni flavours.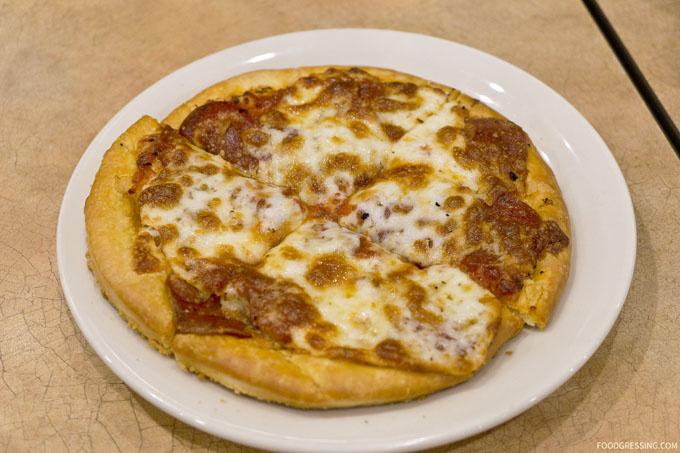 Extra $1 Charge
Here's the funny thing as I am writing this post up. As I am reviewing a photo of the receipt from our meal, I noticed that we were charged a dollar more each for the Perfect Pesto pizza. Not a big deal but the menu did say $12. Not sure whether there was an extra charge somewhere, an error or something else…
Overall Impression of Delfino's Chicago Style Pizza
My first deep dish experience at Delfino's Chicago Style Pizza was good overall. The Chicago Firehouse was tasty but the Perfect Pesto lacked enough pesto flavour. Staff was friendly. The extra $1 for the Perfect Pesto Pizza puzzles me. I'm unsure what that was about. Rating: 3.5/5
Website: delfinospizza.com