Newly opened in Richmond is Milk Cow Cafe, a South Korean-based dessert cafe specializing in organic soft serve with creative toppings.  Located within the Richmond Olympic Oval district, this is currently the only Canadian location for the Korean chain which has over 50 locations worldwide including USA, Australia, UAE and more.  This store is owned and operated by two brothers which I found out after talking to one brother who was working at the time.  I visited Milk Cow Cafe earlier today to try some of their soft serve offerings.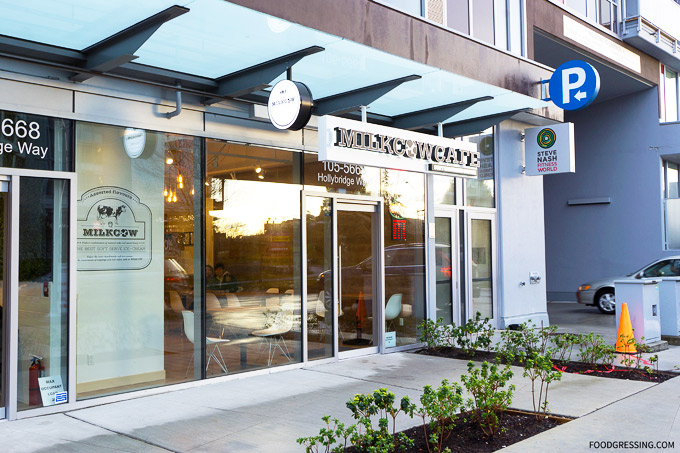 Note:  None of the food in this review were complimentary.   This review is done anonymously.
Milk Cow Cafe Menu
On the menu at Milk Cow are 12 options for organic soft serve ice cream.  The Milky Way is their base soft serve with no toppings.  All their desserts have the same natural milk organic soft serve but differ in toppings such as Cotton Candy, Jelly Beans, Apple Syrup, Chocolate Rocks and more.  The soft serve are priced between $4.75 – $6.50.  You can also order other toppings for an additional cost.  Also available are espresso-based drinks made with organic coffee (like latte, cappuccino, macchiato and more).  They currently accept cash or debit only.
In terms of process, the desserts are assembled on order.  The soft serve itself is dispensed from a machine.  The Cotton Candy is also made to order.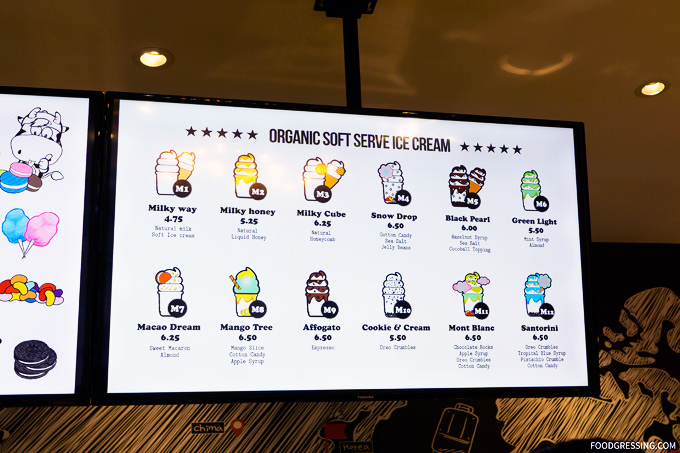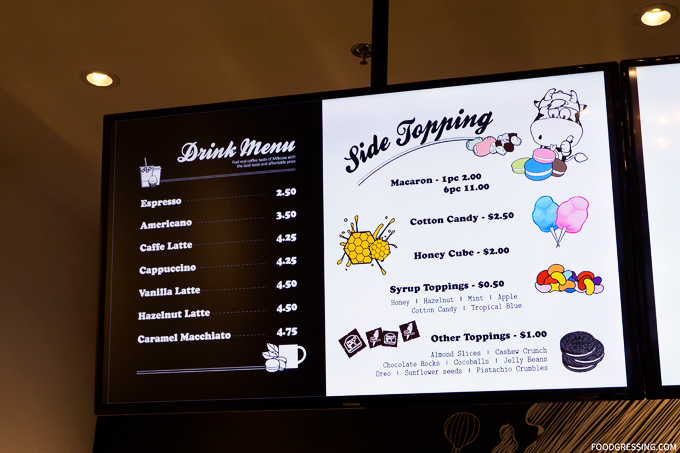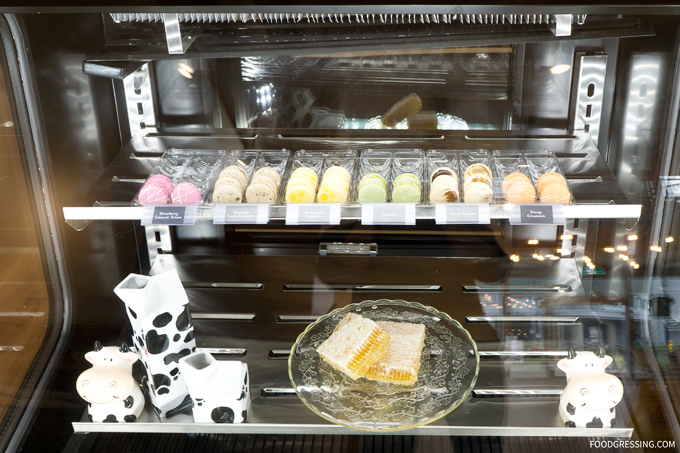 Minimal, Modern Interior
Milk Cow's location in Richmond is modern, clean but minimal with a few small dining tables.  I liked that they have self-serve water pitchers for customers.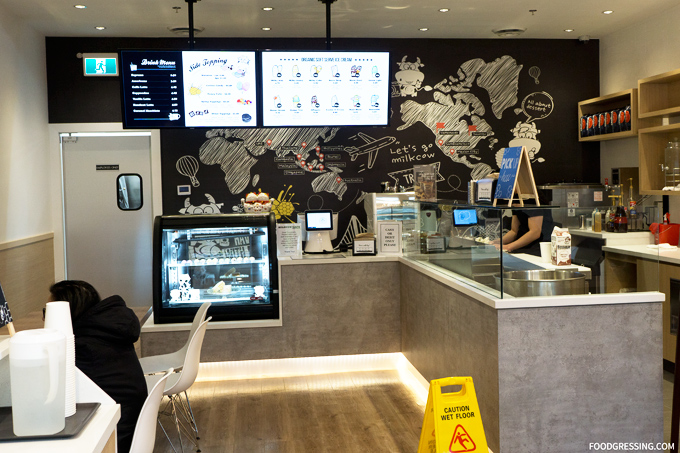 What I Tried
Going in with my family, we tried two soft serves: the Santorini and the Milky Cube.
The Santorini
The Santorini with its vibrant blue hues and whimsical cotton candy on the side is probably the most Instagrammable of all their offerings.  The owner mentioned to me that it is on the sweeter side so I asked him to tone down the amount of syrup (just like I do at Starbucks).  This soft serve came with Oreo Crumble, Tropical Blue Syrup, Pistachio Crumble and Cotton Candy.
To start, Milk Cow's organic soft serve was very good.  I enjoyed its smooth and creamy nature although the taste seemed more like milk powder to me than regular milk.  I usually assume that syrups that look "unnatural" probably taste very artificial but the Tropical Blue Syrup wasn't too bad.  The Pistachio Crumble was perhaps too fine as I thought the pistachio taste didn't really come through.  I'd probably prefer some large pistachio pieces instead of a crumble.
The Cotton Candy was a worthy attempt but I think 720 Sweets does it better with their Cloud 9 dessert.  I think they give out more Cotton Candy which results in a thicker product that looks better in terms presentation.  The one from Milk Cow seemed a bit "weak."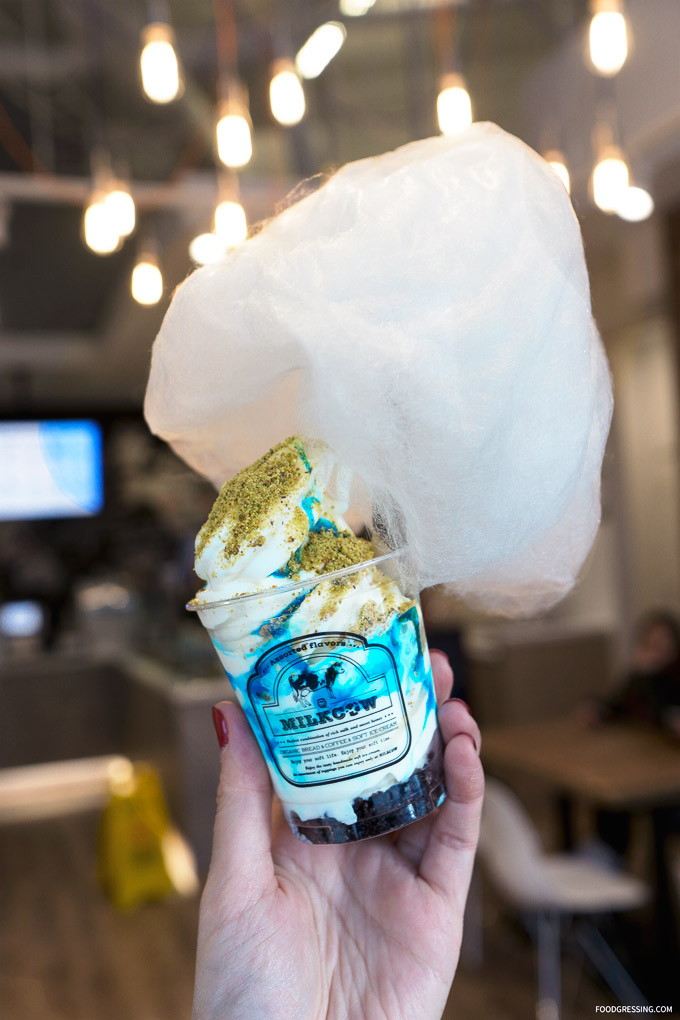 Milky Cube
A more simple option that we tried was the Milky Cube which had a Natural Honeycomb on the side.  In terms of taste, I thought that this one was more natural tasting and hence better in my opinion.  The honeycomb was a nice touch as it had a beautiful honey taste and offered some fun sticky texture to the dessert.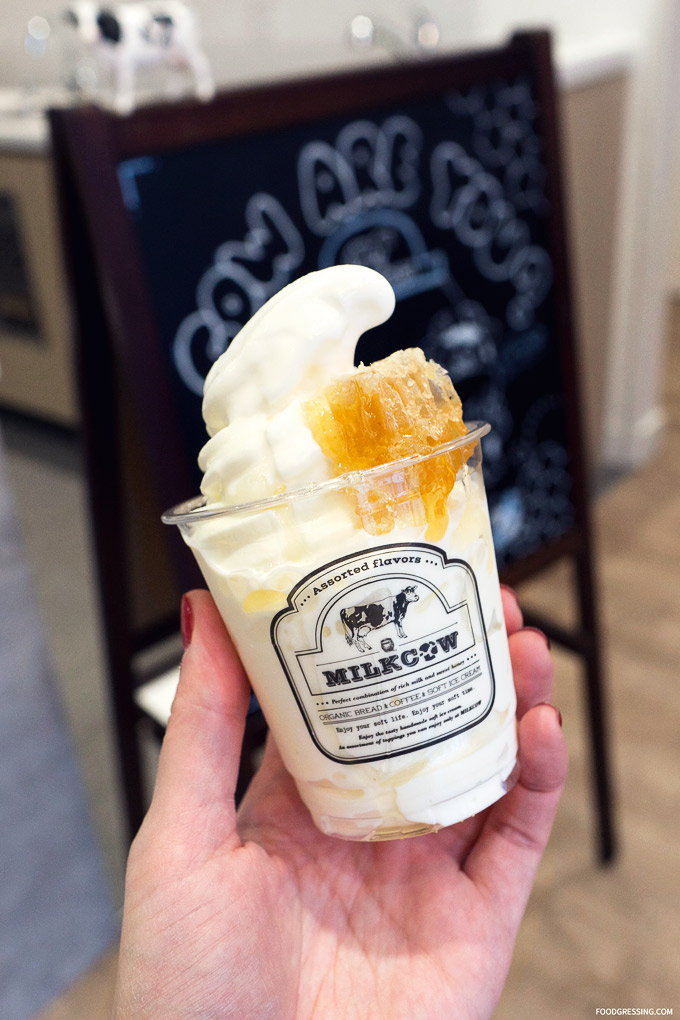 Service
There was just one person (one of the owners) who was working the front and he was taking orders and making the desserts.  There was a bit of a wait as a result but perhaps things will move more quickly when they hire more staff (they are hiring by the way!).
Overall Impression
The toppings from the Santorini didn't really add any excitement for me in terms of flavour and presentation.  However, I really enjoyed Milk Cow's organic soft serve and would have it again on its own or with some honey.  Prices seemed more or less OK for what you get.  Rating: 3.5/5
Milk Cow Cafe
Address: 105-5668 Hollybridge Way, Richmond, British Columbia
Website: ‎https://milkcowcafe.ca