Is McDonald's Pizza Canada Coming Back?
Earlier today, McDonald's Canada put out a social media announcement saying that a menu item that fans have been asking for is arriving on August 31, 2021. Could it be the McDonald's Pizza otherwise known as McPizza?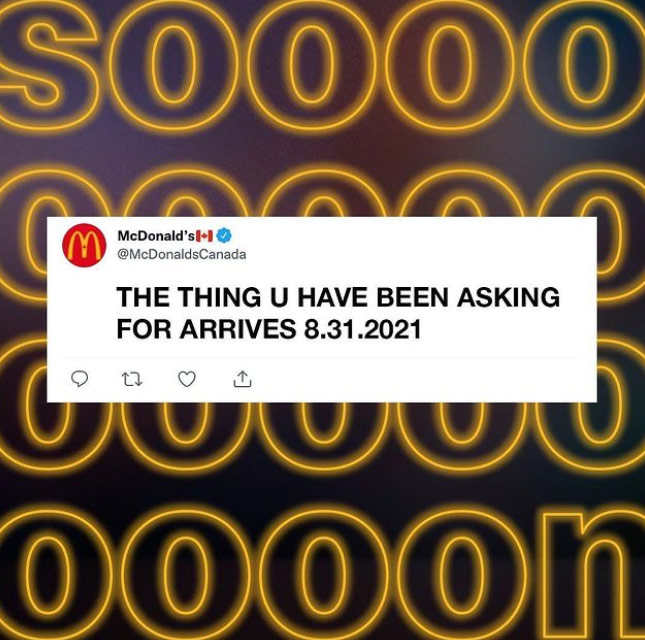 While the company merely just hinted about the item launch, people have started to guess what the item could be.
McPizza started trending and McDonald's Canada quickly made note of it.

When was the McPizza launched?
McDonald's debuted the McPizza in the late 1980s.
They offered four varieties: Cheese, Pepperoni, Sausage and Deluxe.
The McPizza was made with McDonald's pizza sauce, crushed tomatoes, fresh garlic, basil and oregano.
Other ingredients (depending on which variety you got) were 100% mozzarella, aged Romano and Parmesan cheese, sliced tomatoes, pepperoni, pork sausage, mushrooms, green peppers, onions and special seasonings.
You could get a deal when you bought two.
The McDonald's Pizza was available after 4 pm.
"McPizza" was not the official name but rather what customers decided to call it.
When did McDonald's stop making pizza in Canada?
In 2012, McDonald's made official statement on why they decided to take the McPizza off the menu:
Although it was a popular menu item in Canada, the preparation time was about 11 minutes—which was way too long for us. Every McDonald's has a busy kitchen and the pizza slowed down our game. And since speed of service is a top priority and expected by our customers, we thought it best to remove this menu item. For now, our pizzas will have to remain a tasty bit of history.
Why did the McPizza fail?
Based on the company statement above, the McPizza slowed down the efficiency in service at McDonald's because it took way too long to make.
11 minutes was the preparation time for the McPizza and that is a very long time for what is supposed to be fast food.
Where can I get a McPizza?
One confirmed location where you can get a McPizza right now is at the "World's Largest Entertainment McDonald's" located in Orlando, Flordia at 6875 Sand Lake Road.
This particular location has a dedicated brick pizza oven.
McDonald's Pizza Release Date 2021
We will have to see on August 31 to see of the McPizza returns to McDonald's Canada menu.