Want to find out how much is a McDonald's menu item in Canada? Here is a complete list of McDonald's Canada menu item prices.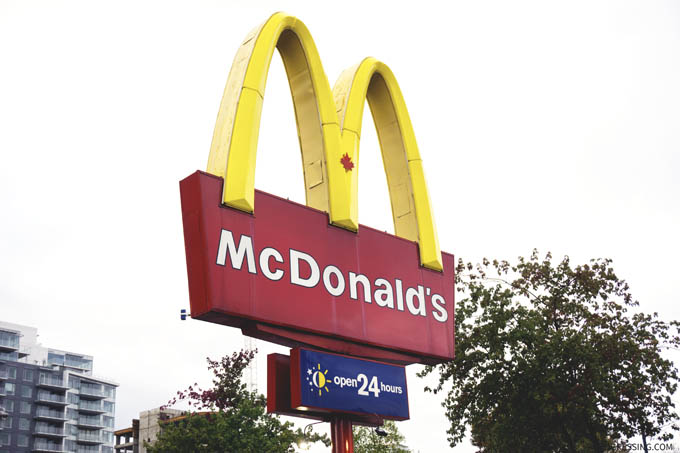 I collected the data using the McDonald's app and the information is based on the McDonald's location at 1527 Main St in Vancouver (one of the largest in Vancouver).
This pricing list is up-to-date as of April 3, 2019. Please note that prices may vary from province to province as well as from franchise to franchise. The pricing list is also subject to change. While putting together this list, I saw prices fluctuate from day to day and even differences between breakfast and all-day for certain menu items.
| Type | SubType | Menu Item | Size | Price | Calories |
| --- | --- | --- | --- | --- | --- |
| Burgers | Big Mac | Big Mac | | 5.69 | 520 |
| Burgers | Big Mac | Double Big Mac | | 7.19 | 680 |
| Burgers | Big Mac | Big Mac, No Meat | | 4.19 | 360 |
| Burgers | Quarter Pounder | Quarter Pounder With Cheese | | 5.69 | 520 |
| Burgers | Quarter Pounder | Double Quarter Pounder With Cheese | | 7.19 | 740 |
| Burgers | Quarter Pounder | Quarter Pounder BLT | | 6.09 | 600 |
| Burgers | Quarter Pounder | Double Quarter Pounder BLT | | 7.49 | 830 |
| Burgers | Quarter Pounder | Quarter Pounder Without Cheese | | 5.19 | 420 |
| Burgers | Quarter Pounder | Double Quarter Pounder Without Cheese | | 6.59 | 650 |
| Burgers | Cheeseburger | Cheeseburger | | 1.89 | 290 |
| Burgers | Cheeseburger | Double Cheeseburger | | 2.39 | 420 |
| Burgers | Hamburger | Hamburger | | 1.69 | 240 |
| Burgers | Hamburger | Double Hamburger | | 1.99 | 320 |
| Burgers | Hamburger | McDouble | | 2.29 | 370 |
| Burgers | Mighty Angus Range | Carolina BBQ Angus | | 6.99 | 790 |
| Burgers | Mighty Angus Range | Mighty Angus Original | | 6.99 | 790 |
| Burgers | Mighty Angus Range | Bacon and Cheddar Angus | | 6.99 | 770 |
| Chicken | Seriously Chicken | BLT with Crispy Chicken | | 7.19 | 700 |
| Chicken | Seriously Chicken | BLT with Grilled Chicken | | 7.19 | 560 |
| Chicken | Seriously Chicken | Tomato & Mozzarella with Crispy Chicken | | 7.19 | 630 |
| Chicken | Seriously Chicken | Tomato & Mozzarella with Grilled Chicken | | 7.19 | 500 |
| Chicken | Signature McWraps | Chicken & Bacon Signature McWrwap with Grilled Chicken | | 5.79 | 500 |
| Chicken | Signature McWraps | Chicken & Bacon Signature McWrap with Crispy Chicken | | 5.79 | 600 |
| Chicken | Signature McWraps | Sweet Chili Signature McWrap with Crispy Chicken | | 5.79 | 520 |
| Chicken | Signature McWraps | Sweet Chili Signature McWrap with Grilled Chicken | | 5.79 | 420 |
| Chicken | McChicken | McChicken | | 5.39 | 470 |
| Chicken | McNuggets | 6 Chicken McNuggets | | 5.59 | 280-310 |
| Chicken | McNuggets | 10 Chicken McNuggets | | 6.99 | 410 |
| Chicken | McNuggets | 20 Chicken McNuggets | | 10.29 | 830 |
| Chicken | Snack Wraps | Ranch Snack Wrap with Crispy Chicken | | 2.49 | 290 |
| Chicken | Snack Wraps | Ranch Snack Wrap with Grilled Chicken | | 2.49 | 240 |
| Chicken | Snack Wraps | Chipotle Snack Wrap with Crispy Chicken | | 2.49 | 290 |
| Chicken | Snack Wraps | Chipotle Snack Wrap with Grilled Chicken | | 2.49 | 240 |
| Chicken | Snack Wraps | Junior Chicken | | 1.99 | 370 |
| Filet-O-Fish | Filet-O-Fish | Filet-O-Fish | | 5.19 | 400 |
| Filet-O-Fish | Filet-O-Fish | Double Filet-O-Fish | | 6.59 | 560 |
| Salads & Wraps | Entrée Salads | Caesar Entrée Salad with Crispy Chicken | | 7.79 | 1030-1120 |
| Salads & Wraps | Entrée Salads | Caesar Entrée Salad with Grilled Chicken | | 7.79 | 760-850 |
| Salads & Wraps | Entrée Salads | Greek Salad with Grilled Chicken | | 7.79 | 631-721 |
| Salads & Wraps | Entrée Salads | Greek Salad with Crispy Chicken | | 7.79 | 901-991 |
| Salads & Wraps | Entrée Salads | Greek Entrée Salad | | 5.79 | 391-481 |
| Salads & Wraps | Entrée Salads | Caesar Entrée Salad | | 5.79 | 520-610 |
| Salads & Wraps | Side Salads | Side Caesar Salad | | 2.89 | 250-340 |
| Salads & Wraps | Side Salads | Side Garden Salad | | 2.89 | 150-240 |
| Sandwiches and Wraps | McMuffin Sandwiches | Egg McMuffin | | 3.79 | 290 |
| Sandwiches and Wraps | McMuffin Sandwiches | Sausage 'N Egg McMuffin | | 3.89 | 430 |
| Sandwiches and Wraps | McMuffin Sandwiches | Bacon N' Egg McMuffin | | 3.89 | 310 |
| Sandwiches and Wraps | McMuffin Sandwiches | Sausage McMuffin | | 1.99 | 370 |
| Sandwiches and Wraps | More-ning McWraps | Sausage & Hash Brown McWrap | | 4.39 | 710 |
| Sandwiches and Wraps | More-ning McWraps | Bacon & Hason Brown McWRap | | 4.39 | 590 |
| Sandwiches and Wraps | Breakfast Burritos | Breakfast Burrito | | 2.39 | 290 |
| Sandwiches and Wraps | Breakfast Burritos | 2 Breakfast Burritos | | 4.69 | 580 |
| Sandwiches and Wraps | Breakfast Burritos | 2 Breakfast Burritos Extra Value Meal | | 6.79 | 750 |
| Sandwiches and Wraps | McGriddles Sandwiches | McGriddle | | 1.69 | 260 |
| Sandwiches and Wraps | McGriddles Sandwiches | Sausage, Egg & Cheese McGriddles | | 4.19 | 520 |
| Sandwiches and Wraps | McGriddles Sandwiches | Bacon, Egg & Cheese McGriddles | | 4.19 | 400 |
| Sandwiches and Wraps | McGriddles Sandwiches | Sausage McGriddles | | 2.59 | 400 |
| Platters & Hotcakes | Platters & Hotcakes | Hotcakes & Sausage | | 4.49 | 760 |
| Platters & Hotcakes | Platters & Hotcakes | Hotcakes & Bacon | | 4.49 | 670 |
| Platters & Hotcakes | Platters & Hotcakes | Hotcakes | | 3.49 | 600 |
| Platters & Hotcakes | Platters & Hotcakes | Big Breakfast | | 4.69 | 690-750 |
| Happy Meals | Happy Meals | Happy Meal Hamburger with Mini Fries | | 3.99 | 305-670 |
| Happy Meals | Happy Meals | Happy Meal Hamburger with Apples | | 3.99 | 305-675 |
| Happy Meals | Happy Meals | Happy Meal Hamburger with Small Fries | | 3.99 | 305-675 |
| Happy Meals | Happy Meals | Happy Meal Cheeseburger with Mini Fry | | 4.59 | 355-725 |
| Happy Meals | Happy Meals | Happy Meal Cheeseburger with Apples | | 4.59 | 355-725 |
| Happy Meals | Happy Meals | Happy Meal Cheeseburger with Small Fries | | 4.59 | 355-725 |
| Happy Meals | Happy Meals | Happy Meal Grilled Chipotle Snack Wrap with Mini Fries | | 4.59 | 305-675 |
| Happy Meals | Happy Meals | Happy Meal Grilled Chipotle Snack Wrap with Apples | | 4.59 | 305-675 |
| Happy Meals | Happy Meals | Happy Meal Grilled Chipotle Snack Wrap with Small Fries | | 4.59 | 305-675 |
| Happy Meals | Happy Meals | Happy Meal Crispy Chipotle Snack Wrap with Mini Fries | | 4.59 | 355-725 |
| Happy Meals | Happy Meals | Happy Meal Crispy Chipotle Snack Wrap with Apples | | 4.59 | 355-725 |
| Happy Meals | Happy Meals | Happy Meal Crispy Chipotle Snack Wrap with Small Fries | | 4.59 | 355-725 |
| Happy Meals | Happy Meals | Happy Meal Grilled Ranch Snack Wrap with Mini Fries | | 4.59 | 305-675 |
| Happy Meals | Happy Meals | Happy Meal Grilled Ranch Snack Wrap with Apples | | 4.59 | 305-675 |
| Happy Meals | Happy Meals | Happy Meal Grilled Ranch Snack Wrap with Small Fries | | 4.59 | 305-675 |
| Happy Meals | Happy Meals | Happy Meal Crispy Ranch Snack Wrap with Mini Fries | | 4.59 | 355-725 |
| Happy Meals | Happy Meals | Happy Meal Crispy Ranch Snack Wrap with Apples | | 4.59 | 355-725 |
| Happy Meals | Happy Meals | Happy Meal Crispy Ranch Snack Wrap with Small Fries | | 4.59 | 355-725 |
| Happy Meals | Happy Meals | Happy Meal 4 McNuggets with Mini Fries | | 4.79 | 275-655 |
| Happy Meals | Happy Meals | Happy Meal 4 McNuggets with Apples | | 4.79 | 275-655 |
| Happy Meals | Happy Meals | Happy Meal 4 McNuggets with Small Fries | | 4.79 | 275-665 |
| Happy Meals | Happy Meals | Happy Meal Hotcakes with Mini Fry | | 4.19 | 665-955 |
| Happy Meals | Happy Meals | Happy Meal Hotcakes with Small Fries | | 4.19 | 665-955 |
| Happy Meals | Happy Meals | Happy Meal Hotcakes with Hash Browns | | 4.19 | 665-955 |
| Happy Meals | Happy Meals | Happy Meal Hotcakes with Apple Slices | | 2.9 | 665-955 |
| Happy Meals | Happy Meals | Happy Meal Plain Bagel with Hash Browns | | 3.99 | 380-630 |
| Happy Meals | Happy Meals | Happy Meal Plain Bagel with Apples | | 3.99 | 380-630 |
| Happy Meals | Happy Meals | Happy Meal Everything Bagel with Hash Brows | | 3.99 | 380-630 |
| Happy Meals | Happy Meals | Happy Meal Everything Bagel with Apples | | 3.99 | 380-630 |
| Happy Meals | Happy Meals | Happy Meal Multigrain Bagel with Hash Browns | | 3.99 | 380-630 |
| Happy Meals | Happy Meals | Happy Meal Multigrain Bagel with Apple Slices | | 3.99 | 380-630 |
| Happy Meals | Happy Meals | Happy Meal Cinnamon Raisin Bagel with Hash Browns | | 3.99 | 380-630 |
| Happy Meals | Happy Meals | Happy Meal Cinnamon Raisin Bagel with Apples | | 3.99 | 380-630 |
| Happy Meals | Happy Meals | Happy Meal Plain Bagel with Mini Fry | | 3.99 | 380-690 |
| Happy Meals | Happy Meals | Happy Meal Plain Bagel with Small Fries | | 3.99 | 680-690 |
| Happy Meals | Happy Meals | Happy Meal Plain Bagel with Hash Browns | | 3.99 | 380-690 |
| Happy Meals | Happy Meals | Happy Meal Plain Bagel with Apples | | 3.99 | 680-690 |
| Hot Drinks | Brewed Coffee & Tea | Premium Roast Brewed Coffee | Small | 1.49 | 3 |
| Hot Drinks | Brewed Coffee & Tea | Premium Roast Brewed Coffee | Medium | 1.79 | 4 |
| Hot Drinks | Brewed Coffee & Tea | Premium Roast Brewed Coffee | Large | 1.99 | 5 |
| Hot Drinks | Brewed Coffee & Tea | Premium Roast Brewed Coffee | Extra Large | 2.19 | 5 |
| Hot Drinks | Brewed Coffee & Tea | Premium Roast Decaf Coffee | Small | 1.49 | 0 |
| Hot Drinks | Brewed Coffee & Tea | Premium Roast Decaf Coffee | Medium | 1.79 | 0 |
| Hot Drinks | Brewed Coffee & Tea | Premium Roast Decaf Coffee | Large | 1.99 | 0 |
| Hot Drinks | Brewed Coffee & Tea | Premium Roast Decaf Coffee | Extra Large | 2.19 | 0 |
| Hot Drinks | Brewed Coffee & Tea | Premium Roast Brewed Senior Coffee | Small | 1.19 | 3 |
| Hot Drinks | Brewed Coffee & Tea | Premium Roast Brewed Senior Coffee | Medium | 1.43 | 4 |
| Hot Drinks | Brewed Coffee & Tea | Premium Roast Brewed Senior Coffee | Large | 1.59 | 5 |
| Hot Drinks | Brewed Coffee & Tea | Premium Roast Brewed Senior Coffee | Extra Large | 1.75 | 5 |
| Hot Drinks | Brewed Coffee & Tea | Premium Roast Senior Decafe Coffee | Small | 1.19 | 0 |
| Hot Drinks | Brewed Coffee & Tea | Premium Roast Senior Decafe Coffee | Medium | 1.43 | 0 |
| Hot Drinks | Brewed Coffee & Tea | Premium Roast Senior Decafe Coffee | Large | 1.59 | 0 |
| Hot Drinks | Brewed Coffee & Tea | Premium Roast Senior Decafe Coffee | Extra Large | 1.75 | 0 |
| Hot Drinks | Brewed Coffee & Tea | Orange Pekoe Tea | Small | 1.49 | 0 |
| Hot Drinks | Brewed Coffee & Tea | Orange Pekoe Tea | Medium | 1.79 | 0 |
| Hot Drinks | Brewed Coffee & Tea | Orange Pekoe Tea | Large | 1.99 | 0 |
| Hot Drinks | Brewed Coffee & Tea | Orange Pekoe Tea | Extra Large | 2.19 | 0 |
| Hot Drinks | Brewed Coffee & Tea | Senior Orange Pekoe Tea | Small | 1.19 | 0 |
| Hot Drinks | Brewed Coffee & Tea | Senior Orange Pekoe Tea | Medium | 1.43 | 0 |
| Hot Drinks | Brewed Coffee & Tea | Senior Orange Pekoe Tea | Large | 1.59 | 0 |
| Hot Drinks | Brewed Coffee & Tea | Senior Orange Pekoe Tea | Extra Large | 1.75 | 0 |
| Hot Drinks | Brewed Coffee & Tea | Peppermint Tea | Small | 1.49 | 0 |
| Hot Drinks | Brewed Coffee & Tea | Peppermint Tea | Medium | 1.79 | 0 |
| Hot Drinks | Brewed Coffee & Tea | Peppermint Tea | Large | 1.99 | 0 |
| Hot Drinks | Brewed Coffee & Tea | Peppermint Tea | Extra Large | 2.19 | 0 |
| Hot Drinks | Brewed Coffee & Tea | Senior Peppermint Tea | Small | 1.19 | 0 |
| Hot Drinks | Brewed Coffee & Tea | Senior Peppermint Tea | Medium | 1.43 | 0 |
| Hot Drinks | Brewed Coffee & Tea | Senior Peppermint Tea | Large | 1.59 | 0 |
| Hot Drinks | Brewed Coffee & Tea | Senior Peppermint Tea | Extra Large | 1.75 | 0 |
| Hot Drinks | Brewed Coffee & Tea | Earl Grey Tea | Small | 1.49 | 0 |
| Hot Drinks | Brewed Coffee & Tea | Earl Grey Tea | Medium | 1.79 | 0 |
| Hot Drinks | Brewed Coffee & Tea | Earl Grey Tea | Large | 1.99 | 0 |
| Hot Drinks | Brewed Coffee & Tea | Earl Grey Tea | Extra Large | 2.19 | 0 |
| Hot Drinks | Brewed Coffee & Tea | Senior Earl Grey Tea | Small | 1.19 | 0 |
| Hot Drinks | Brewed Coffee & Tea | Senior Earl Grey Tea | Medium | 1.43 | 0 |
| Hot Drinks | Brewed Coffee & Tea | Senior Earl Grey Tea | Large | 1.59 | 0 |
| Hot Drinks | Brewed Coffee & Tea | Senior Earl Grey Tea | Extra Large | 1.75 | 0 |
| Hot Drinks | Brewed Coffee & Tea | Green Tea | Small | 1.49 | 0 |
| Hot Drinks | Brewed Coffee & Tea | Green Tea | Medium | 1.79 | 0 |
| Hot Drinks | Brewed Coffee & Tea | Green Tea | Large | 1.99 | 0 |
| Hot Drinks | Brewed Coffee & Tea | Green Tea | Extra Large | 2.19 | 0 |
| Hot Drinks | Brewed Coffee & Tea | Senior Green Tea | Small | 1.19 | 0 |
| Hot Drinks | Brewed Coffee & Tea | Senior Green Tea | Medium | 1.43 | 0 |
| Hot Drinks | Brewed Coffee & Tea | Senior Green Tea | Large | 1.59 | 0 |
| Hot Drinks | Brewed Coffee & Tea | Senior Green Tea | Extra Large | 1.75 | 0 |
| Hot Drinks | Brewed Coffee & Tea | Premium Roast Coffee Carafe | | 15.99 | 36 |
| Hot Drinks | Brewed Coffee & Tea | Premium Roast Decafe Coffee Carafe | | 15.99 | N/A |
| Hot Drinks | Latte | Latte (2% Milk) | Small | 2.49 | 130 |
| Hot Drinks | Latte | Latte (2% Milk) | Medium | 2.99 | 170 |
| Hot Drinks | Latte | Latte (2% Milk) | Large | 3.39 | 240 |
| Hot Drinks | Latte | Latte (Skim Milk) | Small | 2.49 | 70 |
| Hot Drinks | Latte | Latte (Skim Milk) | Medium | 2.99 | 100 |
| Hot Drinks | Latte | Latte (Skim Milk) | Large | 3.39 | 140 |
| Hot Drinks | Latte | French Vanilla Latte (2% Milk) | Small | 2.79 | 180 |
| Hot Drinks | Latte | French Vanilla Latte (2% Milk) | Medium | 3.29 | 240 |
| Hot Drinks | Latte | French Vanilla Latte (2% Milk) | Large | 3.69 | 330 |
| Hot Drinks | Latte | French Vanilla Latte (Skim Milk) | Small | 2.79 | 120 |
| Hot Drinks | Latte | French Vanilla Latte (Skim Milk) | Medium | 3.29 | 170 |
| Hot Drinks | Latte | French Vanilla Latte (Skim Milk) | Large | 3.69 | 230 |
| Hot Drinks | Latte | Caramel Latte (2% Milk) | Small | 2.79 | 190 |
| Hot Drinks | Latte | Caramel Latte (2% Milk) | Medium | 3.29 | 250 |
| Hot Drinks | Latte | Caramel Latte (2% Milk) | Large | 3.69 | 340 |
| Hot Drinks | Latte | Caramel Latte (Skim Milk) | Small | 2.79 | 140 |
| Hot Drinks | Latte | Caramel Latte (Skim Milk) | Medium | 3.29 | 190 |
| Hot Drinks | Latte | Caramel Latte (Skim Milk) | Large | 3.69 | 250 |
| Hot Drinks | Latte | Sugar Free Vanilla Latte (2% Milk) | Small | 2.79 | 120 |
| Hot Drinks | Latte | Sugar Free Vanilla Latte (2% Milk) | Medium | 3.29 | 160 |
| Hot Drinks | Latte | Sugar Free Vanilla Latte (2% Milk) | Large | 3.69 | 220 |
| Hot Drinks | Latte | Sugar Free Vanilla Latte (Skim Milk) | Small | 2.79 | 70 |
| Hot Drinks | Latte | Sugar Free Vanilla Latte (Skim Milk) | Medium | 3.29 | 100 |
| Hot Drinks | Latte | Sugar Free Vanilla Latte (Skim Milk) | Large | 3.69 | 130 |
| Hot Drinks | Cappuccino | Cappuccino (2% Milk) | Small | 2.79 | 80 |
| Hot Drinks | Cappuccino | Cappuccino (2% Milk) | Medium | 2.99 | 130 |
| Hot Drinks | Cappuccino | Cappuccino (2% Milk) | Large | 3.39 | 190 |
| Hot Drinks | Cappuccino | Cappuccino (Skim Milk) | Small | 2.789 | 50 |
| Hot Drinks | Cappuccino | Cappuccino (Skim Milk) | Medium | 2.99 | 80 |
| Hot Drinks | Cappuccino | Cappuccino (Skim Milk) | Large | 3.39 | 110 |
| Hot Drinks | Americano | Americano | Small | 1.99 | 3 |
| Hot Drinks | Americano | Americano | Medium | 2.19 | 4 |
| Hot Drinks | Americano | Americano | Large | 2.49 | 5 |
| Hot Drinks | Mocha | McCafe Mocha (2% Milk) | Small | 2.89 | 260 |
| Hot Drinks | Mocha | McCafe Mocha (2% Milk) | Medium | 3.49 | 380 |
| Hot Drinks | Mocha | McCafe Mocha (2% Milk) | Large | 3.89 | 490 |
| Hot Drinks | Mocha | McCafe Mocha (Skim Milk) | Small | 2.89 | 210 |
| Hot Drinks | Mocha | McCafe Mocha (Skim Milk) | Medium | 3.49 | 320 |
| Hot Drinks | Mocha | McCafe Mocha (Skim Milk) | Large | 3.89 | 400 |
| Hot Drinks | Mocha | White Chocolate Mocha (2% Milk) | Small | 2.89 | 260 |
| Hot Drinks | Mocha | White Chocolate Mocha (2% Milk) | Medium | 3.49 | 360 |
| Hot Drinks | Mocha | White Chocolate Mocha (2% Milk) | Large | 3.89 | 450 |
| Hot Drinks | Mocha | White Chocolate Mocha (Skim Milk) | Small | 2.89 | 210 |
| Hot Drinks | Mocha | White Chocolate Mocha (Skim Milk) | Medium | 3.49 | 290 |
| Hot Drinks | Mocha | White Chocolate Mocha (Skim Milk) | Large | 3.89 | 360 |
| Hot Drinks | Espresso | Espresso | | 1.39 | 3 |
| Hot Drinks | Espresso | Double Espresso | | 1.99 | 5 |
| Hot Drinks | Espresso | Long Espresso | | 2.39 | 1 |
| Hot Drinks | Deluxe Hot Chocolate | White Hot Chocolate (2% Milk) | Small | 2.49 | 260 |
| Hot Drinks | Deluxe Hot Chocolate | White Hot Chocolate (2% Milk) | Medium | 2.99 | 360 |
| Hot Drinks | Deluxe Hot Chocolate | White Hot Chocolate (2% Milk) | Large | 3.39 | 450 |
| Hot Drinks | Deluxe Hot Chocolate | White Hot Chocolate (Skim Milk) | Small | 2.99 | 210 |
| Hot Drinks | Deluxe Hot Chocolate | White Hot Chocolate (Skim Milk) | Medium | 2.99 | 290 |
| Hot Drinks | Deluxe Hot Chocolate | White Hot Chocolate (Skim Milk) | Large | 3.39 | 350 |
| Hot Drinks | Deluxe Hot Chocolate | Hot Chocolate (2% Milk) | Small | 2.49 | 250 |
| Hot Drinks | Deluxe Hot Chocolate | Hot Chocolate (2% Milk) | Medium | 2.99 | 400 |
| Hot Drinks | Deluxe Hot Chocolate | Hot Chocolate (2% Milk) | Large | 3.39 | 500 |
| Hot Drinks | Deluxe Hot Chocolate | Hot Chocolate (Skim Milk) | Small | 2.49 | 210 |
| Hot Drinks | Deluxe Hot Chocolate | Hot Chocolate (Skim Milk) | Medium | 2.99 | 320 |
| Hot Drinks | Deluxe Hot Chocolate | Hot Chocolate (Skim Milk) | Large | 3.39 | 400 |
| Snacks & Sides | Hash Browns | Hash Brown | | 1.79 | 160 |
| Snacks & Sides | English Muffin | English Muffin | | 1.49 | 250-310 |
| Snacks & Sides | Bakery Pairing | Banana Chocolate Chunk Muffin Pairing | | 1.99 | 430 |
| Snacks & Sides | Bakery Pairing | Blueberry Muffin Pairing | | 1.99 | 430 |
| Snacks & Sides | Bakery Pairing | Fruit & Fibre Muffin Pairing | | 1.99 | 380 |
| Snacks & Sides | Bakery Pairing | Carrot Muffin Pairing | | 1.99 | 430 |
| Snacks & Sides | Bakery Pairing | Cranberry Orange Muffin Pairing | | 1.99 | 360 |
| Snacks & Sides | More Snacks | Apple Slices | | 0.99 | 40 |
| Cold Drinks | Smoothies & Frappes | Mango Pineapple Real Fruit Smoothie | Small | 2.74 | 200 |
| Cold Drinks | Smoothies & Frappes | Mango Pineapple Real Fruit Smoothie | Medium | 3.34 | 250 |
| Cold Drinks | Smoothies & Frappes | Mango Pineapple Real Fruit Smoothie | Large | 3.74 | 320 |
| Cold Drinks | Smoothies & Frappes | Mango Pineapple Real Fruit Smoothie | Snack | 1.99 | 140 |
| Cold Drinks | Smoothies & Frappes | Blueberry Pomegranate Real Fruit Smoothie | Small | 2.74 | 210 |
| Cold Drinks | Smoothies & Frappes | Blueberry Pomegranate Real Fruit Smoothie | Medium | 3.34 | 250 |
| Cold Drinks | Smoothies & Frappes | Blueberry Pomegranate Real Fruit Smoothie | Large | 3.74 | 330 |
| Cold Drinks | Smoothies & Frappes | Blueberry Pomegranate Real Fruit Smoothie | Snack | 1.99 | 130 |
| Cold Drinks | Smoothies & Frappes | Strawberry Banana Real Fruit Smoothie | Small | 2.74 | 200 |
| Cold Drinks | Smoothies & Frappes | Strawberry Banana Real Fruit Smoothie | Medium | 3.34 | 250 |
| Cold Drinks | Smoothies & Frappes | Strawberry Banana Real Fruit Smoothie | Large | 3.74 | 310 |
| Cold Drinks | Smoothies & Frappes | Strawberry Banana Real Fruit Smoothie | Snack | 1.99 | 130 |
| Cold Drinks | Smoothies & Frappes | Coffee Iced Frappe | Small | 2.74 | 370 |
| Cold Drinks | Smoothies & Frappes | Coffee Iced Frappe | Medium | 3.34 | 480 |
| Cold Drinks | Smoothies & Frappes | Coffee Iced Frappe | Large | 3.74 | 590 |
| Cold Drinks | Smoothies & Frappes | Coffee Iced Frappe | Snack | 1.99 | 250 |
| Cold Drinks | Smoothies & Frappes | Vanilla Chai Iced Frappe | Small | 2.74 | 460 |
| Cold Drinks | Smoothies & Frappes | Vanilla Chai Iced Frappe | Medium | 3.34 | 580 |
| Cold Drinks | Smoothies & Frappes | Vanilla Chai Iced Frappe | Large | 3.74 | 720 |
| Cold Drinks | Smoothies & Frappes | Vanilla Chai Iced Frappe | Snack | 1.99 | 310 |
| Cold Drinks | Iced Coffee | Iced Coffee | Small | 1.79 | 120 |
| Cold Drinks | Iced Coffee | Iced Coffee | Medium | 2.39 | 170 |
| Cold Drinks | Iced Coffee | Iced Coffee | Large | 2.79 | 230 |
| Cold Drinks | Iced Coffee | Vanilla Iced Coffee | Small | 2.19 | 100 |
| Cold Drinks | Iced Coffee | Vanilla Iced Coffee | Medium | 2.79 | 150 |
| Cold Drinks | Iced Coffee | Vanilla Iced Coffee | Large | 3.19 | 190 |
| Cold Drinks | Iced Coffee | Caramel Iced Coffee | Small | 2.19 | 100 |
| Cold Drinks | Iced Coffee | Caramel Iced Coffee | Medium | 2.79 | 130 |
| Cold Drinks | Iced Coffee | Caramel Iced Coffee | Large | 3.19 | 190 |
| Cold Drinks | Iced Coffee | Sugar Free Vanilla Iced Coffee | Small | 2.19 | 60 |
| Cold Drinks | Iced Coffee | Sugar Free Vanilla Iced Coffee | Medium | 2.79 | 100 |
| Cold Drinks | Iced Coffee | Sugar Free Vanilla Iced Coffee | Large | 3.19 | 130 |
| Cold Drinks | Juice, Milk & Water | Orange Juice | Small | 1.69 | 110 |
| Cold Drinks | Juice, Milk & Water | Orange Juice | Medium | 1.99 | 180 |
| Cold Drinks | Juice, Milk & Water | Orange Juice | Large | 2.19 | 220 |
| Cold Drinks | Juice, Milk & Water | Apple Juice | Small | 1.69 | 110 |
| Cold Drinks | Juice, Milk & Water | Apple Juice | Medium | 1.99 | 160 |
| Cold Drinks | Juice, Milk & Water | Apple Juice | Large | 2.19 | 210 |
| Cold Drinks | Juice, Milk & Water | 1% Milk Bottle | | 1.69 | 110 |
| Cold Drinkstr | Juice, Milk & Water | Chocolate Milk Bottle | | 1.69 | 170 |
| Cold Drinks | Juice, Milk & Water | Dasani Water | | 2.19 | |
| Cold Drinks | Fountain Drinks | NESTEA Iced Tea | Small | 1.74 | 110 |
| Cold Drinks | Fountain Drinks | NESTEA Iced Tea | Medium | 2.24 | 160 |
| Cold Drinks | Fountain Drinks | NESTEA Iced Tea | Large | 2.54 | 230 |
| Cold Drinks | Fountain Drinks | NESTEA Iced Tea | Child | 1.29 | 80 |
| Cold Drinks | Fountain Drinks | Coca-Cola | Small | 1.74 | 150 |
| Cold Drinks | Fountain Drinks | Coca-Cola | Medium | 2.24 | 220 |
| Cold Drinks | Fountain Drinks | Coca-Cola | Large | 2.54 | 320 |
| Cold Drinks | Fountain Drinks | Coca-Cola | Child | 1.29 | 110 |
| Cold Drinks | Fountain Drinks | Coke Zero | Small | 1.74 | 1 |
| Cold Drinks | Fountain Drinks | Coke Zero | Medium | 2.24 | 1 |
| Cold Drinks | Fountain Drinks | Coke Zero | Large | 2.54 | 2 |
| Cold Drinks | Fountain Drinks | Coke Zero | Child | 1.29 | 1 |
| Cold Drinks | Fountain Drinks | Diet Coke | Small | 1.74 | 1 |
| Cold Drinks | Fountain Drinks | Diet Coke | Medium | 2.24 | 1 |
| Cold Drinks | Fountain Drinks | Diet Coke | Large | 2.54 | 2 |
| Cold Drinks | Fountain Drinks | Diet Coke | Child | 1.29 | 1 |
| Cold Drinks | Fountain Drinks | Barq's Root Beer | Small | 1.74 | 160 |
| Cold Drinks | Fountain Drinks | Barq's Root Beer | Medium | 2.24 | 230 |
| Cold Drinks | Fountain Drinks | Barq's Root Beer | Large | 2.54 | 340 |
| Cold Drinks | Fountain Drinks | Barq's Root Beer | Child | 1.29 | 120 |
| Cold Drinks | Fountain Drinks | Sprite | Small | 1.74 | 140 |
| Cold Drinks | Fountain Drinks | Sprite | Medium | 2.24 | 200 |
| Cold Drinks | Fountain Drinks | Sprite | Large | 2.54 | 290 |
| Cold Drinks | Fountain Drinks | Sprite | Child | 1.29 | 100 |
| Cold Drinks | Fountain Drinks | Fruitopia Strawberry | Small | 1.74 | 170 |
| Cold Drinks | Fountain Drinks | Fruitopia Strawberry | Medium | 2.24 | 240 |
| Cold Drinks | Fountain Drinks | Fruitopia Strawberry | Large | 2.54 | 350 |
| Cold Drinks | Fountain Drinks | Fruitopia Strawberry | Child | 1.29 | 120 |
| Cold Drinks | Fountain Drinks | Fruitopia Orange | Small | 1.74 | 160 |
| Cold Drinks | Fountain Drinks | Fruitopia Orange | Medium | 2.24 | 230 |
| Cold Drinks | Fountain Drinks | Fruitopia Orange | Large | 2.54 | 340 |
| Cold Drinks | Fountain Drinks | Fruitopia Orange | Child | 1.29 | 110 |
| Cold Drinks | Milkshakes | Shamrock Triple Thick Milkshake | Small | 2.94 | 520 |
| Cold Drinks | Milkshakes | Shamrock Triple Thick Milkshake | Medium | 3.44 | 690 |
| Cold Drinks | Milkshakes | Shamrock Triple Thick Milkshake | Large | 4.04 | 1070 |
| Cold Drinks | Milkshakes | Shamrock Triple Thick Milkshake | Child | 2.19 | 470 |
| Cold Drinks | Milkshakes | Vanilla Triple Thick Milkshake | Small | 2.94 | 530 |
| Cold Drinks | Milkshakes | Vanilla Triple Thick Milkshake | Medium | 3.44 | 720 |
| Cold Drinks | Milkshakes | Vanilla Triple Thick Milkshake | Large | 4.04 | 1150 |
| Cold Drinks | Milkshakes | Vanilla Triple Thick Milkshake | Child | 2.19 | 490 |
| Cold Drinks | Milkshakes | Chocolate Triple Thick Milkshake | Small | 2.94 | 560 |
| Cold Drinks | Milkshakes | Chocolate Triple Thick Milkshake | Medium | 3.44 | 750 |
| Cold Drinks | Milkshakes | Chocolate Triple Thick Milkshake | Large | 4.04 | 1150 |
| Cold Drinks | Milkshakes | Chocolate Triple Thick Milkshake | Child | 2.19 | 500 |
| Cold Drinks | Milkshakes | Strawberry Triple Thick Milkshake | Small | 2.94 | 540 |
| Cold Drinks | Milkshakes | Strawberry Triple Thick Milkshake | Medium | 3.44 | 720 |
| Cold Drinks | Milkshakes | Strawberry Triple Thick Milkshake | Large | 4.04 | 1100 |
| Cold Drinks | Milkshakes | Strawberry Triple Thick Milkshake | Child | 2.19 | 490 |
| Bakery | Bagel & Bagel Sandwiches | Plain Bagel with Nutella | | 2.19 | 420 |
| Bakery | Bagel & Bagel Sandwiches | Everything Bagel with Nutella | | 2.19 | 430 |
| Bakery | Bagel & Bagel Sandwiches | Multigrain Bagel with Nutella | | 2.19 | 440 |
| Bakery | Bagel & Bagel Sandwiches | Cinnamon & Raisin Bagel with Nutella | | 2.19 | 430 |
| Bakery | Bagel & Bagel Sandwiches | Plain Bagel with Regular Cream Cheese | | 2.19 | 370 |
| Bakery | Bagel & Bagel Sandwiches | Everything Bagel with Regular Cream Cheese | | 2.19 | 380 |
| Bakery | Bagel & Bagel Sandwiches | Multigrain Bagel with Regular Cream Cheese | | 2.19 | 390 |
| Bakery | Bagel & Bagel Sandwiches | Cinnamon & Raisin Bagel with Regular Cream Cheese | | 2.19 | 380 |
| Bakery | Bagel & Bagel Sandwiches | Plain Bagel with Herb & Garlic Cream Cheese | | 2.19 | 370 |
| Bakery | Bagel & Bagel Sandwiches | Everything Bagel with Herb & Garlic Cream Cheese | | 2.19 | 380 |
| Bakery | Bagel & Bagel Sandwiches | Multigrain Bagel with Herb & Garlic Cream Cheese | | 2.19 | 390 |
| Bakery | Bagel & Bagel Sandwiches | Cinnamon & Raisin Bagel with Herb & Garlic Cream Cheese | | 2.19 | 380 |
| Bakery | Bagel & Bagel Sandwiches | Plain Bagel | | 1.39 | 310 |
| Bakery | Bagel & Bagel Sandwiches | Everything Bagel | | 1.39 | 320 |
| Bakery | Bagel & Bagel Sandwiches | Multigrain Bagel | | 1.39 | 330 |
| Bakery | Bagel & Bagel Sandwiches | Cinnamon & Raisin Bagel | | 1.39 | 320 |
| Bakery | Bagel & Bagel Sandwiches | Plain Egg BLT Bagel | | 4.69 | 560 |
| Bakery | Bagel & Bagel Sandwiches | Plain Bacon 'N Egg Bagel | | 4.29 | 550 |
| Bakery | Bagel & Bagel Sandwiches | Plain Sausage 'N Egg Bagel | | 4.29 | 610 |
| Bakery | Bagel & Bagel Sandwiches | Everything Egg BLT Bagel | | 4.69 | 570 |
| Bakery | Bagel & Bagel Sandwiches | Multigrain Egg BLT Bagel | | 4.69 | 580 |
| Bakery | Bagel & Bagel Sandwiches | Cinnamon & Raisin Egg BLT Bagel | | 4.69 | 570 |
| Bakery | Bagel & Bagel Sandwiches | Everything Bacon 'N Egg Bagel | | 4.29 | 560 |
| Bakery | Bagel & Bagel Sandwiches | Multigrain Bacon 'N Egg Bagel | | 4.29 | 570 |
| Bakery | Bagel & Bagel Sandwiches | Cinnamon & Raisin Bacon 'N Egg Bagel | | 4.29 | 560 |
| Bakery | Bagel & Bagel Sandwiches | Everything Sausage 'N Egg Bagel | | 4.29 | 620 |
| Bakery | Bagel & Bagel Sandwiches | Multigrain Sausage 'N Egg Bagel | | 4.29 | 570 |
| Bakery | Bagel & Bagel Sandwiches | Cinnamon & Raisin Sausage 'N Egg Bagel | | 4.29 | 620 |
| Bakery | Baked Muffins | Banana Chocolate Chunk Muffin | | 1.49 | 430 |
| Bakery | Baked Muffins | Blueberry Mufin | | 1.49 | 430 |
| Bakery | Baked Muffins | Fruit & Fibrer Muffin | | 1.49 | 380 |
| Bakery | Baked Muffins | Cranberry Orange Muffin | | 1.49 | 360 |
| Bakery | Baked Muffins | Carrot Muffin | | 1.43 | 430 |
| Bakery | Signature Danish | Strawberry Cream Cheese Danish | | 1.69 | 390 |
| Bakery | Signature Danish | Blueberry Cream Cheese Danish | | 1.69 | 300 |
| Bakery | Signature Danish | Salted Caramel Apple Danish | | 1.69 | 360 |
| Bakery | French Croissant & Mini Pastries | Chocolate Hazelnut Croissant | | 2.69 | 360 |
| Bakery | French Croissant & Mini Pastries | Authentic French Croissant | | 1.69 | 260 |
| Bakery | French Croissant & Mini Pastries | Mini Chocolatine | | 0.89 | 120 |
| Bakery | Brownie | Chocolate Brownie | | 1.99 | 310 |
| Bakery | Bakery Pairings | Banana Chocolate Chunk Muffin Pairing | | 2.01 | 430 |
| Bakery | Bakery Pairings | Blueberry Muffin Pairing | | 2.01 | 430 |
| Bakery | Bakery Pairings | Fruit & Fibre Muffin Pairing | | 2.01 | 380 |
| Bakery | Bakery Pairings | Carrot Muffin Pairing | | 2.01 | 430 |
| Bakery | Bakery Pairings | Cranberry Orange Muffin Pairing | | 2.01 | 360 |
| Bakery | Bakery Pairings | Mini Chocolatine Pastry McCafe Pairing | | 2.99 | 200 |
| Bakery | Bakery Pairings | Strawberry Cream Cheese Danish Pairing | | 2.71 | 390 |
| Bakery | Bakery Pairings | Blueberry Cream Cheese Danish Pairing | | 2.71 | 300 |
| Bakery | Bakery Pairings | Salted Caramel Apple Danish Pairing | | 2.71 | 360 |
| Bakery | Baked Pies | Baked Apple Pie | | 1.19 | 270 |
| Bakery | Baked Pies | 2 Baked Apple Pies | | 1.79 | 270 |
| Sweets & Treats | McFlurry | Regular Crème Egg McFlurry | Snack | 2.69 | 420 |
| Sweets & Treats | McFlurry | Regular Crème Egg McFlurry | Regular | 3.39 | 630 |
| Sweets & Treats | McFlurry | Regular Oreo McFlurry | Snack | 2.69 | 330 |
| Sweets & Treats | McFlurry | Regular Oreo McFlurry | Regular | 3.39 | 570 |
| Sweets & Treats | McFlurry | Regular M&M McFlurry | Snack | 2.69 | 410 |
| Sweets & Treats | McFlurry | Regular M&M McFlurry | Regular | 3.39 | 620 |
| Sweets & Treats | McFlurry | Regular Skor McFlurry | Snack | 2.69 | 370 |
| Sweets & Treats | McFlurry | Regular Skor McFlurry | Regular | 3.39 | 430 |
| Sweets & Treats | Sundaes & Cones | Vanilla Cone | | 1.79 | 230 |
| Sweets & Treats | Sundaes & Cones | Fudge Sundae | | 2.69 | 340 |
| Sweets & Treats | Sundaes & Cones | Caramel Sundae | | 2.69 | 340 |
| Sweets & Treats | Sundaes & Cones | Plain Sundae | | 2.69 | 210 |
| Sweets & Treats | Cookies | Red Velvet Cookie | | 0.99 | 160 |
| Sweets & Treats | Cookies | Chocolate Chunk Cookie | | 0.99 | 160 |
| Sweets & Treats | Cookies | Lil' Gem Cookie | | 0.99 | 150 |
| Snacks & Sides | Poutine | Poutine | | 4.49 | 880 |
| Snacks & Sides | Fries | Fries | Small | 1.69 | 240 |
| Snacks & Sides | Fries | Fries | Medium | 2.89 | 350 |
| Snacks & Sides | Fries | Fries | Large | 3.29 | 560 |
| Condiments | McNugget Sauces | Barbeque Sauce | | 0.2 | 40 |
| Condiments | McNugget Sauces | Sweet & Sour Sauce | | 0.2 | 50 |
| Condiments | McNugget Sauces | Honey | | 0.2 | 45 |
| Condiments | McNugget Sauces | Hot Mustard | | 0.2 | 60 |
| Condiments | Salad Dressings | Asiago Caesar Cal-W Dressing | | 0.6 | 150 |
| Condiments | Salad Dressings | Asiago Caesar Dressing | | 0.6 | 210 |
| Condiments | Salad Dressings | Greek Dressing | | 0.6 | 140 |
| Condiments | Salad Dressings | Sweet Balsamic Dressing | | 0.6 | 120 |
| Condiments | Other Condiments | Big Mac Sauce | | 0.3 | 50 |
| Condiments | Other Condiments | Mayo-Style Sauce | | 0.1 | 60 |
| Condiments | Other Condiments | Ketchup Packets | | 0 | 10 |
| Condiments | Other Condiments | Salt | | 0 | 0 |
| Condiments | Other Condiments | Pepper Packets | | 0 | 0 |
| Condiments | Other Condiments | Butter Packet | | 0 | 35 |
| Condiments | Other Condiments | Peanut Butter | | 0 | 110 |
| Condiments | Other Condiments | Becel Portions | | 0 | 50 |
| Condiments | Other Condiments | Gravy | | 0.59 | 320 |
| Condiments | Other Condiments | Vinegar Packet | | 0 | 2 |
| Condiments | Other Condiments | Cream Packets | | 0 | 15 |
| Condiments | Other Condiments | Milk Packets | | 0 | 5 |
| Condiments | Other Condiments | Regular Cream Cheese | | 0.8 | 110 |
| Condiments | Other Condiments | Herb & Garlic Cream Cheese | | 0.8 | 110 |