The McDonald's Bacon N Crispy Onion Quarter Pounder is a new addition to the McDonald's menu.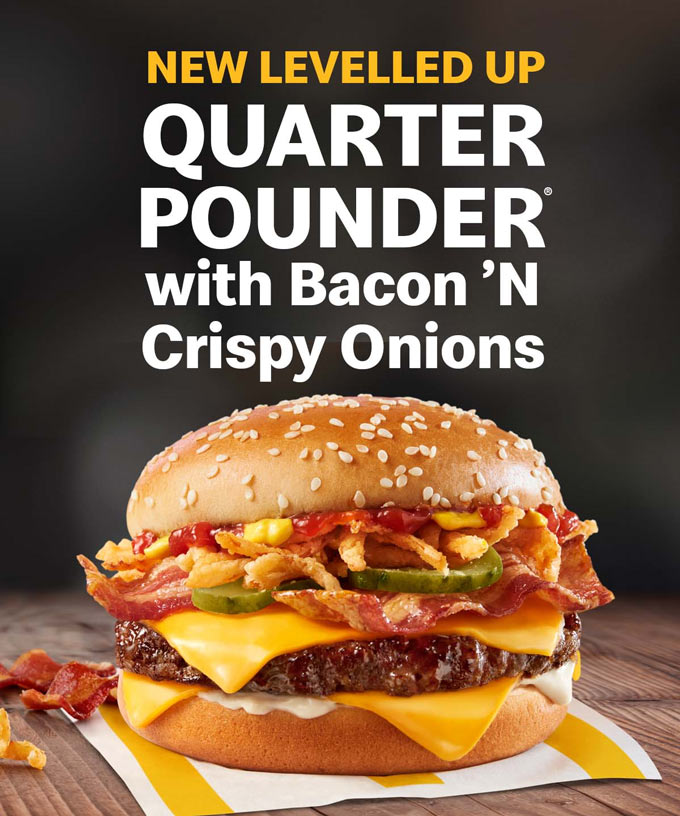 It is a quarter pound (beef weight before cooking) of 100% Canadian beef topped with hickory-smoked bacon strips, crispy onions, a creamy grilled onion sauce, two slices of processed cheddar cheese, ketchup, mustard and pickles on a toasted sesame seed bun.
Calories
The McDonald's Bacon 'N Crispy Onion Quarter Pounder has 680 calories.
McDonald's Bacon N Crispy Onion Quarter Pounder Price
Priced at $7.49 and $#11.49 for the meal. Based on Toronto (123 Yonge Street) pricing. Check your local McDonald's.
Nutritional Information
Serving Size: 218 grams
Calories:680 calories
Fat: 40 gram (62% Daily Value)
Saturated Fat: 16 gram
Trans Fat: 1 gram
Saturated and Trans Fat: (85% Daily Value)
Cholesterol: 105 milligram
Sodium: 1490 milligram (62% Daily Value)
Carbohydrates: 46 gram (15% Daily Value)
Fibre: 3 gram (12% Daily Value)
Sugar: 11 gram
Protein: 34 gram
Vitamin A: (15% Daily Value)
Vitamin C: (10% Daily Value)
Iron: (35% Daily Value)
Calcium: (15% Daily Value)
Ingredients and Allergens
Quarter Pounder Beef Patty
100% pure beef
Sesame Seed Bun
Enriched wheat flour, water, sugar, yeast, vegetable oil (canola and/or soy), sesame seeds, vegetable proteins (pea, potato, fava bean), sunflower oil, corn dextrose, corn maltodextrin, corn starch, salt, may contain any or all of the following in varying proportions: wheat gluten, guar gum, dough conditioner (monoglycerides, DATEM, ascorbic acid, enzymes), tricalcium phosphate, natural flavour, corn starch, soybean oil, vinegar. Toasted in the same toaster that also prepares other bun containing butter and egg. MAY CONTAIN MILK AND EGG. CONTAINS: Sesame seeds, Wheat.
Processed Cheese Slice
Cheese (Milk, modified milk ingredients, bacterial culture, salt, calcium chloride, microbial enzyme, lipase), modified milk ingredients, water, sodium citrate, salt, citric acid, colour, soy lecithin. CONTAINS: Soy, Milk.
Ketchup
Tomato paste, Sugar / Glucose Fructose, White Vinegar, Water, Salt, Spices.
Bacon Slice
Pork bacon, water, salt, sugar, smoke flavouring, sodium phosphate, sodium erythorbate, sodium nitrite
Creamy Grilled Onion Sauce
Soybean oil and/or canola oil, Water, Prepared mustard (water, mustard seed, vinegar, salt, mustard bran), Liquid egg yolk, Sugar, Vinegar, Salt, Dehydrated fire roasted onion, Natural flavour, Dehydrated garlic, Modified corn starch, Dehydrated onion, Ground mustard, Lactic acid, Xanthan gum, Propylene glycol alginate, Citric acid, Natural smoke flavour, Potassium sorbate, Sodium benzoate, Calcium disodium EDTA. CONTAINS: Egg, Mustard.
Crispy Onions
Onions, enriched wheat flour, safflower, sunflower or canola oil, salt. CONTAINS: Wheat.
Pickle Slices
Cucumbers, water, distilled vinegar, salt, calcium chloride, potassium sorbate, potassium aluminum sulphate, natural flavours (plant source), polysorbate 80, extractives of tumeric (colour)mustard
Water, vinegar, mustard seed, salt, turmeric, natural flavour (plant source), spice. CONTAINS: Mustard.
Grill Seasoning
Salt, spice (pepper), sunflower oil (used as a processing aid).
To learn more, visit https://www.mcdonalds.com/ca/en-ca/product/bacon-crispy-onion-quarter-pounder.html