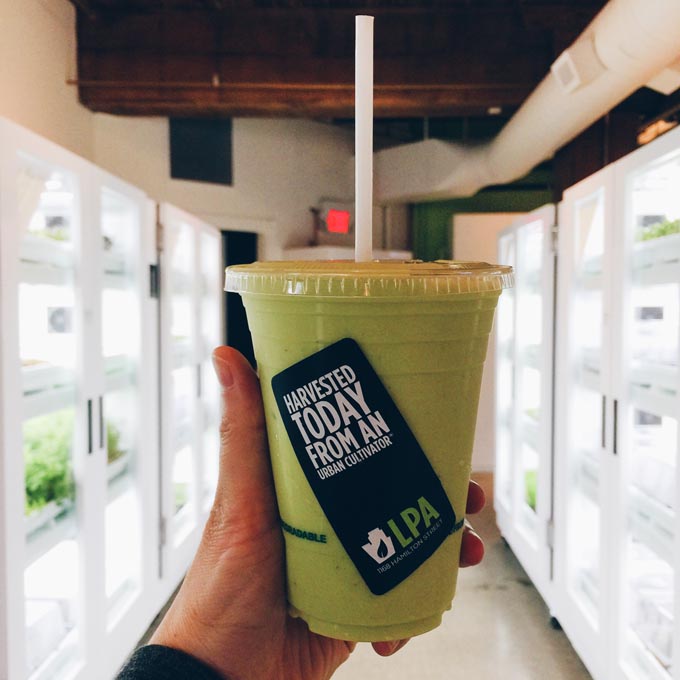 Living Produce Aisle is a new and unique shop in Yaletown that offers fresh smoothies and salads. The ingredients are so fresh that they are harvested just seconds before being prepared for your specific order. I ventured to Living Produce Aisle after hearing about their opening as I was curious about their concept and their menu items.
Aisles of Greens
When I walked into the Living Produce Aisle, I saw rows upon rows of plants being grown indoors. I learned that these greens are being grown inside an urban cultivator. These appliances make sure the greens grow in optimal conditions by regulating air and light.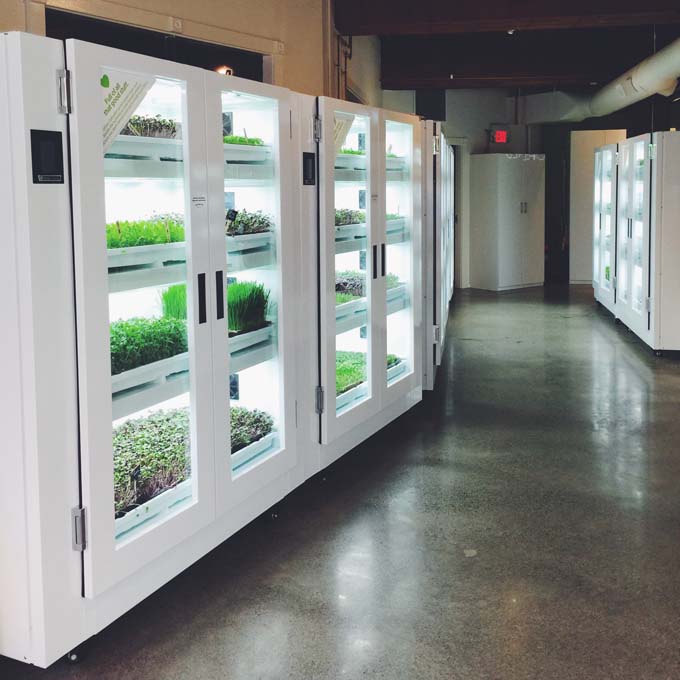 Because the greens are so fresh, they have a more intense flavour and are more nutritious as well.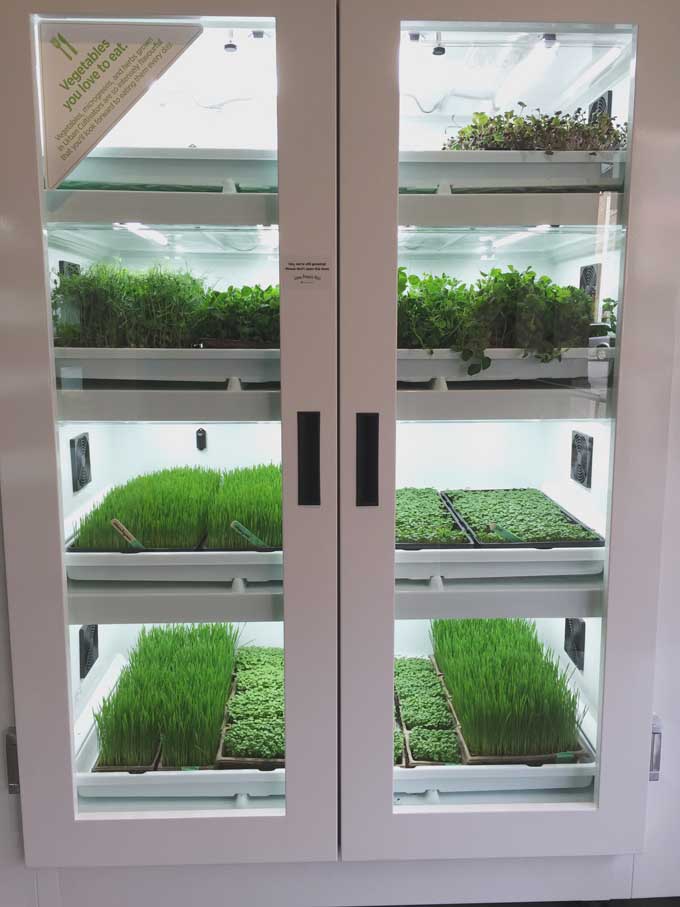 Microgreens, which are seedlings of edible vegetables and herbs, are grown on site. They improve a dish's texture, flavour, and style, but are also highly nutritious. According to Living Produce Aisle, they have a higher enzyme count than fresh fruit and vegetables and are a great source of fatty acids and fibre. Flats of greens are also available for sale.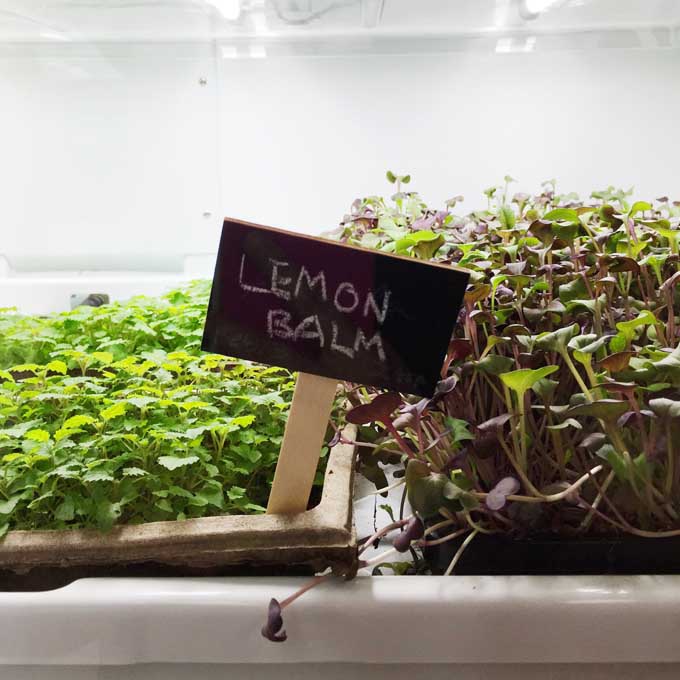 Living Produce Aisle Smoothies
It was my lucky day because when I arrived some samples were just being set out. I got to sample the Garden of Eden (Nasturtium, kale, orange juice, lemonade, mango, banana, frozen yogurt) and the Berry Me (mustard greens, peashoots, berries, coconut water, lemonade, frozen yogurt). The Garden of Eden was interesting because it had a wasabi-like aftertaste due to the nasturtium.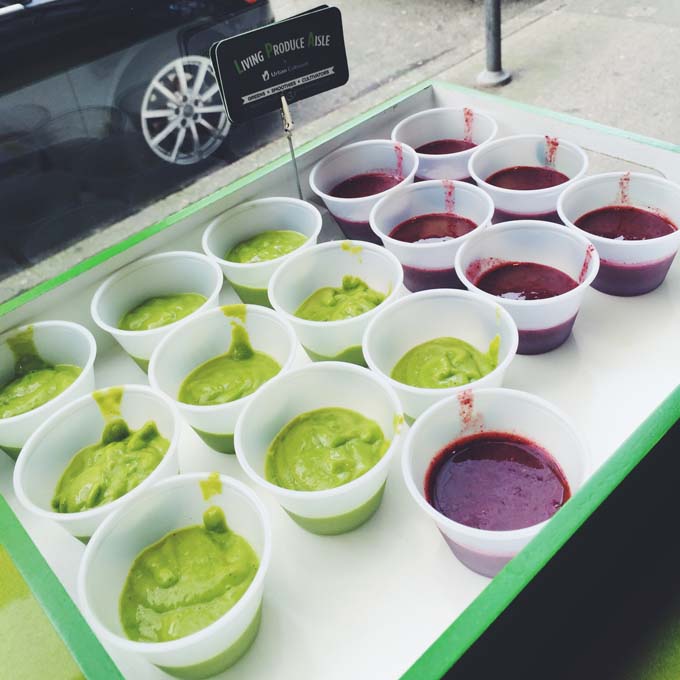 I bought the Temple Tonic (arugula, wheatgrass, orange juice, coconut water, banana and frozen yogurt) as seen in the first picture of this post. It had a strong arugula flavor and was an overall refreshing smoothie. The smoothies are $9 and all ingredients are 100% organic. They also have a frequent smoothie loyalty program.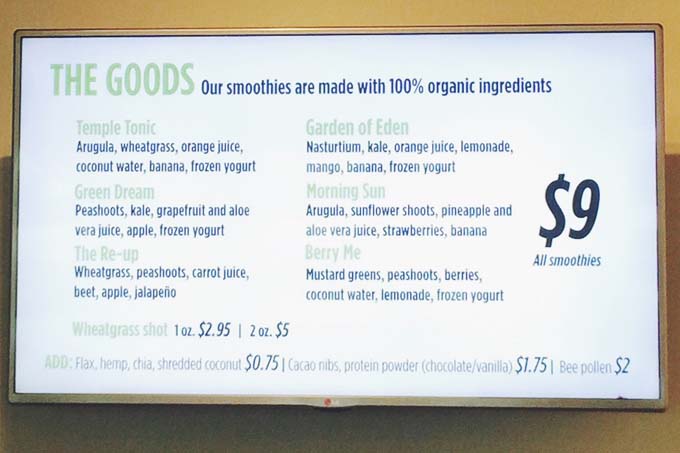 There is a seating area at the back of the shop. On the wall, it says, "It's a Fresh New World." I would have to agree that freshness is indeed wonderful: nutritious, healthy and tasty too!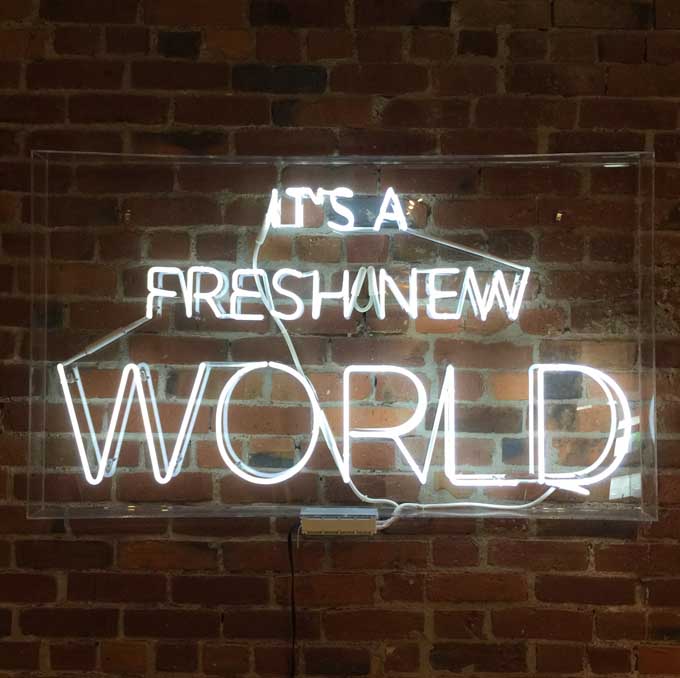 Website: http://livingproduceaisle.com/
Facebook: https://www.facebook.com/livingproduceaisle