Canadians have wildly contentious views on how ketchup should be enjoyed – cold or at room temperature. Just in time for patio season, Heinz is reigniting this debate with its new Heinz Cold Ketchup, designed for those who love it cold, to finally give Canadians a choice.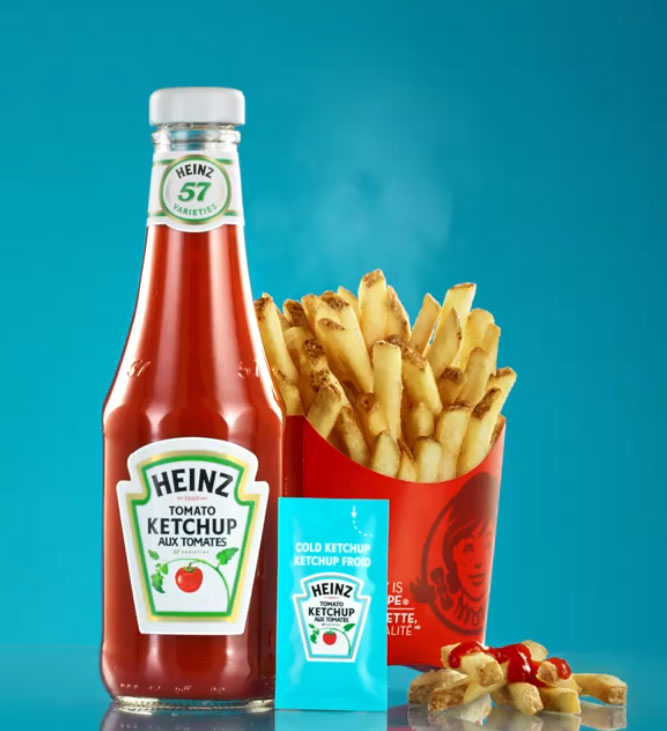 From diners to grocery shelves, iconic Heinz ketchup has always been served at room temperature. Nonetheless, some of the biggest ketchup fans love it cold. To get a temperature check on the debate, Heinz recently conducted a survey and found nearly half of Canadians feel the only way to eat ketchup is cold; yet 1 in 5 argue it must be consumed at room temperature.
As a nod to fans who love it cold, and a challenge to room temperature fans to chill out and try it, Heinz Cold Ketchup is specifically designed for those who like it cold. It's the same iconic, slow-pouring ketchup, now cold, with a label that turns icy blue when it's perfectly chilled.
"It's no secret that the ketchup temperature debate is a contentious topic that's been dividing the internet," says Jacqueline Chao, Senior Brand Manager, Kraft Heinz Company. "As the world's most iconic ketchup, we saw a natural opportunity to hack this cultural conversation in an unexpected, yet ownable way by introducing Heinz Cold Ketchup, our slow-pouring ketchup, just colder. We're thrilled that our fans now don't have to choose, because when it comes to ketchup, room temperature or cold, it has to be Heinz."
Starting today, Heinz Cold Ketchup is available at participating Wendy's® locations across Canada for a limited-time, so cold ketchup lovers can dip their hot and crispy fries in Heinz Cold Ketchup for the ultimate taste experience. For Canadians who want to bring home an icy, cold bottle of Heinz Ketchup, look for the iconic, glass bottles located in specially marked display fridges at select grocery stores starting May 30 and on social media where Heinz Canada will be giving away a limited number of special-edition bottles of Heinz Cold Ketchup with its temperature-activated, icy blue label to celebrate the ketchup fans who love it cold.