If you love rice rolls, you'll want to check out the newly opened Hei Hei Rice Roll 喜記腸粉 food stall inside the Richmond Public Market.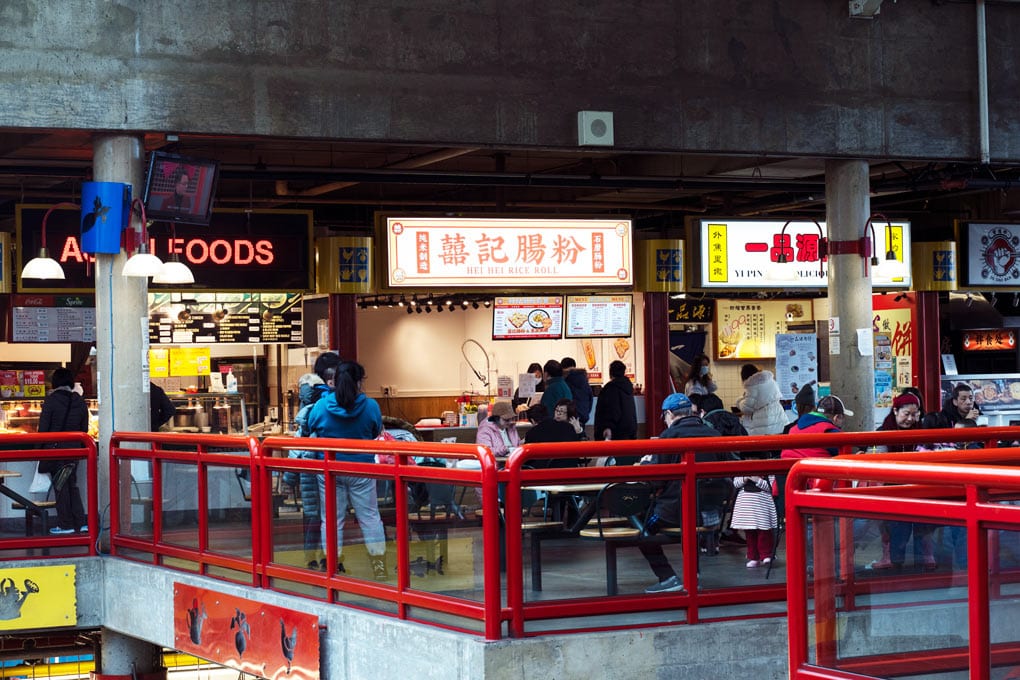 This post is not sponsored.
Hei Hei Rice Roll Menu
Hei Hei Rice Roll specializes in steamed rice rolls with fillings ranging from pork, beef, BBQ pork, shrimp and vegetarian.
What is special is that they stone grind rice to make their own rice flour for the rice rolls that they offer.
Prices range from $5.50 (vegetarian); pork, beef, BBQ pork, shrimp ($7.50); to combination flavours ($7.99 – $8.50).
You can add an egg toppings ($1.50) or other free toppings (corn, bean sprout, scallion).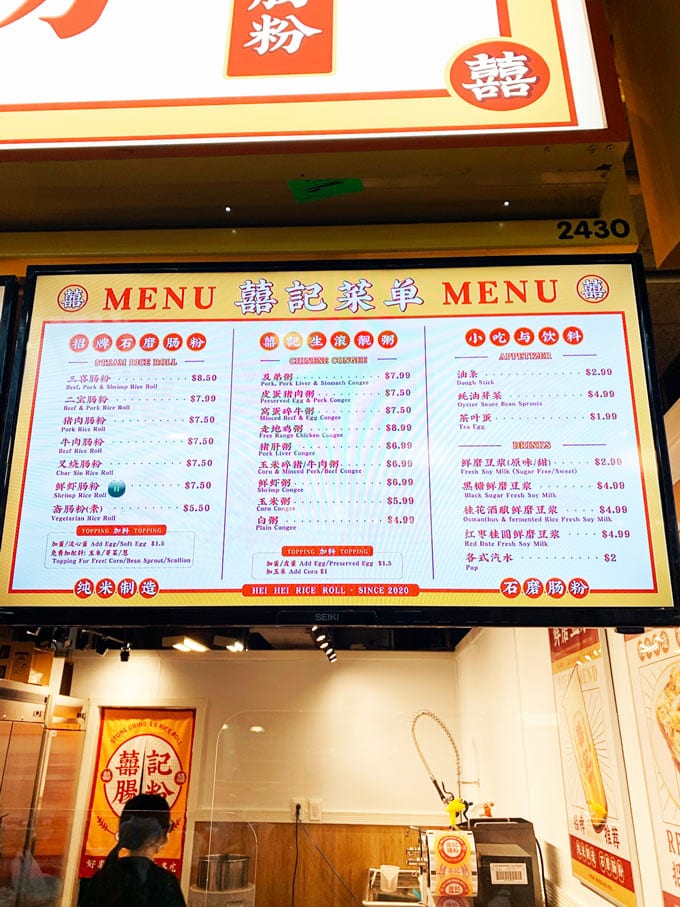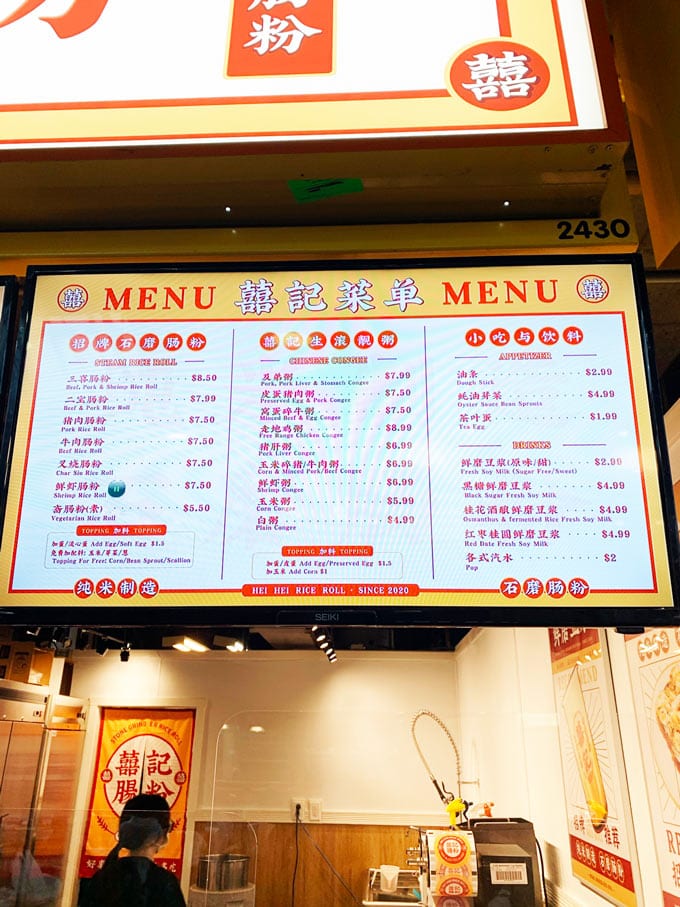 Also on the menu are congee ranging with varieties including pork; pork liver & stomach ($7.99); preserved egg & pork ($7.50); minced beef & egg ($7.50); free range chicken ($8.99); pork liver ($6.99); corn & minced pork or beef ($6.99); shrimp ($6.99); corn ($5.99); and plain ($4.99).
Additional toppings for congee include preserved egg ($1.50) and/or corn ($1).
They have a combo option of rice roll plus congee for $11.99.
For appetizers, they offer Chinese doughnuts ($2.99), oyster sauce bean sprouts ($4.99) and tea egg ($1.99).
Wash it all down with their selection of fresh soy milk which includes classic ($2.99); black sugar fresh soy milk ($4.99); Osmanthus & fermented rice fresh soy milk ($4.99); and red date fresh soy millk ($4.99).
How to Order from Hei Hei Rice Roll
The stall currently open 11 am – 3 pm every day except Tuesday and they have been very popular.
In general, you can expect a 30 – 40 minute wait because the machine which makes the rice rolls has a limited capacity per hour.
There is a sign at the front which indicates the wait time and the staff mention it to you before you place your order.
You can preorder ahead one day or calling them ahead before you arrive at (604) 370-9090.
However, they may or may not be able to answer the phone due to how busy they get.
What I Tried
I ordered the pork rice roll ($7.50), beef rice roll ($7.50) and BBQ pork rice roll ($7.50).
The wait for my order was 40 minutes and it was ready just about that time (give or take a few minutes ahead).
Upon receiving my order, I noticed the rice rolls were already precut into bite-sizes pieces.
The rice roll skins are quite thin and translucent such that you can see the meat fillings. I was also impressed the amount of meat incorporated.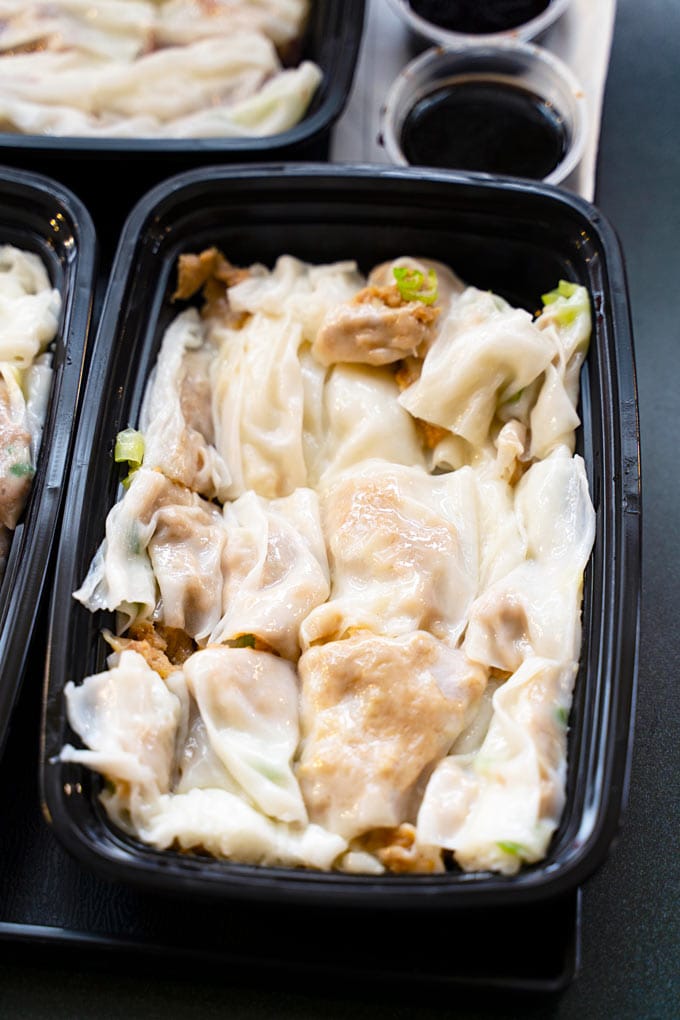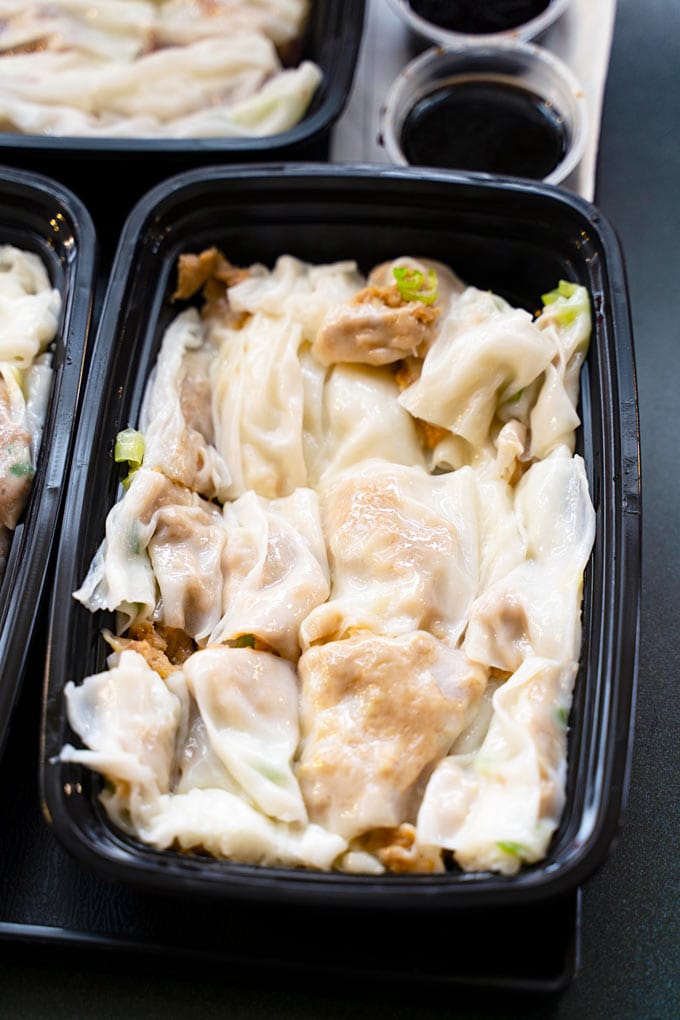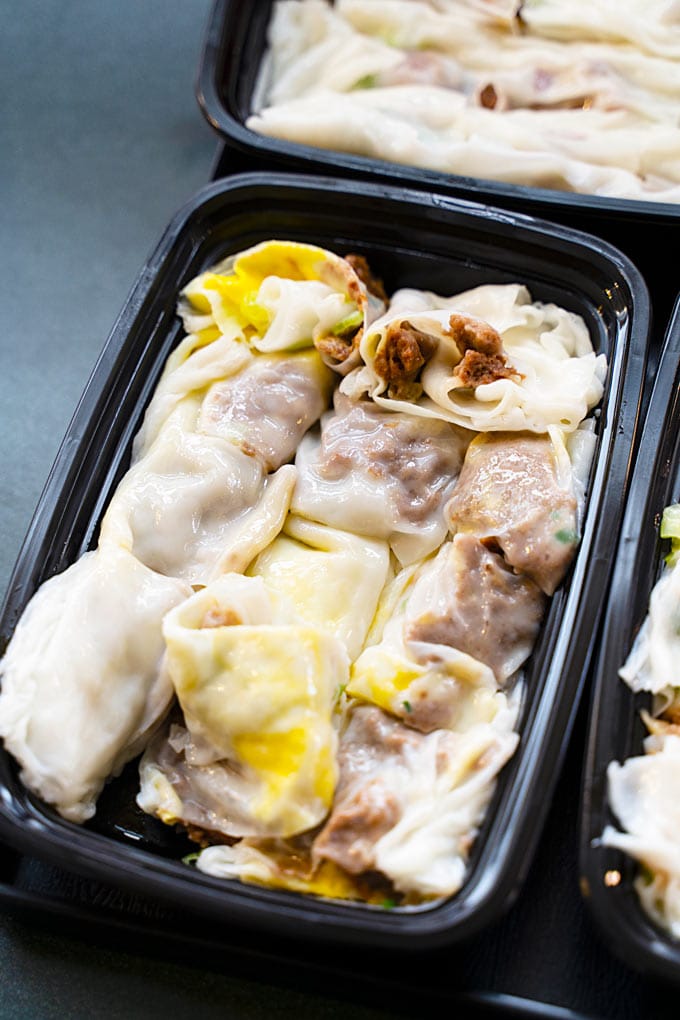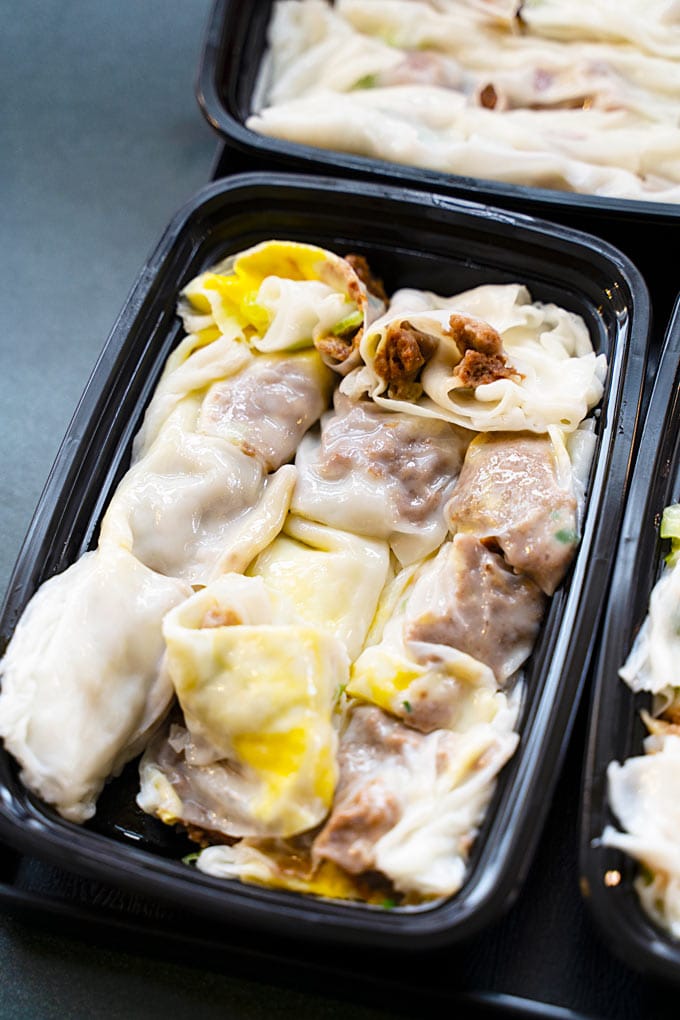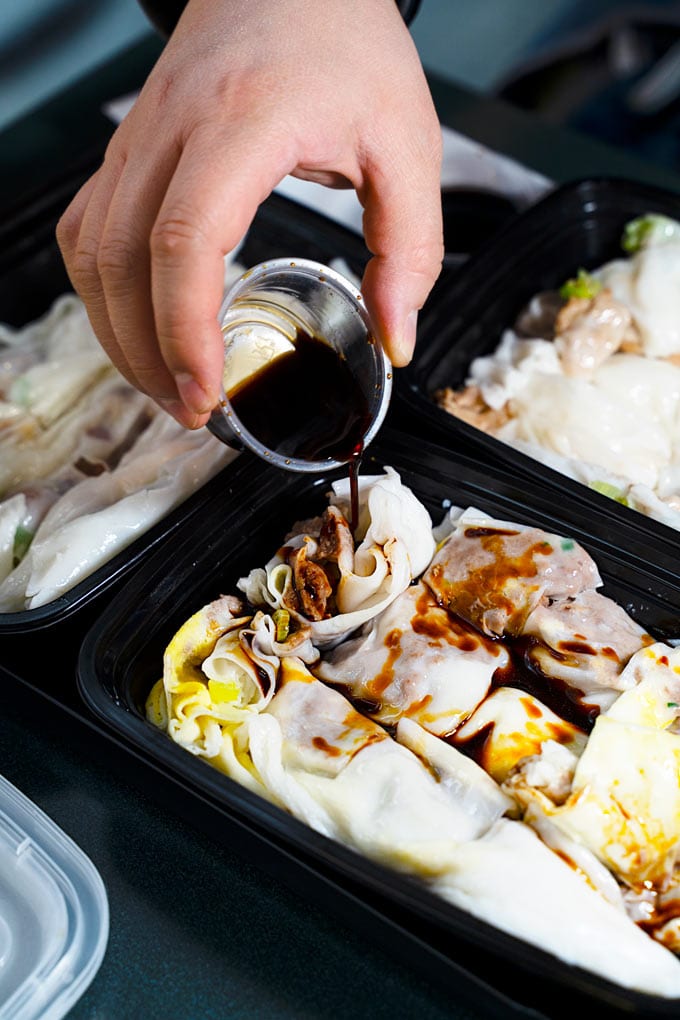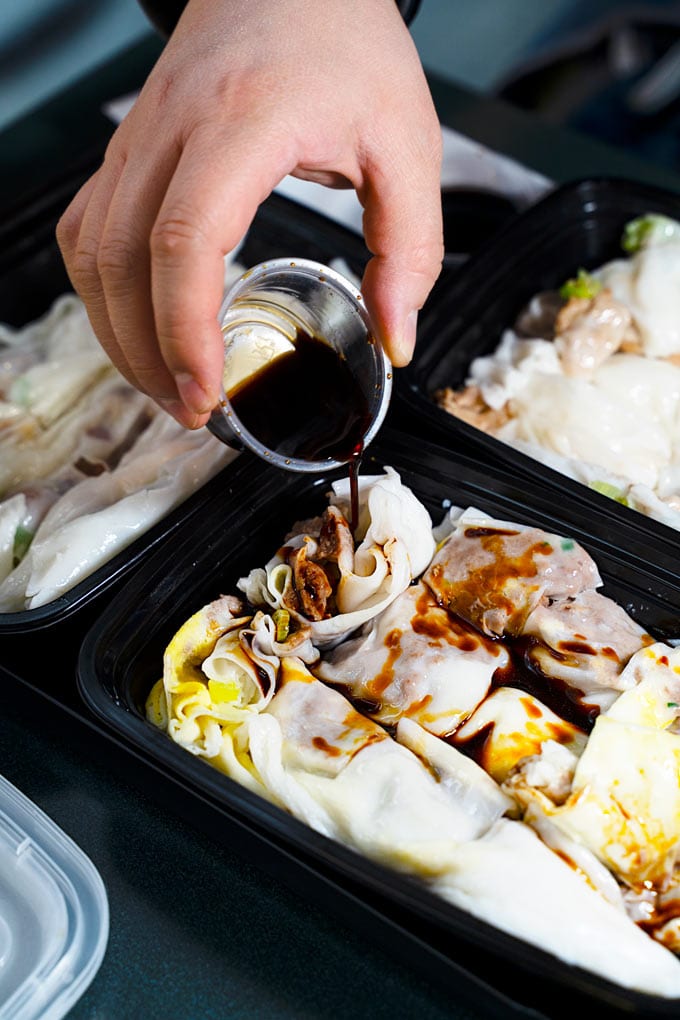 I liked that they give you a decent amount of soy sauce (not the super small containers).
And upon lifting the rice roll, you can tell that the skin is thin.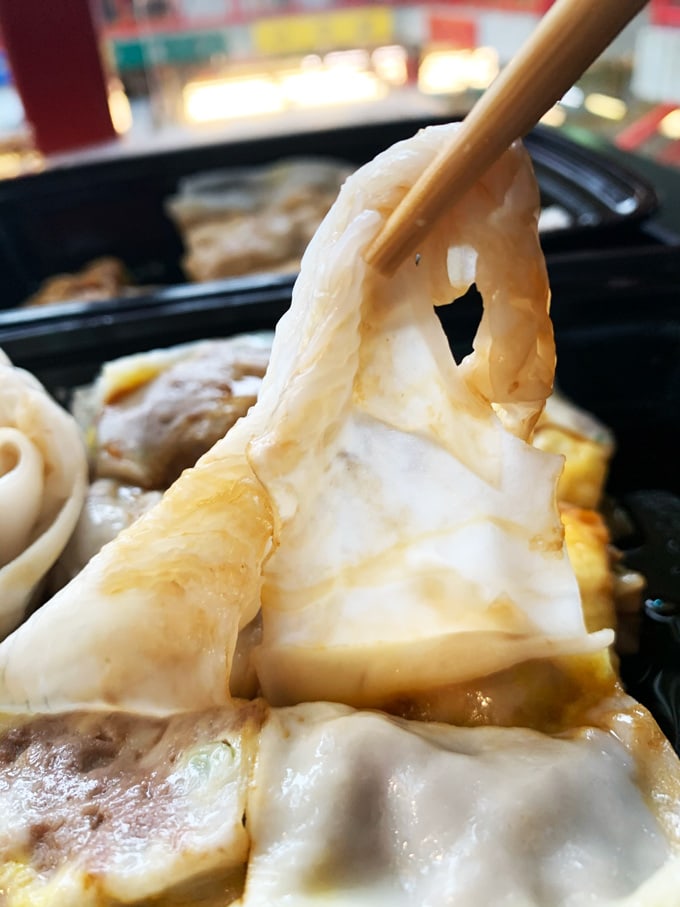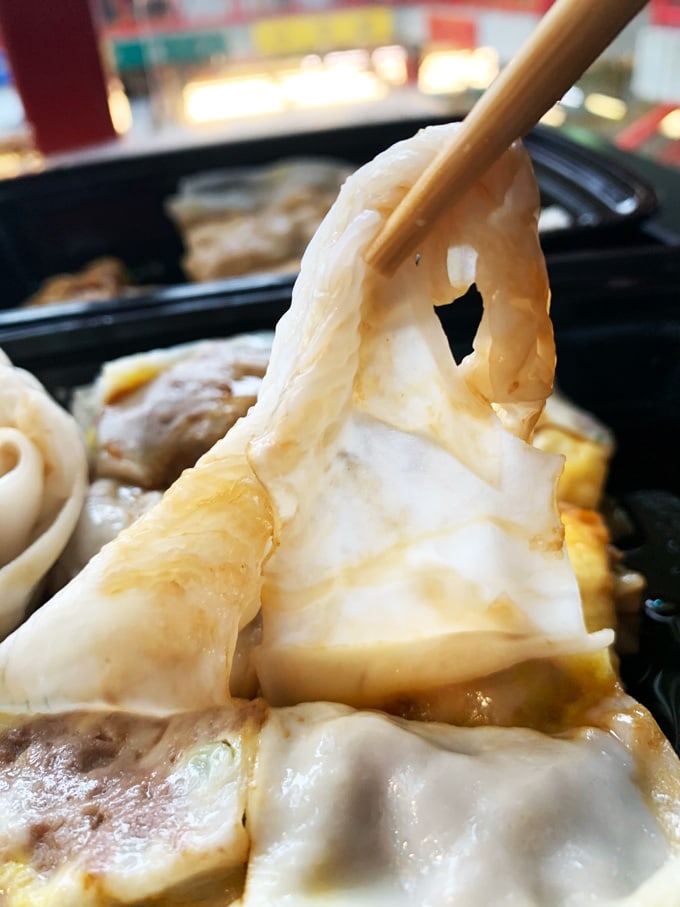 I thought the rice rolls were very good such that you get a really good portion of meat filling versus rice roll per bite. Other places locally offer thicker rice rolls and less meat filling.
One thing that stood out was that the beef they use is really fresh. You really get that beefy taste in the beef rice roll.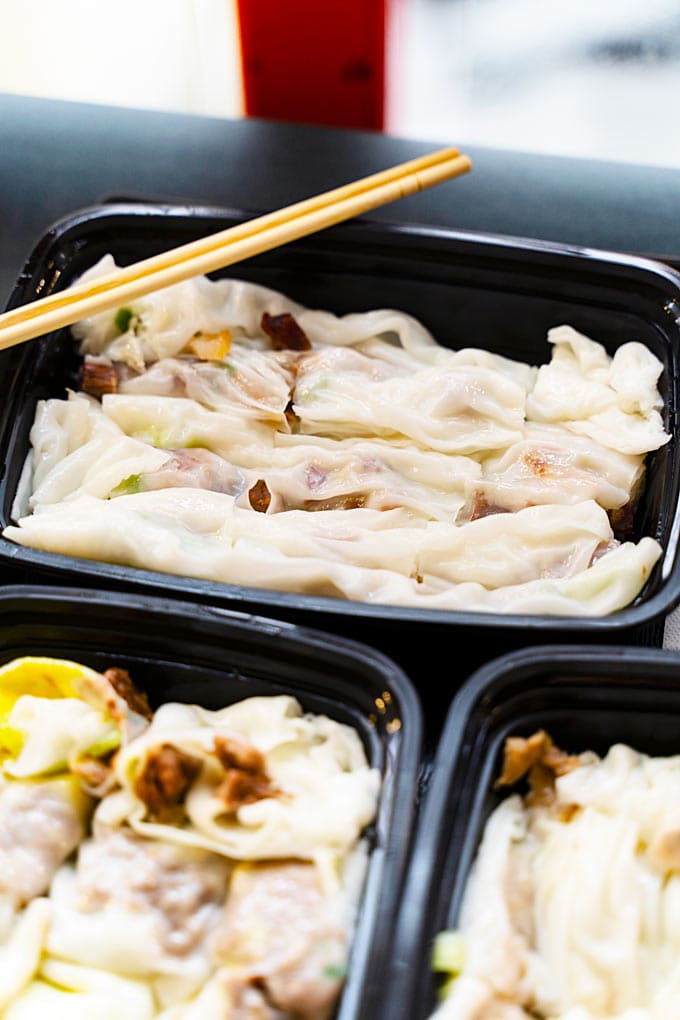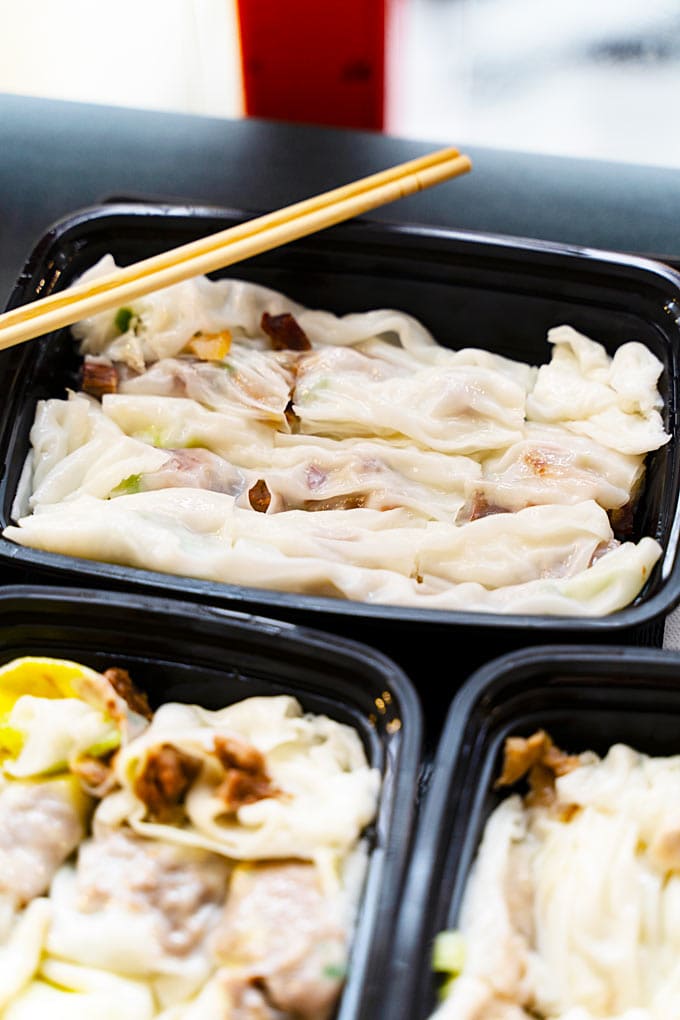 Overall Impression
The rice rolls from Hei Hei were really good and I would order from the again. Everything tasted quite fresh (in particular the beef) and I like that there was a good amount of meat filling. If you can plan for the wait or pre-order ahead, it is worth it.
Rating: 5/5