Here's a Father's Day Vancouver 2021 guide covering special menus for brunch, lunch, dinner, takeout, gift ideas and more. Father's Day 2021 is happening on June 20.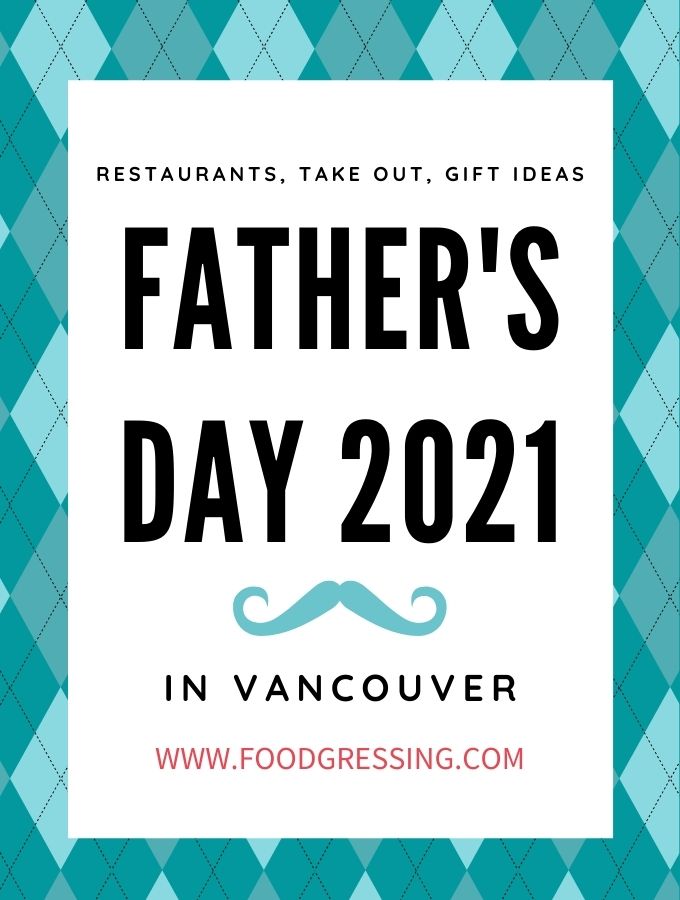 This list is updated as information becomes available. Please reach out to me [email protected] or @foodgressing on social media (Instagram, Facebook, Twitter, TikTok) for any suggestions.
Any support to local businesses is appreciated in these times. Holiday celebrations can take on different forms from traditional, fusion to modern.
Please use this list as an inspiration for ideas on how to put together your own Father's Day celebration.
If you like this post, please share with your friends and family. This would help support the website and for me to continue doing these roundups.
Father's Day Metro Vancouver 2021 restaurant & catering offerings
Edge Catering
Edge Catering has the following Father's Day offerings. Order by Wednesday, June 16th at 4pm for pickup on Saturday, 10am – 4 pm June 19.
Father's Favourite Fare BBQ – For 4 ($150): The Ultimate BBQ Fare – Beef ribs (1 kg), sweet and spicy chicken quarters (8 pc), double smoked bacon mac 'n cheese, shaved and chopped vegetable salad, jalapeño corn bread, house crafted lemon meringue pie.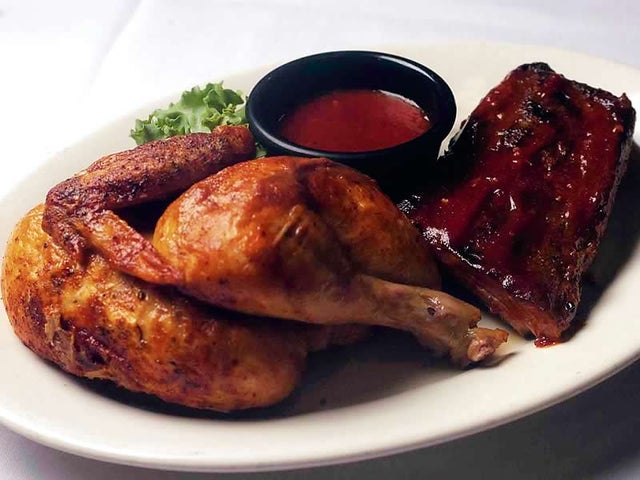 Father's Day BBQ Burger Box – For 4 ($130): A "ready to grill" package all prepped for Dad – 4 house AAA Canadian ground chuck patties, buttery brioche buns, and a ton of fixins ready to grill and devour. Comes with twice baked stuffed potatoes topped with cheese, bacon, green onions. Roasted corn on the cob, kale coleslaw and magnificently finished with 4 house crafted chocolate stout brownie cookie with vanilla chantilly cream.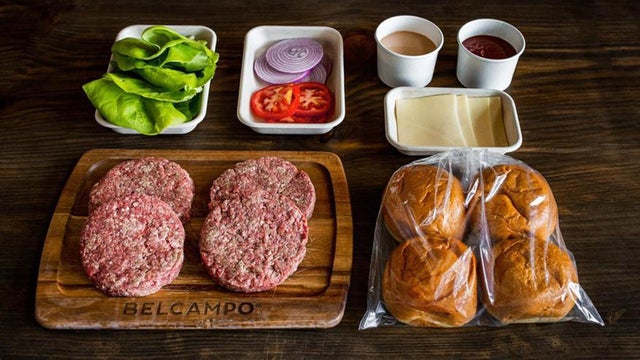 Whole Lemon Meringue Pie – Serves 8 ($32): Beautifully house crafted whole lemon meringue pie bursting with flavour.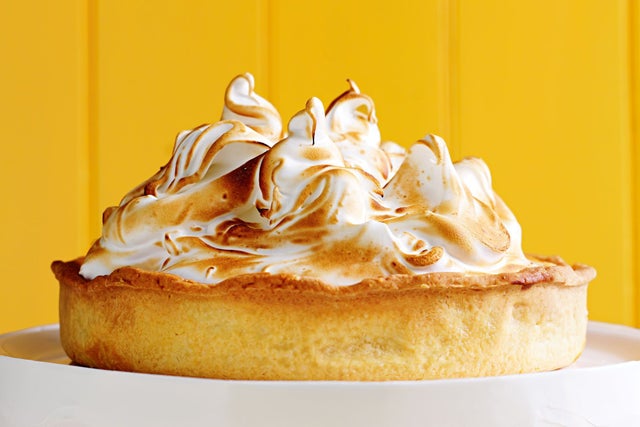 Father's Fave Gin and Tonic Kit ($20): All the ingredients for a great G&T – Bombay Sapphire gin (2 x 50 ml), tonic water, fresh and candied citrus, fresh herb garnish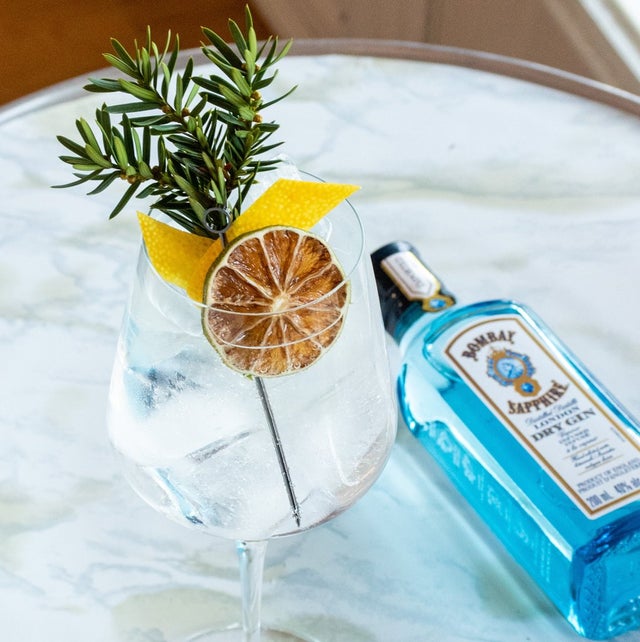 Railtown Catering
This Father's Day, treat dad with Railtown Catering's immensely popular Tailgate BBQ package.
Indulge in their mouthwatering, slow-smoked brisket, pork shoulder and beer-brined chicken and brats, along with a selection of delicious summer sides.
Additional treats for dad include their specialty Embarcadero Cocktail Kit, featuring whisky, vermouth and amaro nonino, signature highball classes and Railtown signature Pork Dry Rub, Beef Dry Rub, and Bourbon Barbecue Sauce.
Packages are portioned to accommodate up to 4 people. All items are pre-cooked, and designed to be re-heated and served (re-heating instructions will be provided).
Those who are hosting a larger group can order additional side dishes on an a-la-carte basis.
Torafuku
Torafuku, the Main Street eatery known for its electric Pan-Asian flavours, unveils a Father's Day menu showcasing premium proteins and innovative use of international techniques. Chef de Cuisine, Baker Hsu has assembled an arrangement of all-new dishes and fan favourites for dads and their loved ones.
Available for both dine-in and to-go, these multi-course meals designed for sharing come complete with three starters, a choice of main and dessert.
Starters include a refreshing Summer Salad of heirloom tomatoes, compressed watermelon, charred corn, corn husk vinaigrette and house made ricotta.
The vibrant salad balances out the indulgent Foie Gras Stuffed Chicken Wings served with a chilli lime dressing sauce. Options for the main course are 24-hour Short Rib with unagi sauce, wagyu sirloin, kimchi fried rice, or opt for the much-loved Torafuku Duck Buns complete with foie gras parfait, fluffy house made steam buns and candied peanuts.
To finish, guests can choose from a perfect summer Mango Pudding or a Basque Cheesecake with yuzu and rhubarb compote. The full menu can be viewed here.

The five-course ready-to-eat sets are designed to feed two people. Sets are priced according to choice of the main course, the Short Rib Set is available for $105.00, and the Roast Duck Set is $99.00.
The sets will be available Wednesday – Sunday after 5:00pm starting Friday, June 11 through Sunday, June 20. Meals can be ordered online here or by calling the restaurant at 778-903-2006.

Families and larger groups can double up or mix and match sets. Other add-on options include Sea Bream Rice ($18.00) seasoned with ginger, scallion and organic soy sauce and the refreshing Taiwanese Cold Noodles ($16.00) loaded with duck leg, pickled and crisp vegetables.
Boulevard Kitchen & Oyster Bar
Boulevard Kitchen & Oyster Bar takes the stress out of Father's Day with carefully curated premium ingredients for at-home cooks and dine-in features paired with superb service.
Executive Chef Roger Ma will be offering up all the Boulevard classics this Father's Day along with a most impressive Bone-In Ribeye Steak feature.
This generously marbled cut of meat, the favourite of many, delivers an immense amount of flavour, partially attributed to the intact bone.
Caviar service, oysters, seafood towers and impeccable service from Vancouver's premier fine dining establishment all await diners and lucky dads headed to Boulevard this Father's Day.
Reservations for dine-in and the patio can be made online here or by calling the restaurant at 604-642-2900.
Those firing up the grill at home this Father's Day need look no further than BLVD Provisions to assemble all the ingredients needed for a wow-worthy feast for dad.
BLVD Provisions, the line of restaurant-quality meals and ingredients made for the home offers an array of elevated eats perfect for the upcoming celebration.
The award-winning Boulevard team has done the shopping for their customers and have on offer hand-selected cuts of beef that are considered among the best in Canada.
Premium protein options from the line for Father's Day include 16 oz Boneless Prime Ribeye, PEI Blue Dot Ribeye, and a collection of artisanal sausages from local favourite Oyama Sausage Co.
Chef suggests saving some room on the grill for sides such as the Sous Vide Cooked Fennel, which burst when charred on the barbeque. All at the table will be thankful for the famous Boulevard Cornbread, also available for purchase.
BLVD Provisions orders can be placed via TOCK and are available for pickup from the restaurant Tuesday – Saturday, 12:00 pm – 6:00 pm.
forage
forage is offering a Father's Day BBQ Meat & Taco Package for 6 for pickup June 18 – 20 from 12 PM – 5 PM. This package is picked up cold to be reheated at home.
The kit includes:
Full Slab of kimchi BBQ ribs
corned bison brisket
half a roasted chicken
potato salad
black pepper and bacon biscuits
Taco fixings include:
lime and pepper roasted bison strips
salsa, sour cream, vegetables, lettuce, cheese, & soft tacos
Pacific Institute of Culinary Arts
Blue Hat Bakery-Cafe at Pacific Institute of Culinary Arts is offering a Father's Day BBQ Kit To-Go featuring: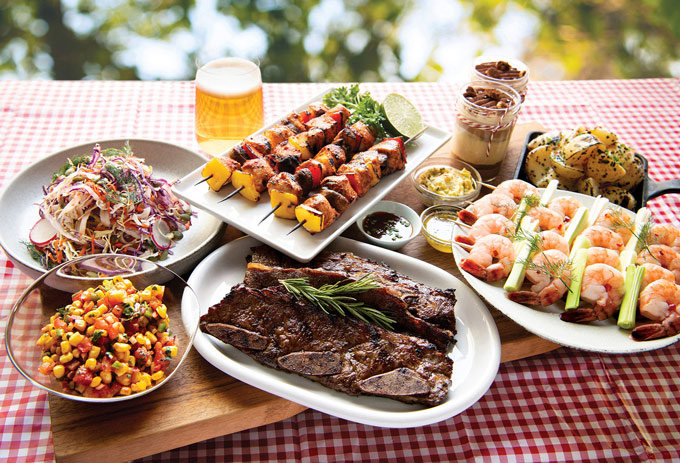 2 Maui Short Ribs
2 Cajun Chicken Skewers
2 Chili-Lime Prawn Skewers
Crunchy Coleslaw, Pumpkin Seeds, Radishes
German-style Potato Salad
Sweet Corn Salsa
2 Chocolate-Caramel Tiramisu
Priced at $75/ 2 portions (sold in increments of 2). Pre-orders will be available until Wednesday, June 16 at 11am, with the option to pick up on either Saturday, June 19 or Sunday, June 20 between 11am – 5pm.
Truffles Fine Foods @ VanDusen Gardens
Come & experience a gourmet four-course picnic at VanDusen Botanical Garden with Truffles Fine Foods. For a limited time only June 16-August 29, the Truffles Fine Foods Summer Gourmet Picnic is available Wednesday to Sunday, 10am-5pm with garden admission included. It is available Father's Day weekend: June 19 & 20. Read more about here.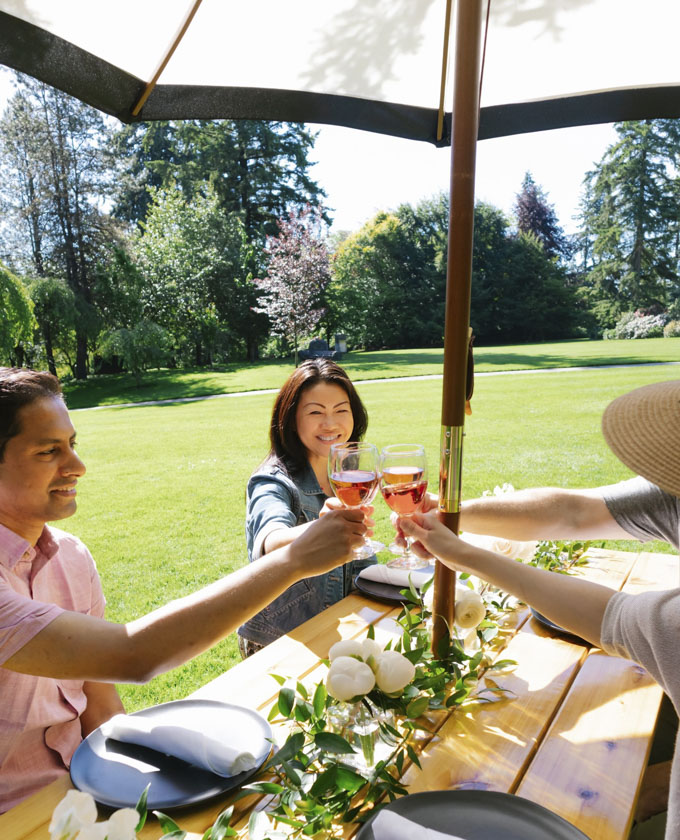 Dominion Bar + Kitchen
Dominion Bar + Kitchen in Surrey is hosting a fun family event for Father's Day, called Birdies + Buckets with Dad. They're having a mini-golf putting competition paired with tasty buckets on June 20 from 12-8 pm.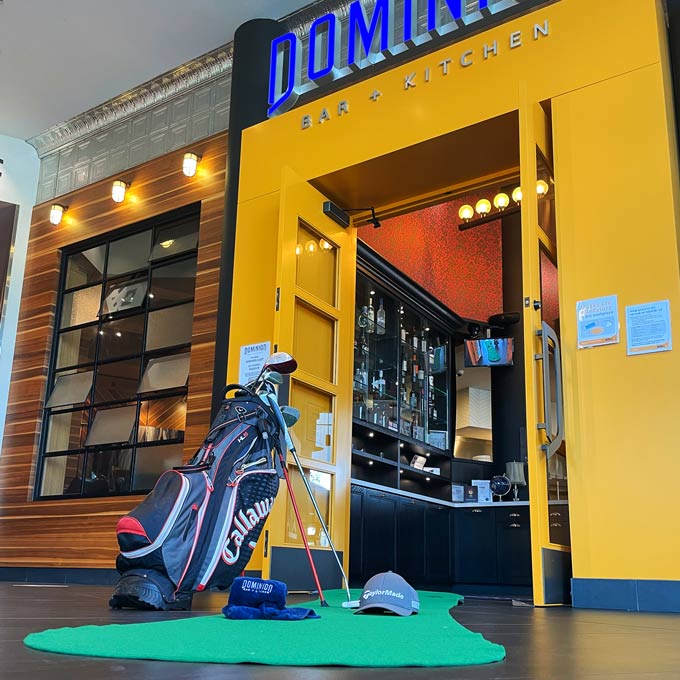 You'll see delicious menu items like Kusshi oysters, Honey Mussels, Spot Prawns, or fried chicken along with Russel Craft Lagers, Guinness cans, Cottage Springs coolers, or Ketel One Caesars.
With every bucket purchased, you receive one golf putting voucher. One voucher gives you one attempt to sink five golf balls. Each hole has points attached to it. Accumulate the top 3 points on the day to win. The more buckets you buy, the more chances you have to win.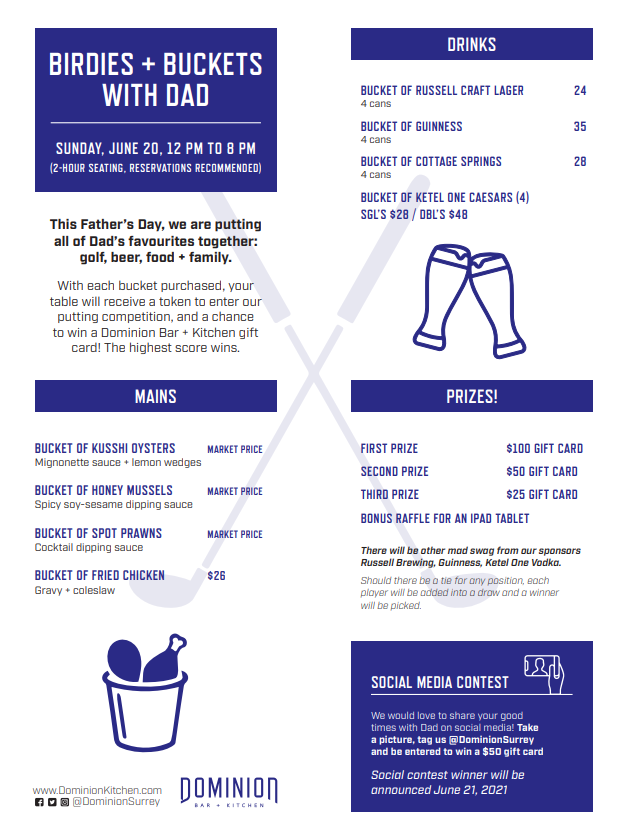 Fun times and amazing prizes. They'll have a scoreboard on a TV so you'll know how you are doing compared to other participants.
The highest golf putting score wins. First place wins a $100 gift card, second place wins a $50 gift card, and third place wins a $25 gift card to Dominion Bar + Kitchen.
They are also giving away an iPad Tablet as a bonus raffle for attempting the 50 point putt, and lots of fun swag from our sponsors.
Reservations are encouraged with 2-hour seatings, email [email protected] or call 604.330.0229 to book your table.
Hart House Restaurant
Hart House Restaurant is offering an a la carte brunch menu with Chef Mike's BBQ features on Father's Day.
The Lazy Gourmet
The Lazy Gourmet is offering a Set Menu ($45); Father's Day Box ($75); Butcher Box ($110); Cherry "The Man" Hattan ($60); and Whiskey Chocolate Caramel Cake ($8). Order by June 16 for pickup or delivery on June 19 – 20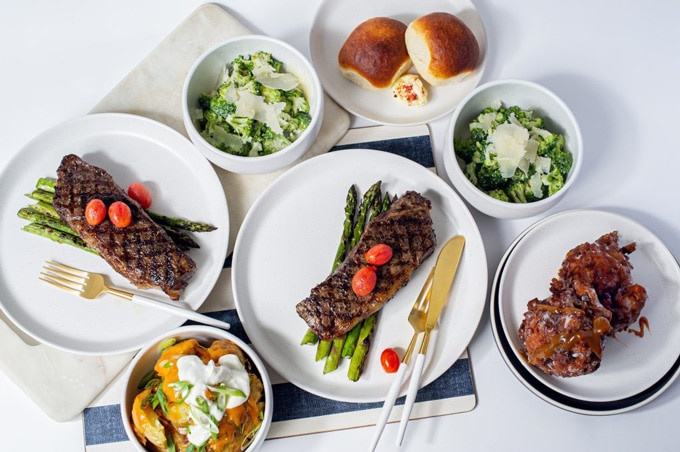 Eden West Gourmet
Eden West Gourmet in Port Moody has a Father's Day Grazing box for pick up in store only on Saturday June 19th (11am to 4pm) and Sunday 20th (10am to noon). Must be order by June 15th to guarantee availability. Limited quantities. Starts at $64 for a small box.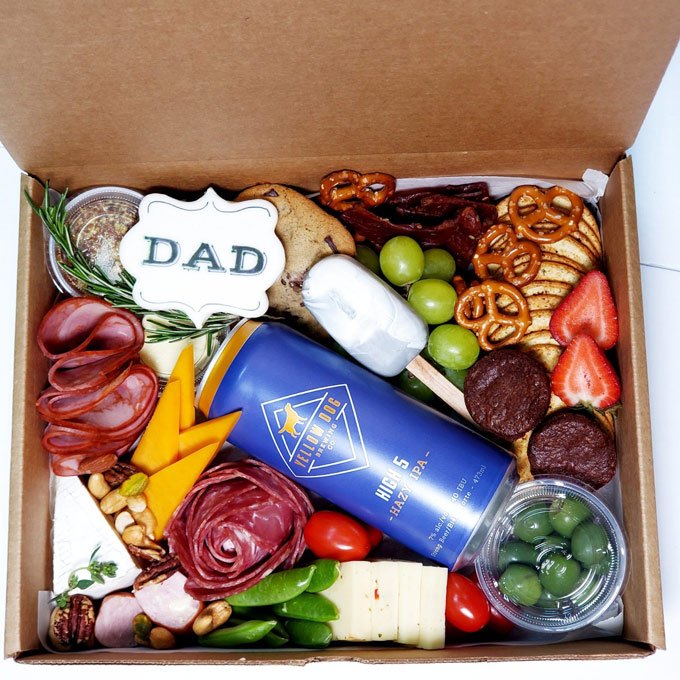 Chefs Plate
To celebrate this summer with great food and experiences, leading meal kit company Chefs Plate is bringing back its super easy to prepare BBQ meal kits just in time for the backyard grilling season.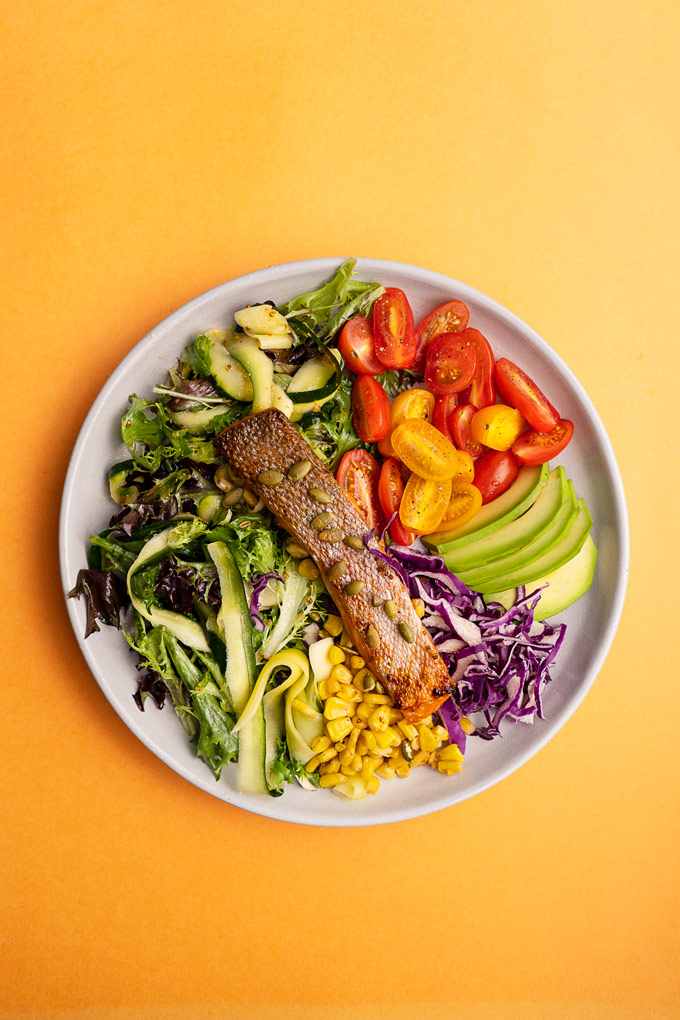 Think of classic cookout meals, but effortless and better! Recipes include those favourites but with internationally inspired twists like Grilled Mediterranean Salmon, Garlicky Shrimp Skewers, Grilled Hawaiian BBQ Beef Burgers, and more.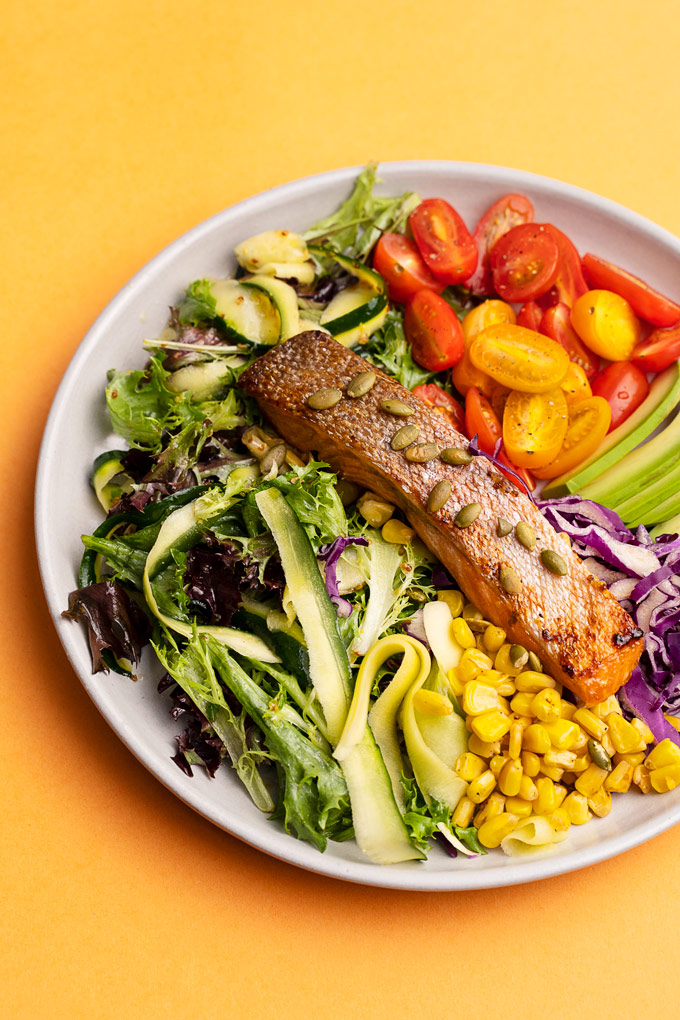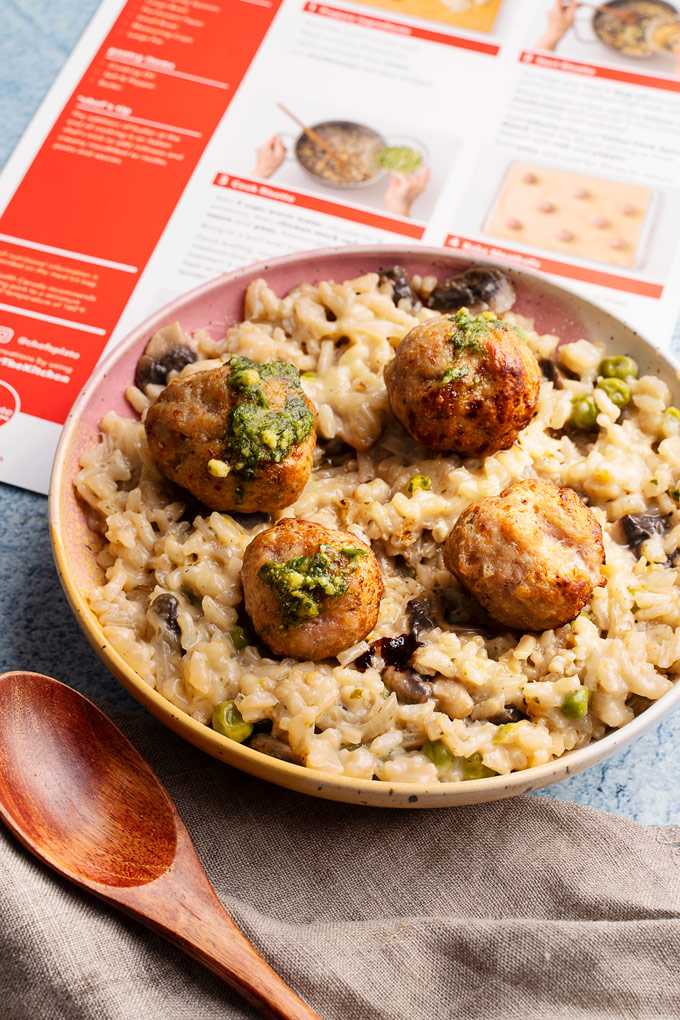 Chefs Plate is a great way to celebrate and enjoy a foolproof meal without all the planning and grocery shopping.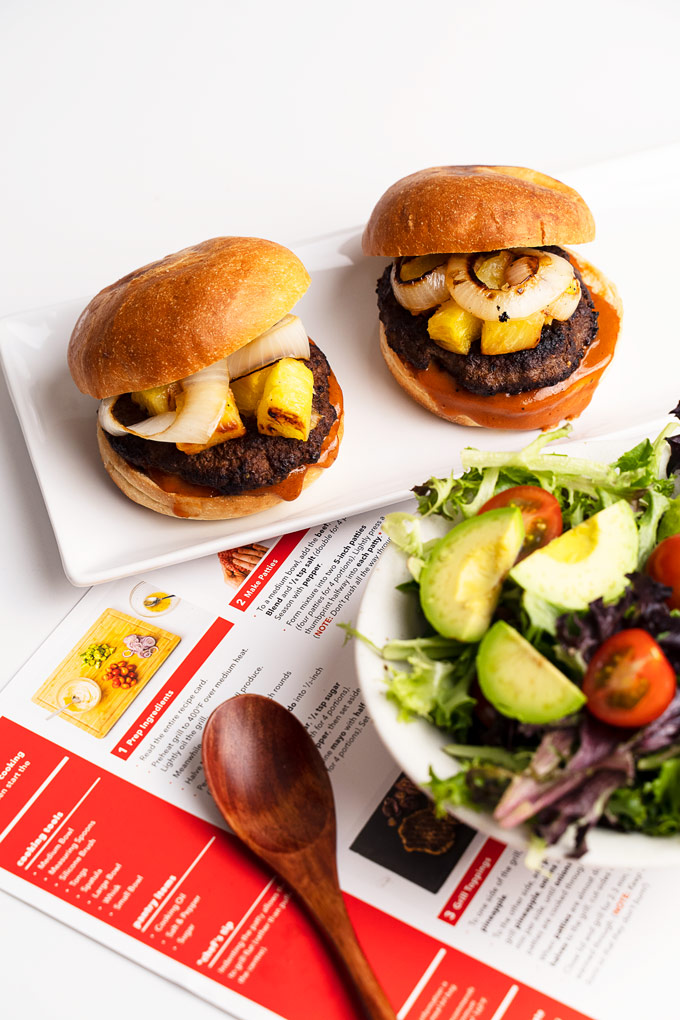 White Spot
For Father's Day, White Spot is offering their slow-roasted, fall off the bone goodness ribs. Available in full or half rack, their tender Bulleit™ BBQ Baby back Ribs are served with your choice of side.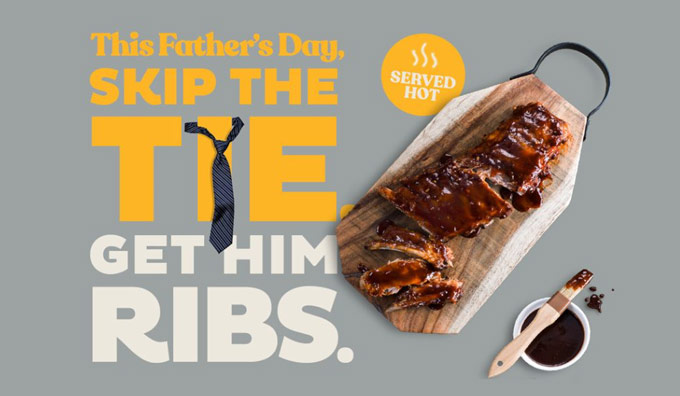 The recommended pairing is Granville Island Brewing's Pale Ale, Pilsner or IPA. Add one to your takeout meal for only $5 each (355ml).
For dessert, give Dad a Cherry Pie in a flaky crust and topped with a scoop of vanilla bean ice cream. Starting June 7, only for a limited time while supplies last.
Denny's
This Father's Day weekend (June 17th – 20th), buy any Father's Day Shareable Pack and get a FREE order of Strawberry Pancake Puppies (10 pieces). Offer is valid at participating locations on Dennys.ca Online Ordering.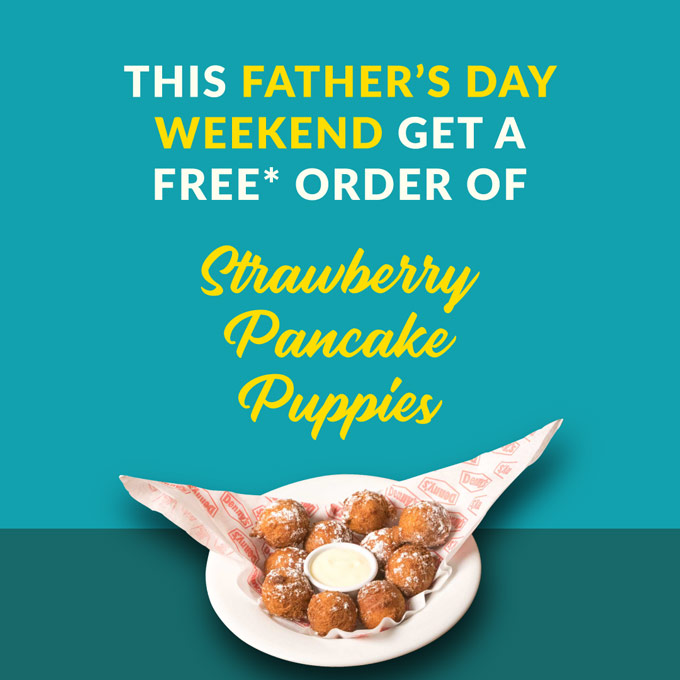 Choose from the following Shareable Packs:
Grand Slam Pack for four
Chicken Finger Pack for four
Fish and Chips Pack for four
Burger Pack for four
Cheeseburger Pack for four
You must add both a qualifying Father's Day Shareable Pack and ten-pack of Strawberry Pancake Puppies to the cart to redeem the offer.
Foamers' Folly Brewing Co.
Foamers' Folly Brewing Co. in Pitt Meadows is offering a Father's Day Rib and Beer Dinner featuring Salt + Sear Catering ($65, serves 4 people).
36 Hour Slow Cooked Ribs with Hot Honey
Garlic Mashed Potatoes
Chorizo Baked Beans
4pack of our Dad Beer West Coast Pilsner
Preorder by June 16. Pick-up is at Foamers' in Pitt Meadows on Sunday June 20 from 9am-12pm (not for delivery).
Tractor at Home
Gourmet meal and grocery delivery service Tractor at Home is keeping things fresh and fun this June with the launch of two all-new Father's Day meal bundles featuring ready-to-grill meats, plant-based proteins, seasonal salads, wholesome snacks and local craft beer.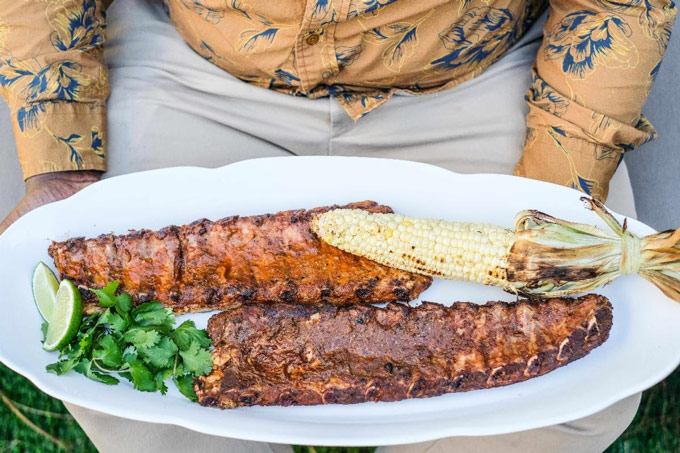 Just in time for Father's Day, the Tractor at Home culinary team has created two signature meal packages and a variety of specialty items designed to serve families of two to four.
The value-added Father's Day Vegan/Vegetarian Bundle and Father's Day BBQ Bundle will include ready-to-grill mains, bright and fresh seasonal salads, and easy-drinking beers from East Vancouver's Superflux Beer Company.
Packages can be augmented with additional summertime-inspired sides and drink pairings from Strange Fellows Brewing and Odd Society Spirits selected by Tractor at Home in-house beverage director and Sommelier Maude Renaud-Brisson.
All of the items included in the Father's Day bundles can also be purchased on an a-la-carte basis if families prefer to curate their own delicious package of personalized favourites.
Available for a limited time only, Tractor at Home's exclusive Father's Day offerings include:
Father's Day Vegan / Vegetarian Bundle ($79.50)
Black Bean Burgers: two plant-based burgers served with fresh buns and all the fixings (cashew beet spread, pickled red onions, farm greens, Tractor's famous hot sauce).
Thai Peanut Salad: entrée salad with organic mixed greens, pickled carrot, red pepper, green onion, cilantro and sesame seeds tossed in Thai peanut dressing.
Southwest Quinoa Salad: organic red and white quinoa dressed in a charred tomato vinaigrette.
Chips & Salsa: stoneground yellow tortilla chips paired with house-made green salsa (roasted tomatillos, jalapeños, and cilantro).
Vegan Cookies: chewy, nutrient-rich cookies made with dried apricots, sunflower seeds, pumpkin seeds, hemp seeds, coconut oil, oats, whole wheat flour and coconut sugar.
Superflux IPA (four-pack): bold, easy-drinking IPA with a glowing mango colour.
Father's Day BBQ Bundle ($72.50)
Turkey Zucchini Burgers: two turkey-zucchini patties paired with fresh buns and Tractor's famous hot sauce.
Baby Back Ribs: A full-rack of pre-cooked Danish baby back ribs smothered in house-made bourbon molasses BBQ sauce.
Southwest Quinoa Salad: organic red and white quinoa dressed in a charred tomato vinaigrette.
Vegan Cookies: chewy, nutrient-rich cookies made with dried apricots, sunflower seeds, pumpkin seeds, hemp seeds, coconut oil, oats, whole wheat flour and coconut sugar.
Superflux IPA (four-pack): bold, easy-drinking IPA with a glowing mango colour.
Sides & Drinks
Steak Skewers ($11): Two Rivers Meats grass-fed steak, shishito peppers and red onion with mild pimento mustard marinade.
Thai Peanut Salad ($14): entrée salad with organic mixed greens, pickled carrot, red pepper, green onion, cilantro and sesame seeds tossed in Thai peanut dressing.
Tractor Grain Salad ($6.50): organic farro, French lentils, dried figs, toasted pecans, fresh herbs, and rainbow kale topped with goat's cheese and dressed with white balsamic vinaigrette.
Odd Society Prospector Rye Whisky ($36): 100% Northern B.C. rye whisky matured for three years in American oak barrels.
Strange Fellows Talisman Pale Ale ($16 / four-pack): refreshing pale ale with notes of tropical citrus and a touch of bitterness.
Tractor at Home's signature Father's Day bundles and specialty items will be available to order starting June 8th.
H2 Rotisserie & Bar
Celebrate the special Dad or father figure in your life with a decadent prime rib feast at H2 Rotisserie & Bar at The Westin Bayshore.
Say "Cheers!" to the superman he is and dig into our Certified Angus Beef Prime Rib feature – an 18-hour roast cooked to juicy perfection, served with Yorkshire pudding, irresistible potato gratin, glazed heirloom carrots, garlic butter green beans, horseradish, and rosemary jus. Reservations are available.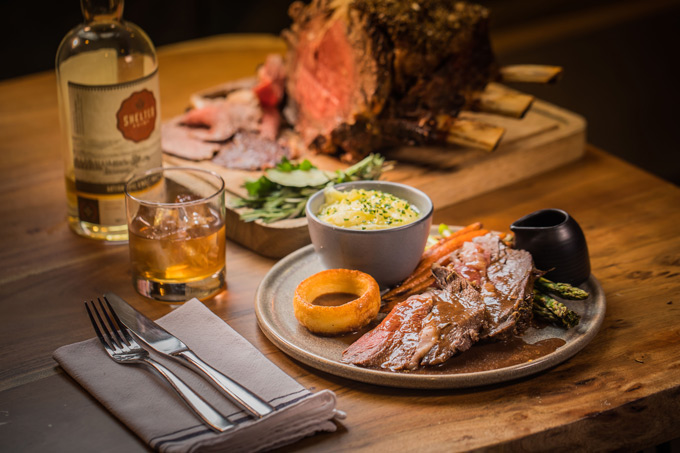 Burgerland Smash Up
The hot new one-stop-Smashburger-Kit-stop known as Burgerland Smash Up is giving Vancouver a unique, family friendly way to show the burger-loving dads in their lives the love for Father's Day by launching a new Big Mac-inspired 'Big Smash' Kit ($39.99).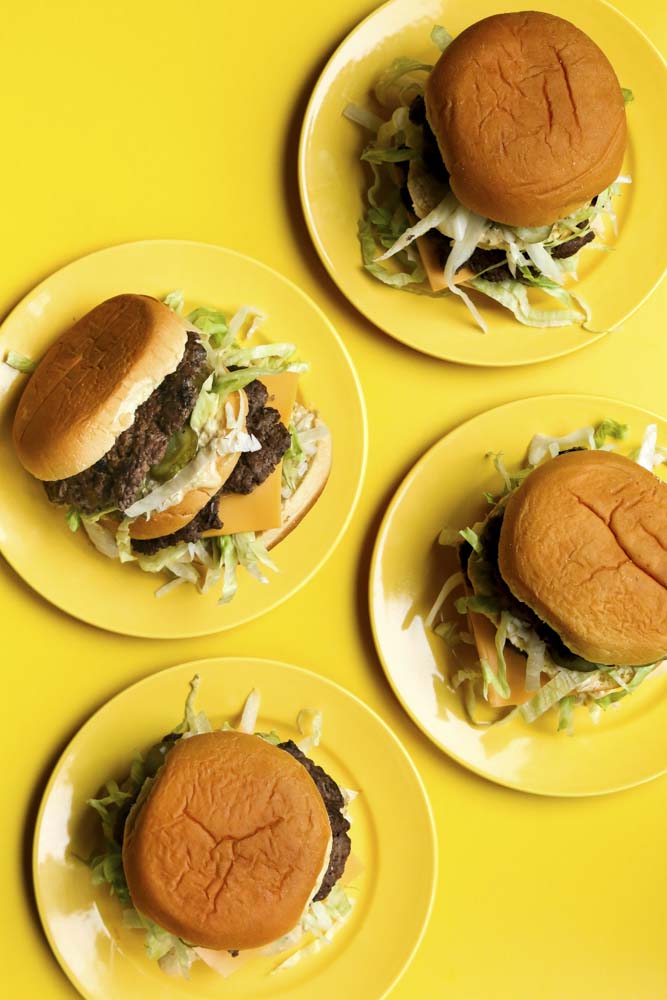 Available for a limited time beginning Sunday, June 12 for pickup or delivery from Uber Eats and Doordash, each Big Smash Kit includes everything Dads need to replicate the iconic burger at home, in the park or on the beach.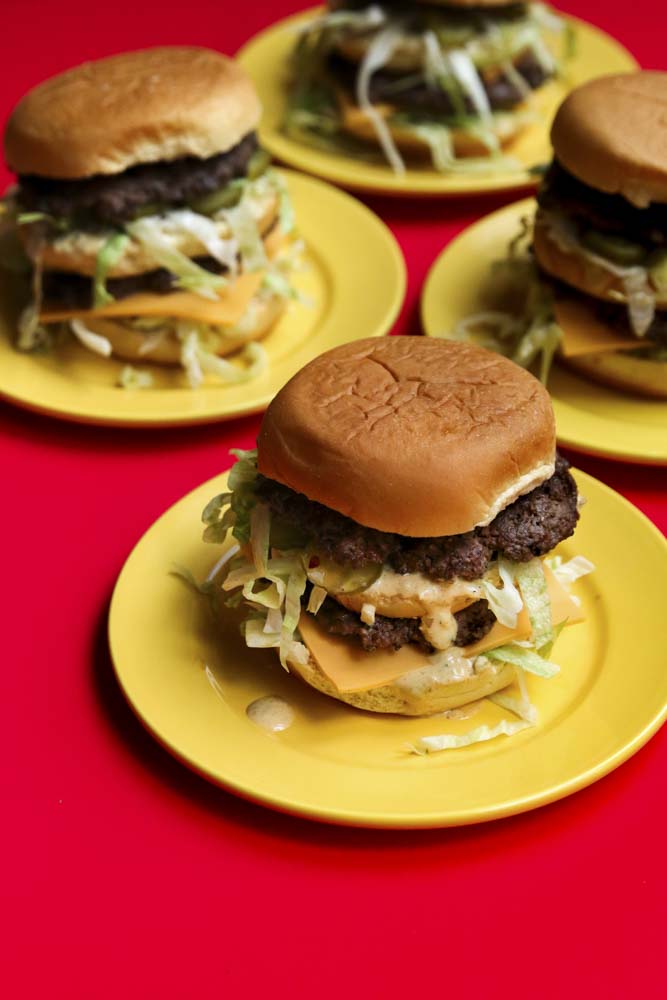 The all-in-one Kits include all the pre-measured ingredients to cook up a smashburger feast for four, including: four certified organic, grass-fed smashballs from Two Rivers Specialty Meats and Blue Goose Cattle Company; special sauce; lettuce; cheese; pickles; Martin's famous potato roll buns; and step-by-step instructions.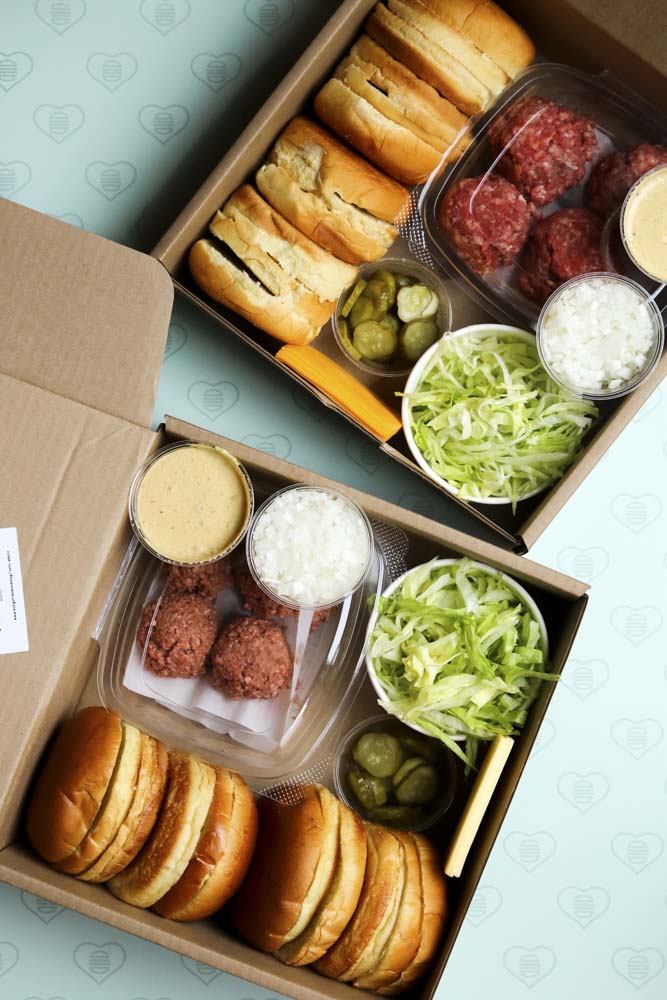 Pre-order starting Sunday, June 13 at 11am via the Burgerland Smash-Up website. Available for pick-up or delivery through Uber Eats and Doordash.
Heritage Asian Eatery
Enjoy four new dishes from Heritage Asian Eatery, available only in their Father's Day feast. BBQ Pork Puff Pastry, Chive & Pork Dumplings, Steamed Ribs and Salted Egg Yolk Sesame Balls will be offered for the first time ever, alongside Heritage favourites like Five Spice Chicken Wings, Crystal Prawn Dumplings, Truffle Prawn and Pork Siu Mai.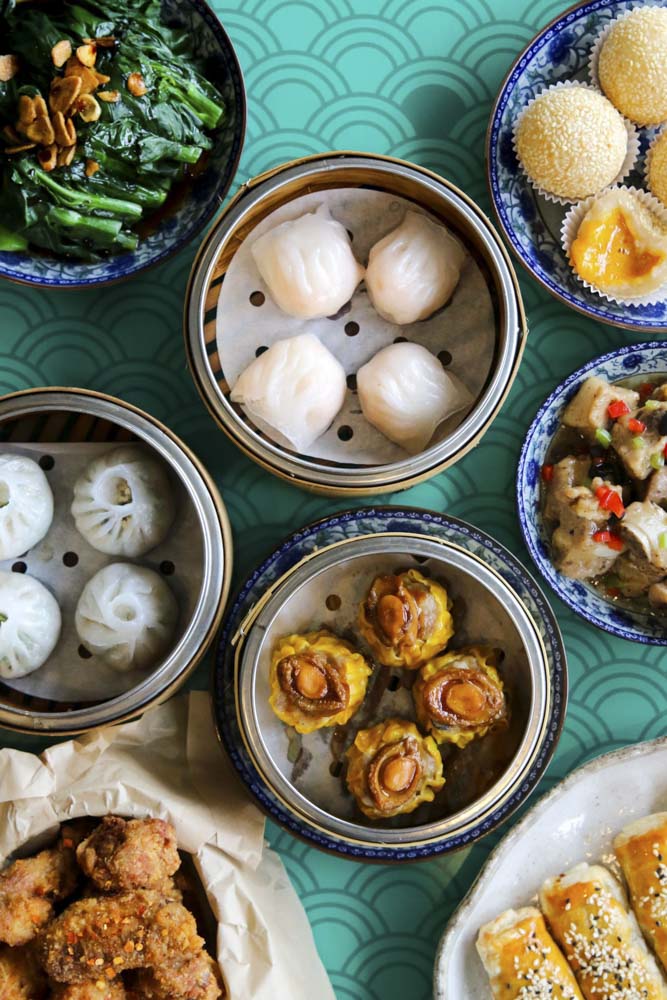 Priced at $78 or $88 if you choose to upgrade to an Abalone Siu Mai. Pre-orders are highly encouraged and can be placed on the Heritage website.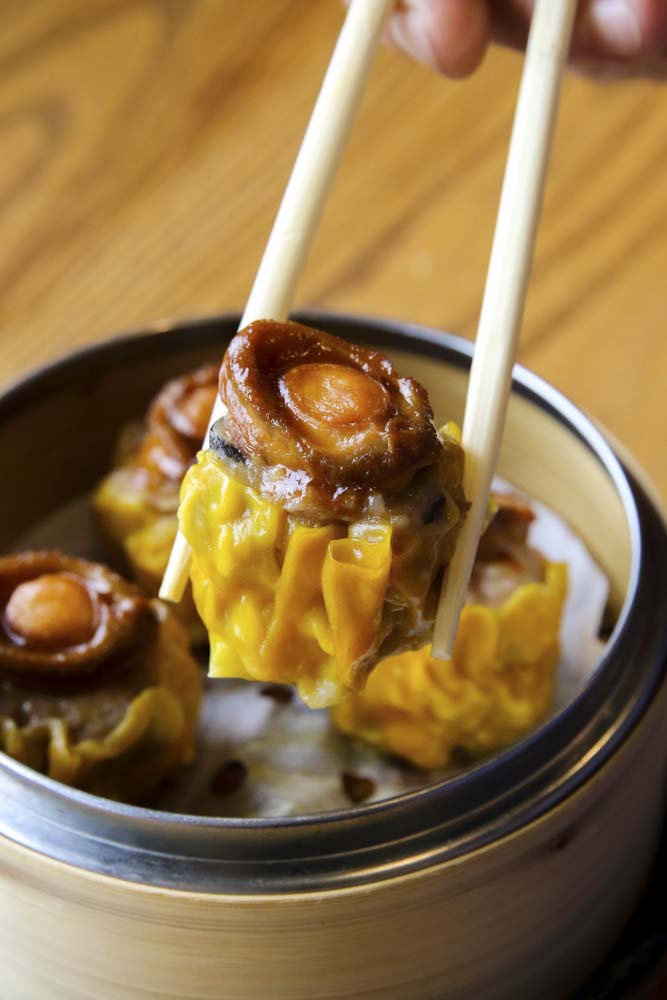 The feast is available for take-out or dine-in, only at the Broadway location on Saturday, June 19 and Sunday, June 20 until 3pm.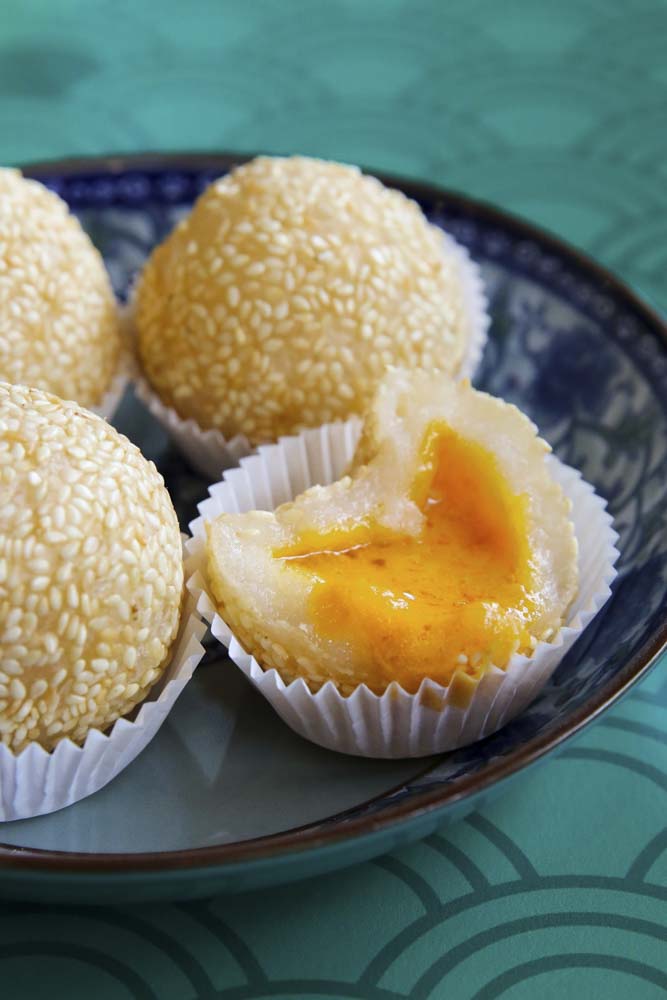 Nuba
Let Dad be the BBQ hero Father's Day weekend with Nuba's Father's Day Grilling package. The package includes three types of skewers (beef, prawn and veggie; marinated and ready for the grill), along with a watermelon and greens salad, roasted new potatoes, pita and hummus, tzatziki, toum and shatta sauces.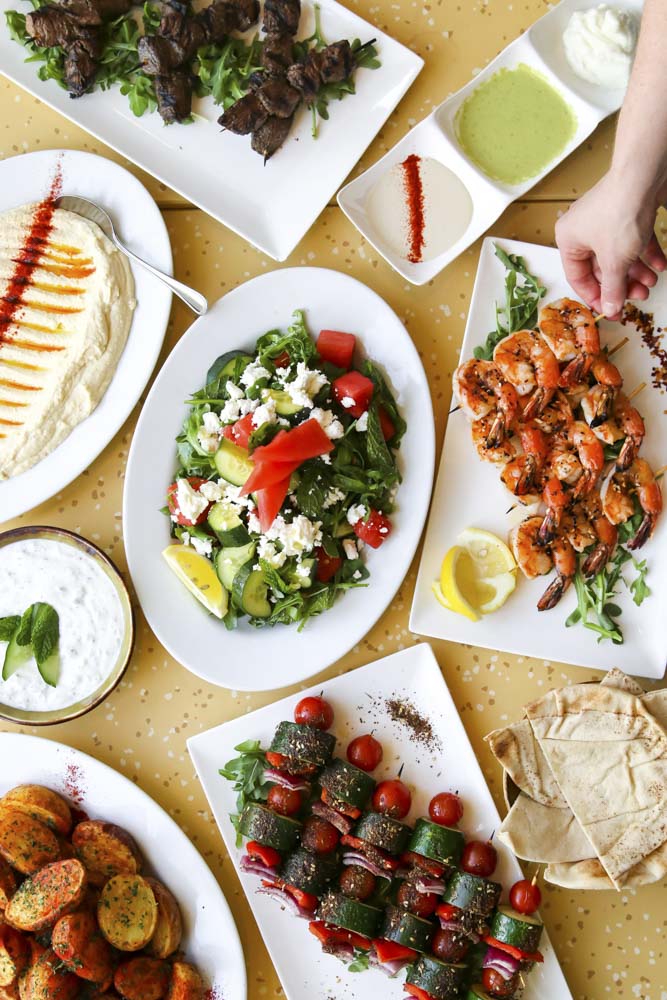 Choose to add on a 4-pack of Nuba's Turmeric Ale beer collaboration with Faculty Brewing, and you've got everything you need for a backyard BBQ! Priced at $99, or $129 with the Turmeric Ale add-on.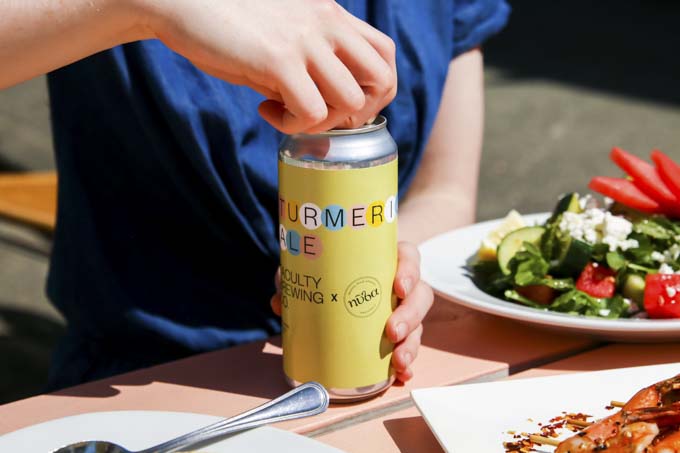 Order on the Nuba website, with delivery and pick-up available Saturday, June 19 from 12pm-6pm.
Pourhouse
Join Pourhouse as they celebrate dads everywhere with a few incredible features, available only on Father's Day weekend on June 19 & 20.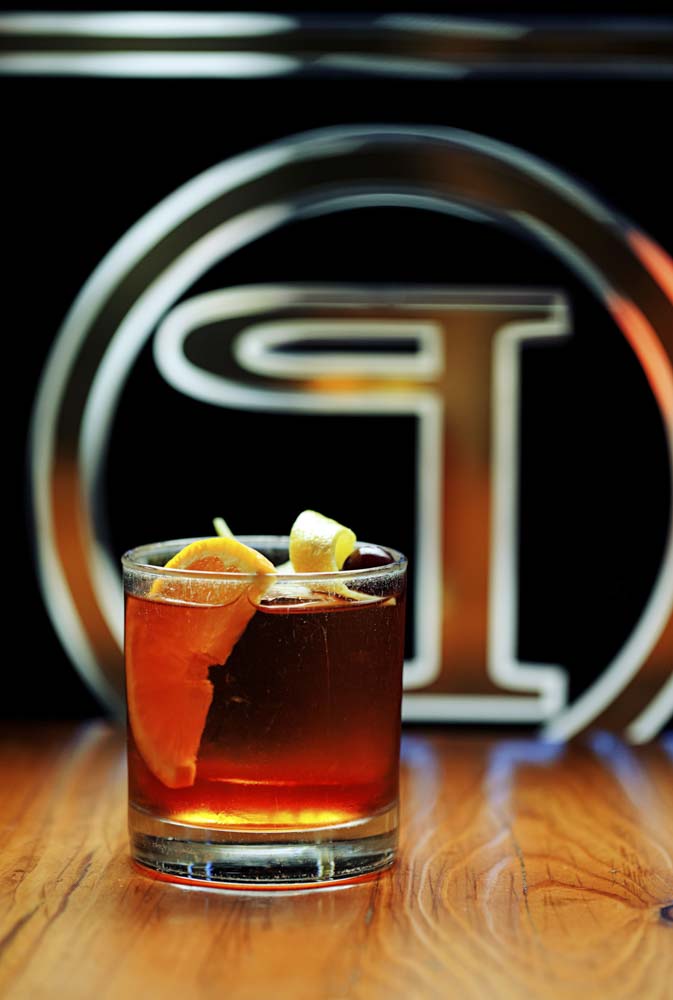 From the kitchen: an in-house Smokehouse Burger that will surely conjure up memories of family BBQs and a Baked Alaska filled with house made Russian Imperial Stout ice cream.
From the bar: a play on a Benton's Old Fashioned – a smoky bacon fat washed Angel's Envy Old Fashioned that you are not going to want to miss.
Savoury City
Savoury City's Father's Day BBQ package comes together in minutes – perfect for families to take to the lake or cabin and heat and eat for a stress-free feast!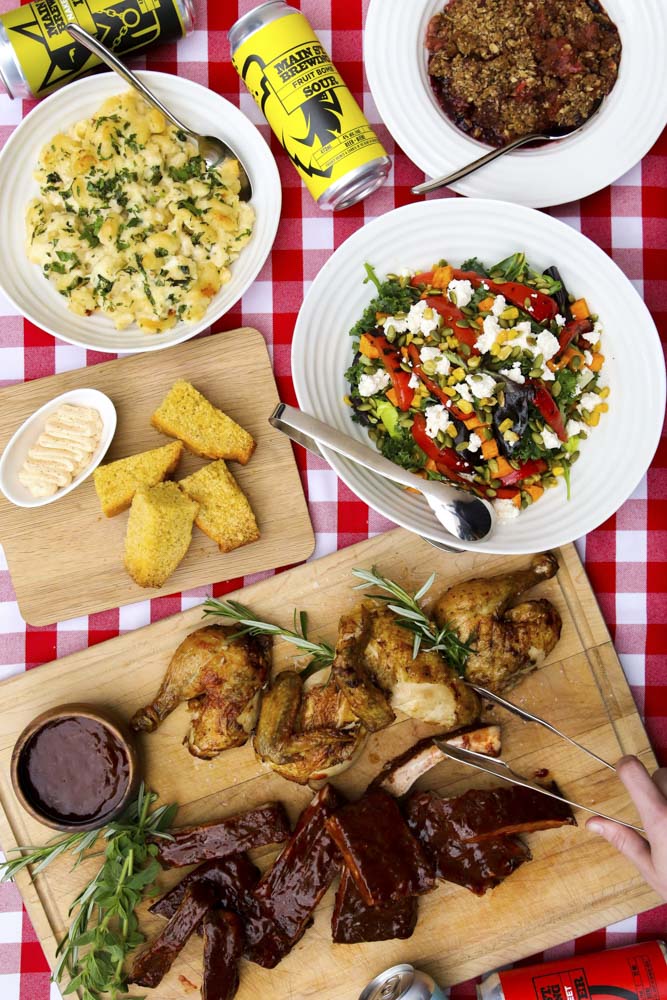 A whole roasted chicken, 1½ racks of ribs, mac and cheese, a kale and roasted yam salad, cornbread and strawberry-rhubarb crumble will keep your family well-fed, and a 4-pack of Main Street Brewing's core beers will make sure dad's fridge is stocked to beat the summer heat.
Priced at $129. Add an extra rack of ribs or a whole chicken for $20 each. Order on the Savoury City website, by Thursday, June 17 at 4pm. Pick up at Savoury City (3925 Fraser Street) Saturday, June 19 and Sunday, June 20 from 10am to 2pm.
Stanley Park Brewing
Stanley Park Brewing is offering a Father's Day brunch in the park from on June 20 at 10 am – 12 pm or 12:30 pm – 2:30 pm.
Adults – $55 Per Person, tax and gratuity included. Coffee & tea included.
Kids – $20 per person (10 & under), tax and gratuity included. Bottomless OJ and Hot chocolate
First course
Assorted pastries for the table served with honey butter (from Jive Honey in BC) and SunSetter Peach preserves
Second Course
Choice of:
Pulled pork pancakes: Buttermilk pancakes, BBQ pulled pork, sriracha maple syrup.
– OR –
Dads Burger: Beef burger, smoked cheddar, fried egg, maple bacon, all the fixings, potato bun
– OR –
Fried Chicken & Waffle: Crispy Waffle, Fried chicken, Jive Honey Butter, Chicken Gravy
– OR –
BBQ Jack Fruit Benny: 2 eggs poached, Crispy English muffin, Guacamole, Cajun Hollandaise
Kids Second Course
Kids Burger: Beef burger, American cheddar, ketchup, served with fries
– OR –
Chicken Tenders: House made panko breaded chicken, sea-salted fries, honey mustard dip
– OR –
Plain Pancakes: the old fashioned way, butter and maple syrup
Third Course
White chocolate cornbread, Salted Carmel Crunch, Jive honey Ice cream
B House
Support local and small business and celebrate with B House. Chef and Owner Hung will be featuring a Father's Day Brunch Feature on Sunday, June 20th. Steak and Egg ($25.99): AAA Top sirloin, duck fat potatoes, sautéed spinach and mushrooms, fried egg, lemon truffle aioli, fresh herb. And every dad receives a complimentary 16oz beer with his brunch.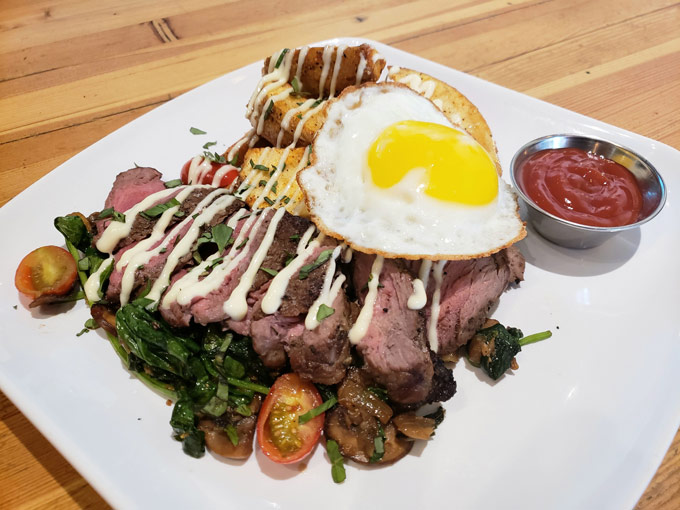 Gotham Steakhouse & Bar
Treat Dad to a special package/dinner for four to go from Gotham Steakhouse & Bar. Add a bottle of his favourite vintage from Gotham's Wine Spectator Awarded cellar.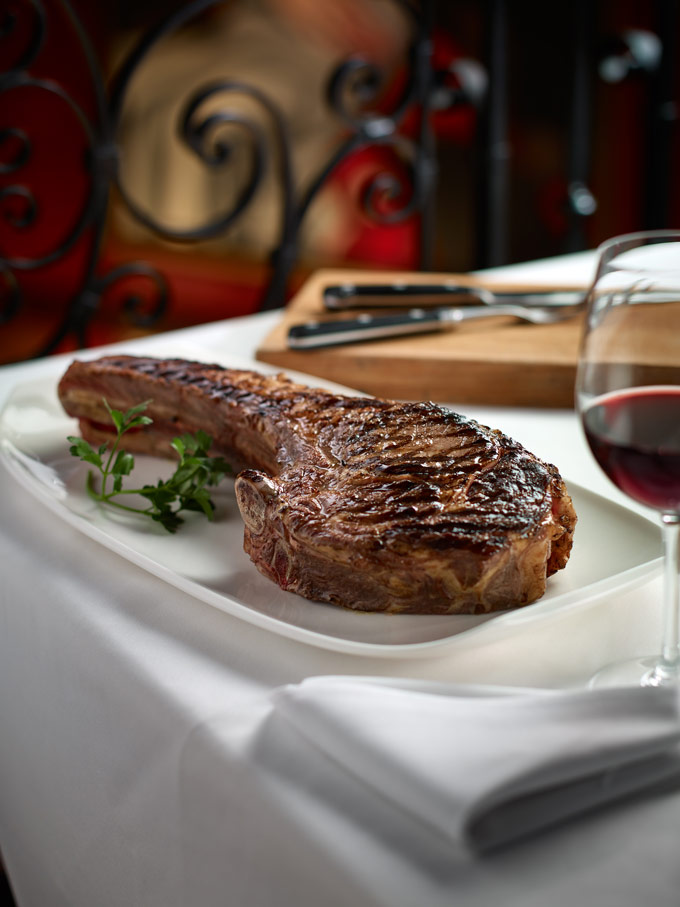 The menu includes Crab Cakes, Caesar Salad, Long Bone Rib Steak (60 oz), Garlic Mashed Potatoes, Fresh Asparagus, Sauteed Field Mushrooms & Onions and Fresh Lemon Tart & Mixed Summer Berries.
Packages are available to be pick-up on Saturday, June 19th or Sunday, June 20th. Order online now or call the restaurant directly 604.605.8282.
Fanny Bay Oyster Bar & Shellfish Market
Fanny Bay is celebrating Father's Day with their current special feature for dining in: Chef Tommy's Paella For 2 and 1 bottle Rosé Prosecco with Spot Prawns, Scallops, Mussels, Clams, Daily fish, Chorizo and Saffron Rice for $85.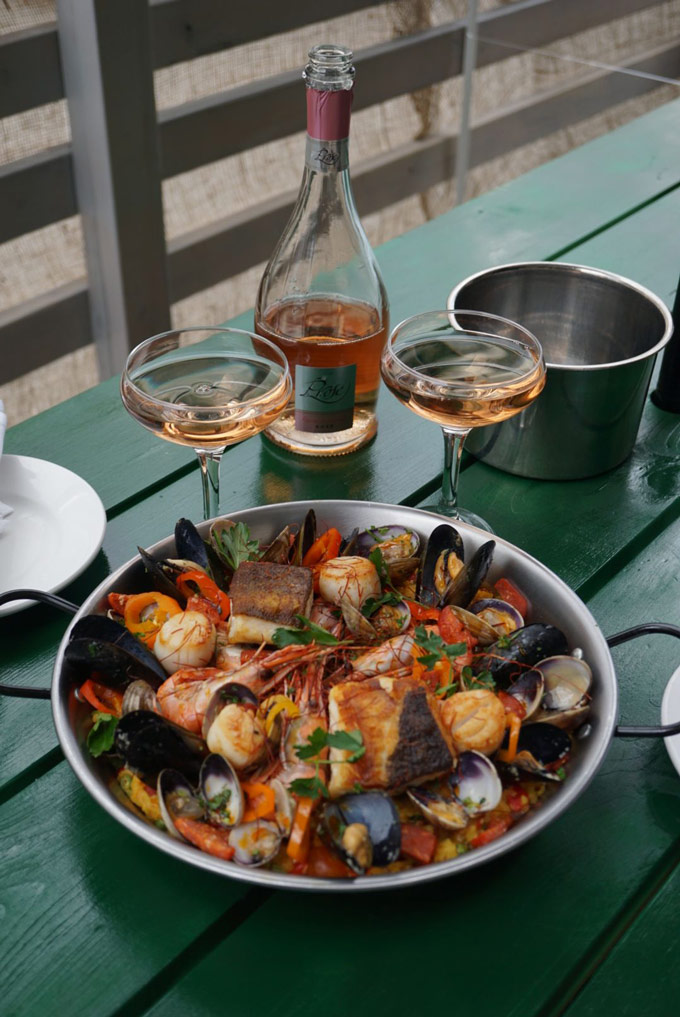 They also have a Paella Kit for Two which includes Paella pan, half pound mussels, half pound clams, 2pc halibut, scallops, prawns, chorizo, paella stock, saffron seasoning ,1kg Valencia Paella Rice, green beans, peppers, tomatoes, lemon, and cooking instruction all packed in a reusable cooler bag for $93.45.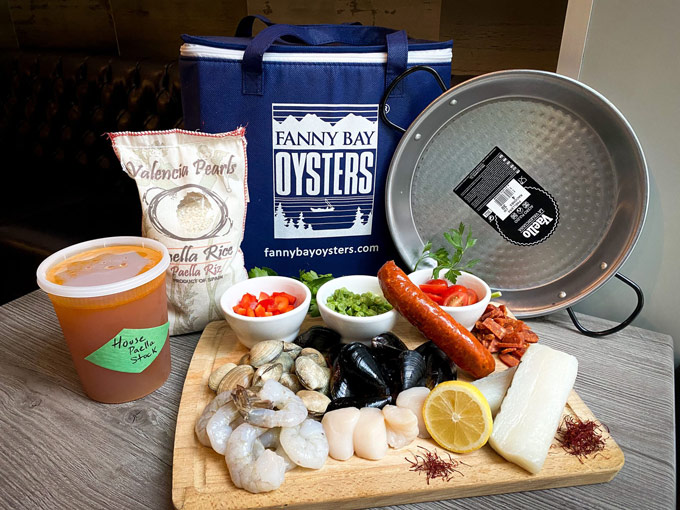 Fable Diner
Fable Diner has put together four different packages available for take-out to celebrate Father's Day, choose from Park Burger Package ($40), Hot Mess Burger Package ($40) with option to add Kid's Burger Kit ($15) and Steak Package ($50).
Dining in is also available, a special prohibition brunch for dads, bring his coffee cup and get a complimentary Old Fashioned in the mug.
Prohibition Brunch is $25 per person, which includes coffee or tea, baked treat, choice of entree, choice of beverage and a sweet house-made dessert!
Park burger package $40
2 x 4oz beef burgers
2 x slice cheese
4 streaky bacon
2 x potato buns
lettuce, tomato, house pickles
fable sauce
burger seasoning
kale salad
2 x lime or peach or strawberry margs
Hot mess burger package $40
2 x 4oz beef burgers
4 x slice cheese
house pickled jalepenos
mushrooms, white onions
mayonnaise, ballpark mustard
2 x potato buns
burger seasoning
kale salad
2 x lime or peach or strawberry margs
Add kids' burger $15
2 x 4oz beef burgers
2 x potato buns
2 x slice cheese
1 peach & 1 strawberry slushies
Park steak package $50
2 x sirloin steaks
roast potatoes
seasonal vegetables
steak seasoning
black pepper jam
kale salad
2 x lime or peach or strawberry margs
Hy's Steakhouse and Cocktail Bar
Celebrate Father's Day with a special Father's Day Celebration Package from Hy's Steakhouse. This Dinner for 4 is $395 and available on Saturday, June 19th and Sunday, June 20th.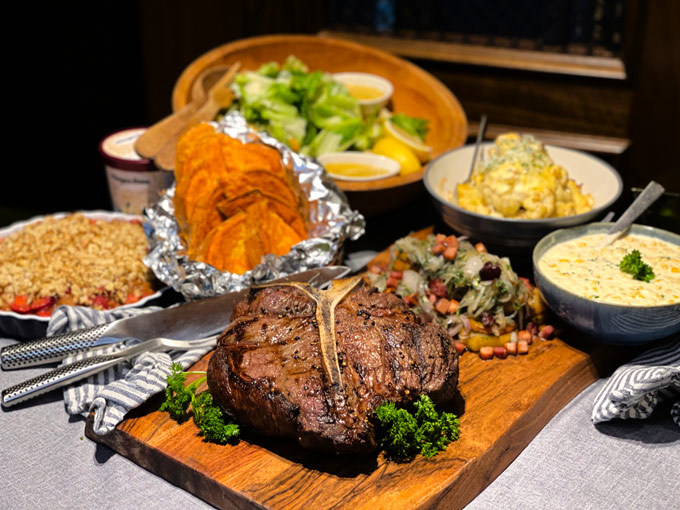 This package features:
Canada Prime Porterhouse Steak
Cheese Toast
Caesar Salad
Prime Porterhouse Steak (55 oz)
Bacon Lyonnaise Potatoes
Cauliflower Gratin
Creamed Corn
Fresh Strawberry & Rhubarb Crumble
Honey Salt
Celebrate dads at Honey Salt with all of his favorites available, including Pulled Pork Benedict (with jalapeño biscuits, pulled pork chipotle adobo sauce, soft poached eggs and hollandaise scallions) for brunch or enjoy the dad inspired dinner menu (for example Bulleit Bourbon & Apple Roast Half Chicken with saffron rice, blistered green beans, Bourbone Ale & Coca-Cola Braised Baby Back Ribs with drupe slaw, pickled jalapeños)!
In addition, on Father's Day Honey Salt will crack open a whiskey barrel that has been aging for two weeks! The Whiskey from the barrel will be used in feature dish recipes, cocktails and whiskey flights! Feature BourBon and Beer Flights will also be available all day.
Water Street Cafe
Water Street Cafe is open for Father's Day weekend dine-in. They are also offering a Father's Day Brunch/Lunch Package for 2 ($49) and a Dinner Package for 2 ($79).
Italian Kitchen
Celebrate Italian Style with Dad at Italian Kitchen. Choose from a selection of feature dishes including Zucchini Blossom & Spot Prawn with heirloom tomato salad, Smoked Duck Breast, a stunning Carne & Pesce Platter with Prosciutto Wrapped Halibut, Prime Striploin, Butter Poached Atlantic Lobster, Linguine Vongole and Pan Seared Jumbo Scallops.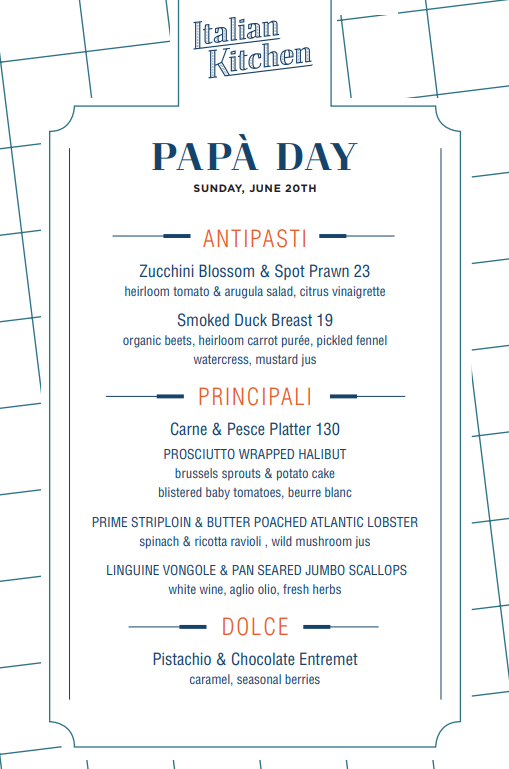 Glowbal Restaurant
Join Glowbal for a special Father's Day Dine-In Menu featuring all of Dad's favorites, including Smoked Salmon Eggs Benedict, BBQ Pulled Pork & Scrambled Eggs, Braised Beef Short Rib Hash and more! Or go for that perfectly grilled steak with fries served with chimichurri & smoked tomato aioli, spot prawns are available as an add-on too.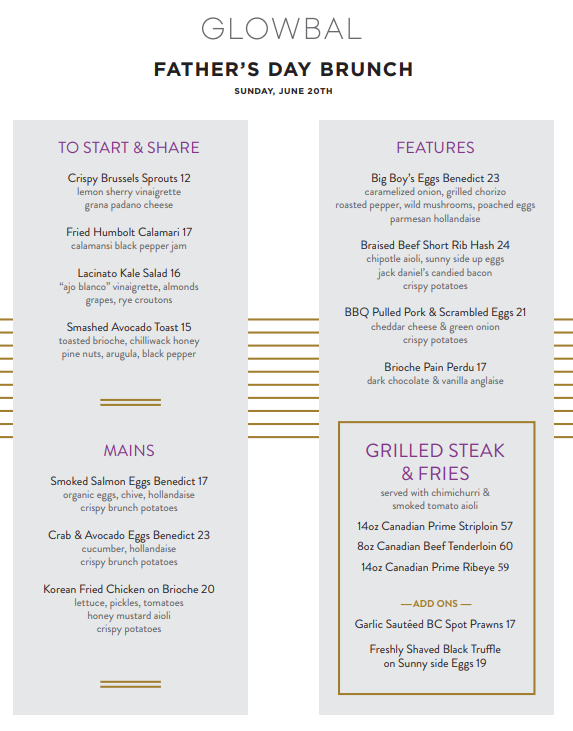 Coast Restaurant
Treat dad at Coast with seafood-centric brunch menu featuring the freshest oysters, Bay Scallop Ceviche, Jumbo Prawn Cocktail and Lobster Benedict. The menu also includes brunch classics like Chicken & Waffles, Steak & Eggs Oscar and more.

Trattoria – all three locations: Kitsilano, Park Royal and Burnaby
Trattoria is offering a $80 platter for two which includes New York Striploin, Garlic Butter Prawns, Baked Fennel Sausage Stuffed Artichokes, Asparagus, Lemon & Dill Forked Potatoes and Lobster & Crab Ravioli – available Friday, June 18th to Sunday, June 20th. Order now online or by calling the restaurants.
The Sandbar
Guests will also be able to partake in The Sandbar's signature Seafood Boil on Sunday, June 20th. The Southern-inspired seafood feast for two includes a full pound of mussels and clams, jumbo prawns and two lobster tails served in a rich Old Bay broth with andouille sausage, potatoes and local corn on the cob.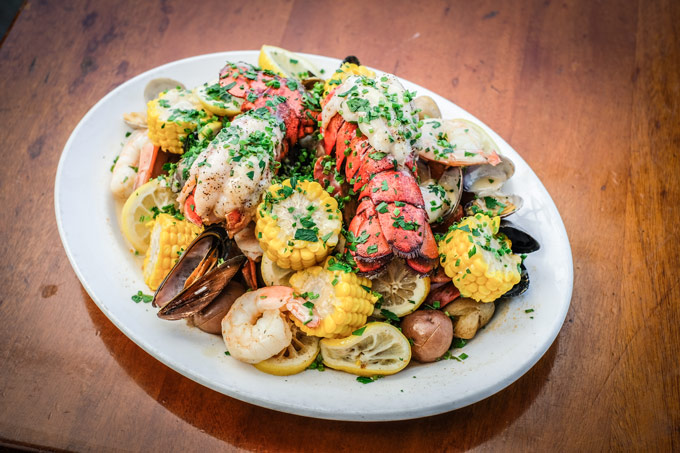 With False Creek views and live music offered nightly in the lounge, The Sandbar's welcoming waterfront dining room is an ideal choice for warm family gatherings. Reservations are available.
Five Sails
Five Sails Restaurant invites friends and family to come together for an elevated West Coast dining experience this summer as the landmark restaurant re-launches its weekend High Tea service just in time for Father's Day on Sunday, June 20.
As seating is limited for Five Sail's Father's Day High Tea service, advance bookings are recommended. Reservations are available on Sunday, June 20 from 12 to 3 p.m. and can be made online at fivesails.ca
Smoke and Bones
Smoke and Bones BBQ specializes in the art of Southern Style Barbecue, the real authentic, low and slow way of cooking food over wood fires and coals. They are taking preorders for Father's Day for pickup 12 PM – 8 PM.
Ancora Ambleside
Ancora Ambleside in West Vancouver is offering a Short Rib dish (starts from $70, serves 2) with complimentary condiments – olives, picked cabbage and sour gherkins.
Ancora Ambleside will also offer a unique taco add-on option for an additional $20.
Ancora False Creek
Ancora False Creek is offering a 16oz bone-in ribeye grilled with panda, chimichurri and sesame soy viniagrette ($85). Available June 20 & 21 only.
Cibo Trattoria
Cibo Trattoria is offering a 40 oz Tomahawk Steak ($120). Accompaniments are available at an extra cost. Available June 18 – 21.
Uva
Uva is introducing the "Dadhattan" ($20) cocktail featuring a barrel-aged in house and prepared with Bearface 7 year, sweet vermouth, Maraschino and Bowmore 10 year. Available 18 – 21.
Hello Nori
Hello Nori has a few Father's Day specials from June 18 – 20 for dine-in or pickup.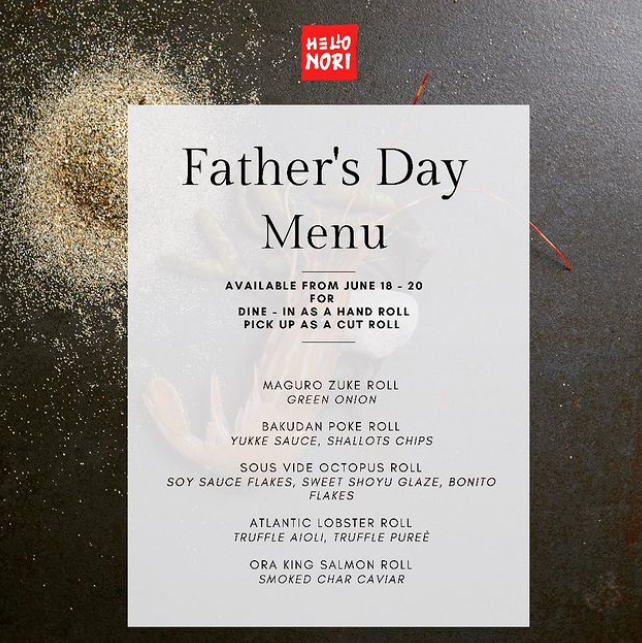 Sashimiya
Celebrate Father's Day with 1 of the 4 sashimi and sushi platters that Sashimiya has to offer.
Please call the shop at 604-689-0088 to reserve your platter between 1 – 4 pm. Payment will be taken over the phone.
Here are the price and options:
Sashimi Platter for 2:
Seasonal Sashimi
$65 max 20 orders
Sashimi Platter for 4:
Seasonal Sashimi
$120 max 20 orders
Sushi Platter for 2:
Nigiri & Rolls
$65 max 20 orders
Sushi Platter for 4:
Nigiri & Rolls
$120 max 20 orders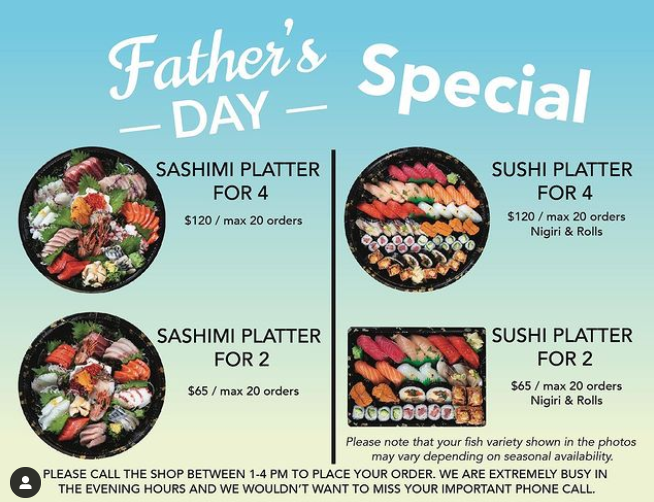 Glass House Estate Winery
Celebrate Father's Day with a BBQ Dinner at Glass House Estate Winery in Langley from 2:30pm to 7:30pm. Enjoy a special set menu for $69 + taxes per adult and live Music from 3pm to 7pm.
Menu highlights include choice of Beef Roast or Pork Chop or Cauliflower Steak and all mains include Southern Coleslaw, Chicken & Apple Salad, Mac N Cheese, Roasted Garlic Potatoes & Grilled Vegetables served family style along with Chocolate Mudcake for dessert.
A children's a la carte menu will also be available. Reservations are required.
More ideas…
Here's a look at some of my food roundups for your inspiration:
Father's Day Vancouver 2021 Desserts & Treats
Buttermere
Buttermere has created two 6-inch cakes epitomizing the essence of the fatherly figure: the Gentleman and Tuxedo.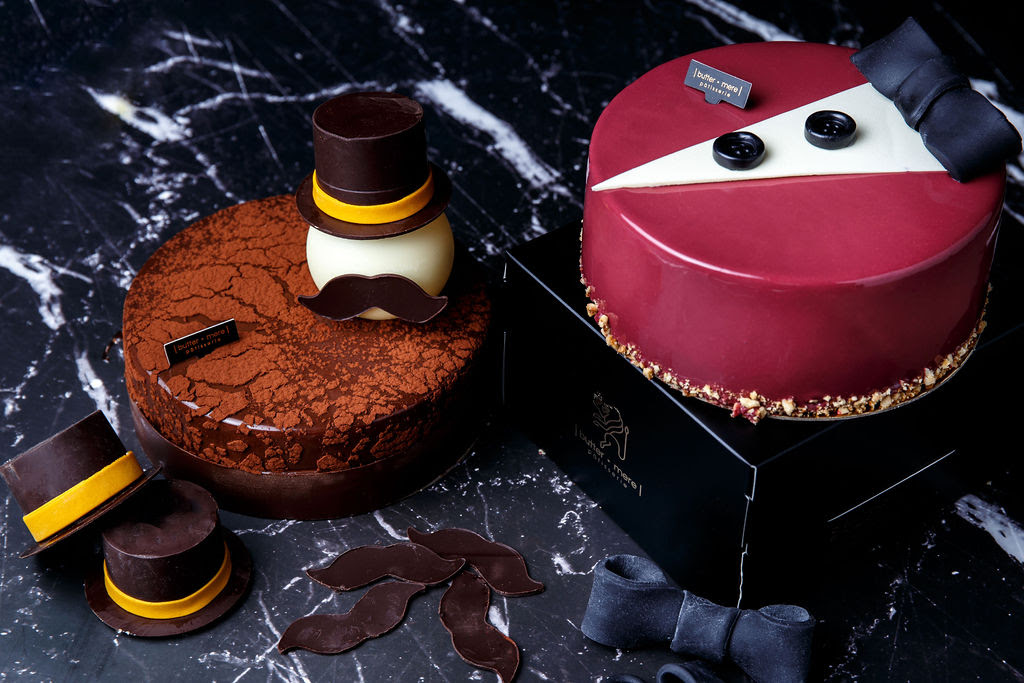 A crunchy light brownie pâte sablée paired with a caramelized lemongrass banana layer and milk chocolate mousse, the Gentleman is accented by an edible model of a mustache man in a top hat – a thoughtful and direct contrast of the standard, old-age Victorian man to current societal norms of masculinity.
The Tuxedo is a symbol of confidence and classiness, exemplified by the timeless tuxedo silhouette and bow tie made of coffee sponge cake with a rice krispy crunch base, notes of citrus cremeux, and a mocha mousse.
Both a means of play on modern masculinity and flavours, the Gentleman and Tuxedo are available for pre-order now through Buttermere's website until June 18th with pick up or delivery from June 13th to June 21st and are priced starting at $68.
Father's Day Vancouver 2021 Gift Ideas & Services
Juke Fried Chicken
Chinatown chicken-and-rib joint Juke Fried Chicken is giving its loyal fans a great way to give fried-chicken-loving Dads their due this Father's Day with a special 'Fathers LOVE Flours Too!'
Kit ($39) includes a 1-lb bag of Juke Fried Chicken's dredge/coating flour, one 60-g shaker of signature Juke Chicken Seasoning, a 355-mL bottle of Juke's Sweet and Sticky BBQ sauce and one 147-mL bottle each of House Hot Sauce and Beer-Spiced Honey packed in a kit that will put a smile on Dad's face and inspire him to embrace his at-home cook.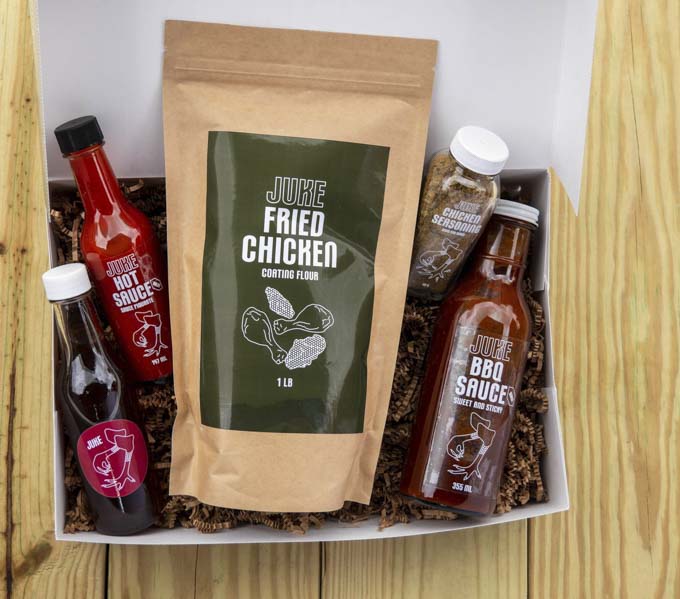 Juke's 'Fathers LOVE Flours Too!' Kits will be available for pre-order via jukefriedchicken.com until Friday, June 18 for pickup Friday, June 18 and Saturday, June 19 at the restaurant.
Wayspa
WaySpa is Canada's largest spa and wellness marketplace with over 2,000 partner spas.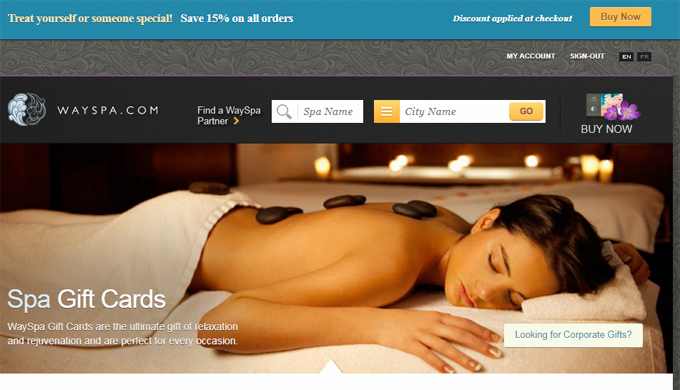 Give the gift of relaxation this Father's Day with Wayspa (affiliate).
Cornershop by Uber
Cornershop by Uber is an app that allows you to order groceries and other essentials and get it delivered to you in as little as 90 minutes.
Customers can browse and purchase products from large grocery stores and chains (Walmart, The Body Shop, Canadian Tire, ) and specialty stores (Bay Fresh Flowers, Bisou Bake House, The Raw Connoisseurs, Konbiniya Japan Centre) in their area, and have it delivered to their door. You can even shop for someone in a different city.
Want to gift some decadent baked goods or treats for someone on Father's Day?
You can purchase all those things, as well wipes or groceries, in a single order and have it arrive at their door in as little as 90 minutes, or schedule it arrive at a convenient time.
You can customize care packages in the app and send a range of items to make her life easier, while also taking advantage of a Cornershop by Uber Pop annual subscription ($99) that offers you unlimited deliveries with $0 delivery fees.
Locvl Delivery
Locvl Delivery is a delivery service serving the Lower Mainland to help you send flowers, cakes, and gifts to that special person in your life for any occasion.
Their marketplace includes beautiful bouquets, delicious cakes, novelty balloons, sweet confections and more. It is really helpful if you want to bundle things together and have it conveniently delivered.
Eden West Gourmet
Eden West Gourmet in Port Moody has curated a list of gift ideas for Father's Day on their online shop.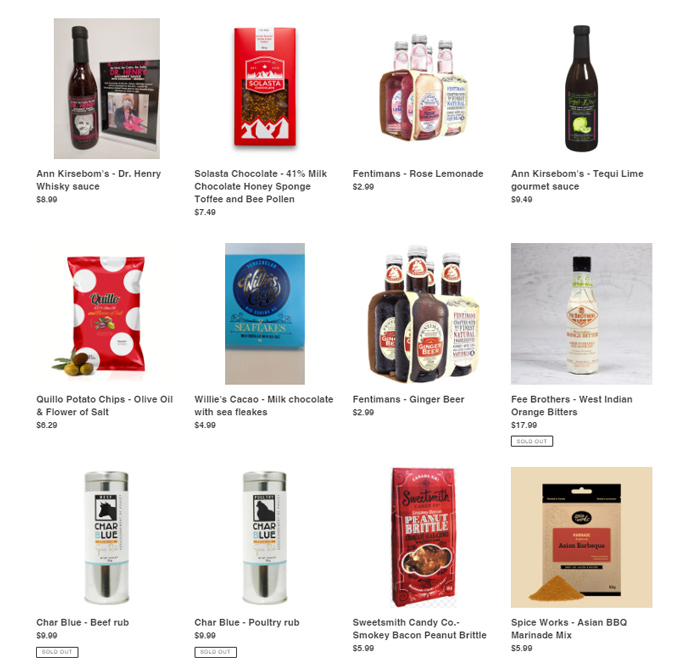 Whiskey Gift Ideas
Toast to dad on June 20th with a timeless classic like Confederation Oak Reserve by Forty Creek – a whisky to be sipped and cherished much like those special moments with him.
Scotch more his style? Indulge in a rich tasting single malt like the Glen Grant 12-Year-Old, an exceptional whisky with delicate notes of apple pie and caramel.
Or if rum is what he likes, give dad a taste of the tropics with Appleton Estate 12-Year-Old a smooth and sophisticated expression of aged rum revealing aromas of toasted oak, dried fruit and hazelnut.
Things to Do Father's Day Vancouver 2021
Whale Watching Tour
Prince of Whales Adventures will be celebrating Dads by offering a complimentary Whale Watching tour on their big boats at all locations (Victoria, Vancouver, Telegraph Cove)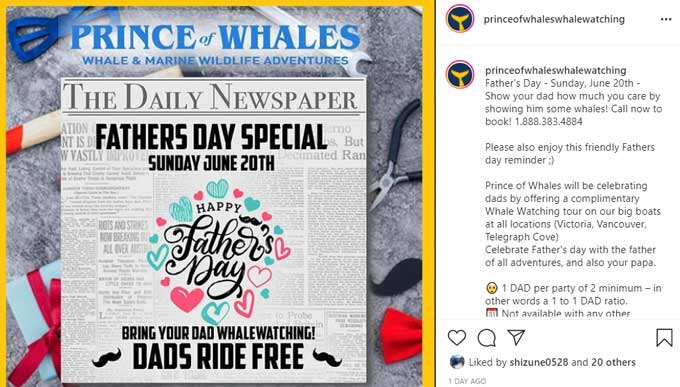 1 DAD per party of 2 minimum
Not available with any other discounts or promotions
Conservation Fee to be applied
For new bookings only
Must Call to Book – 1.888.383.4884
Relax & Renew at The Westin Bayshore
Get Dad to retreat to The Westin Bayshore Vancouver and experience a seaside oasis reminiscent of a tropical getaway.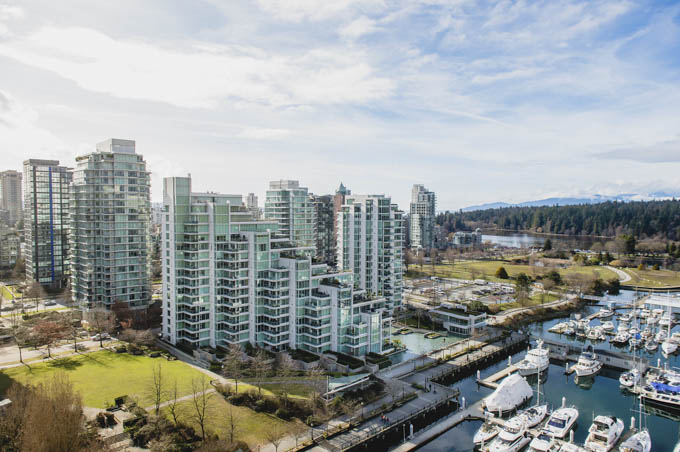 Located next to Stanley Park alongside picturesque Coal Harbour, The Westin Bayshore is an ideal place to stay, dine and relax.
Bask under a private cabana offering views of the North Shore Mountains, or take a dip in the outdoor pool.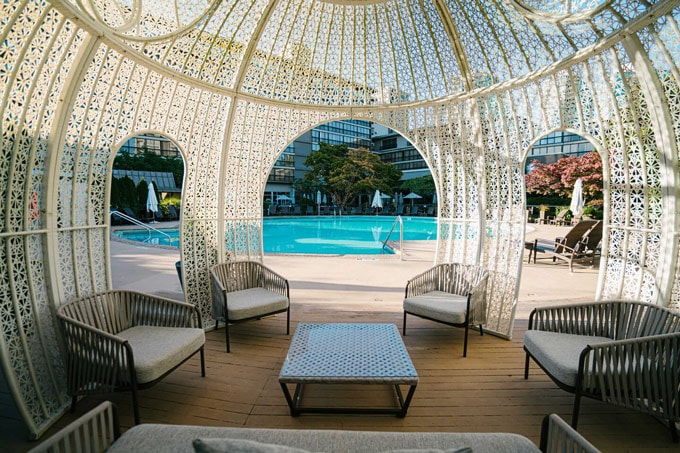 Find out what to expect from a stay or visit to The Westin Bayshore Vancouver in my post.
Fairmont Pacific Rim x Oakridge Summer Popup
Fairmont Pacific Rim has partnered with Oakridge and Westbank, to offer a unique outdoor pop-up patio experience this summer.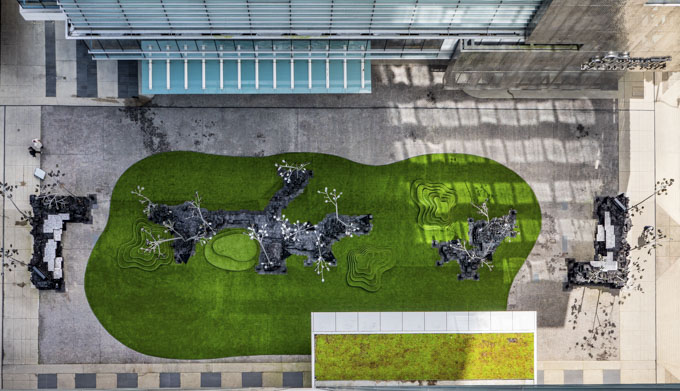 The grassy patio is defined by distinct, carved hills creating topographic forms, with more than 50 seats, accented by individual fire pits, lounge areas, and umbrella topped tables.
Fairmont Pacific Rim's Executive Chef Damon Campbell's new food truck stands centre stage, serving a playful menu of appetizers to mains with ever-changing desserts.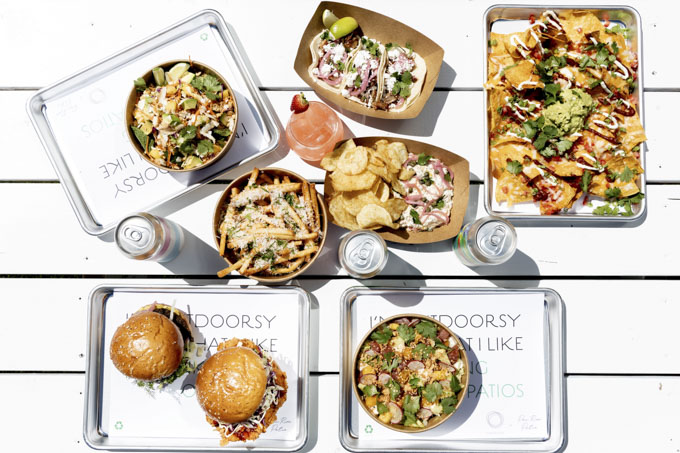 Open seven days a week from 12:00 p.m. to 8:00 p.m. with live music on Sundays through Wednesdays from 12:00 p.m. to 4:00 p.m. and on Thursdays through Saturdays from 12:30 p.m. to 8:00 p.m.
Shop The Block Brentwood Burnaby presented by Grosvenor
Starting June 18th, Shop The Block presented by Grosvenor pops up in Brentwood. Shop The Block is a new community market at 2150 Alpha Avenue, Burnaby, BC that brings together local vendors, food trucks and immersive art installations on select Fridays and Saturdays throughout the summer.
Shop the Block presented by Grosvenor will be popping up at 2150 Alpha Avenue in Burnaby from 4 pm – 10 pm on Fridays and 11am-5pm on Saturdays. It is open Friday June 18 and Saturday, June 19.
Father's Day quotes to make your dad smile
There's so much to say to them, so here are the best Father's Day quotes to make your mama smile.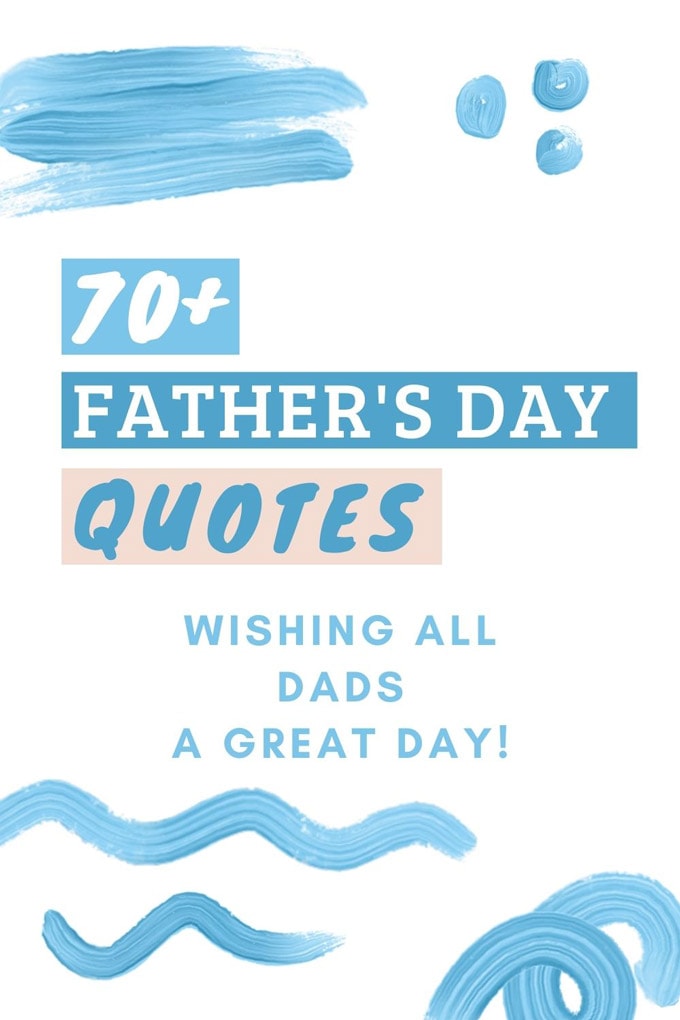 About Father's Day
Have you ever wondered how Father's Day came to be? You'd be surprised at the origins of Father's Day. Check out my general Father's Day 2021 guide.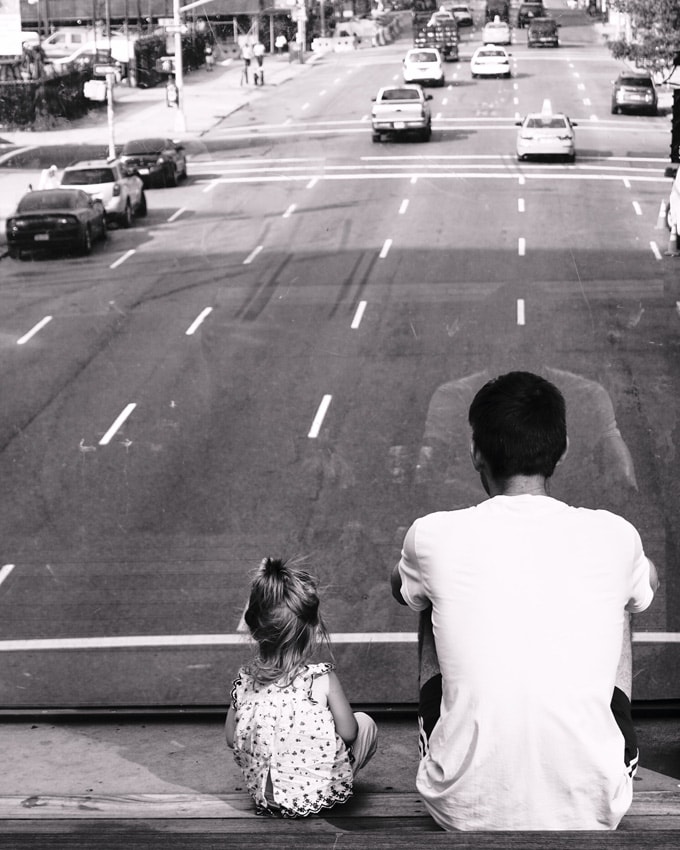 Free Father's Day Cards
If you're looking to send an Easter greeting card, check out Canva.com (referral link) for free Father's Day card templates and start designing.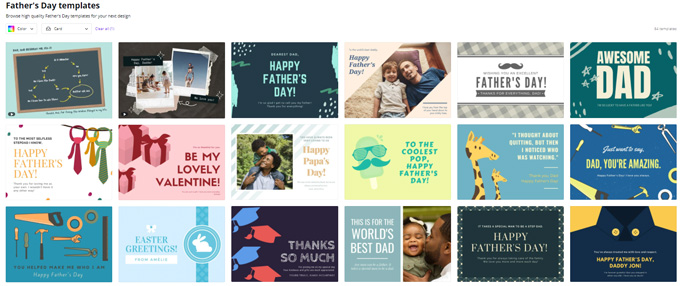 I have been using Canva for years and if you're new to Canva, please feel free to use my Canva referral link to sign up for free.
It's a great graphic design platform used to create social media graphics, presentations, posters, documents and other visual content.