Having feasted on some amazing chowders from Pike Place Chowder in Seattle last month, I was excited to hear about a chowdery opening up in Gastown. An eatery dedicated to serving chowders is something that is novel to Vancouver's dining scene. Crab Park Chowdery opened up mid-January at 221 Abbott Street. This week I set out to see what they had to offer.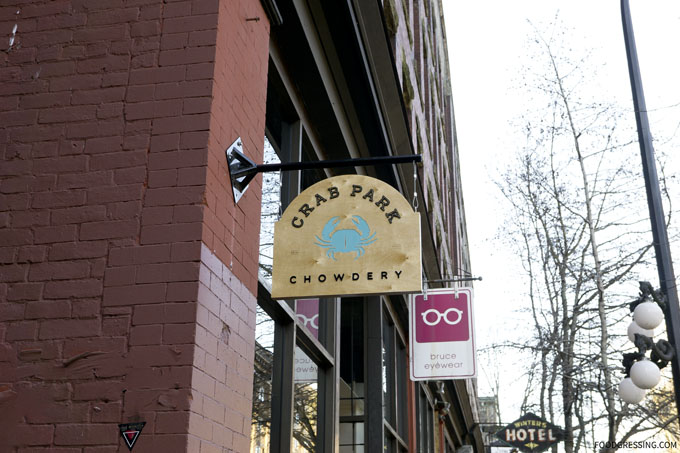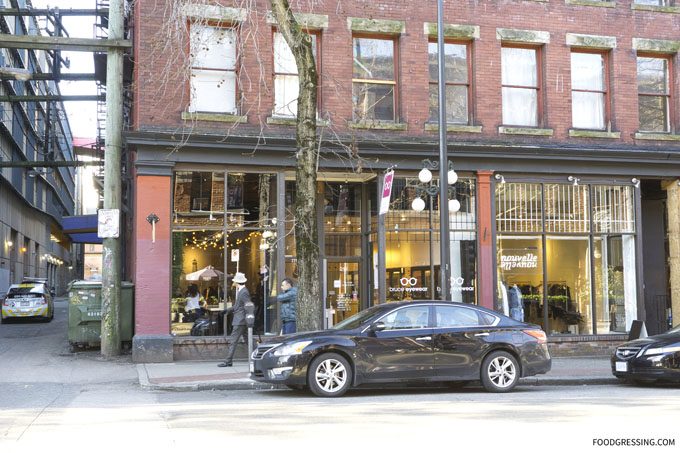 Simple & Small
Crab Park Chowdery is a small restaurant that can seat about 16 people in their 750 square foot space. There is a communal table along the side wall, a few high top tables and seating at the bar. The interior is very simple with exposed brick walls and overhanging string lights.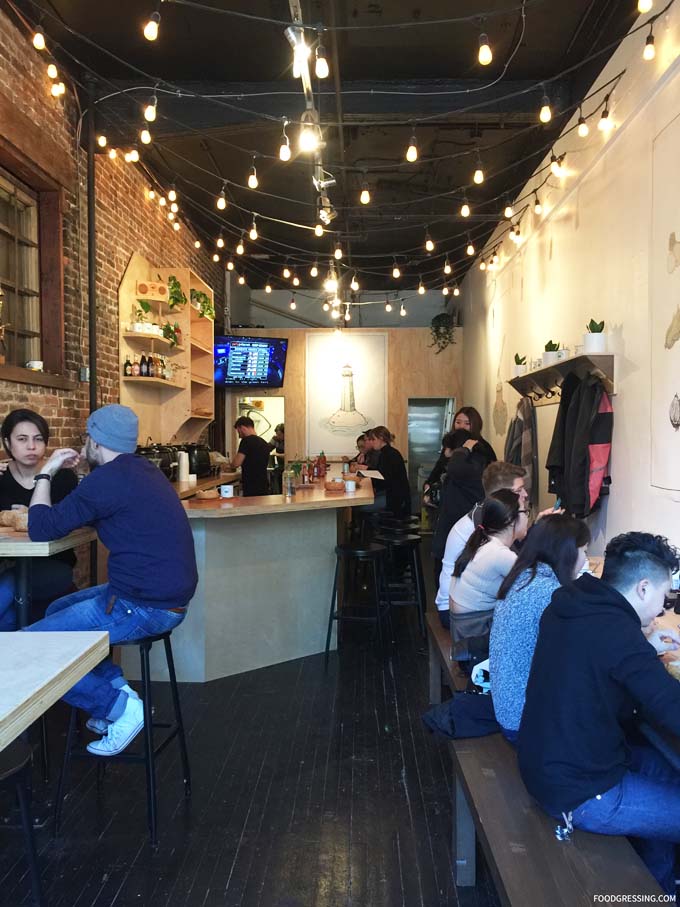 Crab Park Chowdery Menu
Apparently, the recipes at the chowdery were developed by one of the owner's cousin, Chef Patrick Hennessy of Kissa Tanto (known as Canada's Best New Restaurant by Air Canada's enRoute Magazine). On the menu at Crab Park Chowdery is a New England clamb chowder, loaded baked potato soup, smokey tomato soup and vegan chili. They also have rotating daily chowders. Chowders and soups are served as 8 oz ($7), in a bread bowl ($11), or 16 oz ($12.50). All prices include tax.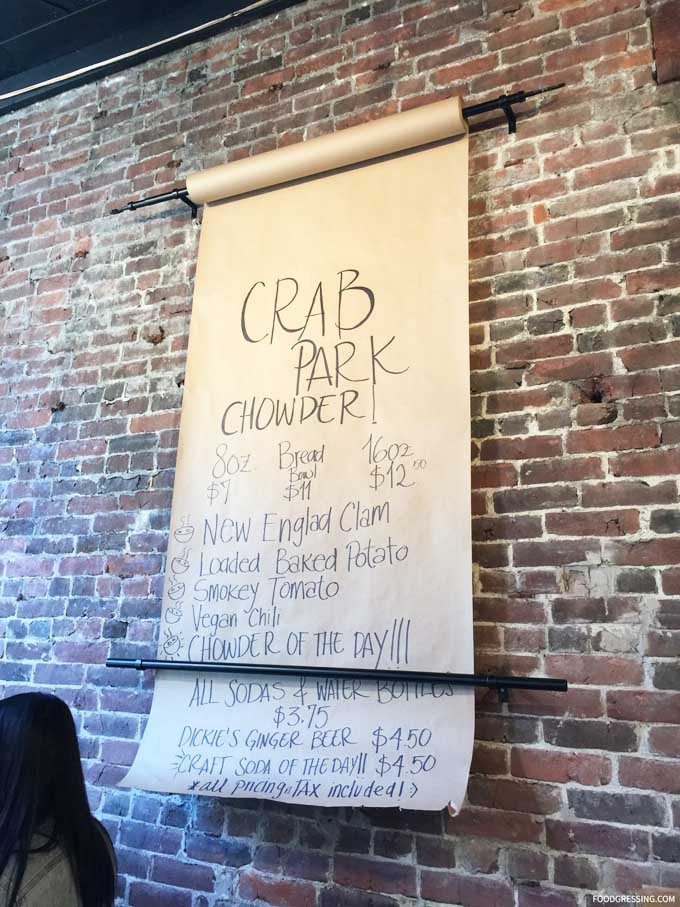 What I Tried
It was a solo lunch and I simply went with the New England clam chowder in a bread bowl ($11). The bowl came on a small wooden board with a spoon and the cut out part of the sourdough bread bowl.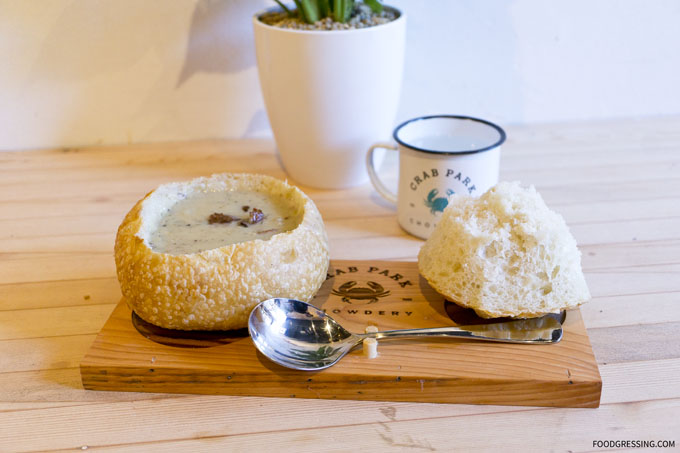 I thought the chowder was pretty tasty and hearty. I did feel like it didn't taste quite like your classic New England clam chowder. Crab Park Chowdery's version was loaded with ingredients including thick chunks of potato (a bit different) and it was a lot less milky/creamy. It seemed more ingredient-heavy than soupy. In the end, I felt like I didn't have enough soup to mop up with the sour dough bread.
My personal take on chowders is that it is delicious and slightly messy affair. I really like chowders filled to the brim of my sourdough bowl and even leaking a bit over. With the presentation on the neat wooden board at Crab Park Chowdery, I think the business of eating chowder is just a bit too neat and tidy for my liking. My sourdough was not filled quite to the top which is a bit unappealing to me. I much prefer a steel tray to accomodate a slightly overflowing bread bowl. Another thing was that the chowder was hot but not in-your-face steaming hot. For me, a hearty and alluring bowl of chowder is piping hot and steamy.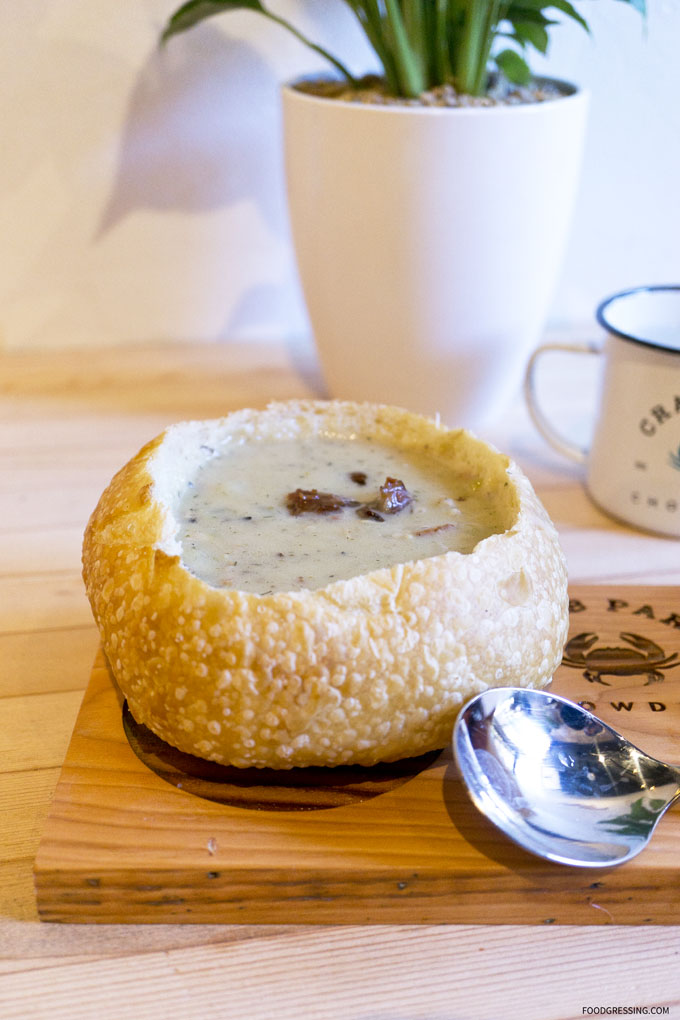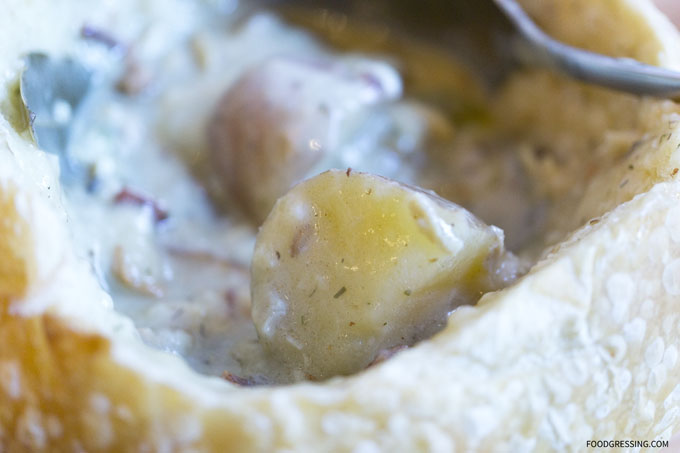 Overall Impression of Crab Park Chowdery
The New England Chowder by Crab Park Chowdery was tasty. However, my personal preference is a steamy hot, slightly over-flowing the bread bowl kind of chowder which differs from how chowders are served at Crab Park Chowdery. Rating: 3.5/5