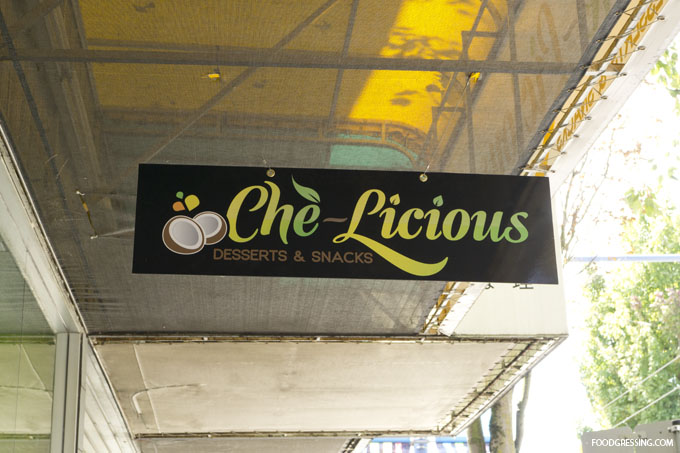 Che-Licious brings the lively flavours of Vietnam to the streets of the West End. After seeing mouthwatering and colorful photos of Che-Licious' dishes on Instagram, I had no choice but to visit this cute little café on Denman. Their menu has the quintessential Vietnamese dishes like banh mi and salad rolls, but social media is all over their colourful desserts.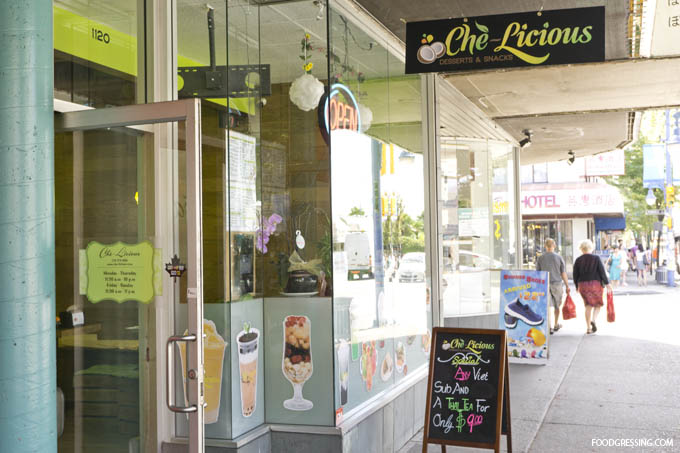 What is Chè?
Chè is a Vietnamese term that refers to desserts. Che-licious offers a variety of sweet dessert beverages made with typical ingredients for chè like mung beans, pandan jelly and aloe vera. Create your own chè starting at $5.25 or get one of their signature ones which cost between $5.75 – $6.50. Bubble tea is also available at around $4.00.
On a hot and sunny afternoon, I tried the popular Che-Licious Special ($6.50) made with pandan jelly, agar jelly, pom pearls, toddy palm, jackfruit, longan, and coconut milk. The colourful drink was eye-candy and the assortment of unique ingredients made it fun to eat.
Che-Licious' Savoury Sensations
On a recent visit, my husband and I took a savoury turn for our meal (unfortunately they did not have Icy bun available at that time). Che-Licious' savoury items include banh mi sandwiches ($6.50 – $7.25) which come with with pickled veggies, cucumber, cilantro and house made mayo. You can also spice it up with jalapeño. Che-licious also offers salad rolls made with rice paper and fresh veggies ($5.50 – $5.75).
Water in jar mugs were brought out to our table. To start, we had the light and refreshing pork bomb salad rolls made with pork patties with a crunch ($5.75).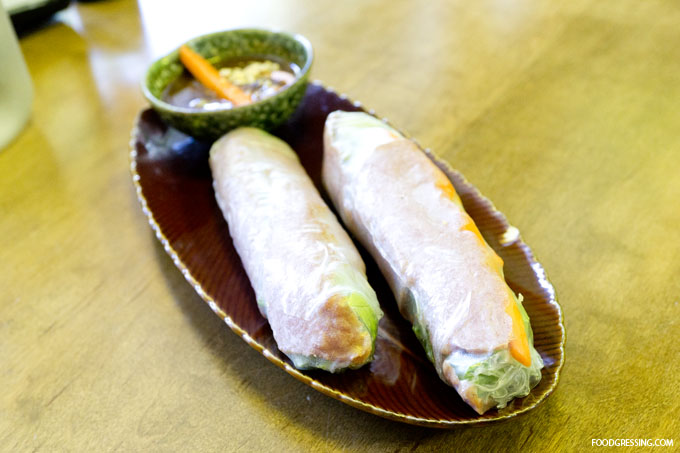 My husband had the Korean-inspired banh mi, Seoul Savoury ($7.25), which had kalbi beef, kimchi, and seaweed strip. The beef was very flavourful and the baguette was wonderfully crunchy but still soft on the inside.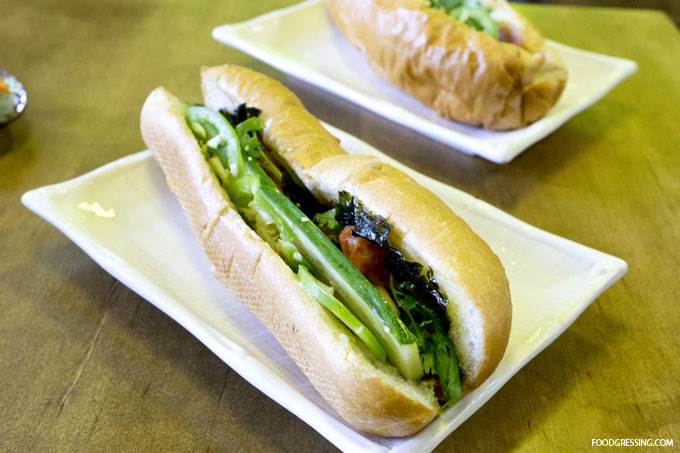 I ordered the newest addition to their menu, the Pork-Fection: pork patty and special marinated grilled pork sprinkled with peanuts and spring onion oil. The sandwich had a delicious blend of salty, sweet, spicy and savory flavors in every bite.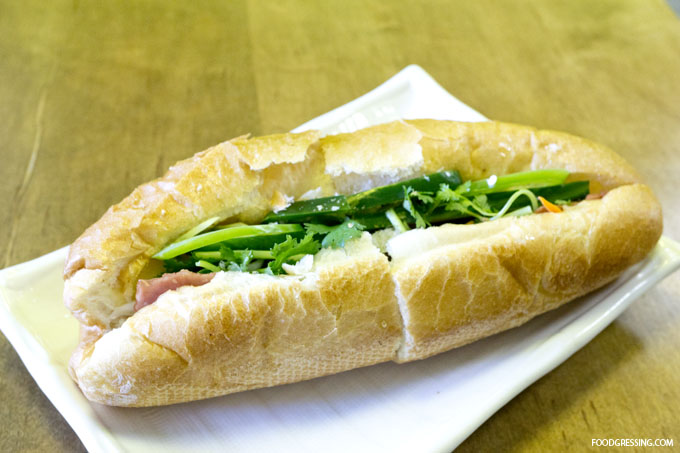 Bright and Green Space
The bright green interior of Che-licious puts you in a tropical mood. There are some small dining tables, and countertop seating.
Overall Impression
Che-Licious offers some sweet, colourful and refreshing Vietnamese snacks and treats. The savoury items that we had from Che-Licious were delicious and showcased a delicious mix of salty, sweet, spicy and savory flavors. Che-Licious regularly has deals and experiment with new menu items, so be sure to check them out on social media for the latest news. Rating: 3.5/5
Website: http://www.che-licious.com/
Facebook: http://www.facebook.com/eat.chelicious
Twitter: http://twitter.com/eat_chelicious