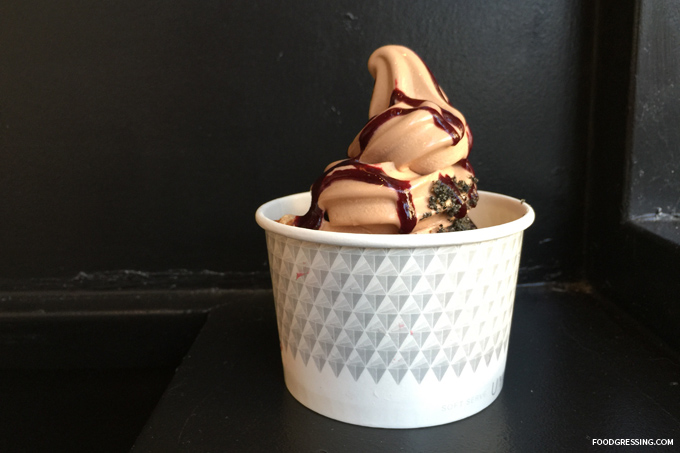 There's a new ice cream parlour in Gastown to offer you cold comfort on these hot summer days.  UYU Ice Cream opened its doors a few days ago and offers soft serve and ice cream bars.  UYU is Gastown's third soft-serve shop (Soft Peaks and Twisted Ice Cream being the other two) and is located on Abbott Street.  I came across some *cool* social media posts showcasing UYU's sweet treats which enticed me to visit them.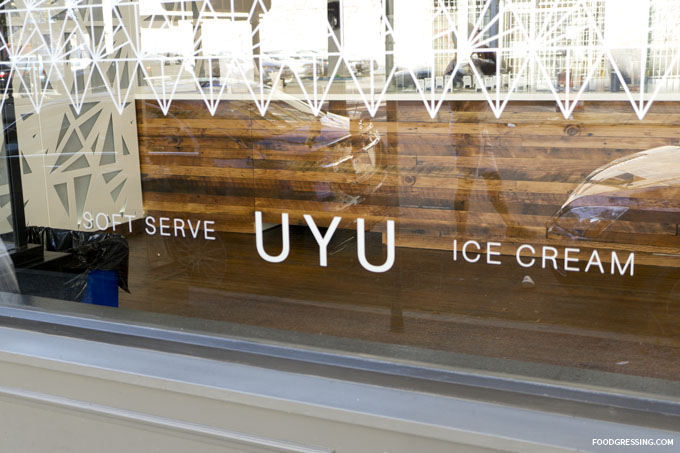 Soft Opening Special
UYU currently has soft opening specials until sold out.  You can get a soft-serve with one topping ($3), two toppings ($3.50) or three toppings ($4).  The regular prices are $4.75, $5.50 and $5.75, respectively.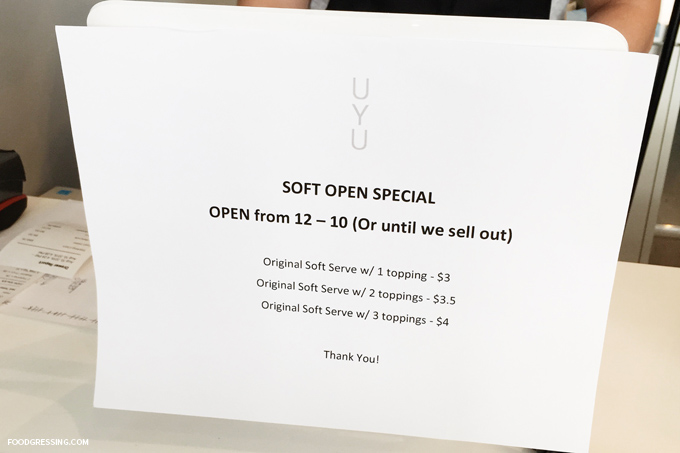 UYU Ice Cream Flavours

UYU's ice cream is made with organic milk and ingredients.  They currently have three flavours of soft-serve: Original, Earl Grey and Belgian Chocolate.  Earl Grey tea is brewed for each and every batch of Earl Grey soft-serve.  The Belgian Chocolate soft-serve is made neither with cocoa powder nor chocolate syrup – just pure real milk and dark Belgian chocolate.
Pick Your Toppings
One unique topping that UYU offers is the black sesame powder.  They also have a variety of nut toppings (pecan pieces, pistachio bark, almond bark, roasted crushed peanuts, and almond silver).  Fruit toppings include freeze dried banana, freeze dried strawberry, and freeze dried orange.  Honey roasted sunflower seeds, pumpkin seeds, toasted coconut, and granola round out the delicious options available.  The toppings are currently not available for soft-serve in the waffle cones.
You can also drizzle it up with choice of one sauce like raspberry, black currant and caramel.
Minamalistic Design
The interior of UYU was designed by Campos Leckie Studio who previously worked on Small Victory Bakery.  Like Small Victory, UYU has a clean, minimalist feel coupled with white geometric designs on a side wall.  UYU is truly *minamalistic* in that they have no dining tables or chairs.
What We Tried
I asked my husband to meet me at UYU Ice Cream for a post-work snack and we ordered two soft-serves.  I was most excited to try the Earl Grey soft-serve.  We had it in a waffle cone with a raspberry drizzle.  The Earl Grey flavour was most definitely palatable, with just hints of sweetness.  The texture of the soft-serve was wonderfully rich and creamy while the waffle cone was crispy.
Next up was the Belgian Chocolate soft-serve in a cup with black sesame powder, pecan pieces, almond bark, and black currant drizzle.  I love that flavour was subtly sweet but still chocolatey.  The black sesame powder added a fun texture to the soft-serve.  
Overall Impression
UYU Ice Cream offers wonderfully crafted and interesting flavors of soft-serve that are perfect for cooling down.  I enjoyed my interactions from the staff, who seemed not only friendly but also humble and passionate about what they do.  I definitely enjoyed the Earl Grey flavour and the Belgian Chocolate will satisfy chocolate lovers.  The choices of soft-serve flavours are limited right now, so I look forward to seeing what else they offer in the future.  Rating: 3.5/5
Website: http://www.uyuicecream.com/
Facebook: http://www.facebook.com/UYUicecream
Twitter: http://twitter.com/uyuicecream
Instagram: http://instagram.com/uyu_icecream/