Every year we look for seasonal drinks to put us in the fall mood, and as we prepare for sweater weather a new staple has arrived with the perfect autumn essence – Chatime's Golden Aged Milk Tea!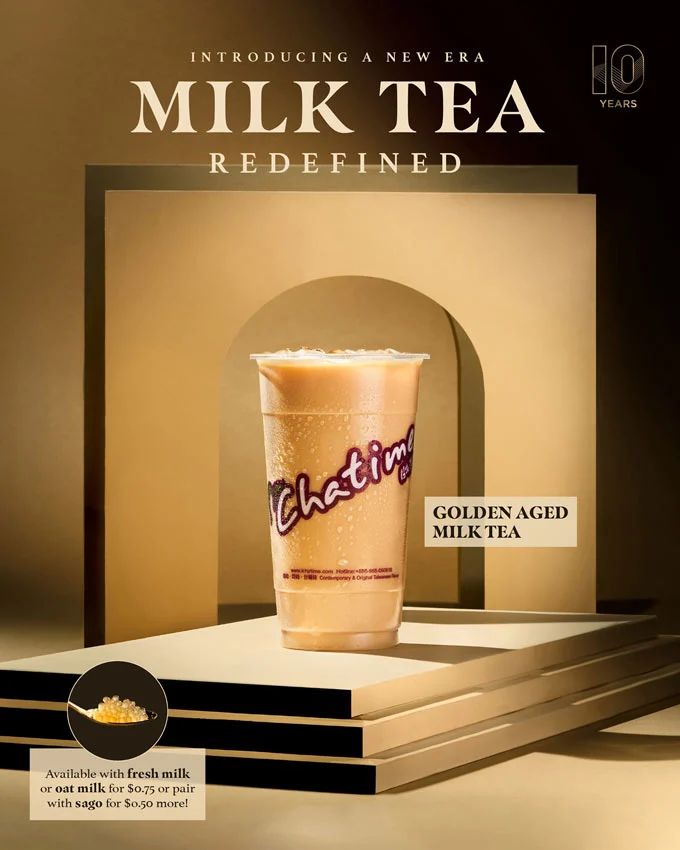 This upcoming season, the beloved bubble tea brand is celebrating ten years and it's entering the new decade with an all-NEW signature drink.
The Chatime Golden Aged Milk Tea holds an entirely new flavour composition that promises smoothness and complexity with every sip.
Precisely steeped using aged black tea leaves, this blend ensures a unique level of deep aroma, rich taste and a velvety smooth flavour.
Like all of the tea's on its menu, this one is completely customizable and can be served traditional-styled with fresh milk, or kicked up a notch with an oat beverage.
It can also be tailored with a variety of fun and delicious toppings — they recommend sago within a smooth tea like this!
If you're not familiar with the company, Chatime is the first global tea chain to bring authentic Taiwanese tea beverages to the market.
They specialize in creating an innovative selection of signature and flavoured milk teas, fruit teas, smoothies, and specialty drinks.
Chatime Canada offers signature beverages that are a staple within everyday life.
The new Golden Aged Milk Tea is available on the Chatime menu in-stores and via Chatime Online Ordering as of August 26 at participating locations in Ontario and British Columbia.