One of the things I'll be missing about the holidays are the holiday drinks served at local coffee houses and cafes. This past winter, Caffé Artigiano offered a few specialty drinks in time for the holidays. Caffé Artigiano's Chef Dawn Doucette paired up with Director of Coffee, Michael Ratcliff, for four new drinks, as well as a classic eggnog latte.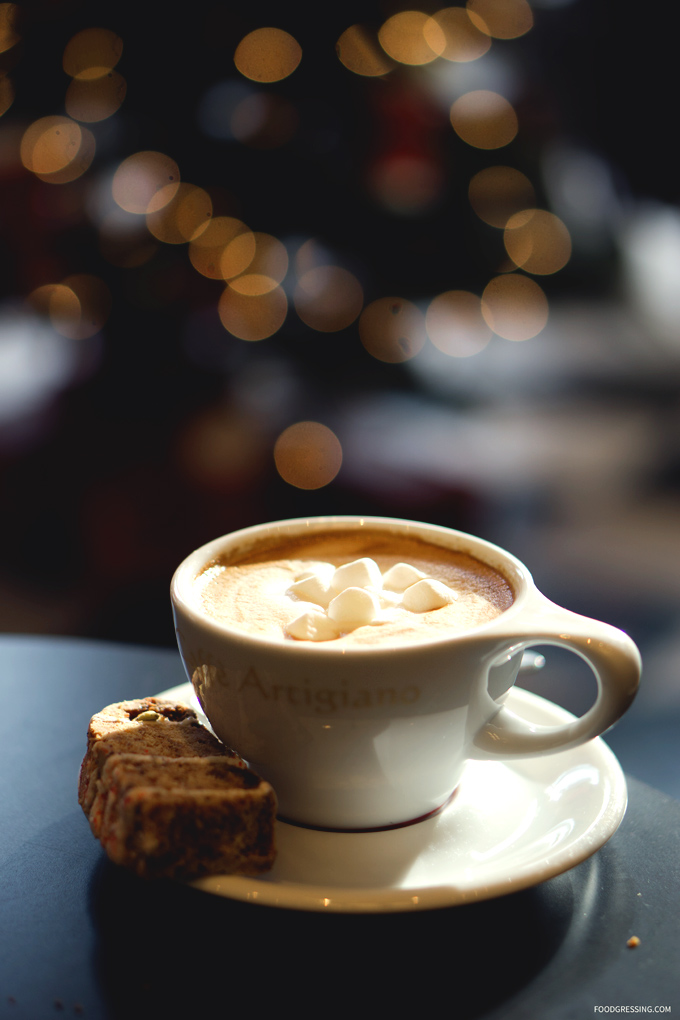 Disclosure: I was invited to a media event where all food and drinks were complimentary. Opinions are my own.
Michael's Holiday Private Reserve Espresso is grown in three different continents, all from family owned, ethical farms. He roasts an organic Kintamani from Bali, Honduras Organic Finca Liquadambar and Ethiopian Limu Gera, then blends the trio of beans into an enticing seasonal take on his signature espresso. Exotic spicy flavours, including notes of molasses, mandarin, strawberry preserve and star anise pair with the dark chocolate flavours of Artigiano's signature espresso for a subtle, mild blend on its own as an espresso or in a latte or cappuccino.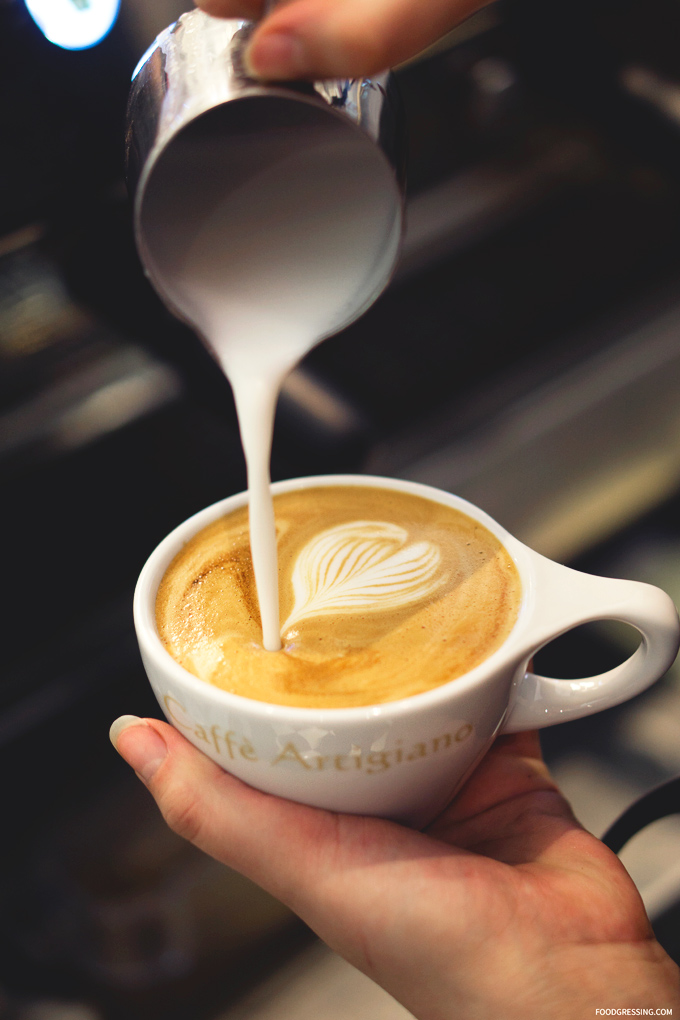 I tried the Toasted Marshmallow Latte which was a fun drink sprinkles with mini marshmallows and a serious double shot of espresso.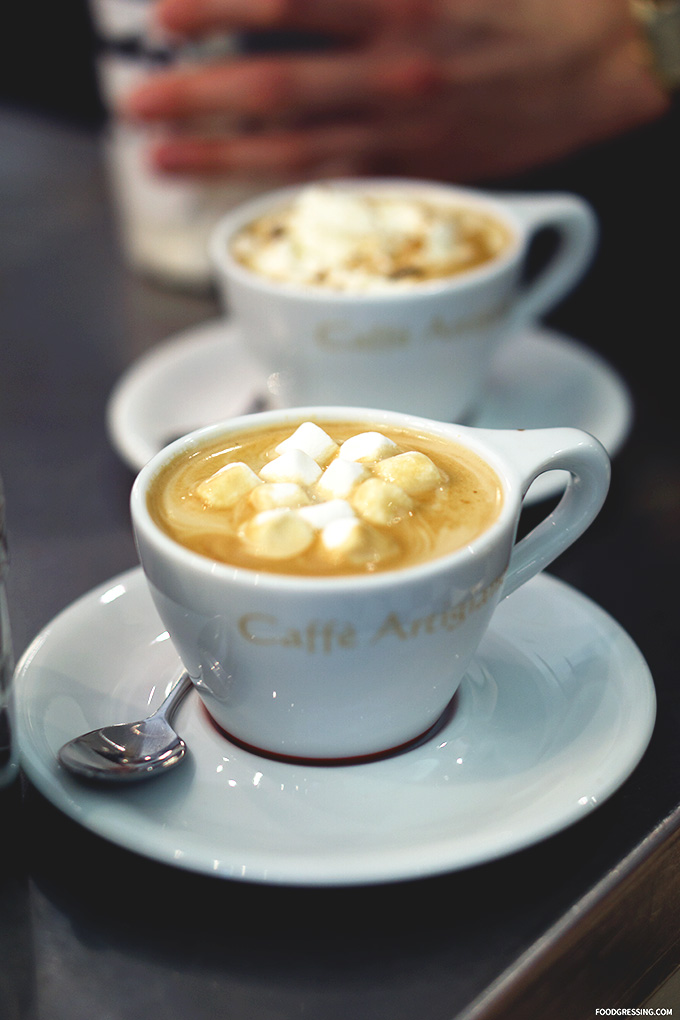 There was also the Gingerbread Latte featuring ginger syrup and espresso topped with whipping cream, caramel sauce and crushed gingerbread cookies. I quite enjoyed the balance of Gingerbread and espresso flavours.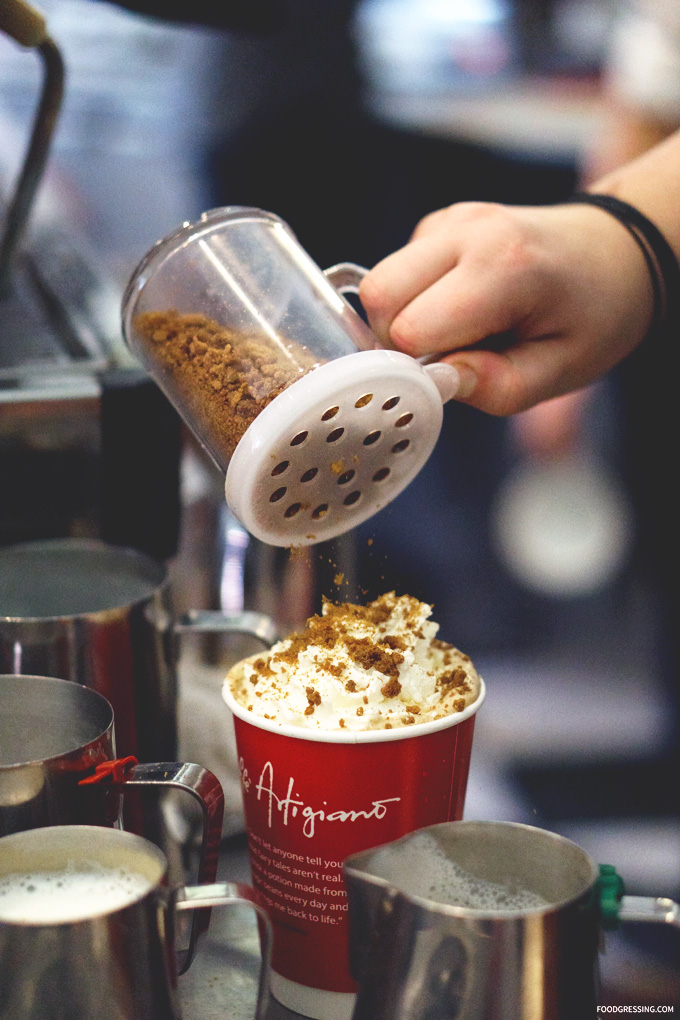 All drinks were available with regular milk, organic milk (organic milk is no additional charge for children), soya or almond.
Fun Facts on Caffé Artigiano
They are a locally based artisanal coffee roaster with 12 locations (non-franchised) across the Lower Mainland and three in Calgary.
They use 100% recyclable and compostable products in all their packaging. Cups are double walled to avoid using a non-recyclable wax, lining or additional sleeve, and cold drink cups and packaging are fully compostable.
They pair with a number of local businesses to bring unique, high quality ingredients to their food program with Terra Breads for their sandwiches, Erin Ireland's "To Die For" vegan products and Two Daughters Gluten Free products. Locally cold pressed Mama Juice does the breakfast orange juice and energy drinks and Bjorn Bar Bakery adds to Chef Dawn Doucette's in-house baking program. Food is made fresh daily in Caffé Artigiano's commissary kitchen on West Hastings in Vancouver while the roastery is located in Burnaby, BC.
For more information, visit caffeartigiano.com