Blue Water Cafe's Unsung Heroes Festival, one of the most anticipated events on Vancouver's culinary calendar, is back for the 14th year. Offered from February 1st to 27th, this special menu creatively forged by Executive Chef Frank Pabst, aims to raise awareness on local and unique seafoods and to avoid species that are over-fished or harvested in ways that can damage ocean beds. Furthermore, the Unsung Heroes festival celebrates lesser known and often overlooked fin and seafood to educate diners about alternative sustainable Ocean Wise choices through fresh experiences and new flavours. 10% of proceeds will be donated to the Vancouver Aquarium's Ocean Wise program. Last night, I attended a media preview of the 2018 Unsung Heroes Menu. Here'a look at what you can expect.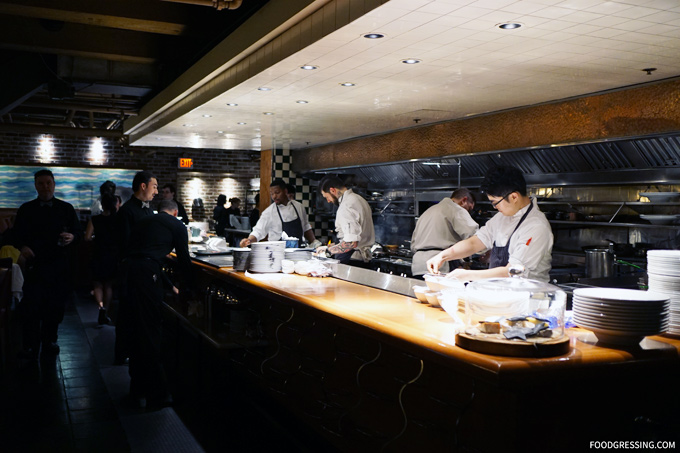 For wine lovers, the menu features wine pairings by Wine Director William Mulholland.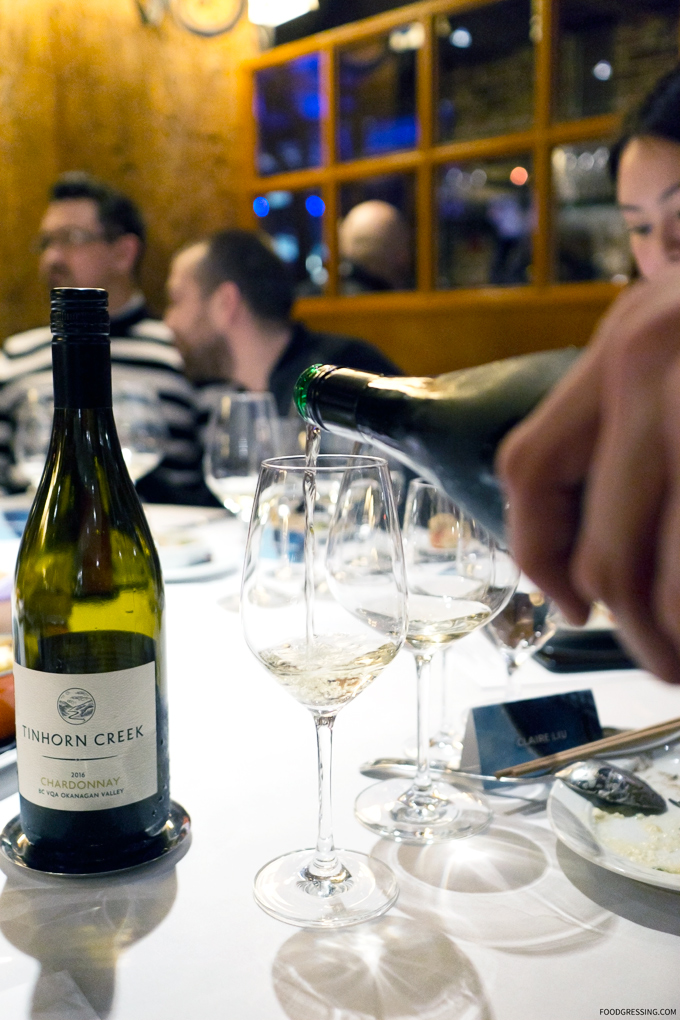 The 2018 Unsung Heroes menu features new and returning favourites. Guests are in for a treat with this year's menu offerings such as Sturgeon Liver 'Pate', Octopus 'Bolognese', Slipper Limpet 'Paella', and even a Sea Urchin 'Hot Dog.
Whelk "Au Gratin"
A savoury dish featuring poached sea snails, bc endives, slow cooked ham, mornay sauce. Pairing: Tinhorn Creek Chardonnay, 2016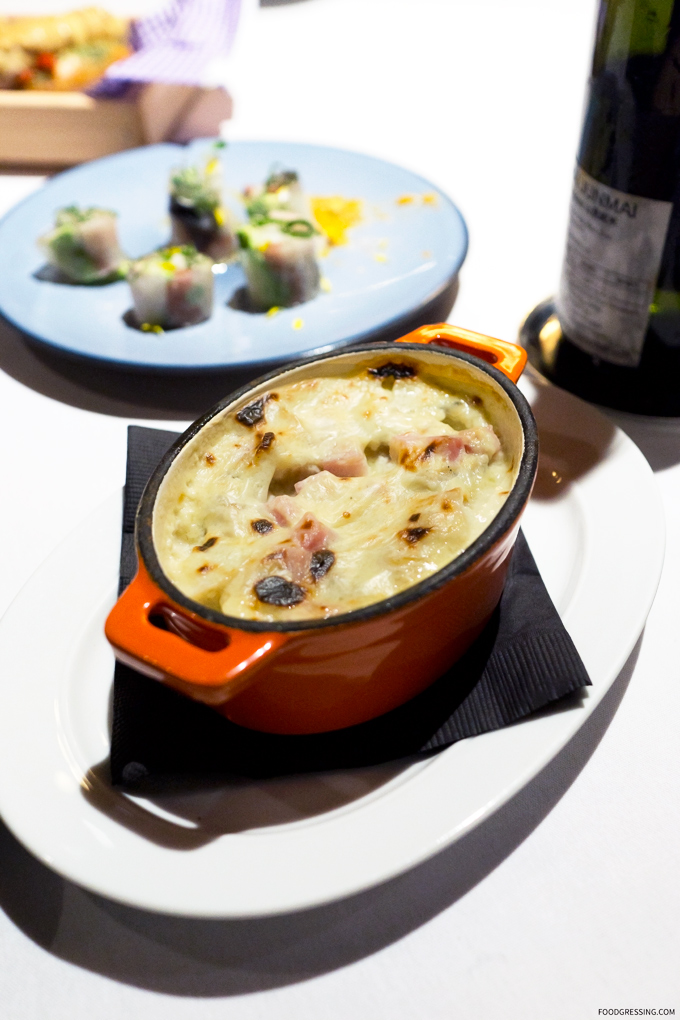 Octopus "Bolognese"
I absolutely loved this seafood pasta which had Ragu a la Bolognese, octopus and pork belly, and squid ink fettucine. Pairing: Fattoria di Rodano Chianti Classico, 2015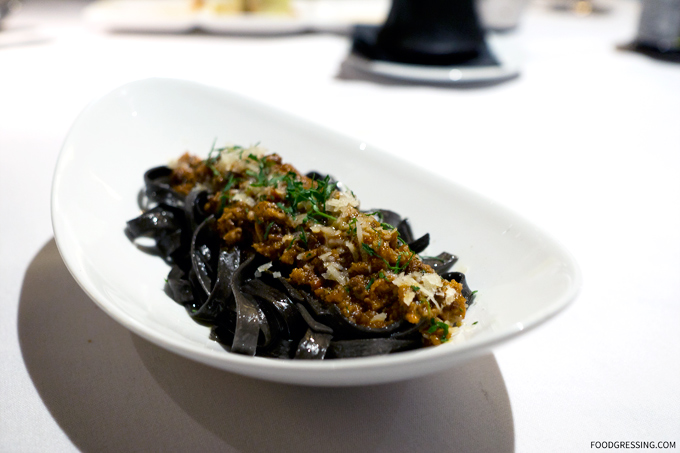 Crayfish "Cappuccino"
A creative dish made from invasive crayfish and warm vichyssoise foam. Pairing: Le Vieux Pin Ava (Viognier/Marsanne/Roussanne) 2016

Red Sea Cucumber "Casino"
Made with bacon, celery, onions, garlic, red pepper and white wine. Pairing: Tinhorn Creek Chardonnay, 2016

Grey Mullet Bottarga "Gnocchi"
Featured cured and dried mullet roe grated over dulse seaweed gnocchi, artichoke barigoule. Pairing: Abbazia di Novacella Grüner Veltliner, 2016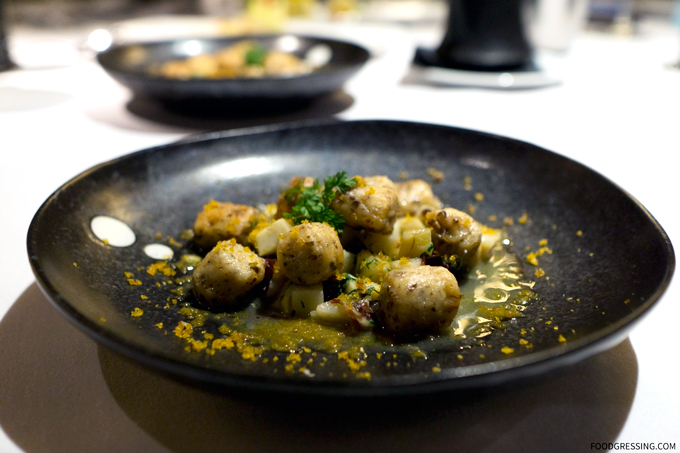 Sea Urchin "Hot Dog"
This sea urchin "hot dog" certainly garnered our attention. This unique hot dog had Asian pear and sweet pepper relish, uni miso mustard in a nori bun. I'm not usually a fan of uni but this preparation certainly surprised me in terms of how much I liked it. The "hot dog" was very spongy and smooth. I would have this again. Pairing: Caves São João Bruto, 2015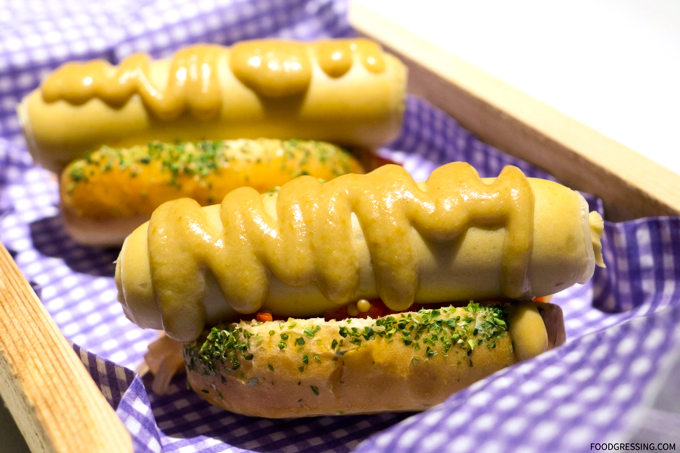 Jellyfish "Kimchi"
The Jelly "kimchi" was made of napa cabbage roll, jellyfish, braised chicken, kimchi, green onion, carrot, and cucumber. I enjoyed the light, tangy flavours. Pairing: Weingut Tesch Unplugged Riesling, 2014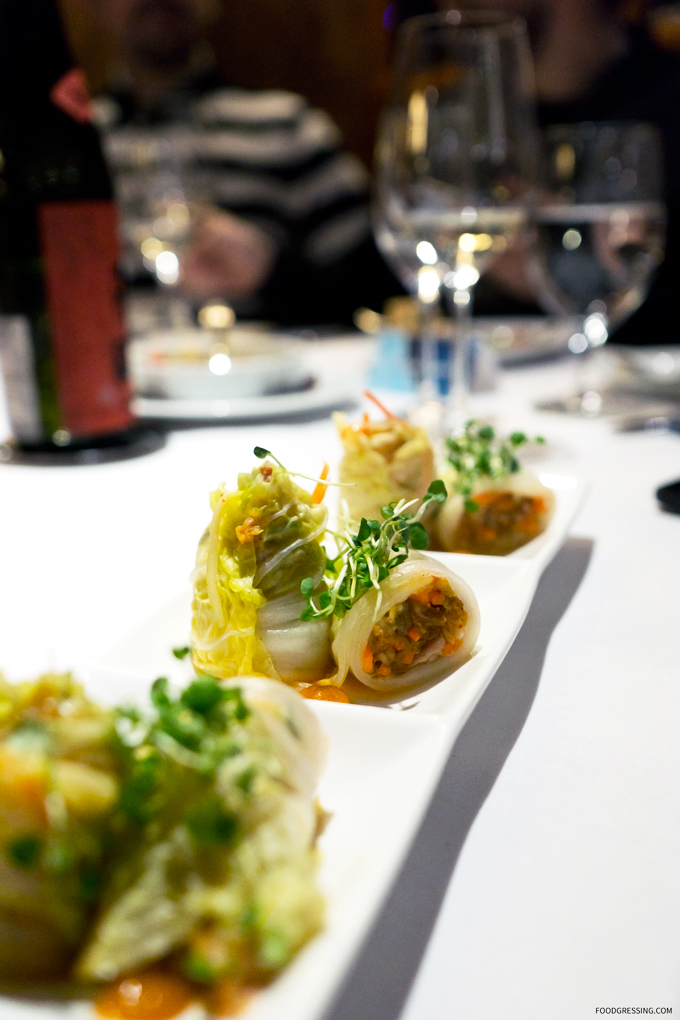 Carp + Trout Roe "Meze"
Phyllo pastry filled with carp roe dip, fresh cucumber, trout roe, radish, watercress. I loved the creamy carp roe dip with the popping trout roe and flaky phyllo cup. Pairing: Caves São João Bruto, 2015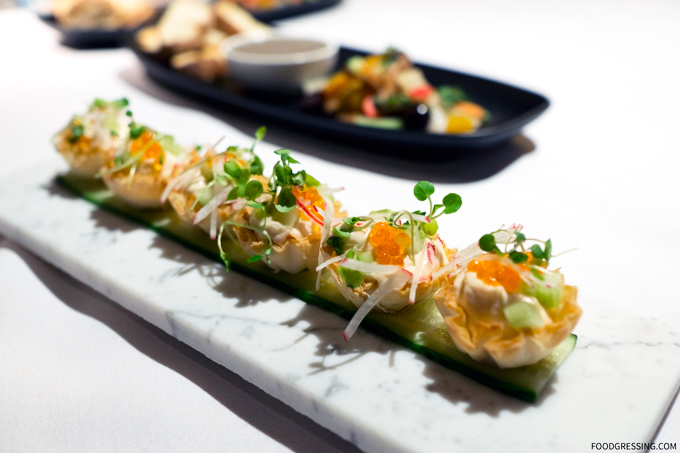 Mackerel "Nama Harumaki"
Pickled mackerel filet in rice paper, umeboshi, daikon radish, avocado, shiso, almonds. Pairing: Takasago Yamahi Junmai (Sake)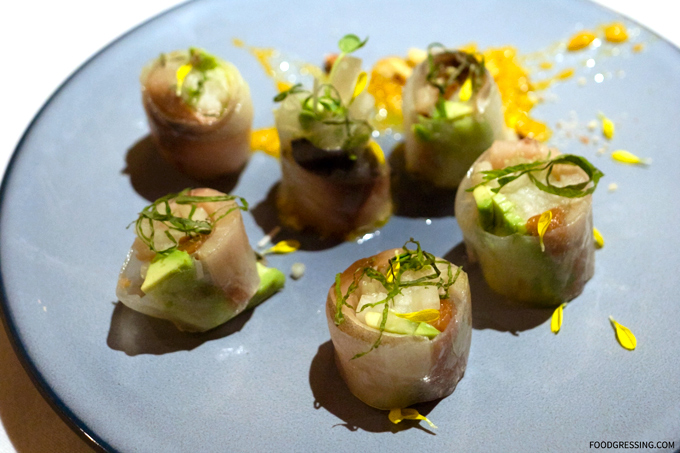 Slipper Limpet "Paella"
The paella was really delicious and I enjoyed it to every last bite. Bomba rice cooked with saffron, pimenton, sofrito, tomato + green chickpeas, aioli. Pairing: Sea Star Stella Maris, 2016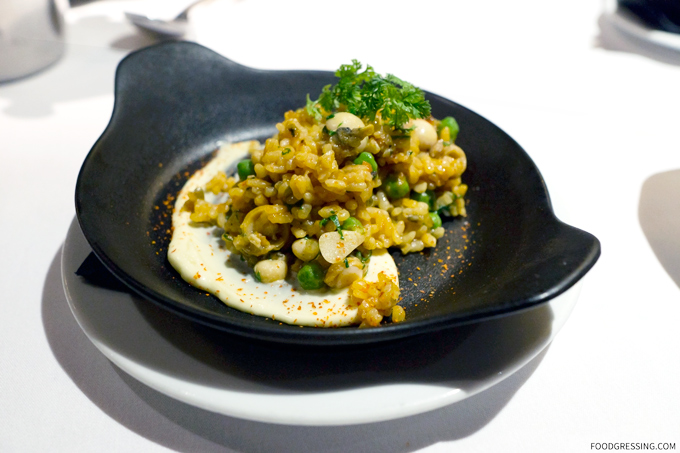 Sturgeon Liver "Pate"
Pickled vegetables, marinated mushrooms, mustard seeds, grilled bread. Pairing: Caves São João Bruto, 2015

Herring "Poke Bowl"
The herring poke was absolutely delicious. The bowl featured Matjes herring, ogo seaweed, sweet onion, sesame, avocado, inamona, herring roe. Pairing: Masukagami Special Junmai (Sake)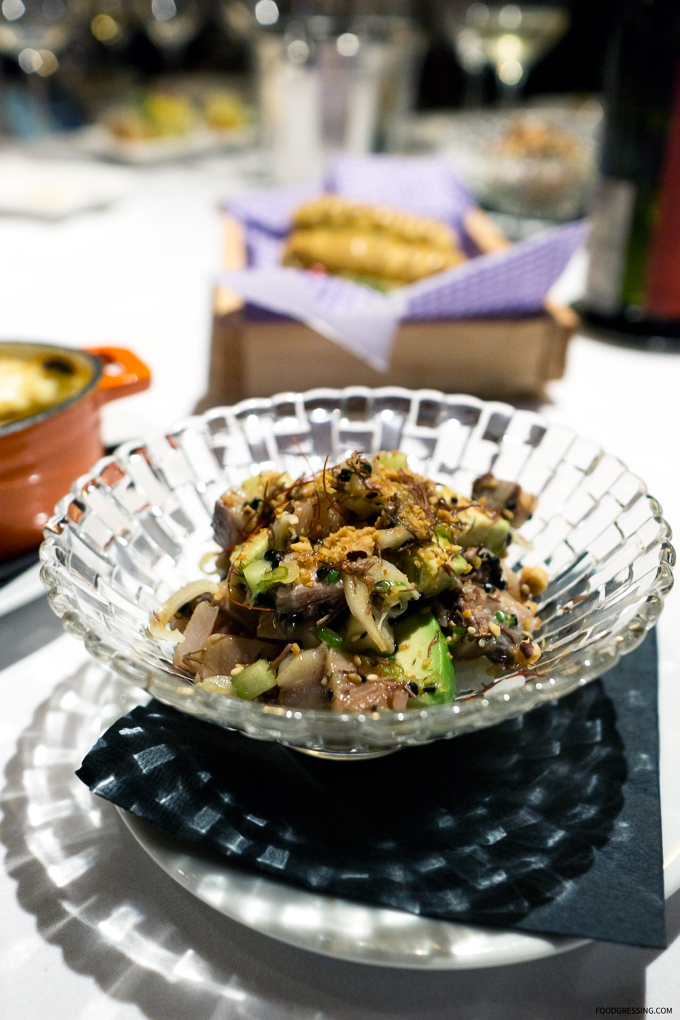 Smelt "Tacos"
Crispy fried smelt, masa harina tortillas, cabbage, aji amarillo crema, cilantro, lime. Pairing: Sea Star Stella Maris, 2016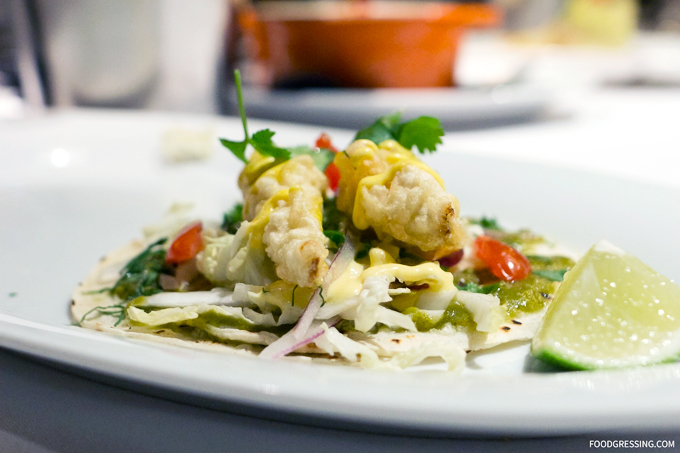 My favourite dishes of the evening were the Herring "Poke Bowl," Sea Urchin "Hot Dog" Carp + Trout Roe "Meze," Jellyfish "Kimchi," Octopus "Bolognese," Slipper Limpet "Paella."
For more information, visit toptable.ca/blue-water-cafe-unsung-heroes-2018