From Latin-American gastronomy to a surprising number of authentic Italian restaurants, Miami's food scene is downright impressive. No matter what kind of date night you are planning, you're guaranteed to find the perfect restaurant for your next romantic outing. Here are the best romantic restaurants in Miami, which boast waterside venues, eclectic menus, and fairy-tale vibes.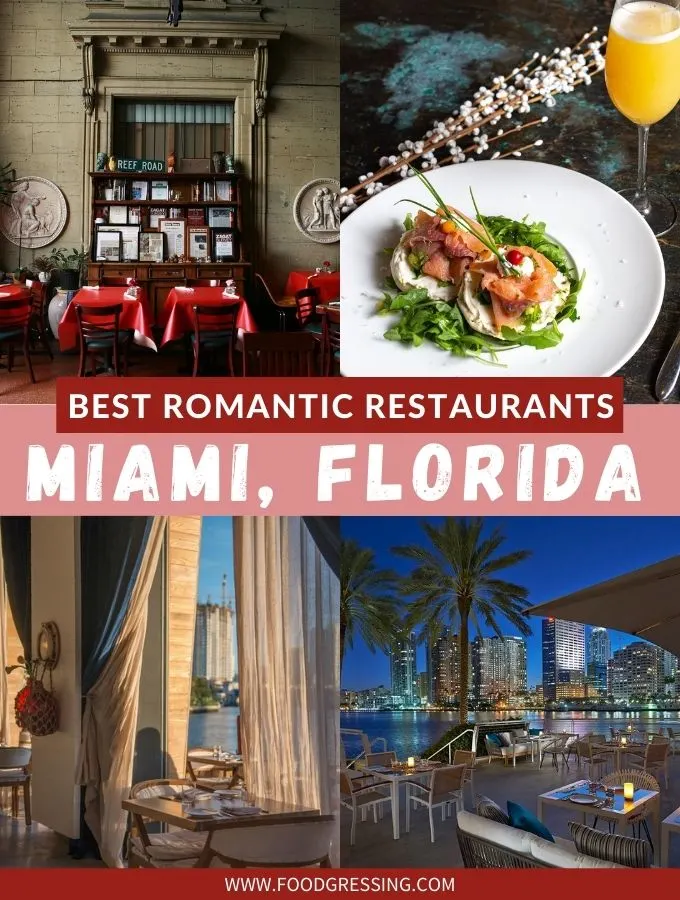 Sofia Design District
Born out of a love affair between Contemporary Art and exquisite Italian cuisine, Sofia Design District (140 NE 39th Street #133) exudes romance from every corner of the restaurant, all the way through its charming outdoor dining terrace imagined as a playful secret garden.
Once seated, expect an undeniably world-class culinary experience that will ignite all your senses, where you and your date will find the dishes just as stunning as the artwork layered throughout.
Indulge together in the restaurant's signature spicy rigatoni, torre di frutti di mare, and some carpaccio di manzo, before ending your night with one of Sofia's dreamy nightcap cocktails.
From the curation of pink lacquered pieces, lush greenery, and frilly rose umbrellas in Sofia's enchanting outdoor oasis, to the glossy crimson fabrics, mirrored columns, and Italian-imported chandeliers in the main dining area, Sofia makes for the perfect romance-fueled Valentine's Day outing.
Amal Miami
With a warming ambiance that is nothing short of magical, Amal Miami (3480 Main Hwy Suite 100) is a modern Lebanese culinary experience that aims to provide a calming aura amongst the bustle of Miami.
Diners can expect Lebanese items like hot mezze, skewers, and new takes on traditional dishes like the Truffle Rakakat, Black Cod, Kibbeh, and Lamb Chops.
Surrounded by a serene space filled with calming hues reminiscent of the Mediterranean, with lush interiors and a relaxing terrace, Amal wishes to be the igniting aphrodisiac of your evening for love.
KÓMMA Mediterranean Kitchen & Bar
For guests who seek a dining experience that encapsulates the romantic energy of foreign travel, KÓMMA Mediterranean Kitchen & Bar (560 Washington Ave) offers a sexy sensory journey into the Mediterranean.
The stimulating spirit of the intimate garden adorned with jewel-toned lanterns and perfectly lush greenery offers diners an escape from the day-to-day in an environment that propagates passion.
The night warms up as smoking plates descend upon your table and fire dancers spark your attention.
A chic and sleek lounge area built around a perfectly curated bar offers a cozy environment for guests to wet their pallet with signature crafted cocktails like the KÓMMA Kiss while indulging in aphrodisiac oysters off the signature seafood platter.
Byblos Miami
At Byblos Miami (1545 Collins Ave), diners can dive into romance in a dimly lit setting with an eclectic theme featuring soft velvet tones with pops of color.
From the decor to the menu, every detail conveys Eastern Mediterranean sophistication.
Dishes are meant to be shared and includes favorites like black truffle pide, branzino, and their take on Middle Eastern fried chicken.
Pair it with a Rose Gulab cocktail, made with vodka, pomegranate, and fresh flowers.
LPM Restaurant & Bar Miami
LPM Restaurant & Bar (1300 Brickell Bay Dr) serves cuisine inspired by the French Mediterranean, and the atmosphere mimics that of the French Riviera.
As you enter the restaurant, you'll be greeted by a beautiful bar with a double-height ceiling, giving way to a triple-height ceiling above the main dining area.
Light, open backdrops and fresh flowers reminiscent of the South of France paired down with bold and colorful artwork can be found in the space.
Enjoy menu items featuring an abundance of fresh vegetables, seafood, and high-quality olive oil.
Highlights include Ratatouille with Feta Cheese; Snails with Garlic Butter and Parsley; and Whole Sea Bream Baked with Provencal Herbs and Lemon.
Be sure to end the experience with one of their luscious desserts like the White Chocolate Tiramisu with Strawberries or a dessert cocktail like the "Presidential Affairs" – a French & Puerto Rican affair with notes of elderflower, banana and a subtle nutty finish.
La Mar by Gaston Acurio
La Mar by Gaston Acurio (500 Brickell Key Dr), located in the Mandarin Oriental Hotel, is one of the best romantic restaurants in Miami with picturesque waterfront and city views.
Sit out on the patio to enjoy a romantic evening of Peruvian cuisine while enjoying the backdrop of the Biscayne Bay.
This restaurant is home to three bars and a vibrant and colorful indoor dining room, so there is something here for everyone.
The South American cuisine at La Mar is unforgettable; guests will enjoy plates that include fresh seafood, vibrant spices, and a diverse range of vegetables.
Guests can enjoy a range of different culinary styles from novo-Andean to Asian-Peruvian fusion and traditional seafood cebiche.
Some highlights include the Planchaza featuring jumbo tiger shrimp, spanish octopus grilled with
anticuchera sauce, garlic butter, chimichurri, Peruvian yellow potatoes, and choclo; and the El Achupado with bucatini noodles, seafood in chupe sauce, huacatay, and rocoto aioli.
Be sure to order a drink from La Mar's comprehensive cocktail programme which includes a list of Peruvian Classics that featuring cocktails infused with pisco, a South American grape brandy.
You'll also find Signature Cocktails offering iconic cocktails with a Peruvian twist.
Il Gabbiano
With a patio overlooking sparkling blue water and palm trees, Il Gabbiano (335 S Biscayne Blvd) is one of the most romantic restaurants in Miami for lunch or dinner.
Indoors, you'll find white linens, greenery, and floor-to-ceiling windows.
Refined Northern Italian cuisine means that you can choose from an abundance of authentic pasta, veal, and seafood.
Il Gabbiano's posh atmosphere will make a lovely setting for your next anniversary or birthday dinner.
Seaspice Brasserie & Lounge
Navy blue curtains, earthy tones, and a breathtaking view of the Miami River give Seaspice Brasserie & Lounge (422 NW N River Dr) a nautical but upscale and chic atmosphere.
This eatery specializes in wood-fired casseroles, globally-inspired dishes, and handcrafted cocktails.
Some romantic cocktail recommendations include the Blossom Martini (Belvedere Vodka, St. Germain, White Cranberry-Peach, Lemon) and Cloude 9 (Avion Silver, Agave, Ginger Beer, Lychee).
For appetizers, a recommendation is the the Meli Melo crudo featuring tuna, salmon, yellowtail, edamame, and avocado puree.
Move on to the Market Seafood Casserole with Maine lobster, jumbo wild prawns, market seafood, king crab, baby squash, and dashi clam tomato broth.
Their pasta is freshly made in-house. The Black Truffle Risotto and Blue Crab Ravioli are solid choices.
Don't forget that this joint is open for brunch; the Maine Lobster Benedict is the star of the show.
Reservations are required, so plan accordingly.
Forte dei Marmi
Miami has many fantastic Italian restaurants, and Forte dei Marmi (150 Ocean Dr) is no exception.
Owner Andrea Reitano and his Chef Fabrizio Piga brings together the sophisticated simplicity of Italian fine dining with slow food culture.
The restaurant freshly procures and skillfully prepares the highest quality local organic produce, farm-raised prime meats, and wild-caught seafood and fish.
Meanwhile, the wine and cocktail program focuses on organic and biodynamic offerings.
The restaurant's contemporary aesthetic conjures up the allure of Italian beach culture — with influences from the seaside resort Forte dei Marmi in northern Tuscany's Lucca province.
As you enter the restaurant through curved archways and sit down on the lush patio, showcasing flora and fauna with sparkling twinkle lights and white linens, you will feel as though you are in a fairytale.
Start off with the Branzino Carpaccio then move on to the Linguine 'Alla Nerano' and Mediterranean Branzino Filet.
While the authentic Italian dishes are tasty, dessert is is not to be missed.
Be sure to order the tiramisu and pistachio gelato.
Elcielo By Juan Manuel Barrientos
With indoor palm trees, tile floors, and earthy tones, Elcielo (31 SE 5th St) will make you feel like you are traveling through Latin America.
Located in the financial district, on the banks of the Miami River, this restaurant's Colombian-inspired menu features unique items like avocado tempura, yuca gnocchi, and grilled prawns.
This innovative space and menu is sure to give you a date night that you will never forget.
Mandolin Aegean Bistro
Who needs to go to the Mediterranean when you can go to Mandolin Aegean Bistro (4312 NE 2nd Ave)?
Next up on this roundup of most romantic restaurants in Miami is Mandolin Aegean Bistro which psecializes in refined Greek and Turkish gastronomy.
This is reflected in the white-washed patios, blue and white decor, and outdoor greenery.
Enjoy classic Mediterranean dishes such as moussaka, kofte, chicken kebabs, and souvlaki.
Mignonette Downtown
A former 1930s gas station is now known as Mignonette Downtown (210 NE 18th St), an oyster bar escape.
With tile floors and a vintage-style bar area, Mignonette feels like a luxurious retro diner.
Somehow this space is casual, classy, plain, and fancy, all at the same time.
You can order oysters, caviar, lobster rolls, and fancy seafood entrees on your next romantic date night at Mignonette.
Ferraro's Kitchen Restaurant and Wine Bar
Ferraro's Kitchen Restaurant and Wine Bar (1099 NE 79th St) features a warmly-lit outdoor patio, a chic interior, black tablecloths, and a modern-style bar area.
Chef Igor Ferraro prepares Venetian-inspired dishes, such as bistecca toscana, tuna carpaccio, and caprese salad.
Ferraro's is committed to using only the freshest ingredients and providing excellent service, making customers feel like they are truly dining in Italy.
Soya e Pomodoro
Next on this list of best romantic restaurants in Miami is Soya e Pomodoro (120 NE 1st St #2502) which is located in a building that was formerly a bank.
The grand arches, high ceilings, intricate craftsmanship, and stone materials of this historic building give the restaurant an elegant and bohemian atmosphere.
From pasta to antipasti, Soya e Pomordoro serves creative Italian cuisine. Enjoy the Insalata Caprese with fresh nodino mozzarella fior di latte, fresh tomatoes, and basil.
The Fazzoletti di Formaggio e Pera is a beautiful, fresh pear and cheese pasta with sauteed baby shrimp in a creamy ricotta sauce.
The Filetto al Foie Gras is a favourite. It's a filet mignon medallion pan seared and served with seared foie gras, spinach, mashed potatoes in fresh rosemary demi.
Start off with the Antipasto Affettato featuring a selection of imported cold cuts from Italy.
Check out this joint on a Thursday evening; you can enjoy your meal while listening to a live jazz show.
Prohibition Restaurant and Speakeasy
As a new $2 million venue, Prohibition Restaurant and Speakeasy (3404 N Miami Ave) serves eclectic comfort food, boasts a vibrant nightlife scene, and makes Prohibition-inspired cocktails.
Choose between truffle pasta, shrimp & chorizo, and classic steak frites.
With fantastic drinks, live music, and dancing, you will want to stay here all night.
Cipriani Downtown Miami
Ritzy chandeliers, posh furniture, and white linens make Cipriani Downtown (465 Brickell Ave) feel extra posh.
Located in the Viceroy Hotel, the indoor dining room is flooded with natural light, views of the Biscayne Bay, and a nautical, yet chic, color palette.
Some highlights of the menu are the Homemade Gnocchi "al Pomodoro;" Grilled Wagyu Rib Eye Steak; and Millefoglie "alla Cipriani" for dessert.
Palat
As one of Miami's most beloved Italian restaurants, Palat (4702 NE 2nd Ave) is the ideal setting for your next special occasion.
The indoor dining room opens up to the outside and is tastefully decorated in wooden hues, warm colors, vibrant patterns, and unique furniture.
The open-air patio is just as charming; enjoy jungle-inspired greenery, string lights, and shaded tables.
The food at Palat is just a great as the atmosphere.
Choose from items like spaghetti vongole, cavatelli, and lasagna.
While the dinner menu is fantastic, you won't want to miss brunch at Palat.
You can order lobster crepes, savory french toast, and a smoked salmon omelet.
For more Miami foodie inspiration, visit my post on Best Miami Restaurants.