This list of the Best Miami Restaurants 2022 ranges from the new-to-discover to the classics, taking you through the whole city's food scene.
Miami has long been a melting pot for a world of cultures to interact, and that is reflected in the melding of flavours in the local cuisine.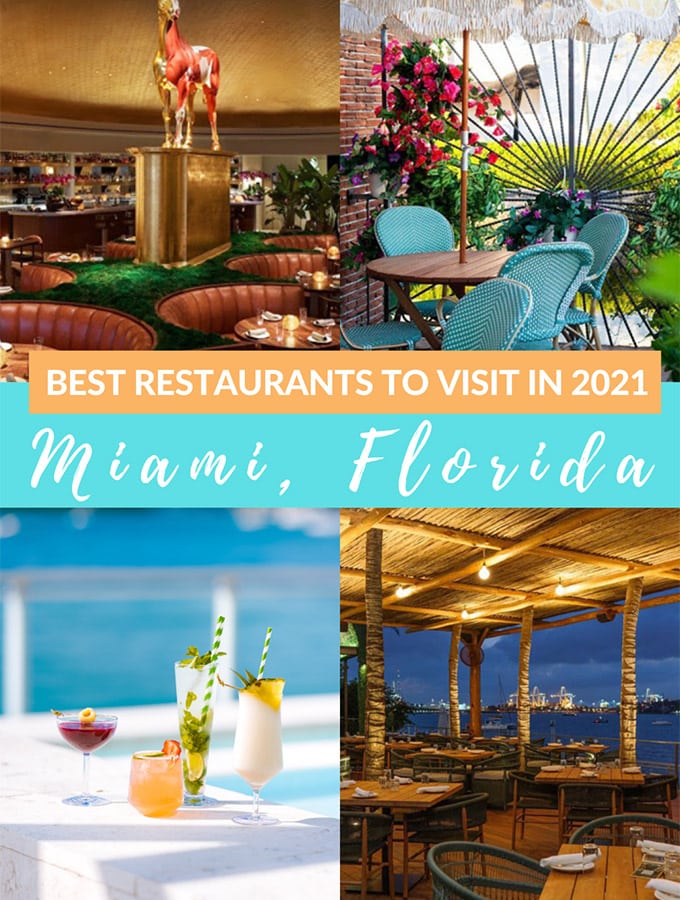 Checking out the amazing food culture is certainly one of the top things to do in Miami in 2021.
Use this guide as an inspiration for your culinary exploration of Miami in 2021.
New Miami restaurants that are buzzing
Here are some new and buzzing restaurants to try on this list of Best Miami Restaurants 2021.
Baia Beach Club: Ocean Views
Enjoy the classic-yet-upscale patio waterfront dining at Baia Beach Club, or book a table in the greenhouse and enjoy fresh air while you take in stunning views of the water.
The restaurant is designed with a Bohemian aesthetic with a menu of craft cocktails and authentic Mediterranean cuisine in an al fresco environment.
Sit back with a drink in hand and watch the breathtaking sunset views of Biscayne Bay and Downtown Miami.
Share an order of shishito peppers with the table, savor tuna tartare, or sample a bento box. And end it all on a sweet note with a slice of key lime pie with fresh-squeezed key lime juice.
1100 West Ave Miami Beach, FL 33139
Café Kush: Upscale, Miami-Style Bistro
Located inside the iconic Gold Dust Motel, Café Kush combines the best of a European bistro with an in-your-face Miami attitude.
Cafe Kush serves French classics such as French onion soup, Croque Monsieurs, Ratatouille, and Frog Legs but also American classics like award-winning burgers, local craft beer, Chicken and Waffles, and Key Lime Pie.
Try the Cuisses de Grenouilles (Gulf frog legs with creamy garlic and BBQ honey sriracha), black bean dip, or homestead guacamole to start.
Then move on to the Café Kush mussels with white wine broth or the homemade vegan jambalaya.
The cafe is pet-friendly. If you're bringing a furry friend, you're in luck – they even offer chicken and rice on their dog menu.
7700 Biscayne Blvd, Miami, FL 33138
Itamae: Sushi with a Peruvian Twist
Never had Peruvian-Japanese fusion before? You're not alone, but that's exactly why you want to head to Itaemae.
You're sure to find something unexpected, whether you try the smashed cucumbers with salmon chicharron, chili crisp, and ponzu leche de tigre, or the smoked fish dip with Peruvian soda crackers.
Try out one of the cebiches featuring daily catches like the Shrimp Cebiche with tomato granita, cucumber, sweet onion and white beans.
The real star of the menu is their sushi. Expect the unexpected from their whimsical offerings like Kirby's Dream Land with huacatay aioli and El Tigre, featuring sweet plantains and shiitake mushrooms.
140 NE 39th St #136, Miami, FL 33137
The Creamery at Red Rooster Overtown: Housemade Ice Cream
Next up on on this list of Best Miami Restaurants 2021 is a great place to cool off from the Miami heat.
Craving something sweet? Pop into The Creamery at Red Rooster Overtown for a cup or cone.
They carry basics like chocolate and vanilla, as well as rotating seasonal.
Take your pick of sauces, like Dulce de Leche and Tropical Fruit Sauce.
Top it all off with your choice of toppings like Confetti Chocolate Sprinkles, Graham Cracker Crumble, Chocolate Magic Shell and more.
They even serve cocktails alongside their sweets, if you like a little sour with your sweet.
920 NW 2nd Ave, Miami, FL 33136
Mayami Mexicantina Wynwood: Hip Cocktails
You'll find excellent food at Mayami Mexicantina from squash wong-tong tacos, tempura mushroom tacos with adobo, and a selection of ceviches.
But the most exciting part of their menu is their craft cocktails. We're talking choices like the Red Warrior Old Fashioned with chili-infused bourbon and a strawberry pepper shrub.
Also notable is the Mayasutra with Patron, blackberry and coffee syrup, egg white, and Mayan chocolate bitters. For the adventurous, go for the insect-infused mezcal shots.
127 NW 23rd St, Miami, FL 33127
Public Square
Public Square is a contemporary American grill located in Coral Gables near South Miami and their Sunday brunch menu is very popular.
Start with a Crab and Asparagus salad or a bowl of classic Peruvian ceviche from the Raw Bar.
In the mood for sushi? Order up a Jalapeno Hamachi Roll, Salmon Crab Roll, Shrimp Tempura Roll to name a few.
Craving classic brunch? You've got it – try the Lox N' Bagel with limoncello-cured salmon or Chicken & Waffles with spicy honey sauce.
Satisfy your sweet tooth with their Nutella waffles with lemon scented whipped cream and fresh berries. No matter which way you go, you'll leave happy.
6915 Red Rd, Coral Gables, FL 33143
publicsquarerestaurant.com
Miami James Beard Award Winning Restaurants and Chefs
Check out these James Beard Award winning restaurants and chefs on this list of Best Miami Restaurants 2021.
OLA: World Renowned Ceviche
Chef Douglas Rodriguez of Latin-inspired OLA received two nominations for the James Beard Rising Chef of the Year.
You'll love the warm, rustic cozy atmosphere of the restaurant but the real star here is the eclectic ceviche menu.
You'll find classics like the Mixto Ceviche with Corvina, shrimp, and octopus.
But you'll also find selections like tuna and foie gras in kumquat-yuzu sauce and lobster with yellow tomato-citrus sauce and an heirloom-Tabasco sorbet.
And save room for their playful Chocolate Cigar dessert, featuring an almond chocolate cake shaped like a Cuban cigar alongside a candy matchbook.
2360 Collins Ave. Miami Beach, FL 33139
Pao by Paul Qui: Unicorn Food
At Pao by Paul Qui, you'll find influences from the Philippines, Spain, Japan, and France – all blended together to create a culinary experience unlike any you've had before.
Paul Qui rose culinary stardom after winning Top Chef followed up by a James Beard Award for Best Chef: Southwest.
No matter what you order, you'll find something charming and unexpected – like the Unicorn (sea urchin, grilled sweet corn pudding, sake aioli, and chili de arbol).
After your meal, sip from their selection of after-dinner ports and grappas or enjoy a cup of peach oolong tea.
3201 Collins Ave, Miami Beach, FL 33140
Miami's Best Takeout
Looking for amazing takeout? Check out these takeout selections on this list of Best Miami Restaurants 2021 and hit the beach with your order.
Blue Collar: Eclectic, Comfort Food
The menu at Blue Collar is eclectic, to be sure – where else will you find shrimp and grits, conch fritters, and latkes with homemade apple sauce on the same menu?
At Blue Collar, you'll find hearty, contemporary American comfort food done well.
You'll also find the likes of spicy oxtails, an impressive selection of veggie sides, and all-day brunch offerings like brioche French toast by the slice.
Find a slice of Southern comfort with their hummingbird cake or Butterscotch Heath Bar bread pudding with spicy whipped cream. The handsqueezed key lime pie is also a customer favourite.
6730 Biscayne Blvd, Miami, FL 33138
Bonding Thai: Bold Flavours
Expect big flavors when you order from Bonding Thai. Their red curry with bamboo, bell peppers, and basil is among their most popular items, alongside their pad Thai with tamarind sauce.
Want to turn up the heat? Try their Volcano Chicken, fried to a crunch and marinated in a sweet Thai chili sauce.
Finish it all off with their signature Bonding Donut with condensed milk.
638 S Miami Ave, Miami, FL 33130
Miami's Best: Staples, Classics, and Must-Tries
Whether it's your first visit to Miami or your 20th time, these classic Miami favourites make the list of Best Miami Restaurants 2021.
Versailles: Classic Cuban
If you're looking for a classic taste of Miami, you'll find it at Versailles; they've been serving familiar Cuban flavors since 1971.
Order a family special for your whole table like the fried chicken chunks "Chicharrones," or the Cuban-style roast pork.
Or try their famous classic Cuban sandwich with sweet ham, roast pork, Swiss cheese, mustard, and pickles. You can't go wrong at this time-honored spot.
8555 SW 8th St Miami, FL 33135
El Exquisito Restaurant: Cuban Comfort Straight from Grandma's Kitchen
Come as you are to El Exquisito Restaurant. Stop for a cafecito (quick coffee) or take it slow and savor the flavors of a Cuban grandmother's recipes.
Popular orders include pan con bistec (beef sandwich), vaca frita (shredded beef with lime and garlic), and tostones rellenos (fried green plantains with shrimp).
Whether you're a Cuban cuisine veteran or a newcomer, you're sure to find something exciting and delightful while you're here.
1510 SW 8th St, Miami, FL 33135
La Mar by Gastón Acurio at Mandarin Oriental: Peruvian Gastronomy
At La Mar by Gastón Acurio, it's is all about celebrating Miami's unique food scene, from novo-Andean to Asian-Peruvian fusion, all in an elevated, modern setting.
Enjoy Peruvian street food elevated with Wagyu beef and jumbo prawns and an entire ceviche bar with 15 different dishes. And don't forget to order a glass of pisco (South American grape brandy).
500 Brickell Key Dr, Miami, FL 33131
Naiyara: Sushi, Sexy, Thai
Naiyara's tagline really says it all: "Sushi, Sexy, Thai."
This isn't your run-of-the-mill sushi spot. Try the fried lobster roll with mango and crispy potato or the Naiyara roll with truffle oil and salmon belly brulee.
It's easy to neglect the cocktail menu when you're ordering takeout, but make sure to give it a glance this time, because their signature cocktails will elevate your meal from takeout to transcendent.
We're talking What A Pear (Grey Goose La Poire, ginger, and lemon), Rum Forest Rum (dark rum, pomegranate liquor, passionfruit, and basil) and Killer In-Sting (Botanist, lemon, honey, and Thai bird chili). You're welcome.
1854 Bay Rd, Miami Beach, FL 33139
Zuma Miami: Classic Sushi to Share
Zuma Miami's menu is izakaya-style, meaning every dish is designed to be shared among the entire table.
Order one of whatever looks good and prepare to fight for the last bite of each.
From their signature specials like Uni Miso with sea urchin, barley miso, and garlic chips, to their simple nigiri menu with classic offerings like fatty tuna and yellowtail, you'll be delighted no matter what you try.
270 Biscayne Blvd Way, Miami, FL 33131
Los Pinarenos Fruteria: Fresh Juices and Smoothies
The iconic family-owned Los Pinarenos Fruteria oozes homespun appeal.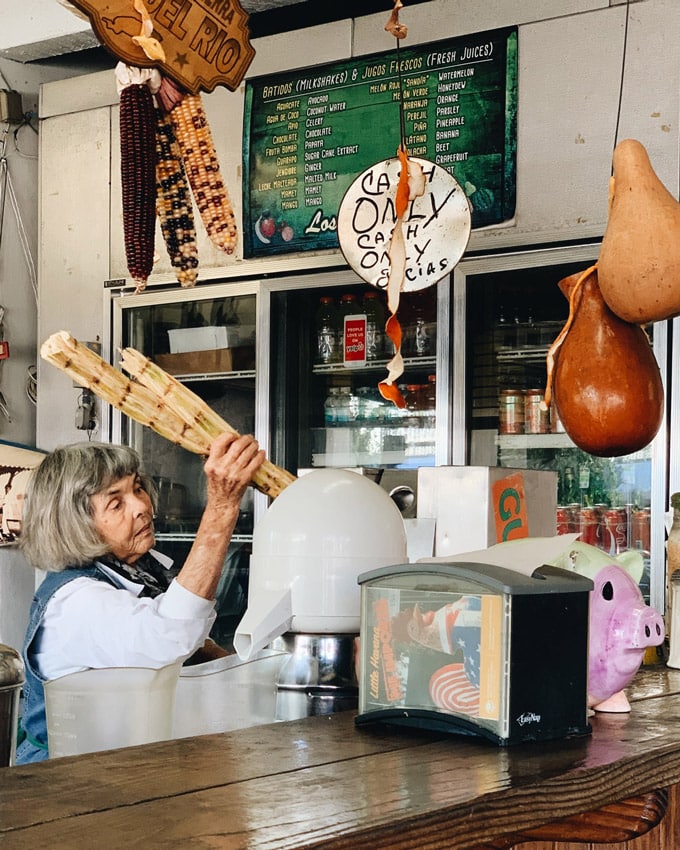 This is where locals stop to buy fresh produce, homemade smoothies, and fresh juices.
Order the fresh sugar cane juice or coconut juice (straight from the coconut) to sip while you wander the neighborhood.
1334 SW 8th St Miami, FL 33135
Red Rooster Overtown (Miami)
At Miami's Red Rooster Overtown, brunch isn't just a meal, but a whole experience.
The Gospel Brunch takes places Sunday from 12:30 – 3:30pm.
Signature items include the Beach Bird Seafood Tower; C.K.'s Chicken and Waffle; and Mama Epps' Biscuits & Gravy made with creamed spinach, crispy gulf oysters, hot and sour fennel.
920 NW 2nd Ave, Miami, FL
Check out my roundup to find out more top things to do in Miami in 2021.