Langley is where you'll find the perfect blend of small town feels, heritage, and a culinary scene fueled by BC's rich agriculture and wine producing terrain. For recommendations on the best local run eateries, bold international flavours, or high-end experiences, check out my roundup of Best Restaurants in Langley.
Ban Chok Dee Thai Cuisine
Local praise of Ban Chock Dee's (20563 Douglas Crescent) award-winning curries, Pad Thai, and satay are a convincing testament to the taste and experience you'll have at this restaurant.
Ban Chok Dee is one of the best restaurants in Langley for Thai cuisine but no award or customer review hits quite like the honor of receiving the Thai Select Premium status by the official Royal Thai Consulate General.
Chef-owner Parinya Loptson offers a closely authentic Thai experience at her restaurant with her perfectly executed and stunning dishes.
From the carefully curated décor to the imported ingredients like lemongrass and chili, this is the closest you'll get to the streets of Bangkok without ever getting on a plane.
Some highlights of the menu are the crispy Golden Wontons; Glass Noodle Salad; Gang Goong Pineapple Curry; Chiang Mai style egg noodles with Chicken; Drunken Noodles and more.
Be sure to try the Thai Basil Stir Fry and the traditional dessert, Khanom Tuai, which has layers of rich coconut cream and a fruity splash of coconut jelly.
Atlas Steak + Fish
Dining at Atlas Steak + Fish (4331 Dominion St) is more than a meal, but an experience.
From start to end, this classy steakhouse inside the Delta Hotels by Marriott Burnaby Conference Centre makes you feel like a VIP through unbeatable hospitality, table-side service, a romantic atmosphere, and the mostly finely prepared local ingredients in Langley.
While you'll definitely find the quintessential steakhouse fare –steak, lamb, salmon, chicken, and more –there is also a number of vegetarian and vegan options so that every palette in town can enjoy the menu, wine, and live piano performances at Atlas.
Some highlights of the menu include the USDA Prime, Double "R" Ranch Tomahawk Steak; Atlas Seafood Tower for Two; and to finish off a Baked Alaska flambéed table side.
Be on the lookout for their seasonal five course menus and wine pairings for a special night out.
Saba Cafe
Saba Cafe (23343 Mavis Ave unit 102) is a lovely, family-run bistro with a menu bursting with flavours inspired by the Middle East and the Mediterranean.
As you walk through the door, you will be met with the pleasant smells of fresh baked goods.
The display case featured a tantalizing range of pastries like galettes, quiches, scones and more.
Nourish yourself with breakfast delights like Classic Farm House Breakfasts, Breakfast Board, and Veggie Breakfast Skillet and House-made Challah French Toast.
OEB Langley
OEB Langley serves breakfast and brunch fare featuring familiar classics and adventurous plates showcasing seasonal, fresh ingredients from local suppliers for guests to indulge in.
Signature dishes include The Soul in a Bowl, French Toast Trifle, and Canadian Lobster and Shrimp Crêpe.
Their 2621-square-foot Langley space is located at #545, 19705 Fraser Hwy, in Willowbrook Shopping Centre's all-new dining and entertainment area, the Courtyard.
Akedo Showten Ramen + Gyoza
Akedo Showten Ramen (20218 Fraser Hwy #102) is the best ramen spot in Langley serving a simple menu of ramen and gyoza at reasonable prices.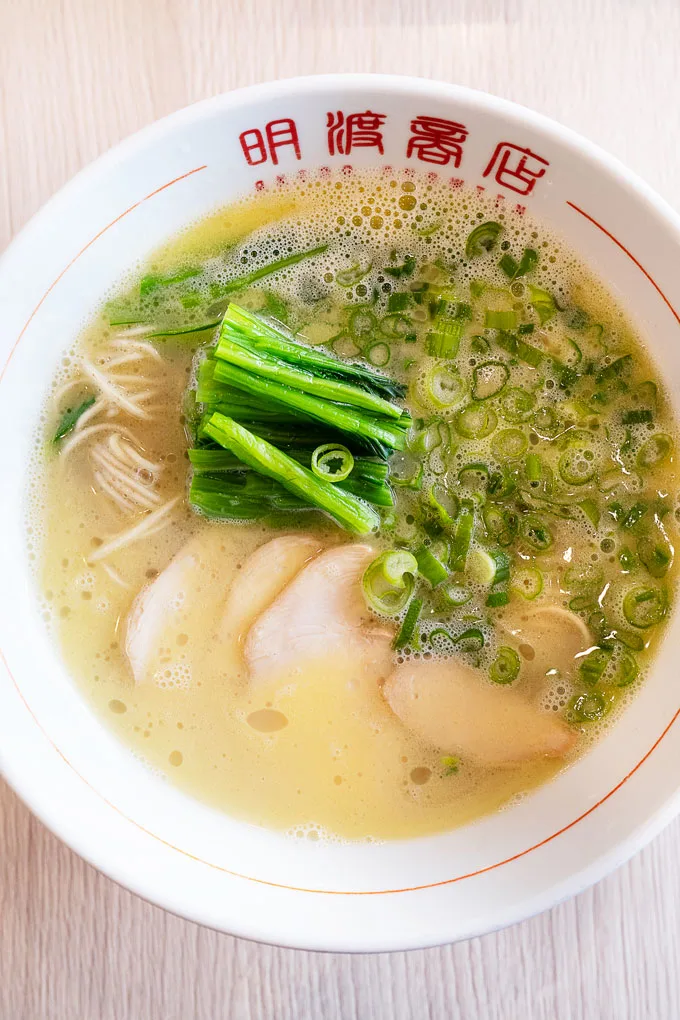 They offer six choices of ramen (Original; Ajitama; Meat Lovers; Oyako; Cheeese; and Veggie) with broth options of White (salt based flavour); Black (soy based flavour with dark garlic sauce on top); and Red (miso based stock).
Their broth is prepared from 100% pure chicken, vegetables, and spices and stewed over a long period to attain a creamy texture.
Their noodles are prepared using 100% Canadian whole grain flour with no eggs.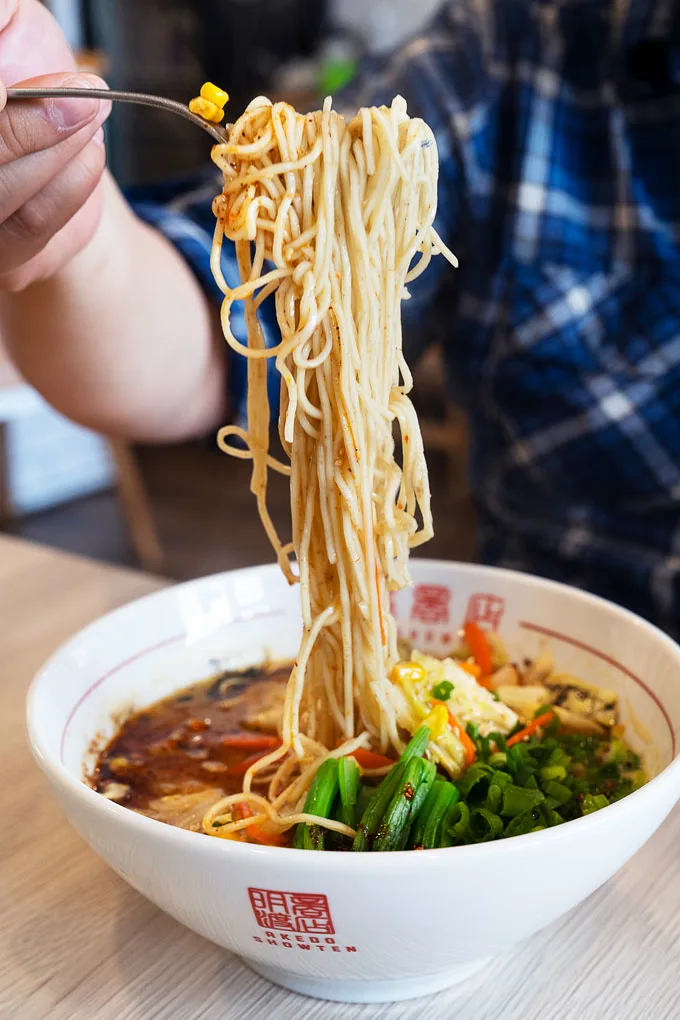 Not to be missed are their house-made gyoza which can be prepared as pan-fried, deep-fried or boiled.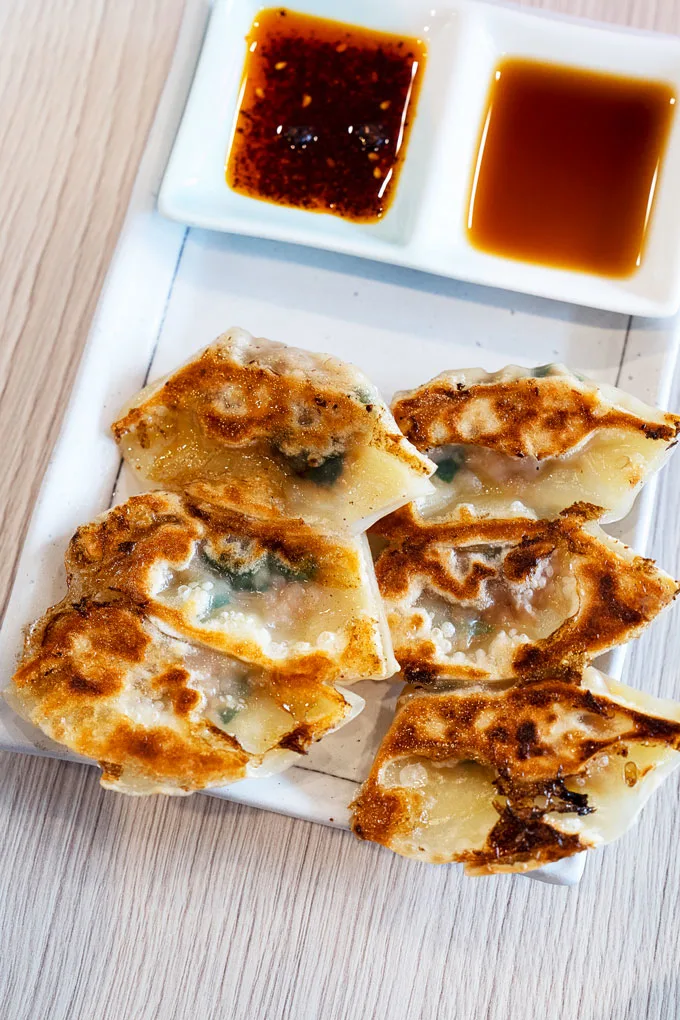 Furthermore, their food is MSG free! Prices are reasonable too with the Original bowl starting at $12 and the most expensive one being the Oyako at $17.
THE KATSU Cutlet House
For all things fried, The KATSU Cutlet House (5576 204 St) has you covered.
In case you've never heard of this Japanese specialty, katsu is a panko breadcrumb-coated protein, like chicken, pork, or fish, that is deep-fried and served perfectly crunchy.
Here at THE KATSU, their homemade panko is made in house and served with their special sauces, cabbage salad, and a bowl of udon noodles.
Katsu options include Rosu Katus (deep fried pork loin); Hire Katsu (deep fried pork tenderloin); Chicken Katsu; Fish Katsu (deep fried white fish fillet) and more.
For the indecisive, the Assorted Katsu Set gives you a tasting of their most popular options.
If you're adventurous, try the Pizza Katsu featuring deep fried pork loin with pizza toppings or the Cheese Katsu with deep fried mozarella cheese wrapped with thin cut pork loin.
An Indian Affair
An Indian Affair (19653 Willowbrook Dr #146) is known to be one of the best restaurants in Langley for Indian cuisine so you know the food is going to be spectacular.
Their authentic delicacies keep curry-lovers from all over the area coming back for more of their bold flavors.
An Indian Affair is perfect for both a casual meal and a special night out due to its modern, elegant design.
Sit down for a spicy red curry, their popular tikka masala, and a heaping plate of fresh naan.
Some favourites from the menu include the Tandoori Chicken which is marinated overnight then broiled in a clay oven; street food style Kadai Lamb; and Kerala-style Allepy Fish Curry in coconut milk.
Their portions are generous and if you stop in at lunch, you'll have the opportunity to sample a variety of menu items at the buffet.
On the weekends, they offer live music which adds to the lively atmosphere.
Kostas Greek Restaurant
Kostas (20080 Fraser Hwy) is a long-standing, family-run Greek restaurant serving up family recipes that have been passed down for generations.
Some of their specialties includes Spanakopita; Charbroiled Lamb Chops; Athenian Chicken Stir-Fry; Chicken, Beef, Lamb or Prawn Souvlakis and more.
The menu also has a variety of soups, salads, steak, schnitzels, and pasta to choose from as well.
In traditional Greek style, top off a savory meal with a sweet taste of bougatsa, which is a custard pie, for dessert.
In addition to a delicious selection of food, the restaurant is outfitted in modern décor and features live music and dancing on the weekend, making Kostas the perfect place for a fun night out as well as a romantic spot for a date.
Andreas Restaurant
Andreas (20227 56 Ave) is the premier spot in town for pizza and Mediterranean cuisine.
However, you should know that dining at Andreas feels much like being welcomed into a home.
Not only does the father-son duo who own and operated the restaurant create a family-run feel, but a large portion of the staff, including chefs and servers, have been working at Andreas Restaurant for more than 25 years.
As for the food, you'll find a wide variety of seafood dishes inspired from Greece, Italian style pastas, steak and barbeque, and pizzas made with handmade dough.
Despite an extensive menu, each dish is made entirely from scratch, in-house, with local ingredients in order to deliver the most delicious plates possible.
Make sure to give the Greek Platter, the Chicken Cordon Blue, Roast Lamb Kleftico or the Ten Rich Toppings Pizza a try when you stop in.
Estrella's Montreal Deli
Sink your teeth into the most tender smoked meat you've ever tasted at Estrella's Montreal Deli (5932 200 St).
You'll understand immediately why the various smoked meats at Estrella's are such a hit with the locals.
Prepared on freshly baked bread with a handmade tangy mustard, and fresh local toppings, these sandwiches are old-school and addictive.
Try the Estrella Special featuring a quarter pound of smoked meat, mustard, sliced pickle and toasted with Swiss cheese on an organic brioche bun.
The Montreal is also delicious with sliced beef brisket with regular or dijon mustard on organic light rye.
In addition to sandwiches, you'll find the menu also features equally hearty comfort foods like poutine, burgers, paninis, and homemade soups and salads.
Not only is the food amazing, but their warm and welcoming hospitality will make you feel right at home.
Maru Japanese Restaurant
From the outside, Maru (20631 Fraser Hwy #105) may look like just another sushi spot.
However, their interior is uniquely decorated with wood paneled walls that are complimented with the Kyoto Tsujikura Japanese umbrellas and authentic artwork.
Their menu is filled with a variety of sushi, sashimi, donburi rice bowls, and combo meals.
Some of the unique Maru Special Rolls include the Super BC Roll featuring fried salmon on the inside with a light BBQ salmon on top; and the White Roll which is a California roll with baked red snapper and mozzarella cheese on top.
As for beverages, the menu has both imported Japanese beers and local favorites as well as sake and wine to fit all tastes.
Luxe Chinese Seafood Restaurant
Luxe (19653 Willowbrook Dr) is one of the best restaurants in Langley for Chinese cuisine, specializing in traditional Cantonese dishes since 2007.
Their menu is vast, offering a variety of hot pot, BBQ, fried rice, noodles, seafood, and more.
This is in addition to Dim Sum carts making their way through the dining room placing piping hot bamboo baskets directly at your table.
You'll find the dim sum classics but check out the Chef's Specials which include Deep Fried Chicken Wings; Pan Fried Rice Roll in Special Soy Sauce; Deep Fried Bean Curd in Salt & Pepper and more.
They also have a Night Dim Sum menu from Monday – Friday (Tuesday closed) 5 pm – 9 pm.
From the dinner menu, try the Braised Beef Brisket Hot Pot and Peking Duck (2 courses).
Jerusalem Grill
If you've been searching for a truly crispy and flavor-packed falafel, look no further.
Jerusalem Grill (19700 Langley Bypass #102) is one of the best restaurants in Langley specializing in Mediterranean and Middle Eastern cuisine.
In addition to high-quality falafels, you'll have to try a variety of their starters and mains, including the hummus and pita, deep fried kebabs, grilled lamb skewers, shawarmas, and their amazing garlic spread that is supposedly made with a secret family recipe.
As a family-run spot, their no-frill approach to honest and down to earth food with homecooked flavors creates an amazing and welcoming environment.
Woorinara Korean Restaurant
Woorinara (5499 203 St #102) is one of the best restaurants in Langley for Korean cuisine.
Its charming store front is as warm and inviting as the modern interior and homestyle, family-run Korean menu.
Whether you're new to Korean flavors or you're discovering Woorinara's dishes are just as good as your family recipes, the menu is sure to impress.
Some top choices include the Seafood Scallion Pancake (Haemul Pajeon); Spicy Hot Pot with Pork Bones and Assorted Vegetables (Gam Ja Tang Jeon Gol); and Noodles with Diced Pork and Veggie in Black Bean Sauce (Jja Jang Myun Noodle).
Me-n-Ed's Pizza Parlor
What's more trustworthy than a pizza parlor that's been operating since 1969?
It's no doubt that Me-n-Ed's Pizza Parlor (20270 Fraser Hwy) is one of the best restaurants in Langley for pizza.
This landmark pizza joint is known for its light, thin, crispy crust and fresh toppings piled onto a blend of six cheeses.
Their open kitchen and signature red décor make Me-n-Ed's the perfect spot for a casual meal or a family friendly outing.
Some of their most beloved pies include The Soprano which is topped with bocconcini cheese, roma tomatoes, basil, onions, herbs, and capicollo.
For a spicier, meat-lover's version, go for the Gangster pizza which is loaded with salami, pepperoni, capicollo, mushrooms, onion, and Italian sausage.
You can also find appetizers, salads, sandwiches, and local craft beers as well.
Annora Restaurant
Annora (5572 204 St) is known one of the best restaurants in Langley for farm-to-table freshness.
It's no wonder, considering their name translates to honor in Latin.
Aaron, Annora's Canadian-born and trained chef and owner, is the inspiration behind the establishment.
He ensures everything is made entirely in-house for top-notch quality and taste.
Each handcrafted item on the menu is more enticing than the last, with options like the pork belly gnocchi, short rib perogies, and beet and goat cheese salad just as starters.
You'll notice the entrees feature the local farms that source the dish, such as Rossdown Farms Chicken Breast with truffle mushroom or the Gelderman Farms Pork Chop with apple mustardo and potatoes.
Not only does this create transparency and knowledge of where the food is sourced, but it is also a great way to support local farms as well.
Sushico Japanese Restaurant
Last but not least on this list of Best Restaurants in Langley is Sushico Japanese Restaurant (20065 Langley Bypass #102).
This modern dining room boasts an extensive menu filled with Asian fare. This includes soups, rice, salad, tempura, sashimi, sushi, noodles, and boxes.
The contemporary space is clean, minimalist, and the dark walls, black seating, and jet-black plates create a high-end feel.
While everything on the menu is consistently spot-on, the rolls are what really stand out.
Some of the best rolls include Viking roll, the Spicy Dynamite and the Shrimp Panko if you're in the mood for a bit of a crunch.
You might also be interested in Things to Do in Langley: Dine, Shop, See, Drink.