Edmonton is home to a number of fantastic brunch restaurants, serving everything from classic eggs benedict to warm, squishy homemade cinnamon rolls. There's no doubt that while you are in Edmonton, brunch is a must. Check out this roundup on restaurants serving the best brunch Edmonton.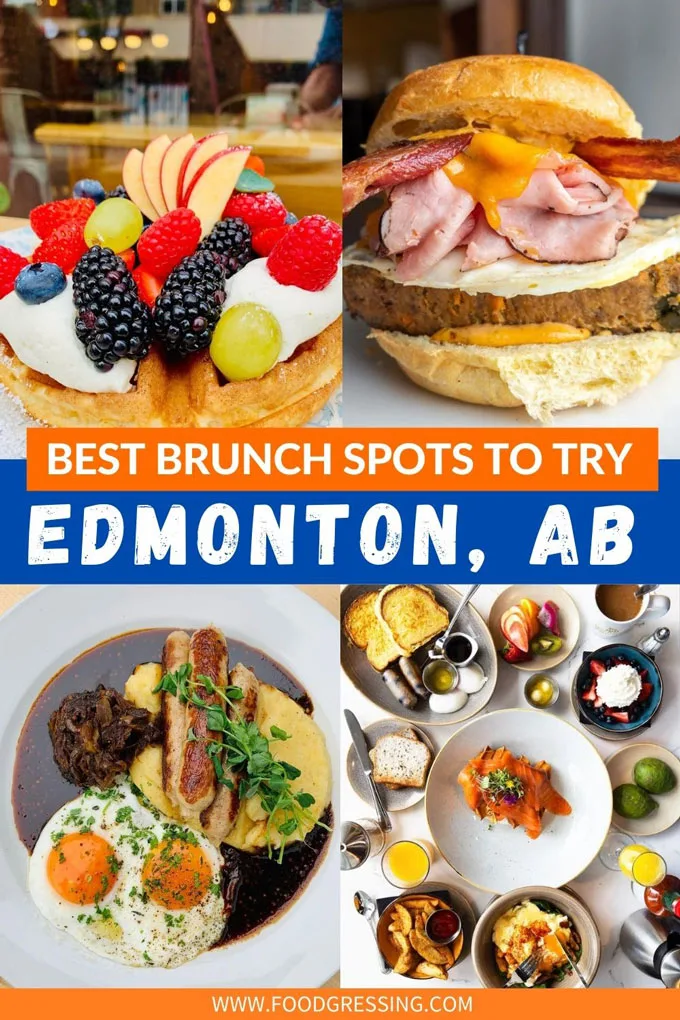 Note: The restaurants are listed in no particular order.
Tiramisu Bistro
While Tiramisu Bistro (10750 124 St) is known for their pasta, pizza, and sandwiches, they also have a stellar brunch menu.
For brunch, they have a delicious selection of benedicts (like Salmon Benny and Avocado Benny); brunch bowls (like Smoked Brisket Hash and Scallop Cremini Mushroom Hash); and sandwiches (like Applewood Smoked Bacon Sandwich and Veggie Breakfast Sandwich).
An entire part of the menu is dedicated to dishes with a combination of sweet and savory flavours, including the Applewood Smoked Bacon Crepe and the Bourbon Madagascar Cinnamon Brioche French Toast.
After your meal, make sure to stop by the bakery on display in the front of the restaurant, perfect for dessert, or take it to-go if you don't have room.
Their brunch menu is offered weekdays from 9 am – 1 pm and on weekends from 9 am – 4 pm.
One thing is sure – no matter what you order at Tiramisu Bistro, your belly is guaranteed to leave happy.
OEB Breakfast Co.
OEB Breakfast Co. (10240 124 St & 0174 100a St NW) is one the best breakfast/brunch chains in Canada with two locations in Edmonton.
OEB is a chef-driven, locally owned concept serving gourmet dishes, complemented with lighter cuisine and vegan alternatives.
Among their signature menu items are the Canadian Eh! Benny (Canadian back bacon, dark maple syrup, or brown butter hollandaise) and the Fresh Toast Trifle (Meyer lemon curd, market berries, Sicilian pistachio, torched French meringue).
In addition, they provide an array of delectable breakfast poutines, such as the Soul in a Bowl, which is made with duck fat-fried herb potatoes, Saint Cyrille curds, slow-cooked bacon lardons, and brown butter hollandaise. The Soul in a Bowl is one of my all-time favourite OEB offerings.
OEB takes pleasure in procuring high-quality products and collaborating with local suppliers.
Due of their popularity, wait times are very common, so I suggest adding your name to their queue through Yelp before you head to the restaurant.
Toast Culture
If you are a fan of avocado toast, you need to check out brunch at Toast Culture (11965 Jasper Ave).
This cafe has partnered with a local bakery, local coffee roasters, craft breweries, and local farmers to source the freshest ingredients possible.
As a relatively new restaurant founded in 2019, the Toast Bar menu offers toast with a variety of toppings.
Traditional avocado, smoked wild salmon, ahi tuna, cinnamon are just a few of the toast options at Toast Culture.
If you want to eat something with a little more substance, they serve other entrée options like Chicken & Waffles, Reuben Sandwiches as well as several pizza options on Thursdays and Fridays.
This restaurant feels chic and modern with white tiled walls, dark accents, marble tables, and chunky light fixtures.
Cafe Mosaics
Cafe Mosaics (10844 82 Ave NW) offers one of the best meatless brunch selection in Edmonton.
While this place opened in the 1990s, the creative vegan and vegetarian items on today's menu were not developed until 2010 under new ownership.
Using whole foods, organic herbs, and simple ingredients, the food at Mosaics is healthy, fresh, and tasty.
Breakfast bowls, eggs benedict, huevos rancheros, and apple cinnamon pancakes are served all day long.
This restaurant also offers a variety of vegan burgers, wings, and grain bowls.
The Against All Grain Benny is a popular choice with two poached eggs, green onions and shredded potato hash served in a hot skillet with their vegan hollandaise sauce.
Another unique menu item is the Braised Jackfruit tacos served in white corn tortillas with crunchy cabbage, avocado chipotle aioli and fresh pico de Gallo.
Cafe Mosaic's white and earthy interior opens up on sunny days to the outdoor patio, making this an excellent spot for brunch on a summer morning.
Urban Diner
Brunching in a strip mall might not be your first choice, but you might change your mind after eating at Urban Diner (12427 102 Ave).
You can order classics like eggs benedict, hash, French toast, and waffles, but if you're in the mood for something different, this restaurant has other great, creative options, too.
The Breakfast Burger won't leave you hungry, as it comes with three different kinds of meat: ham, bacon, and meatloaf. A fried egg, cheddar and roasted red pepper aioli complete the stack.
Hashbrowns come as a side, perfectly hot and crispy.
Waffle lovers can enjoy it in a savoury option with smoked strip bacon, maple sage pork sausage, sunny up egg, maple syrup or sweet with compote, praline, maple syrup, and whipped cream.
The Dutch Poffertjes, comprised of dollar-sized pancakes, icing, chocolate sauce, and maple syrup, will most definitely satisfy any sweet tooth.
While the inside of Urban Diner is cute, the outdoor dining space is even better.
The deck-like patio is covered with a white pergola, flower vines, plants, and a leafy neighborhood view.
Sugarbowl
Next on this roundup of Best Brunch in Edmonton is Sugarbowl (10922 88 Ave NW) – a bistro-style eatery that serves brunch on the weekends.
In 1943, Sugarbowl first opened as a burger joint, transitioned to a coffee house in the 50s and 60s, and then finally evolved into the full-service restaurant that exists today.
The industrial-style space, featuring exposed brick decorated with black and white photographs, makes this restaurant feel especially laidback. Outdoor seating is also available on the streetside patio.
Menu favorites include their ultra-fluffy cinnamon rolls which are baked fresh daily; the generously portioned Chicken and Waffles; and the Spicy Huevos Rancheros.
Sugarbowl is also the first Edmonton restaurant to offer a vast selection of craft and Belgian beers, so be sure to order a drink while you're here.
Under The High Wheel
Under The High Wheel (8135 102 St NW) specializes in old world, Canadian comfort food in an inviting atmosphere.
Whether you sit inside or outside, both environments are equally charming.
Outdoors, you will find a spacious patio brimming with flowers.
Meanwhile, the interior is decorated with wooden materials, metals, earthy colors, and warm lighting for a chic, yet welcoming, ambiance.
The kitchen focuses on organic, local, sustainable, and fresh ingredients.
Because of this, the menu frequently changes to accommodate seasonal produce.
The Bangers & Mash is a favourite featuring free-range organic chicken honey sausages, roasted garlic mashed potatoes, two sunny eggs, beef reduction, and caramelized onion.
The Buckwheat Crepe with fresh fruit, Chantilly cream, coffee chocolate sauce and roasted hazelnuts is also delicious.
You also can't go wrong with the Crispy Belgium Waffles with vanilla Chantilly cream, fresh berries, and maple syrup.
Brunch happy hour runs from 11 am to 12 pm, Monday-Thursday, offering a great discount on mimosas.
Wilfred's
Located on the west edge of Edmonton's Brewery District, Wilfred's (10429 121 St NW) serves amazing brunch in a cozy 100-year-old brick building.
After spending the morning strolling around this urban and diverse neighborhood, stop into Wilfred's for a scrumptious brunch, excellent service, and a lovely atmosphere.
The pink and white tiled bar area, white walls that seem to be covered in crayon pictures, and light wood accents, create an airy and playful feeling throughout the building.
The weekend brunch menu, while delicious, reads more like a lunch menu.
While you can order avocado toast and eggs, the show's real stars include the Hot Maple Chicken Sandwich and the Maine Lobster Roll.
Cocktails, like mimosas and Caesars, are also available at brunch.
Be sure to order the Bananas Foster Cinnamon Bun with your coffee; this is the perfect morning sweet treat.
Pip
Pip (10403 83 Ave NW) is where you can find brunch every day of the week from 9 am – 3 pm.
This restaurant has an adorable space in the Old Strathcona neighborhood.
Sit at the blue-tiled bar for a quick bite and a drink, or enjoy the rest of the area, showcasing black walls with funky, artistic accents.
The outdoor patio is laid with red bricks, providing sidewalk views of the neighborhood.
Pip serves classic breakfast staples like a traditional eggs benedict, breakfast sandwiches, avocado toast and more.
For those with a sweet tooth, try the sweet baked French toast topped with maple cream cheese and strawberry rhubarb jam. Pair it with a delicious cappuccino.
Their latest brunch feature is Croque Monsieur featuring shaved ham and Swiss cheese on grilled sourdough, topped with baked cheese sauce.
Pip also serves a variety of brunch cocktails, such as the Strawberry Sbagliato (strawberry-infused campari, sweet vermouth & prosecco) or the Breakfast Negroni (gin, campari, sweet vermouth, pineapple).
Canteen
Canteen (10522 124 St) is an excellent spot for unique brunch items, serving elevated and internationally-inspired small plates and entrees.
For brunch with a bit of a kick, order the Huevos Canteenos, Canteen's spin on huevos rancheros.
Another brunch favorite is the pork belly, served with fried eggs, baked polenta, caramelized onions, and crispy brussels sprouts.
For seafood lovers, you can't go wrong with the shrimp toast benedict.
Canteen's atmosphere is just as great as its menu.
Dark colors and metal tones give this space a modern urban feel.
Flawless service, a bustling atmosphere, and mouthwatering entrees are just a few reasons to visit Canteen for your next brunch outing.
Cafe Blackbird
Cafe Blackbird (9640 142 St NW) is a sweet little local coffeehouse with breakfast, lunch, and brunch options, located in the Crestwood area.
Their concept started from the idea that there is strength in community – that is, to help grow, nourish and support those around us.
This cafe focuses on healthy and delicious meals that are sourced from local, high-quality ingredients.
Think perfectly roasted coffee courtesy of Rosso Coffee Roasters; beautifully blended teas by The Tea Girl; freshly baked bread from Cob's Crestwood; specialty meats thanks to Meuwly's; and greens Reclaim Urban Farm.
Their menu is also highly inclusive, providing vegan, vegetarian, gluten-free, and nut-free options.
Cafe Blackbird's all-day brunch menu offers a variety of toasts, sandwiches, bowls, quick bites, and baked goods.
Some highlights from the menu include the Banana Bircher Muesli; Citrus Smashed Avocado Toast; Spin-Dip Sammie; Waffle Donuts; Maple Charred Butternut Salad and more.
Friendly staff, tasty food, and so many drinks to choose from will make you want to keep coming back to Cafe Blackbird.
Juniper Cafe & Bistro
Juniper Cafe & Bistro (9514 87 St NW), specializing in daytime fare, prepares fresh, seasonal, and homemade goods sourced from local ingredients whenever possible.
This cafe's breakfast menu is simple, featuring a breakfast bowl, huevos rancheros, berry waffles, and a benedict sandwich.
Be sure to start your meal with a freshly made scone slathered with lavender honey butter; you won't regret it.
Beverages are organic, from coffee in the morning to cocktails in the evening.
The interior of Juniper feels homey.
Sports memorabilia, vintage celebrity photographs, and fun light fixtures are sprinkled throughout the space.
There's no doubt that Juniper Cafe & Bistro is a top choice for a casual brunch with organic options.
Later in the morning, this top-notch eatery can get quite busy, so reservations are recommended.
Blue Plate Diner
Blue Plate Diner (12323 Stony Plain Rd) is one of the quirkiest weekend brunch spots in Edmonton.
This eatery's interior is just as vibrant as its food, with orange ceilings, lime green beams, exposed brick, and unique wall art.
While you're here, start your meal with a warm, squishy cinnamon bun, which sells out in record time on the weekends.
The massive size and thick icing make these buns a real crowd-pleaser.
The Back Bacon Benny is another menu favorite.
This dish is just the right amount of spice and crunch with Irving's Farm crisp jalapeno bacon, poached eggs, and homemade hollandaise on top of an English muffin.
For a sweet and savoury dish all-in-one, get the Bacon Stuffed Pancake strips featuring 3 strips of bacon dipped in pancake batter and griddled up for dippin' in maple whipped cream.
Highlevel Diner
Ideal for artistic brunch-lovers, Highlevel Diner (10912 88 Ave NW) showcases local art while serving a traditional Canadian brunch.
Warm colors, wood tones, and friendly service contribute to the coziness of Highlevel's laidback atmosphere.
While you're here, don't forget to try a cinnamon bun, which is served with a mouthwatering caramel bourbon sauce at the bottom, and cream cheese frosting on top.
The cinnamon bun alone will be more than enough to keep you coming back to Highlevel Diner.
If you need more protein, try the Got Beef Benedict, which comes with local short ribs.
Besides brunch, this restaurant has a diverse array of menus, including lunch, dinner, fried chicken, turkey barbeque box, and a hygge comfort menu.
Whether you are craving a classic breakfast or European comfort, Highlevel caters to everyone.
Barb & Ernie's Old Country Inn
Barb & Ernie's Old Country Inn (9906 72 Ave NW) may not be the chicest spot in Edmonton, but that's only because all the focus here is on the food.
This no frills, German-style restaurant tends to go heavy on the meat, which isn't a bad thing.
Meatloaf, schnitzel, and bratwurst are just a few of the breakfast meats to be enjoyed.
Barb & Ernie's breakfast menu is vast, offering everything from omelettes to hotcakes.
You can order almost any kind of eggs benedict, choosing from proteins like steak, shrimp, smoked salmon, crab, salami, turkey bacon and more.
The German Bacon Pancakes are another menu favorite.
These hotcakes are bacon fried into a thin pancake and topped with lots of syrup and butter.
Sometimes they have breakfast specials like Apple strudel crepes with cream cheese drizzle and fresh whipped cream.
Tasty Tom's
Located in a tiny red and yellow building, Tasty Tom's (9965 82 Ave NW) looks like a hole-in-the-wall, but the food does not match its appearance.
This restaurant's interior is simple, but rustic decor creates a warm and friendly environment.
Along with several omelets, you can order steak and eggs, breakfast pizza, schnitzel, pancakes, and French toast.
Tasty Tom's makes their ketchup homemade, which is a real crowd-pleaser.
Guests love this ketchup so much that bottles are available for purchase.
Tasty Tom's will make you feel right at home with giant portions and a casual environment.
You might feel so at home that you don't want to leave.
Also check out my roundup of best restaurants in Edmonton for your next foodie adventure!