Canada's northernmost metropolis, Edmonton, is where you will find a thriving food scene. This list on Best Restaurants in Edmonton 2022 showcases restaurants for every palate, whether you are Downtown, on the southside or near West Edmonton Mall.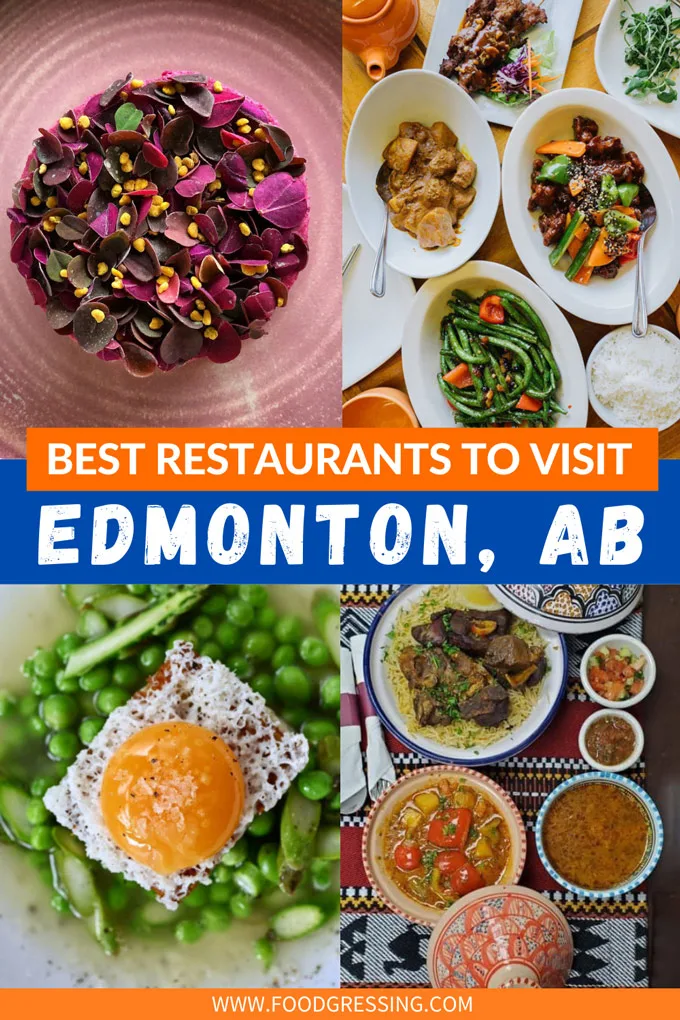 From casual diners creating classic Canadian favorites, to fine dining and global cuisines, there is something on this list for everyone.
The restaurants are listed in no particular order.
The Butternut Tree
The Butternut Tree is where you will find an inventive menu of Canadian cuisine featuring seasonal ingredients from Canada's landscape.
Chef Owner Scott Downey opened up The Butternut Tree as a place that celebrates the art of gathering, in both fine company and ingredients.
On the menu, you'll find items such as Brome Lake Duck Confit; Foraged BC Lobster Mushroom; and Alberta Braised Beef Shortrib.
Finish off with a beautiful dessert like the Sea Buckthorn Ice Cream and Saskatoon Berry Mousse.
The Butternut Tree has an inviting dining room with a panoramic view of River Valley and the Alberta Legislature Grounds.
Sabor Restaurant
The dining experience at Sabor Restaurant is filled with European tradition.
From the live musicians and pianists to the delectable blend of Portuguese, Spanish, French, and Italian influences, you're sure to have an unforgettable experience in the heart of Downtown and the ICE District.
Owners and childhood friends Christian Mena and Adelino Oliveira were both born in Chile and Portugal respectfully, but grew up in the melting pot that is Edmonton.
Their dream of opening a restaurant that embodied the great food, music, family, and neighbors they grew up with came to fruition in 2008.
The rustic yet elegant venue features dark and romantic with stained wood tables, red brick walls, and dim mood lighting.
OceanWise certified, Sabor offers Edmonton's best, most-sustainable seafood menu as well as meat and vegetarian options.
Some highlights of the menu include the Seafood Platter (lobster tails, scallops, piri piri prawns, fried calamari, mussels, clams, King Crab risotto); Seafood or Chicken and Chorizo Paella; and Indo-Portuguese Coconut Curry.
10220 103 St NW, Edmonton
Under The High Wheel
Under The High Wheel specialises in Canadian comfort food featuring organic, local, sustainable, and fresh foods.
They're one of the best brunch spots in Edmonton, serving brunch 7 days a week from 9 am – 3 pm with menu items that include soups, salads, sweets, savouries and more.
The Bangers & Mash is a popular dish made with organic free-range chicken honey sausages, roasted garlic mashed potatoes, two sunny eggs, beef reduction, and caramelised onion.
Also popular is the Buckwheat Crepe with fresh fruit, Chantilly cream, coffee chocolate sauce, and toasted hazelnuts.
The Crispy Belgium Waffles with vanilla Chantilly cream, fresh berries, and maple syrup is also a must-try.
8135 102 St NW
Tzin Wine & Tapas
Tzin Wine & Tapas is one of the best wine bars and best restaurants in Edmonton for tapas.
On the menu is an assortment of eclectic Spanish Tapas and European dishes and an accompanying stellar wine list.
Located in Downtown Edmonton, Tzin Wine & Tapas boasts an intimate setting and alluring ambiance making it the perfect spot for date night or a special occasion.
Guests rave about the phenomenal service almost as much as they do about the elegant menu.
Popular dishes include the Gnocchi (with Alberta beef brisket, mushroom and tomato ragu); the Wild Boar Meatballs served with their signature bacon; and the Paella featuring king shrimp, jerk marinated chicken, jalapeno salsa, saffron, bomba rice, and mango oil.
If you've got the appetite, their multi-course "Feed Me" tasting menu offers a bit of everything and is served with their ever-changing wine list.
10115 104 St NW, Edmonton
The Bedouins
As soon as you walk through the door at The Bedouins, you will be greeted with an intoxicating aroma of North African spices and a warm welcome from the owners who are known to greet every table.
Whether you are familiar with Arabian or North African dishes or not, you will feel right at home.
Don't be surprised if the owners even offer you some sample plates to have a taste before you order.
The no frills, cozy atmosphere and fantastic hospitality are just as unique and pleasurable as the delicious food.
Each plate serves a generous portion of authentic, bold flavors and perfectly prepared, authentic dishes.
Popular choices include the Chicken Tagine, Chicken kebabs, and Batata Mbattana, a Libyan dish consisting of a breaded and fried mashed potato ball seasoned ground meat.
13716 Castle Downs Rd NW, Edmonton
Corso 32
Chef owner, Daniel Costa, is an expert in Italian dining.
His traditional dishes are served with a modern flare which consistently place Corso 32 as one of the best restaurants in Edmonton.
The simple, straight forward design of the space draws all the attention to the expertly plated and wonderfully delicious meals.
The Corso menu is traditional in its structure according to Italian meals but modern in its execution.
Antipasti are designed to share while Primi and Secondi dishes to be enjoyed individually.
Their wine lists features a wide range of unique Italian varietals.
Corso 32 will reopen in 2022.
10345 Jasper Ave, Edmonton
OEB Breakfast Co.
OEB Breakfast Co. is one the best breakfast and brunch restaurants in Edmonton.
OEB is a chef-driven and locally-owned concept with menu items that simply can't be made at home, balanced by lighter fare and vegan options.
Some of their Signature items include Canadian Eh! Benny (Canadian back bacon, dark maple syrup or brown butter hollandaise) and Fresh Toast Trifle (Meyer lemon curd, market berries, Sicilian pistachio, torched French meringue).
They also have a selection of amazing Breakfast poutines like the Soul in a Bowl featuring duck fat fried herb potatoes, Saint Cyrille curds, slow cooked bacon lardons, and brown butter hollandaise. The Soul in a Bowl is one of my favourites from OEB.
OEB takes pride in sourcing high-quality ingredients and working with local producers wherever possible.
In Edmonton, they have 2 locations. Due to their popularity, waits are super common so I recommend that you put your name down on their waitlist via Yelp even before you arrive.
10240 124 St, Edmonton
10174 100a St NW, Edmonton
Bistro Praha
You'll feel instantly transported to Eastern Europe while dining at this family-owned, Czech restaurant.
Bistro Praha has had its doors open for over 45 years working to fill the bellies of locals with homecooked, old-European flavors.
They have become an institution in Edmonton and fixture in the local dining scene.
The late Frantisek Cikanek was the original owner, but his former employees opted to buy the restaurant after his death to keep his legacy and vision alive.
Cikanek was inspired by restaurants he frequented in Prague (Praha) that served Czech delicacies and played classical music in the background.
Upon walking through the doors, you'll be greeted with simple, elegant décor.
Old European-style chandeliers adorn the ceiling, and the walls are lined with classic landscape art.
Each of your senses will be in complete bliss as you indulge in authentic goulash, sauerkraut soup, wiener schnitzel and more while listening to live classical music.
Enjoy a beverage from their drink list featuring European wines, beers, ales and more.
Top off a fantastic dining experience with an Austrian apple strudel before you go.
10117 101 St NW, Edmonton
Normand's Restaurant
Since 1989, owner Normand Campbell's unparalleled hospitality has been the heart of this longstanding restaurant.
He is known for greeting every guest, serving tables himself, and even bussing them afterward.
Normand's hands-on approach provides diners an exceptional level of service they'll be hard-pressed to find elsewhere.
Normand's Restaurant is considered a French restaurant but is best known for its wild game and seafood.
Lac Brome Roast Duck; Alberta 10 oz Bison Rib Eye Steak; Lobster, Scallops & Wild Jumbo Shrimps Mornay are just some of the highlights from the menu.
Finish off with a delectable dessert like the Terrine of Sorbets, Sticky Date Pudding and more.
11639 Jasper Ave, Edmonton
The Lingnan
One of the most longstanding and best restaurants in Edmonton for Chinese cuisine is The Lingnan.
This family-owned and operated restaurant started in 1947 on the corner of 97 street and Jasper Avenue.
As Chinese food became more popular in the city, the owners decided to expand and move into their current location in 1963.
Some of the most popular dishes are the Dry Crispy Chicken (crispy chicken strips wok tossed in their special blend of chili salt and chili oil) and Sweet and Sour Boneless Pork.
10582 104 St NW, Edmonton, AB
The Marc
The Marc is one of the best restaurants in Edmonton for steak and traditional French bistro fare.
They are known for their grilled ribeye steak with foie-gras butter as welll as their delicious steak tartare.
The Marc offers a comfortable yet elevated dining experience that is perfect for a date night.
The dining room is styled in warm shades of white, taupe and black and the bar is made of reclaimed marble from the CN Tower in Toronto.
When the weather permits, enjoy the tastes and aromas of the Marc's cuisine on their cozy patio.
9940 106 St, Edmonton
Bündok
Bündok, meaning mountain in Tagalog, is an award-winning restaurant in the heart of Downtown Edmonton.
Some of the accolades Bündok has received includes one of "Canada's 100 Best Restaurants" as well as "Canada's Best New Restaurants 2018."
Owner and executive Chef Ryan Hotchkiss executes a variety of delicious plates that are served as a sharing concept.
Some highlights of the menu includes Chicken Liver Tartine; Gnocchi Parisienne with Mushroom & Leek Ragu; Beef Tartare with Soy Pickled Shitake and more.
The venue itself has a chic-industrial ambiance with trendy blue walls, exposed cinder block, and an open kitchen concept.
In addition to the ability to sample many different dishes, the menu offers a unique cocktail experience.
Guests choose a base liquor and a flavor style, and the bartenders will take the combo to invent a drink that is personalized for you.
10228 104 St NW, Edmonton
Vaticano Cucina
Vaticano Cucina is one of the best restaurants in Edmonton for Italian cuisine.
The perfectly executed homemade pastas and traditional dishes are inspired by family recipes and prepared with an inventive twist.
Enjoy an extensive menu that uses only the freshest ingredients to make a variety of antipasti, salads, fresh pasta, and wood fired pizzas.
Their Neapolitan pizzas are made fresh out of the conspicuous wood-fired oven and come with an assortment of rich toppings that include corn and lemon, onion, jam, ricotta, and more.
Furthermore, each of the 15 pizza options are given saintly names. For example, the "St. Teresa" features arugula greens, prosciutto, fontina cheese and is loaded with an anchovy vinaigrette. The St. Francis is made with fresh figs, arugula, goat cheese, onion jam, fresh figs, and a balsamic drizzle.
Other popular dishes on the menu include the Gnocchi Poutine; Bucatini Carbonara; and Spaghetti Vaticano.
Guests enjoy the traditional hospitality of Vaticano Cucina and the warm, cozy atmosphere.
Not only can diners peer through Chef Nial's open kitchen, but the ceiling is painted to replicate the Sistine Chapel which will surely make you feel in Italy as you enjoy your meal.
10310 45th Ave NW, Edmonton
Tiramisu Bistro
Tiramisu Bistro may be known for their pasta, pizza, and sandwiches, but they also have a stellar brunch menu.
For brunch, they have a delicious selection of benedicts (like Salmon Benny and Avocado Benny); brunch bowls (like Smoked Brisket Hash and Scallop Cremini Mushroom Hash); and sandwiches (like Applewood Smoked Bacon Sandwich and Veggie Breakfast Sandwich).
An entire part of the brunch menu is dedicated to dishes with a combination of sweet and savory flavours, including the Applewood Smoked Bacon Crepe and the Bourbon Madagascar Cinnamon Brioche French Toast.
After your meal, make sure to stop by the bakery on display in the front of the restaurant, perfect for dessert, or take it to-go if you don't have room.
One thing is sure – no matter what you order at Tiramisu Bistro, your belly is guaranteed to leave happy.
10750 124 St
MEAT
At MEAT, you can enjoy just that –a wide variety of slow cooked comfort foods and tasty sides at one of the best restaurants in Edmonton.
Enjoy a local beer or creative cocktail while you await your Canadian barbeque or sandwich.
The beef brisket and pulled pork sandwiches are crowd favorites, but the fried chicken is known for its perfect crisp and the ribs simply fall off the bone.
MEAT is known for its four signature sauces: bourbon, spicy, cherry, and mustard.
Some may argue the sides are every bit as worthy a visit as the meat.
Choose from the cornbread skillet, creamy mac and cheese, crispy garlic fries, or the baked beans.
Enjoy your meal inside or on the patio which is heated for winter.
If you've got a vegetarian in the group, don't be misled by the name! There are several dishes that are meatless so your entire party can enjoy.
8216 104 St NW, Edmonton
Padmanadi
With a long list of carnivorous restaurants, Padmanadi makes the list for all the meat-free diners.
Padmanadi is one of the best restaurants in Edmonton for vegan cuisine.
Padmanadi opened its doors in 2002 when the Kasim family transported their thriving restaurant in Jakarta to their new hometown of Edmonton.
The homey restaurant serves a variety of Indonesian, Chinese, Thai, and Indian plant-based dishes in a spacious, minimalist venue.
Many of their dishes, including their most popular ginger "beef", are prepared so meticulously that you'd never known the "beef" is plant-based.
Other highlights include the Dendeng (a traditional Indonesian style jerky, seasoned and fried with a sweet soy glaze) and Padmanadi Seafood Delight (varieties of vegan seafood with seasonal vegetables, carrots, mushrooms and sweet bell peppers).
On the weekends, they offer brunch. Be sure to try the Banana Coconut French Toast – a delicious and tropical French toast topped with cinnamon sugar and drizzled with crème fraiche and toasted coconut.
106, 6925 Gateway Blvd NW, Edmonton
10740 101 St NW, Edmonton
DaDeO
DaDeO is a unique, neighborhood-oriented diner and bar that celebrates authentic New Orleans cuisine.
This retro, 50's style diner may appear kid friendly, but this is an adult only establishment featuring vinyl booths, mini-jukes, and fantastic music.
The menu is packed with spicy, Cajon and Creole specialties.
The Po' Boys are a New Orleans tradition that have become the restaurant's most popular dish.
These cajon style sandwiches come in a variety of flavors, including blackened catfish, andouille sausage, fried tiger shrimp, and more.
Other must-eat dishes include the gumbo, jambalaya, or the oyster bar.
10548 A 82 Ave NW, Edmonton
Sofra Turkish Restaurant & Wine Cellar
Sofra Turkish Restaurant celebrates the rich history of Turkish cuisine.
Because of its location between Europe and Asia, Turkish food has been heavily influenced by Mediterranean, Balkan, Slavic, Middle Eastern, and North African flavors.
Sofra highlights each of these cuisines throughout its traditionally Turkish menu.
Chef Yuksel Gultekin creates every dish entirely from scratch.
From the dips to the pita bread, everything that is served on a plate is of the highest, freshest quality.
Not to mention, many of the spices, oils, beverages, and other ingredients are actually imported directly from Turkey to ensure an authentic taste.
10345 106 St, Edmonton
CRAFT Beer Market
CRAFT Beer Market is a premium casual restaurant and bar chain with a passion for fresh local comfort food and great craft beer.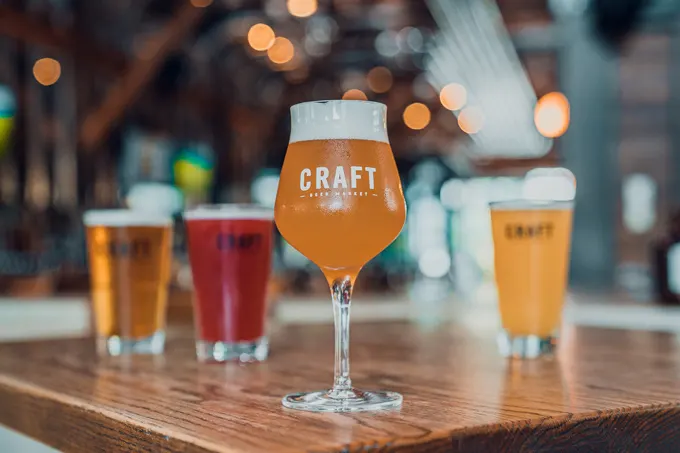 The brand has expanded with now 8 locations in 7 Canadian cities.
A visit to CRAFT means connecting you to the community, culture, and specifically craft beer culture.
They offer 100 beers on tap but also serve also up some tasty wines, cocktails, spirits and more.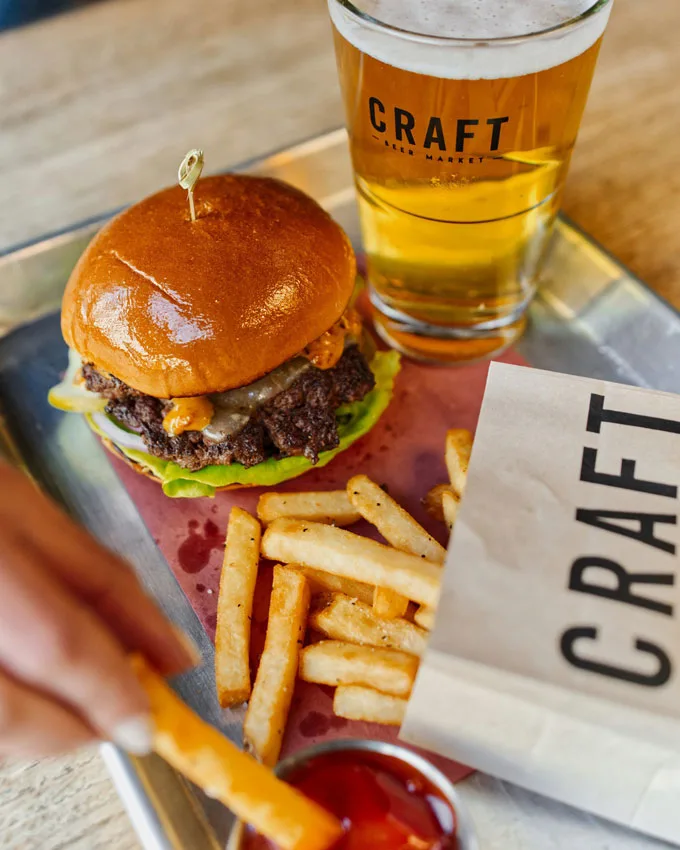 Be sure to check out their Happy Hour which boasts some great deals on food and drinks.
10013-101A Avenue NW, Edmonton
Hathaway's Diner
Hathaway's Diner is one of the best restaurants in Edmonton for breakfast or a burger.
However, you must stop by before lunch service ends, because they don't have a dinner menu.
Hathway's really doesn't need to serve dinner with the overflowing volume of dedicated patrons they receive during the day.
On Saturday and Sunday mornings expect lines to be winding around the building full of patient Edmontonians hoping to grab a table.
The kitschy style, knickknacks, and checkered floor give a sense of homeyness that matches the Homestyle comfort food Hathaway's serves.
Expect savory skillets, versatile omelets, and on Saturdays only – eggs benedict. Don't leave without have a piece of homemade pie, especially the Canadian classic Flapper pie.
13225 132 St NW, Edmonton
Café Amore Bistro
Longstanding and highly rated Café Amore Bistro truly is a 'love café.'
You won't find an ambience that compares; from live accordion music to family photos on the wall, this family run restaurant is sure to charm you with its intimate, homey setting and fabulous hospitality.
The menu if filled with Italian seafood dishes and customizable pastas that make you feel like you're in an Italian grandmother's kitchen.
The Amore pescatore, aglio e olio, and lobster mac are among the highly regarded menu items that are definitely worth the visit.
10807 106 Ave NW, Edmonton