From shopping for local ingredients to reducing food waste, creating a sustainable kitchen can be easy by making simple and specific swaps that are right for your family.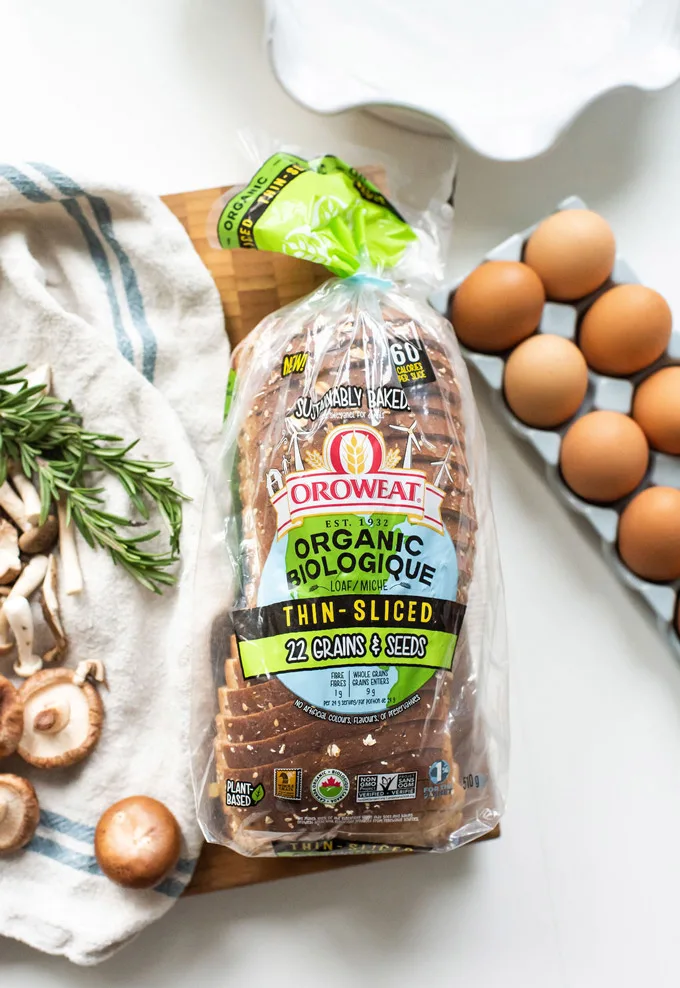 In fact, many Canadians are spending 2022 reducing their kitchen's carbon footprint by building better habits in the household space where the waste is created.
To help Canadians to create their own Sustainable Kitchen this new year, Oroweat Organic has partnered with Nutritionist and author of This Kitchen is for Dancing, Karlene Karst, to create two delicious (and healthy!) recipes using Oroweat Organic's range of sustainably baked bread, which is produced locally in Langley, BC.
Pesto Tomato Cheese Melt with toasted Oroweat Organic 100% Whole Grain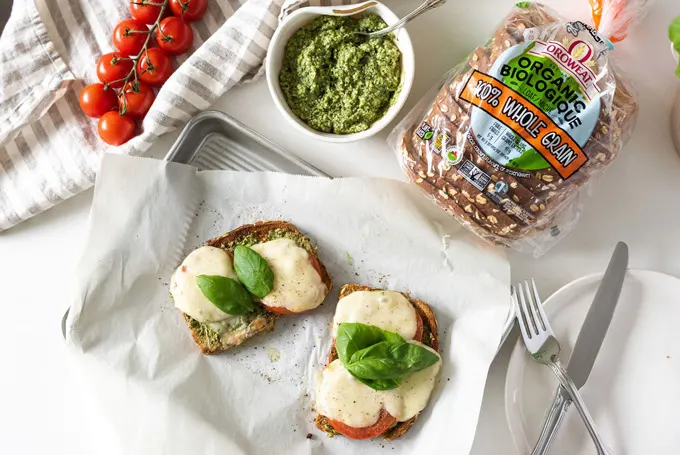 Prep Time: 10 min
Cook Time: 10 min
Servings: 2
Ingredients:
2 slices of Oroweat bread (22 GRAINS & SEEDS)
4 tomato slices
2 slices sharp cheddar cheese
4 tablespoons basil pesto – homemade or store bought
fresh cracked pepper
Pinch of salt
Directions:
Preheat the oven on the broiler setting. Toast the bread slices!
Once the bread is toasted, add 2 tablespoons of pesto onto each slice and spread evenly.
Place tomato slices on top, followed by slices of cheese on top of tomato.
Place in broiler for about 5-10 minutes until cheese is melted.
Drizzle extra pesto on top of the sandwich, sprinkle with freshly cracked pepper and salt. Enjoy!
Spinach Mushroom Egg Strata with Oroweat Organic 22 Grain and Seeds Thin Sliced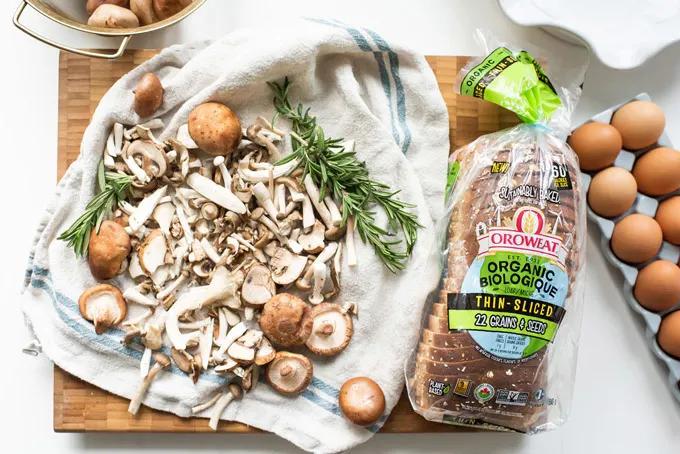 Prep Time: 25 min
Cook Time: 1:15 min
Servings: 8
Ingredients:
1 sliced loaf of Oroweat bread (Oroweat Organic 22 GRAINS & SEEDS) – few days old and cut into 1 inch cubes
2 tablespoons butter
1 small sweet onion
1 tablespoon chopped fresh rosemary
2 cups sliced mushrooms
3 cups fresh spinach – packed
2 cups grated Swiss cheese
8 organic and free range eggs
2 cups full fat coconut milk
1 cup full fat Greek yogurt
2 teaspoons sea salt
½ teaspoon black pepper
1 teaspoon dijon mustard
¼ teaspoon nutmeg
½ cup crumbled goat cheese
Directions:
Preheat oven to 400° F. Place the Oroweat Organic bread cubes on a baking sheet and toast in the oven until golden brown, about 10 minutes. Remove from the oven and set aside. Turn the oven down to 350° F.
In a large sauté pan over medium heat, cook the onions, mushrooms and rosemary in the butter until vegetables are softened, about 7 minutes. Add the spinach to the pan and cook for another 5 minutes until the spinach is wilted and completely cooked down. Pull the pan off the heat, and let cool.
Line a 9 inch square or round casserole dish with parchment paper and lightly grease; set aside. In a large mixing bowl add the toasted bread cubes along with the mushroom-onion mixture and 2 cups of Swiss cheese; toss to combine.
In a blender combine the eggs, coconut milk, Greek yogourt, salt, pepper, mustard and nutmeg. Blend for 10 seconds until combined.
Add the bread and mushroom-onion mixture to the baking dish. Carefully pour the egg mixture over the bread. Press the bread cubes down to make sure they are totally submerged. Sprinkle it with goat cheese.
Bake the strata uncovered until it has puffed slightly and it's golden brown on top, about 1 hour and 15 minutes (check at 40 minutes). If the strata gets too dark, cover with foil and continue cooking. Let the strata cool in the pan on a wire rack for 15 minutes before serving. Enjoy!
About Oroweat Organic
Produced locally in Langley, BC Oroweat Organic bakes bread that is good for people and the planet. Made with certified organic ingredients and sustainable baking processes, Oroweat Organic offers bread-lovers a sustainable option with a reduced carbon footprint.
Oroweat Organic uses simple and recognizable ingredients with no artificial preservatives, colours, or flavours. Oroweat Organic also takes pride in the softness of its bread, proving that you don't have to compromise on taste and texture to achieve delicious, nutritious bread that is also making a positive impact on the planet.
Oroweat Organic is available in three varieties – Oroweat Organic 22 Grains & Seeds, Oroweat Organic 100% Whole Grain and Oroweat Organic Thin-Sliced 22 Grains & Seeds – and you can pick up a delicious loaf at your local major grocery store.