With nearly 40% of Canadians who worked from home the last two years beginning to return to office, it's polarizing the workforce and sparking a great debate. No matter what side you're on, it's time to reclaim the dining room tables that became desks and bedrooms that doubled as boardrooms.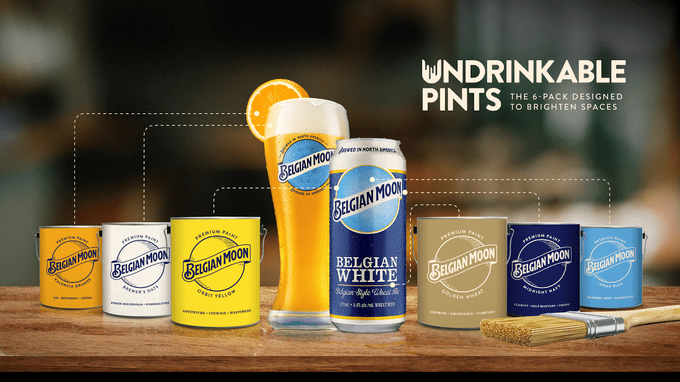 To help jolt your space out of the gray, Belgian Moon created Undrinkable Pints: a 6-pack of paint inspired by the signature colours of Belgian Moon and developed in consultation with a certified colour therapist to help brighten up your homes and how you feel within it – no matter what you choose to do with it.
Midnight Blue: Now that the office beckons, free your space (and your mind) from the clutter of work with a blue designed to help you organize and master your thoughts.
Lunar Blue: Reclaim your bedroom that doubled as a boardroom by keeping the doors of positivity open and applying the blue of our moon to yours.
Golden Wheat: Bring a little fun back into a place that has lately been all function with this grain-inspired gold, and you too may flourish like a field.
Valencia Orange: An orange inspired by the citrus kick of Belgian Moon to help you reconnect with your body, spark movement, and find joy in the simple things.
Orbit Yellow: Force your work anxieties away with a yellow designed to help you release fears, tap confidence, and unlock the joy within.
Brewer's Oats: For the corners of your home that work commandeered, this creamy off-white is just the blank canvas you've been waiting for to paint your fresh start.
So whether you end up reinvigorating an accent wall in your home office with a coat of Valencia Orange to spark movement or revamping an old picture frame with Lunar Blue to encourage productivity and creative thoughts, crack open a (drinkable) Belgian Moon and head over to the Belgian Moon Instagram & Pinterest starting May 12th for more Undrinkable Pints content!