The Vancouver Christmas Market is a great place to go shopping for gifts for yourself or your loved ones. Not only can you shop, but you can also enjoy fresh baked goods, hot foods, and beverages. This Christmas wonderland is a great day out for families, couples and friends! All of the vendors here will accept credit and debit cards so if you're using a US credit card in Canada, it'll be accepted here. But if you're going to purchase a gift for your partner with a joint account card, cash will be best! That way they won't be able to see what's been bought and if they love the gift why not write a review for the store where you bought your gift so others can know about your experience. As an aside, for someone still on the hunt for that perfect gift make sure to check out giftlist for recommendations. It can help you get an idea of what to go for before heading out to the market. Now, let's take a look at some of the vendors and the items they offer.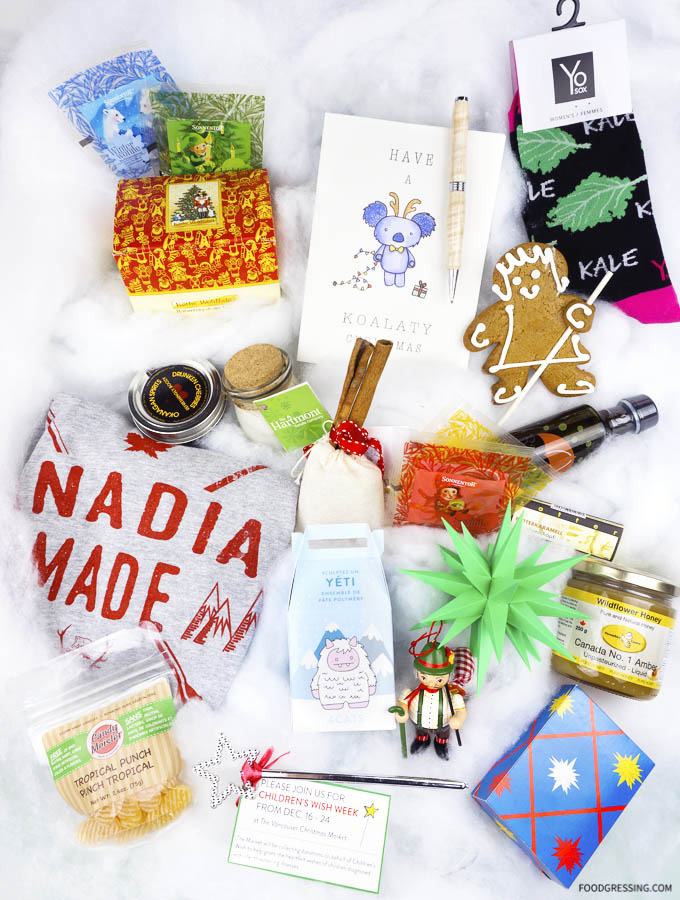 Candies by Candy Meister
Candy Meister offers a wide selection of colourful, scrumptious, all natural, gluten, dairy and corn free candies from Germany.
Christmas Cards by Kenziecards
Quirky handmade greeting cards that cleverly pair adorable illustrations with playful puns.
Blackberry Ginger Olive Oil and Balsamic Vinegar Infusion by Rain City Olives
Vancouver-based company supplying delightful naturally fused and infused olive oils and balsamic vinegar.
Christmas Tea Blends by Sonnentor Tea
The ideal treat for tea lovers, these wonderfully soothing Christmas blends will keep you warm on chilly days.
Candles by The Hartmont Candle Company
Based in Winnipeg, The Hartmont Candle Company features unique handmade 100% soy wax candles with wood wicks that crackle as they burn.
Wooden Pen by The Woodman
Locally handcrafted, this beautiful wooden pen is produced from Canadian Maple and exotic woods from all over the world. Bring your pen back to the market to get it engraved and personalized.
Christmas Socks by Yo Sox
Bright and fun, Yo Sox's Christmas socks will your keep feet stylish and cozy this winter.
Craft Kit by 4Cats
4Cats is a place where people of all art experience levels come together to play and create. Get imaginative with this mini craft kits.
T-Shirt by Polar Piece
Using only the highest quality fabrics, Polar Piece provides comfortable clothing that is 100% Canadian made.
Christmas Ornaments by Käthe Wohlfahrt
Celebrating over 50 years in business, Käthe Wohlfahrt is Germany's top ornament and Christmas décor company. Take the spirit of Christmas home with this elegantly designed ornament.
Butterkaramell Chocolate by Zotter Chocolates
Prepared using the finest ingredients, Zotter Chocolates has over 400 delicious and rare flavours to choose from. From classics like Milk Chocolate to creamy Butterkaramell there is something for everyone to enjoy.
Gingerbread Men on a Stick by Vancouver Christmas Market
Satisfy your sweet tooth with mouth-watering gingerbread men on a stick.
Mini Stars with Battery Pack by Herrnhuter Sterne
These special Herrnhuter Sterne mini stars are part of a long-standing custom in which families assemble stars together and hang them to decorate and brighten their houses.
Mulling Spices by The View Winery
Try making the Vancouver Christmas Market's signature Glühwein at home with flavourful mulling spices from Kelowna's The View Winery.
Jar of Honey by Honeybee Centre
Splendidly sweet and tasty, Honeybee Centre's honey is pure and comes directly from their bee farm in Surrey.
Jar of Drunken Cherries by Okanagan Spirits Craft Distillery
This family-owned business is proud to feature 30 internationally awarded spirits made with only the best local grains and fruits. Their drunken cherries will liven up any dish or drink this holiday season.
Vancouver Christmas Market is honoured to work with and support its charitable partner the Children's Wish Foundation. TheMarket's 'Children's Wish Week' is on from December 16 to 24, 2017. For more information about Children's Wish Foundation visit: childrenswish.ca