One of the best parts of the Vancouver Christmas Market is of course, the food!  Visitors will undoubtedly treat themselves to the market's signature array of mouth-watering delectables, including Glühwein (a hot-spiced mulled wine), Bratwurst, Gulasch, Spätzle, Schnitzel, Kartoffelpuffer (potato pancakes), Strudels, and so much more.  A variety of new local vendors will be offering the best food and drink BC has to offer including fresh sustainable seafood from Eat F.I.S.H., made-from-scratch Sicilian cannoli by the Cannoli King, award-winning German style wine from Wild Goose Winery, and organic beer made from local ingredients by Persephone Brewing Co.  Here is a look at some of the items I tried recently at a media event for the Vancouver Christmas Market.
Have you tried Spätzle before?  Spätzle Haus specializes in fresh herb Spätzle (egg noodle) with a traditional German recipe.  You can enjoy your Spätzle with choice of toppings including Traditional Cheese and Caramelized Onions; Wild Mushroom Cream sauce with Pickled Purple Cabbage; or their new creation to celebrate Canada's 150th the Canadian Spätzle Poutine topped with a Spicy Cranberry Chutney.  I tried their Canada 150 which was a sweeter option due to the cranberry chutney.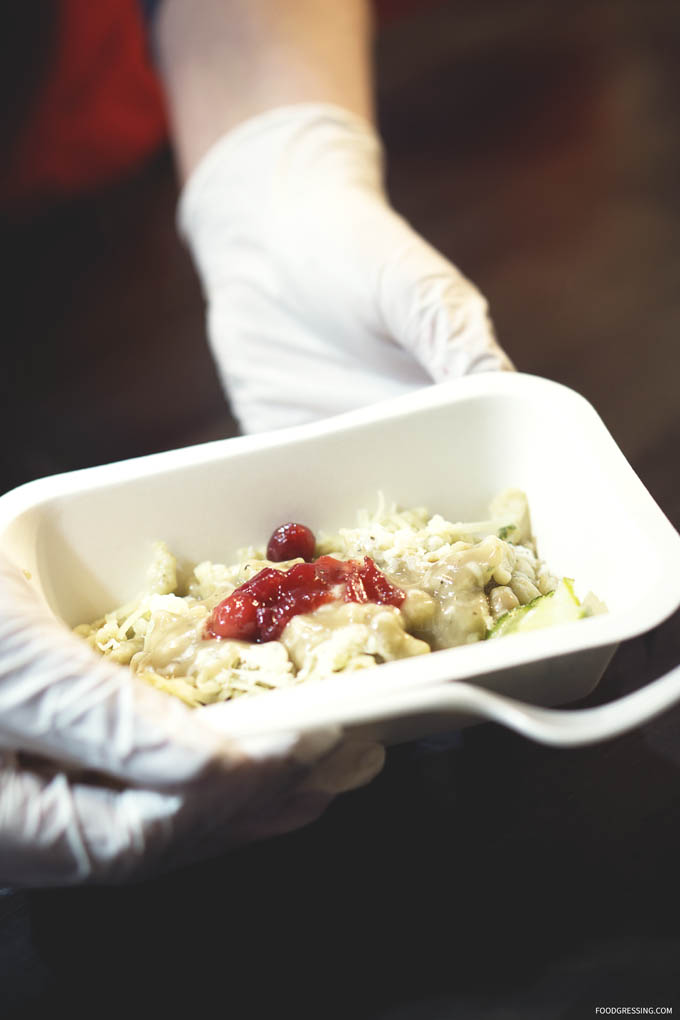 There's nothing quite like melted cheese.  At Cheese Me Raclette, you'll find raclette menu items, all served with freshly melted cheese scraped from the wheel.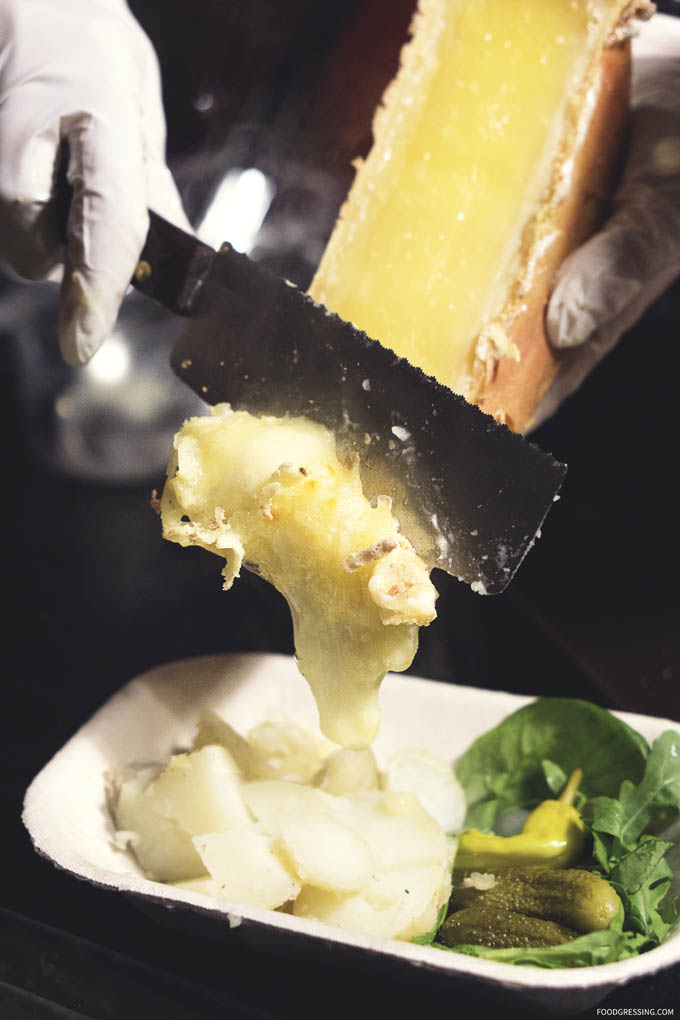 Back again at the Vancouver Christmas Market is Das Gulasch Haus.  They proudly serve wholesome stew made with tenderly braised BC beef, potatoes, and the finest Hungarian paprika. They are also proud to serve a 100% Vegan Gulasch made with carrots, potatoes, and a delicious blend of Hungarian and smoky Spanish paprika.  Served in a breadbowl, it's comfort food at its best.  Das Gulash Haus was also voted Best Savoury Food at the Vancouver Christmas Market last year by the Georgia Straight.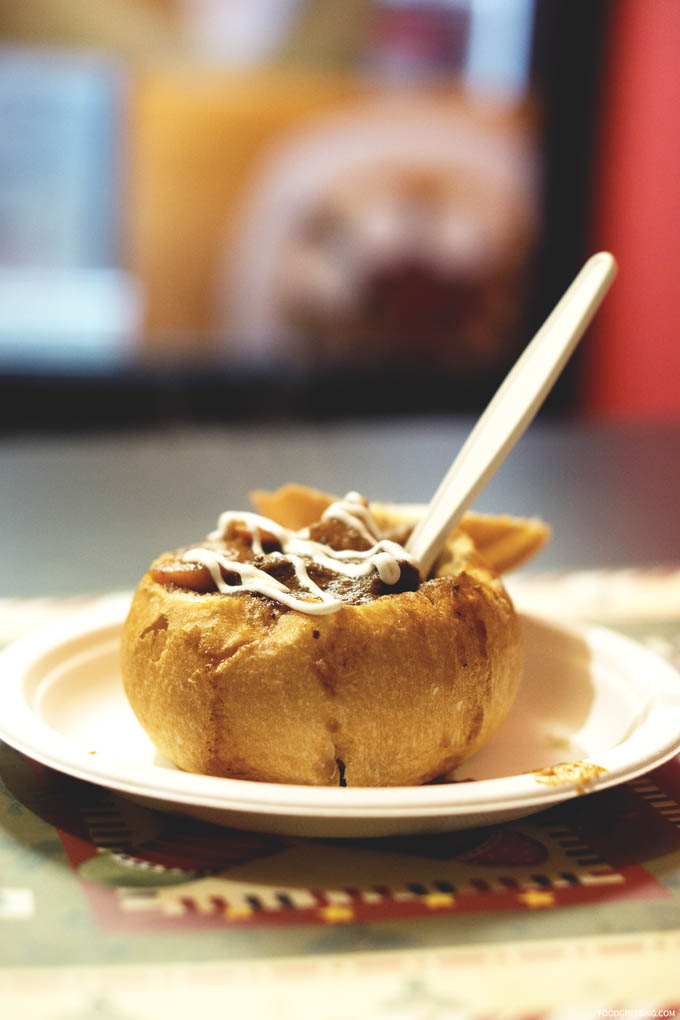 Freybe Brat Haus is the sausage and bratwurst vendor of the Vancouver Christmas Market.  They serve "Das Brat" – a traditional German-style bratwurst based on their original family recipe.  In addition to their bratwurst, you will find a wide range of traditional sausages, as well as delectable dried pepperonis and savoury landjaegers.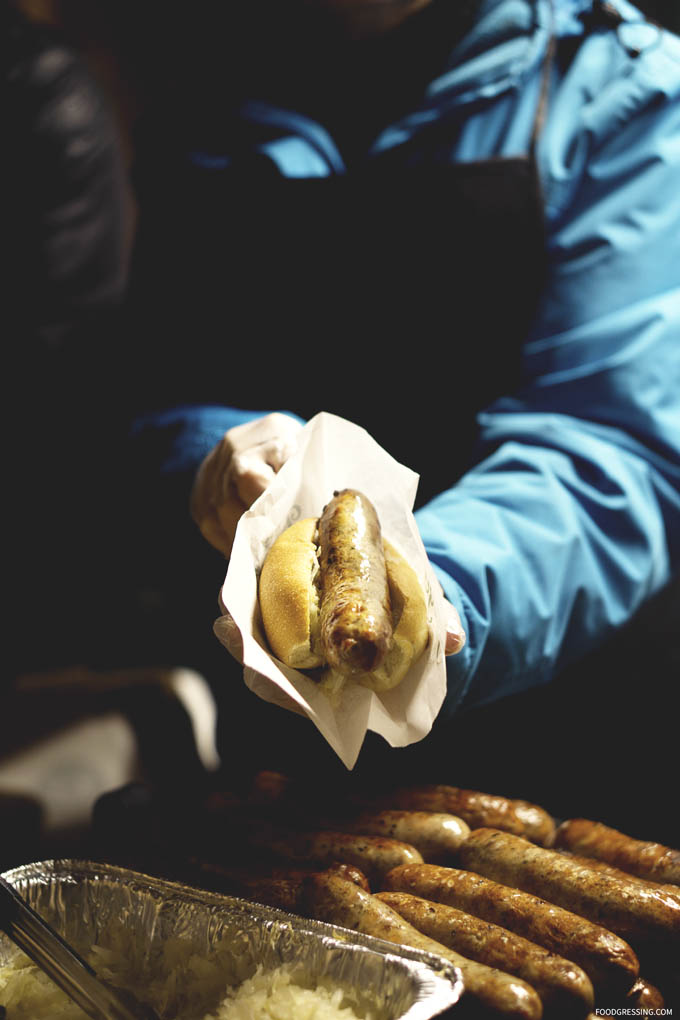 Das Kartoffelhaus serves German-style Kartoffelpuffer (potato pancakes) and Hurricane Potatoes.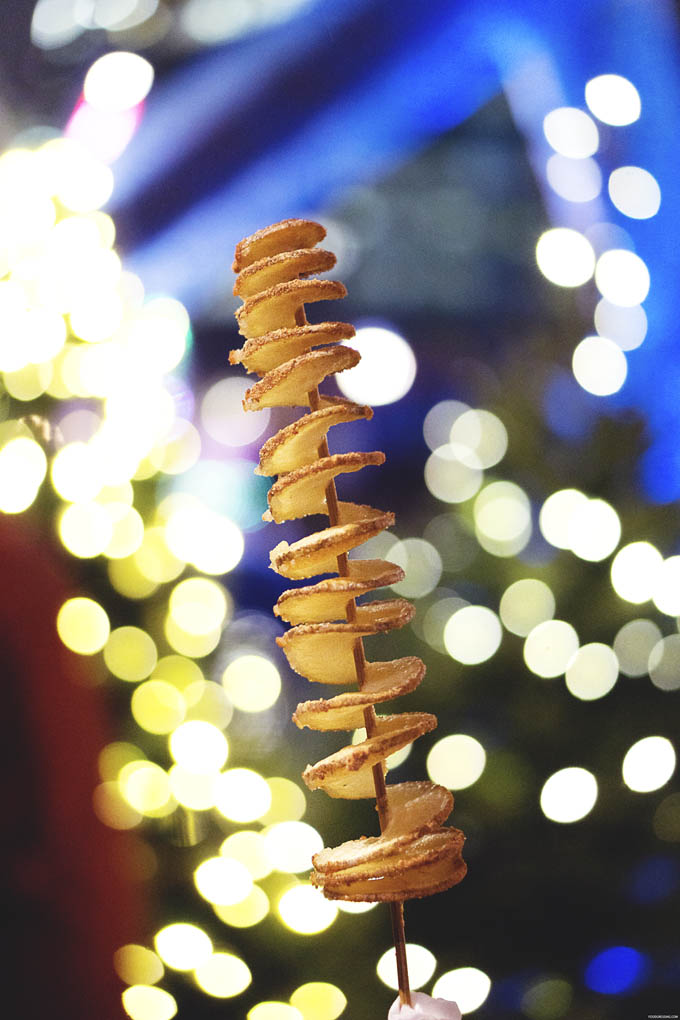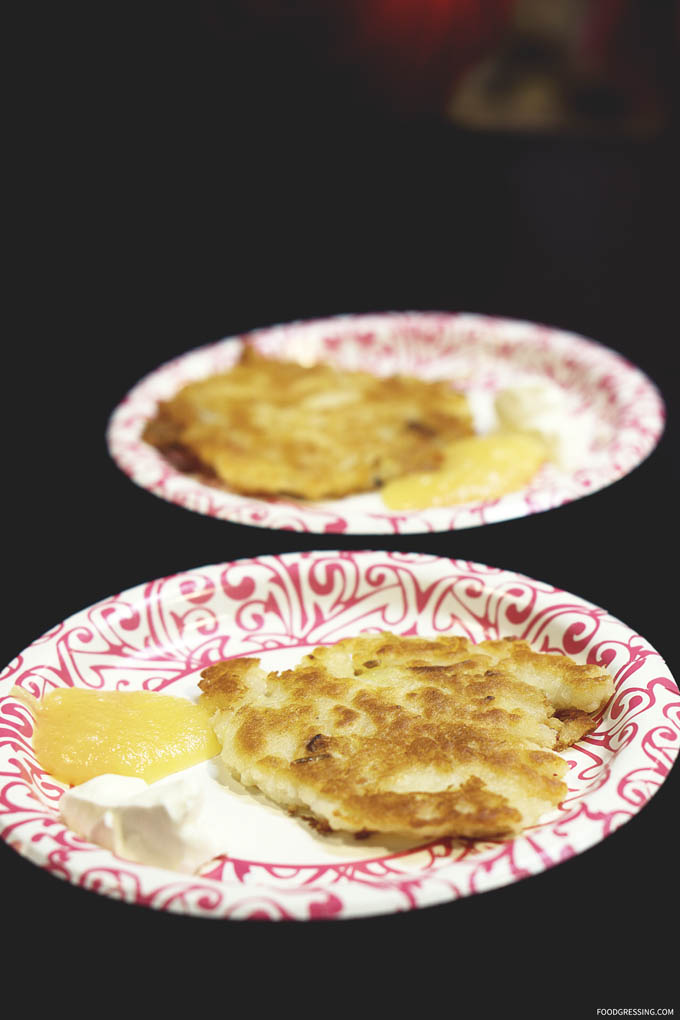 West Coast Wild Foods is one of Canada's leading wild mushroom companies bringing wild mushrooms such as Chanterelle, Morel, Porcini, Pine and many others directly from the forests of North America.  I tried their Creamy Wild Mushroom Soup and absolutely loved it.  I would highly recommend it.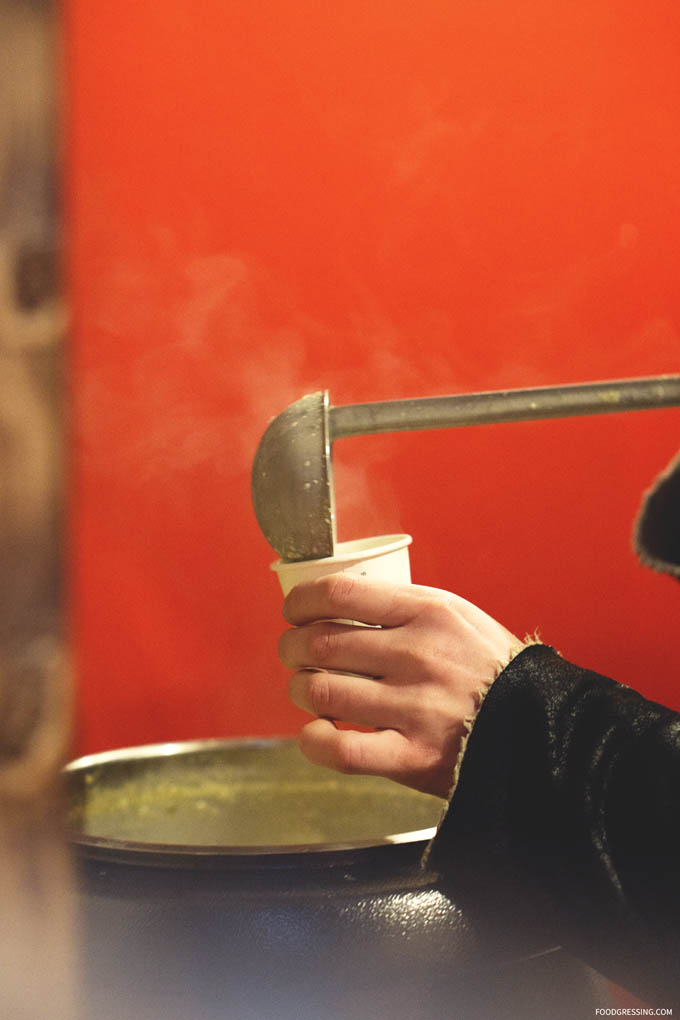 Schnappsl Kaffee Haus offers non-alcoholic eggnog as well as Berliner (German-style doughnut).  My Berliner had a tasty strawberry filling.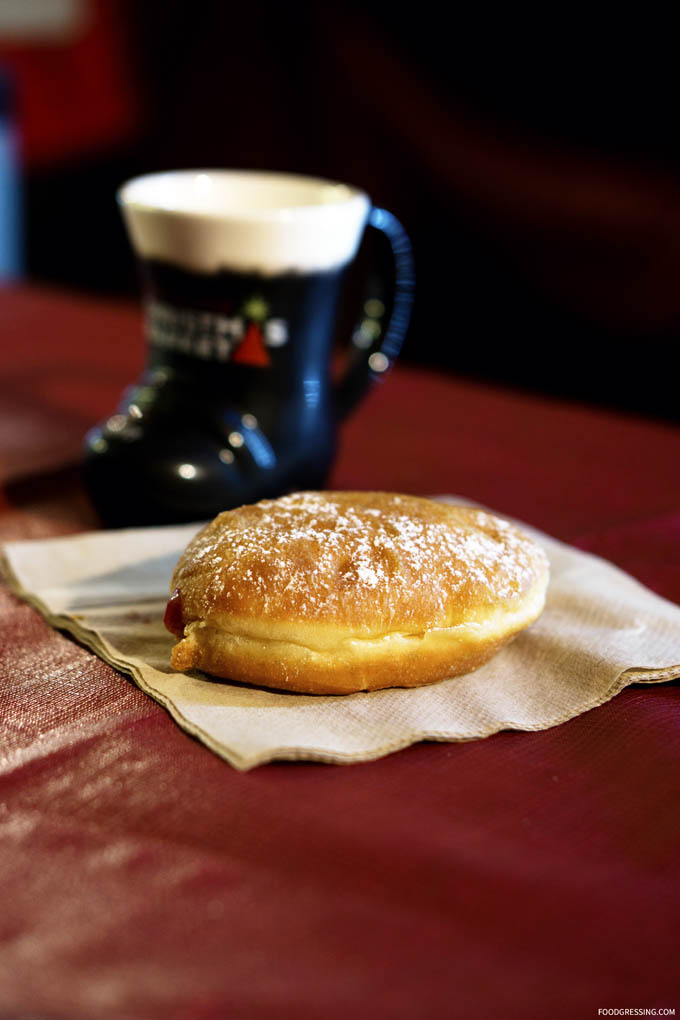 EVENT DETAILS
Ticket available at vancouverchristmasmarket.com
Dates:

November 22 to December 24, 2017

: 

11am – 9pm




December 24

: Closed at 6pm

Ticket Prices:  
Single Admission Adult $10, Seniors $9, Youth $5
(Children under 6 are Free)
Christmas Packages from $25
Address:
Jack Poole Plaza – Home of the Olympic Cauldron