Did you know that November is Diabetes Awareness Month?  In fact, diabetes is a silent epidemic in Canada with 11 million people living with diabetes or prediabetes.  One world-famous personality from the culinary scene was in Vancouver to help raise awareness of diabetes.  Chef Alvin Leung – restauranteur, triple Michelin–starred chef, and Masterchef Canada judge – is a person living with Type II diabetes.  I sat down with him this week to learn more about his story with diabetes and how a new wearable tech device is helping him to manage it.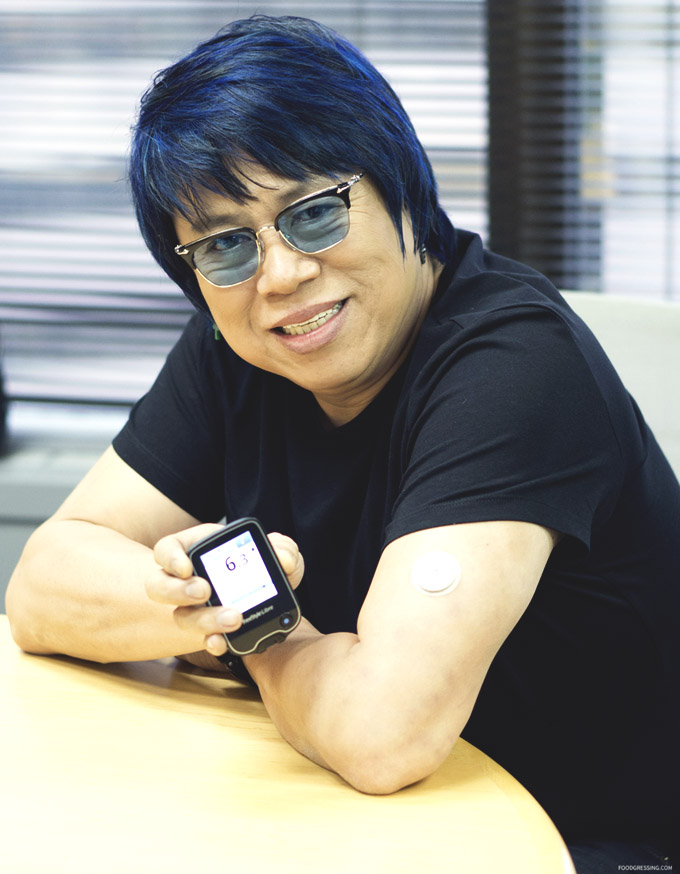 Could you share your story with diabetes?
I discovered I had diabetes about six years ago.  I was already sensing it and expecting because both my grandmother and my father both passed away from diabetes.  I thought I was having a stroke at home, went to the hospital and found my heart was OK.  But then I found out I had diabetes which was a shock.
How does having diabetes impact you as a chef?
Starches become off limits and you have to test your blood sugar multiple times a day.  Pricking your finger to find your sugar levels is painful and inconvenient as a chef (especially when you are working with meat).  Open wounds and possibly exposing blood to the kitchen is not acceptable.
How is the FreeStyle Libre helping you to monitor your diabetes?
It's very, very simple and I don't have to go through the pain and cost of using test strips in the traditional way.  With the FreeStyle Libre system, I have a sensor placed on my arm and then I use a reader to scan the sensor to find out my blood sugar level.  I treat it almost like a security blanket.  Before, I wasn't resting my blood sugar level as much but with this gadget I can do it even every hour.  The system also keeps track of your history so you can see the trends as well.
Do you have any tips for dining out as a diabetic?
If you go to a restaurant, you can tell them you're diabetic so they don't put sugar in the savoury.
What do you think of Vancouver's dining scene?
It's great.  There's a lot going on and I am considering opening something here.
Do you have a favorite restaurant in Vancouver?
Yes, but I am not going to disclose!  But I will say that I went to S+L (opened by MasterChef Canada Winner David Jorge) and found it very interesting and tasty.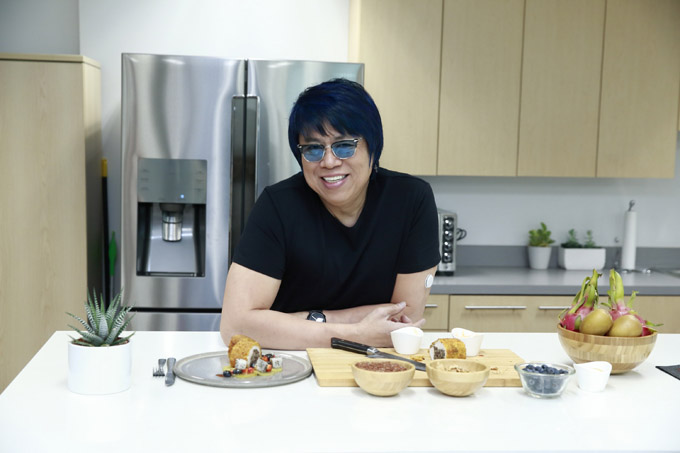 Chef Alvin Leung shares his recipe for a healthy, diabetes-friendly sweet and sour chicken.
Freestyle Sweet and Sour Chicken Roulade
(all fruits and starches with GI less than 55)
Ingredients
Chicken breast  1 pcs 300g
Bran flakes  50g
Egg  1 pcs lightly beaten
Kiwi fruit  50g thinly sliced
Blueberry  50g
Dragon fruit  50g diced
Red, yellow bell peppers  50g diced into 5 mm cubes
Garlic  10g finely chopped
Soy sauce  30ml
Sesame oil  15ml
Vegetable oil  50ml
White pepper  2g
Haw flakes  20g
Ketchup  30ml
Rice Vinegar  30ml
Apple juice  60ml
Corn starch  10 g mixed into thick paste with a little water
Red rice  50g
Black Quinoa  50g
Chopped Chicken liver  100 g
Veg or chicken stock  200ml
Onion  50g finely chopped
Steps
Lightly beat chicken breast flat with rolling pin to 10mm thick, marinate with half the soy sauce, sesame oil, white pepper, garlic
To make stuffing, fully cook red rice and quinoa with stock.
Add to pan with chopped chicken liver and onion, sauté for 5 mins and cool completely.
Place bran flakes into a small plastic bag and crush lightly with a rolling pin.
Spread stuffing onto flatten chicken breast and roll to form roulade, wrap in cling film and chill in the fridge for 30 mins.
Place bran flakes into a small plastic bag and crush lightly with a rolling pin. Coat roulade with egg mixture and bran flakes, fried in lightly oiled pan till done.
To make sweet and sour sauce
In a pan heat the apple juice and dissolve haw flakes, add rest of soy sauce, ketchup, and rice vinegar, let boil for a few minutes and thicken with cornstarch paste.
Add the diced peppers and fruit.
To plate
Cut roulade into 30 mm thick slices, top with slice kiwi and top with sweet and sour sauce.