Here's a look at Valentine's Day San Francisco 2022 featuring special offerings by restaurants.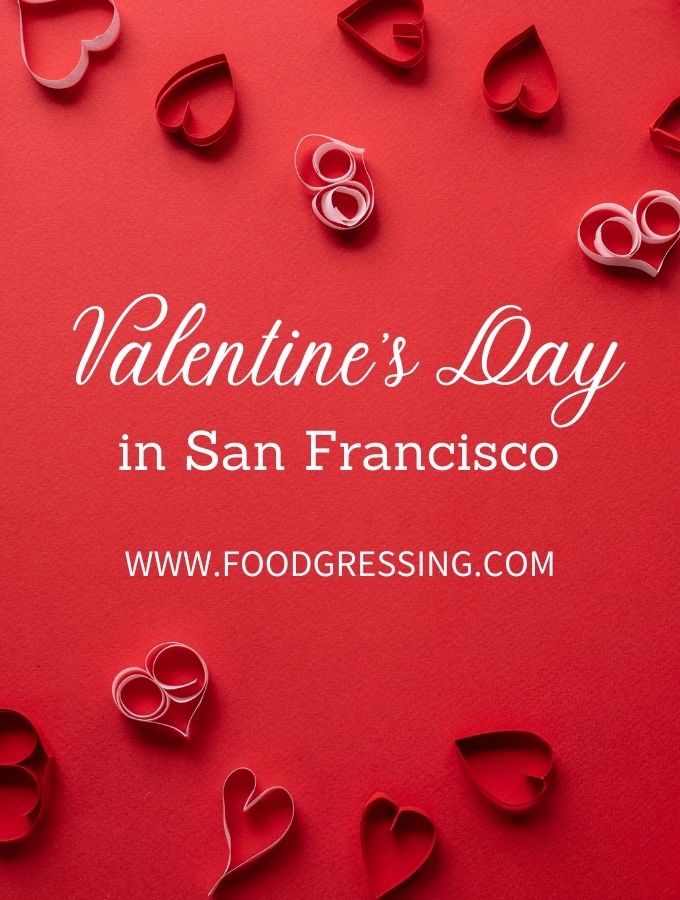 Valentine's Day 2022 is Monday, February 14, 2022.
If you are a business that wants to be featured, please email me a ready to copy and paste excerpt of your offerings.
Valentine's Day San Francisco 2022: Restaurant Special Menus
Fable – SF
Enjoy a romantic three course dinner for two, with a complimentary glass of sparkling wine or a mocktail on February 14. Priced at $100 per person. Reservations here.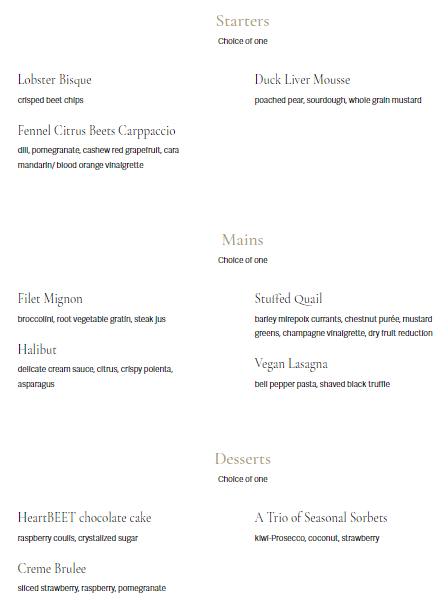 La Mar Cebicheria Peruana
Experience La Mar tableside for our nights of a thousand candles on February 14. A romantic candlelit dinner with a specially curated three course menu by our Executive Chef, Victoriano Lopez. You will have a choice of appetizer and entree. Priced at $99 per person.
Paradiso – San Leandro
Dinner for 2 $85 per person ($50 deposit applied to final bill).
~1st course~ ROASTED BEET SALAD Balsamic Vinaigrette, Goat Cheese, Pickled Red Onion, Hazelnuts or CAESAR SALAD Little Gem lettuce, Focaccia Garlic Croutons, Parmesan Cheese, Spanish White Anchovies
~ 2nd Course~ THREE CHEESE RAVIOLI Mushrooms, Spinach, Basil Cream Sauce or RIGATONI BOLOGESE Parmesan Reggiano, Basil
~3rd Course~ SLOW BRAISED SHORT RIB Parmesan Polenta, Baby carrot, Gremolata or GRILLED KING SALMON Eggplant and Olive Caponata, Olive Oil Mashed Potatoes, Basil
~ 4th Course~ VANILLA BREAD PUDDING Cranberries, Chantilly Cream, Mint or MOLTEN CHOCOLATE CAKE Ghirardelli Chocolate, Vanilla Bean Gelato, Shortbread Cookie
Reservations here for February 13 and 14.
Trestle
This Valentine's Day, Trestle is the place to be with a simple and delicious 4-course menu by Chef Danielle LeFevre. Priced at $85 per person.
Enjoy their classics such as Dungeness Crab Risotto, Roasted Black Cod and Dark Chocolate Panna Cotta.
1st Course Kampachi Crudo or Clam & Potato Chowder
2nd Course Dungeness Crab Risotto or Winter Squash Ravioli
3rd Course Roasted Black Cod or Braised Beef Short Rib
4th Course Pineapple Sundae or Dark Chocolate Panna Cotta
Greens Restaurant
Greens will be offering a 3 course pre-fixe menu to celebrate Valentine's Day. Featuring a wonderful selection of some of Greens' favorites, with some romance inspired creations from our Executive Chef Katie. A shared assortment of appetizers plus a choice of entrees and dessert.
Bellota
Bellota's Valentine's Day menu will feature Pintxos, Tapas and Paella followed by dessert. Addition supplements will be available as well as our full wine list and bar. Live music will add to the romantic environment. Priced at $140 per person.
Alexander's Steakhouse – SF
Alexander's Steakhouse – SF will be offering a 6-course tasting menu with an optional wine pairing offered in-house.
Amuse: Hamachi Shot 1st: Oysters – Rose Champagne Granita / Alexanders Signature Caviar
2nd: Vichyssoise – Potato, Leek Fondue, Wagyu Chorizo
3rd: Black Truffle Carbonara – Black Truffle, Wagyu Bacon, Egg Yolk
4th: Filet – Brandy Cherry Sauce, Roasted Cippolini
Charmaine's Rooftop Lounge
Executive Chef Jason Fox will be serving a craftily curated $125 three course prix fixe menu (beverages not included). Reservations here for February 14.
AsiaSF
AsiaSF has two seatings available on Valentine's Day: 6:30PM & 8:30PM. Party of 4+ guests $99 per person. Party of 1-3 guests $119 per person.
Your romantic evening will include:
Complimentary champagne toast.
Special 4-course pre fixe menu, with decadent dessert treats
Blowout finale performance by the Ladies of AsiaSF
Dance into the evening downstairs, after dinner, at their newly renovated Forbidden City Nightclub.
Open till 12:30 PM.
Estiatorio Ornos a Michael Mina Restaurant San Francisco
Chef Daniela created a wonderful four courses prix-fixe menu $165. No regular menu will be available that night. Reservations here.
The Vault Steakhouse
The Vault Steakhouse is offering a 4-course dinner menu featuring a shellfish platter fit for a king and finish with a fiery Baked Alaska for two.
Don't miss the opportunity to invigorate your palate with a carefully curated wine pairing by The Vaults own Steve Izzo.
1st COURSE (to share) Shellfish Plater, Bay Scallop Crudo, Razor Clam "Escabeche," Shigoku Oysters
2nd COURSE (choice of): Lobster Bisque "En Croute" or Dungeness Crab & Avocado Salad
3rd COURSE (choice of): Charred New York Steak or ½ Maine Lobster Thermidor- Bearnaise, Baby Green Salad, Pomme Frites
4th COURSE (to share) Baked Alaska for Two
Abacá
Abacá is offering a four coursed tasting dinner with 10 plus items on February 14. Oyster + Caviar, Scallops, Squid Ink Pancit, Turon and Chocolate Truffles. Reserve for 5 pm or 7:30 pm.
Sorrel
Sorrel will be offering a 7 course tasting menu by Chef Alexander Hong at $295 per person. Wine pairing is also available at $175. Additional champagne and caviar supplements will be available. Reservations for February 14 is 5 pm – 9 pm.
Mägo
Mägo will be offering a 6 course tasting menu that is inspired by chocolate at $120 per person with an optional beverage pairing. Reservations for February 14 from 5 pm – 9 pm.
Marlena
Marlena will be offering a 7 course prix-fixe menu highlighting hyper-seasonal ingredients at $125 per person. Reservations for February 14 from 5 pm – 7 pm.
The Madrigal
The Madrigal will be offering their Valentine's day menu "Booze & Bites" at $69 per person. Reservations for February 14 from 5 pm – 9:30 pm.
Four signature cocktails accompanied by four dishes to share
– Cocktails –
DEW CLAW, signature matte cocktail
BUBBLES FOR YOUR TROUBLES, gin, lemon, thyme honey, cava
OJO DE OSO, tequila, jalapeno syrup, pomegranate extract, sel de gusano, lime, candied jalapeño
THE BOWIE, cynar, aperol, cava, sea salt
– Shared Plates –
fermented black GARLIC BREAD, nasturtium honey butter yellowfin tuna CRUDO, toasted garlic, saffron, hedgehog mushrooms monterey squid RISOTTO, black trumpet mushrooms, fried capers
flatiron STEAK, old school sauce au poivre, roasted baby carrots & chicories
Lily
Lily will be offering a 4 course menu set chef Rob Lam for $88 per person plus tax and tip. Reservations for February 14 from 5 pm – 9 pm.
Appetizer
So Diep Tai Chanh Vietnamese Diver Scallop and Uni Salad
Brokaw Avocado, Finger Lime Nuoc Cham, Shrimp Crackers, New Zealand Spinach
or
Du Du Tom Kho Green Papaya Caramel Shrimp Salad
Honshu Pear, Mango, Carrot Sambal, Rau Ram
Soup
Chao Cua Mang Tay Asparagus and King Crab Porridge
Pea Tendril Pesto, XO Chili Sauce, Fried Cruller
Entrée
Chao Tom, Cha Gio, Nem Nuong, Thit Heo, Thit Bo BBQ Skewers
Vietnamese Herbs Salad, Banh Hoi Noodles, Banh Trang, Pickles, Nuoc Cham Sauce
Dessert
La Dua Pate Choux Pandan Cream Puff
White Miso Chocolate Sauce, Coconut Whipped Cream, Passionfruit
Uma Casa
Uma Casa will be offering 3 course Portuguese dinner at $80 per person. Drinks not included in pricing.