Uber Eats is launching Eat Local – a five-month, $7-million restaurants support package – to help out independently owned restaurants.
This package is meant to drive renewed demand to local restaurants, help those who are struggling through this second wave of COVID-19, and provide certainty around cash flow by continuing to waive and discount a number of fees, including:
Partnering with Restaurants Canada to distribute $1M in grants for local restaurants across Canada.
Offering $0 Delivery Fee to help drive demand for local restaurants from February 3-7.
Providing flexibility by extending 0% pickup and 7.5% online ordering until June 30, 2021
Helping restaurants with cash flow by waiving fees for daily payout until June 30, 2021
Bringing back the in-app direct to restaurant contribution button to give Canadians more opportunity to support the restaurants they love.
And to help raise awareness on Eating Local, Uber Eats has gotten a little help from Wayne, Garth, and Cardi B in Uber Eats' first-ever Super Bowl spot.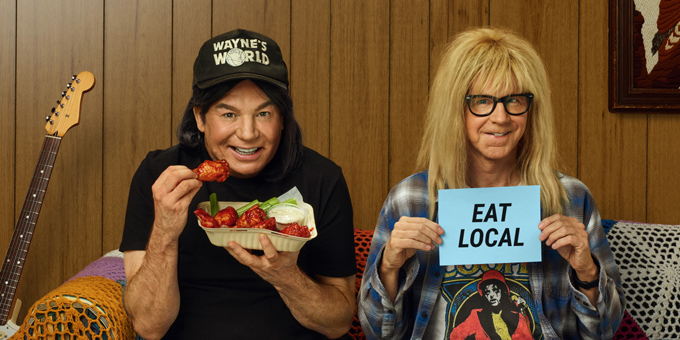 They have reunited Wayne's World stars and local access heroes Mike Myers & Dana Carvey to embark on a mission to help local restaurants nationwide. The spot will air this Sunday during the game.
Supporting local restaurants is paramount to Uber Eats and the Super Bowl offers the perfect stage to generate awareness and buzz for local restaurants.
YOU MIGHT ALSO LIKE: