A new food truck on the Vancouver scene is The Praguery which specializes in fresh-baked Chimney Cakes inspired by the popular Czech dessert "trdelnik."  Though new in food truck form, The Praguery could previously be seen at the Panda Night Market (now Illumination Summer Night Market).  The owner and operator of The Praguery is Jaroslav Mestka.  Originally from Prague, he moved to Vancouver in 2014 and decided to share the deliciousness of Chimney Cakes – a favorite childhood treat – with the Vancouver community.  I was recently invited to try out to try out their Chimney Cake and based the line-ups it seems other foodies are enthused about them as well.
Disclosure:  All of the food in this review was complimentary.  Opinions are my own.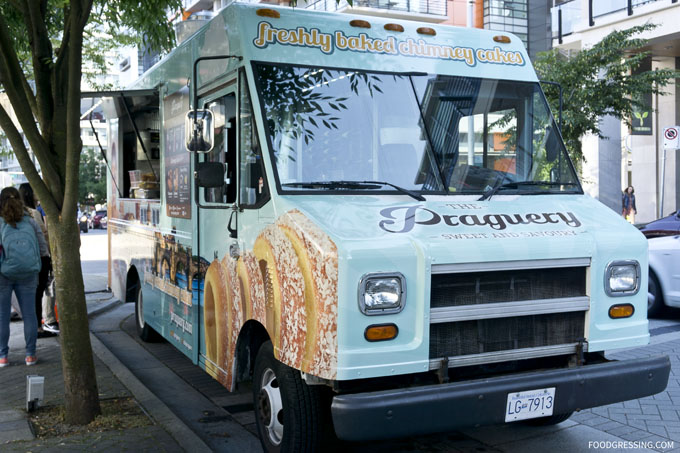 The Praguery Menu
The Praguery currently offers summer-inspired Prague's Cones which are cinnamon and sugar coated cones, with sweet inside coatings, and then topped with vanilla soft-serve.  Prague's Cones are $9-$10 each and are available in Chocolate, Strawberry or Original.  Also on the menu are Chimney Cakes with cinnamon and sugar coating or with shredded almonds (both $7).  Compared to the cones, the Chimney Cakes are hollow.  Optional fillings include Nutella and lemon curd.  Vegan items are clearly labeled.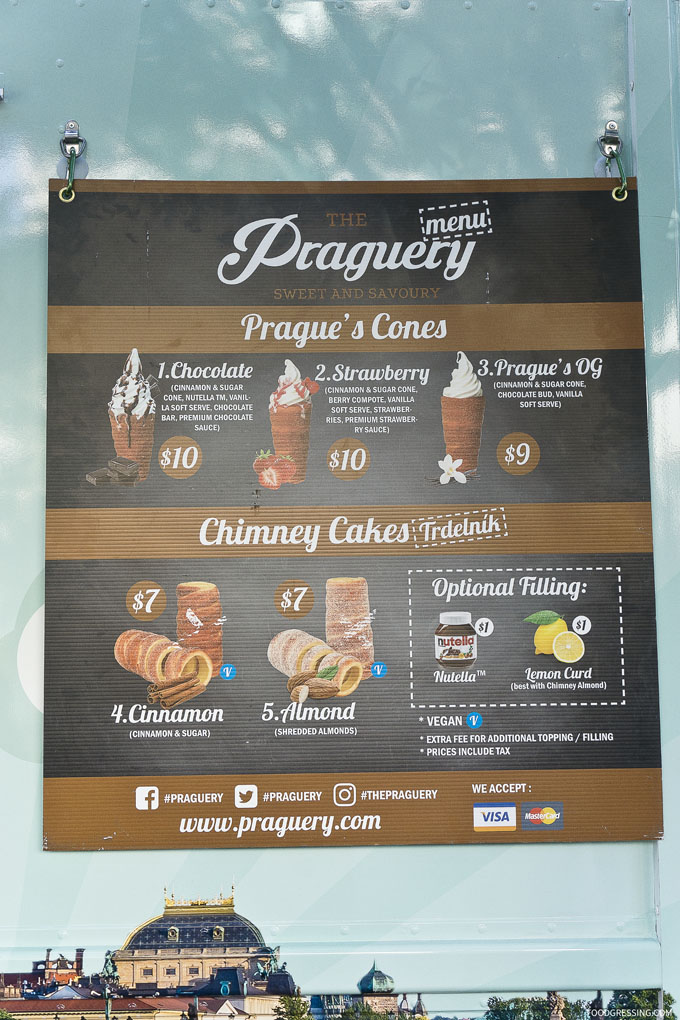 The truck smells amazing as you pass by it.  It's because all the Chimney Cakes are made-to-order and freshly at the truck.  Their dough is vegan-friendly and made from scratch every morning using quality, local ingredients so it always has a home-style taste.  It is then wrapped around a wooden cylinder and baked rotisserie-style.  While I was standing in line, I could see the process in which the cakes are made.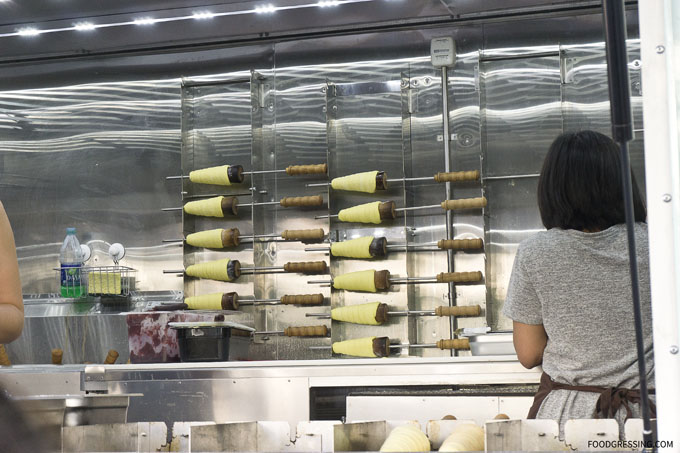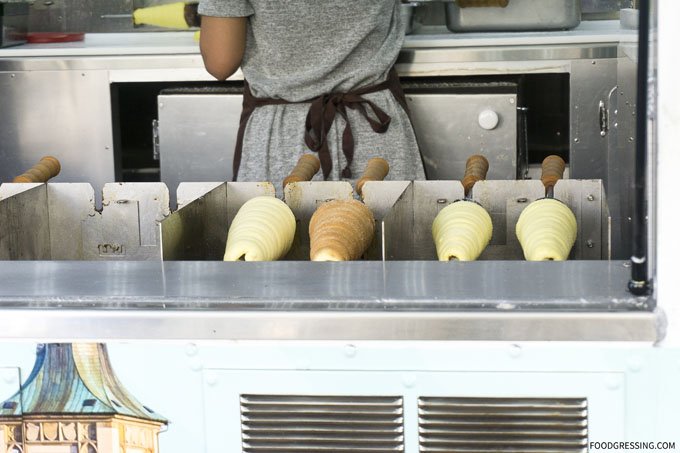 The cakes are so fresh and hot that sometimes you need to wait as they need to cool down before being served.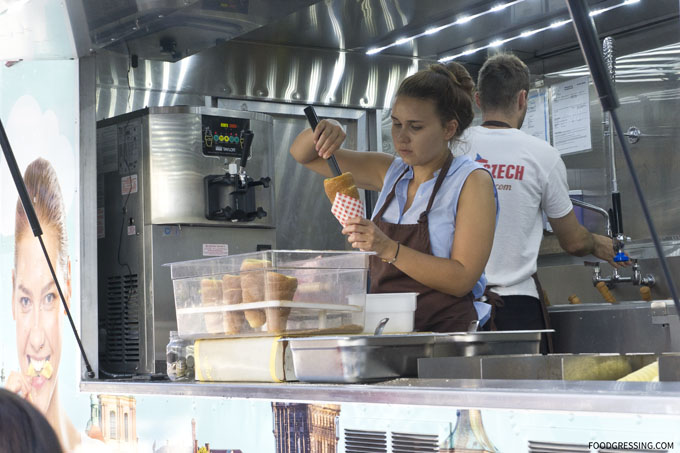 For the Prague's cones, the soft serve is dispensed from a machine.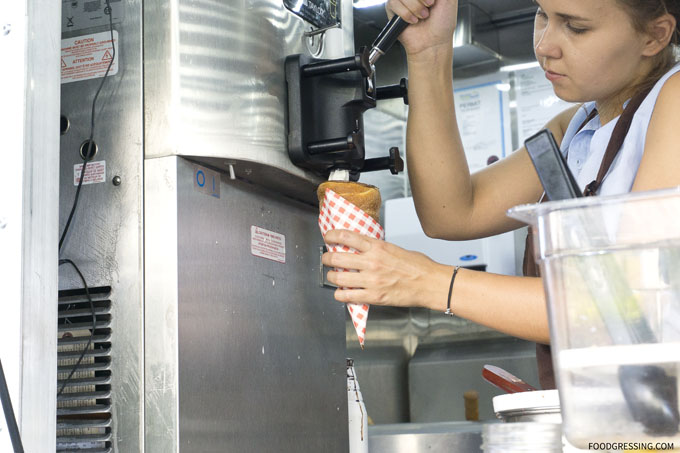 I had a Chocolate Prague cone which had Nutella coating on the inside, cinnamon and sugar coating on the outside, vanilla soft serve and chocolate sauce drizzle.  The dough was lemon-flavoured and was crunchy on the outside and fluffy on the inside.  The vanilla soft serve was standard but complimented the chimney cone well.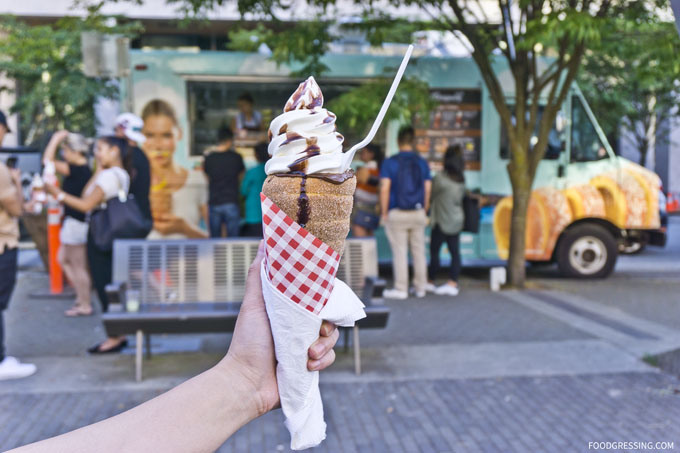 Overall Impression
I thought that The Praguery's Prague Cone was a fun, Instagrammable treat that's great for cooling off from the summer heat.  I think there is a lot of potential and I'd like to see more daring and creative flavours in the future.  I also found their setup for making and baking the dough right inside the food truck very impressive.  To find out where The Praguery will be located next, visit the Street Food App.  Rating: 3.5/5
Website: www.praguery.com