Folks, summer ain't over yet!  And if you haven't had the chance to visit the Panda Night Market (formerly known as the International Night Market), now is the time to do so.  The 2016 run of Panda Night Market will end on September 11.  There you will find fun for all ages including merchandise booths, food and beverage vendors, and live entertainment.  The Panda Night Market is one of the first night markets in Metro Vancouver though most people refer to it as the "Ikea Night Market" due to its physical proximity to the Swedish home furnishings giant.  Oh, and did you know that admission is free?


What To Eat at Panda Night Market
No visit to the Panda Night Market would be complete without indulging in some street food from one of the many food and beverage vendors.  Although the number of food stalls this year has been reduced to just a single aisle, there are still plenty of eats for a night market gastronomic adventure.  Courtesy of Chinesebites.com again this year (see 2015 review here), I have sampled over 20 items to come up my top choices on what to eat (shout out to my teammate on this tasting and hand model extraordinaire – Sophia from EveryDayisAFoodDay.com).  In this list, I've got some night market staples as well as some new delicious tries.
Twist Potato Fries
Deep fried potato slices skewered on a stick?  Yes, please.  I personally derive much enjoyment from peeling off the potato layers and eating them.  Hurricane Potato and Twist Potato are two of the vendors offering these deep fried delights.  Enjoy them with a selection of seasonings including sour cream and onion, cheddar cheese, Parmesan garlic, spicy mayo and more.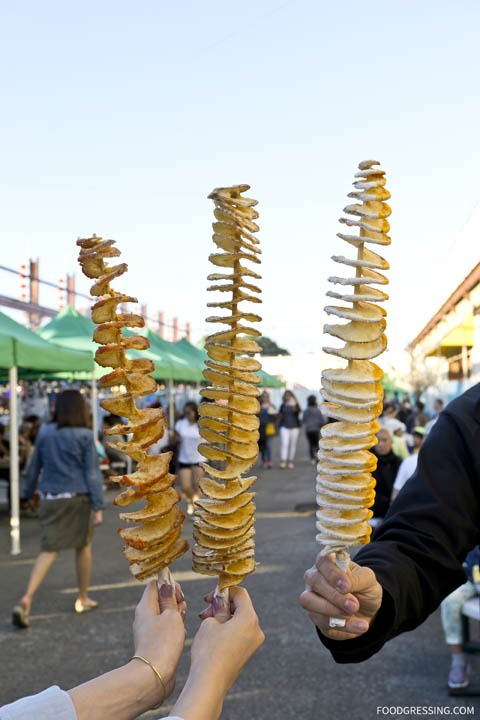 Skewers
The enticing barbecue smell coming from Xinjing A Fan Ti Halal BBQ can make your mouth water instantly.  Marinated in a special mixture of cumin, Sichuan pepper and various spices, the chicken and lamb skewers are are an absolute must-try.  Juicy, tender and flavourful, you won't be disappointed.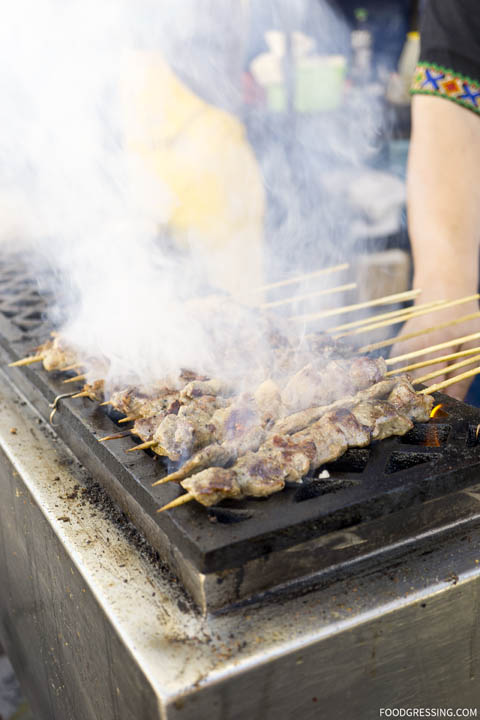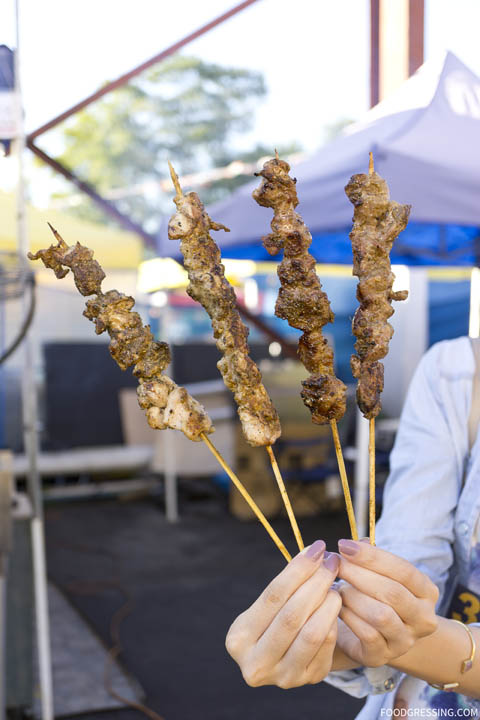 BBQ Squid
There's nothing like a pile of BBQ squid to be enjoyed in all its greasy yet tasty glory.  Flavoured with a sweet chili sauce, this BBQ squid had just the right amount of chewiness.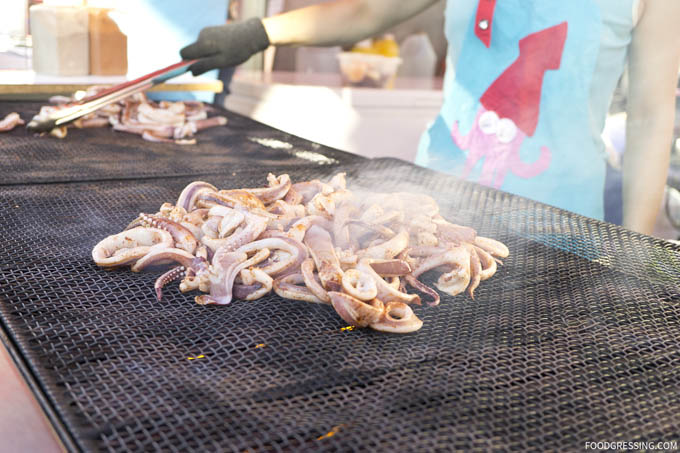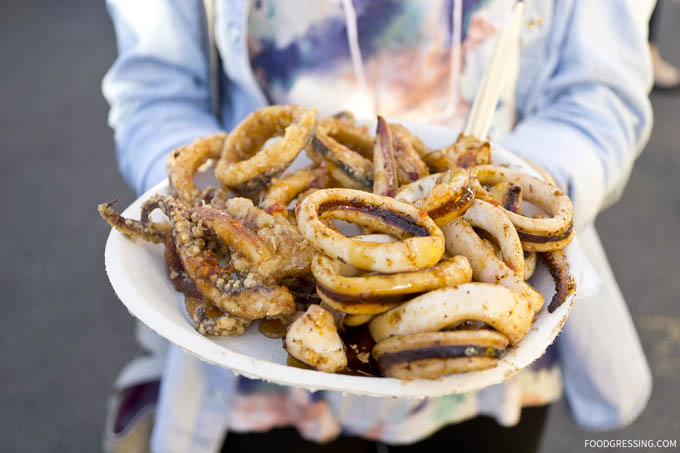 Chimney Cake
A fun hand-held dessert which is new to the market this year is the Chimney Cake.  It's a sweet lemon dough pastry filled with whipped cream, Nutella and strawberry on top.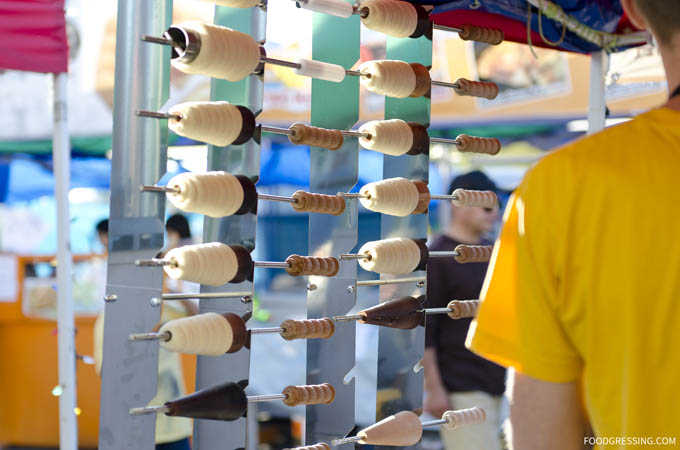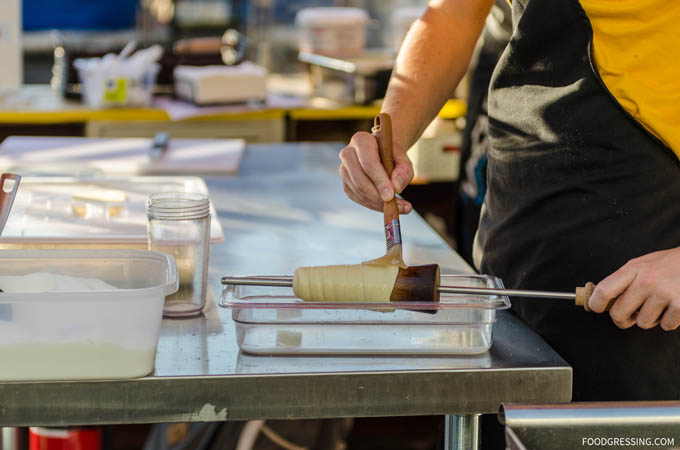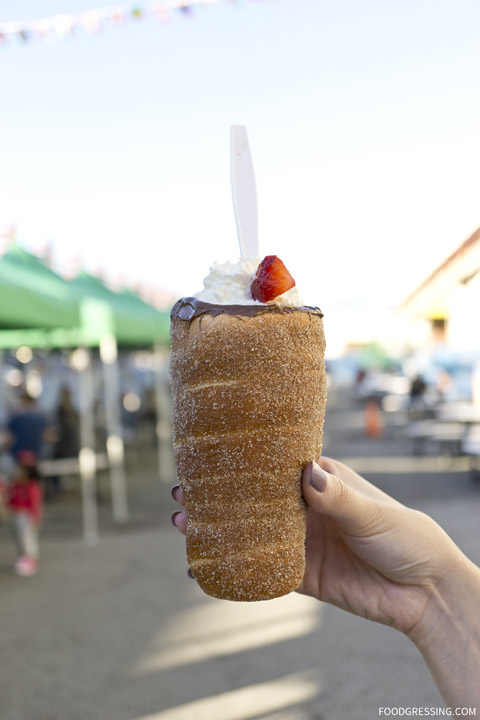 French Toast
You don't need to wait for breakfast or brunch for French toast.  Although they may look like deep fried tofu, the French Toast at the Panda Market are deliciously crispy on the outside and fluffy on the inside.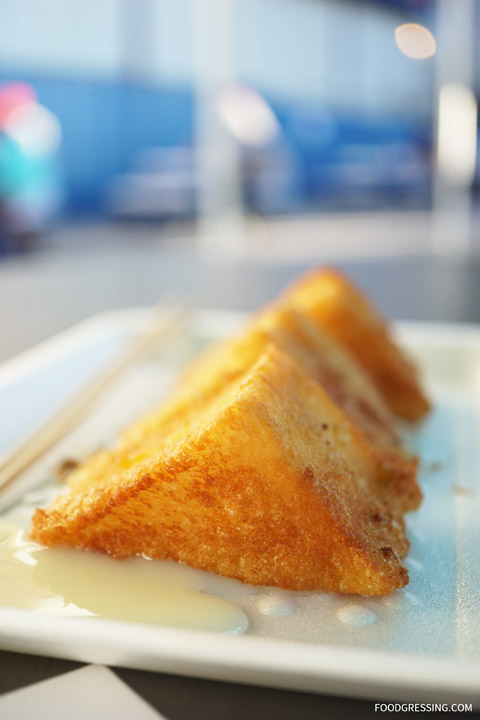 Japanese Baked Cheese Tarts
New to the Panda Market this year are Japanese-style cheese tarts.  The crusts are wonderfully buttery and flaky and the filling is warm.  Super cute and yummy little goodies.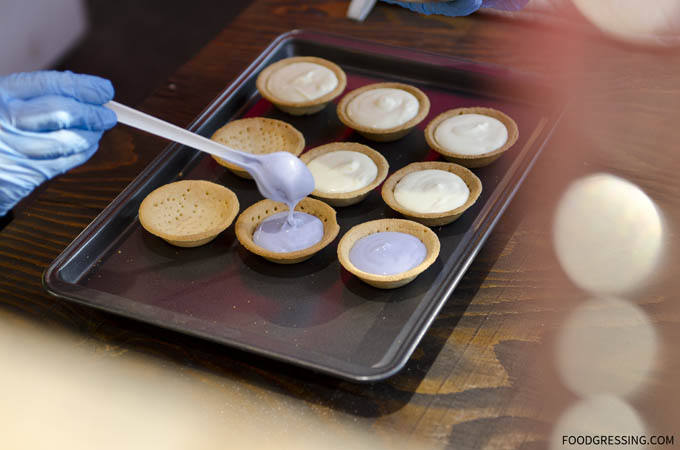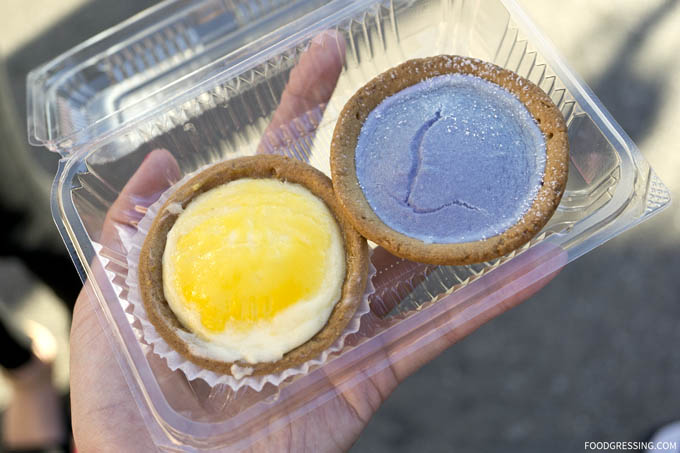 Deep Fried Squid
The deep fried squid by "Sea Monster" surprised me because it was kind of tasty despite its alien-esque appearance.  It's more heavy on the breading versus the amount of squid meat, but kind of a greasy, guilty pleasure.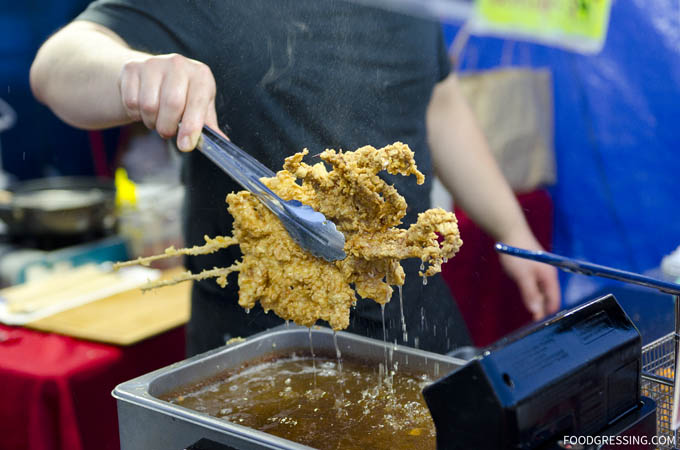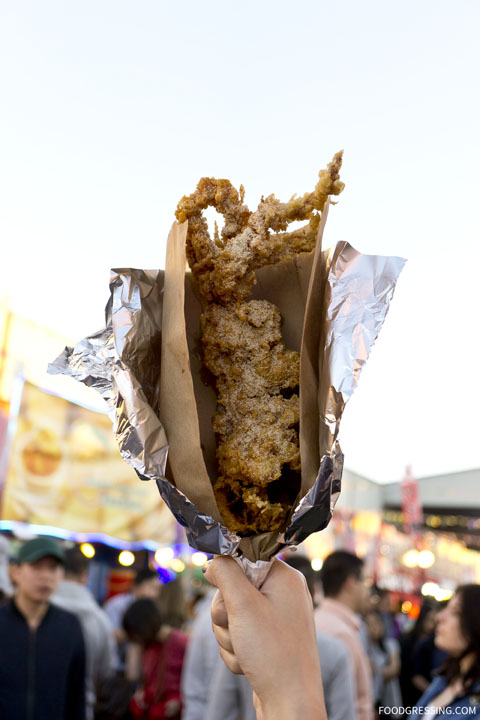 Watermelon Drink
As for a trendy, Instagram-worthy drink, there is the fresh watermelon juice.  Reminiscent of Kitsilano's 720 Sweets, dry ice and water are used to create a smoke-emitting visual effect on the drink. To make your drink more interesting, you can add boba balls filled with juice to this beverage.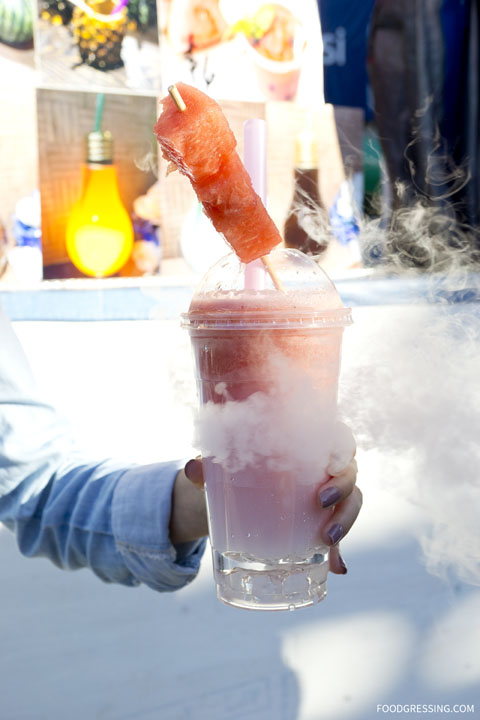 Mango Shaved Ice
Vancouverites certainly love their mango desserts.  For some refreshing eats, enjoy a bowl of shaved ice topped with vanilla ice cream and fresh cut mango.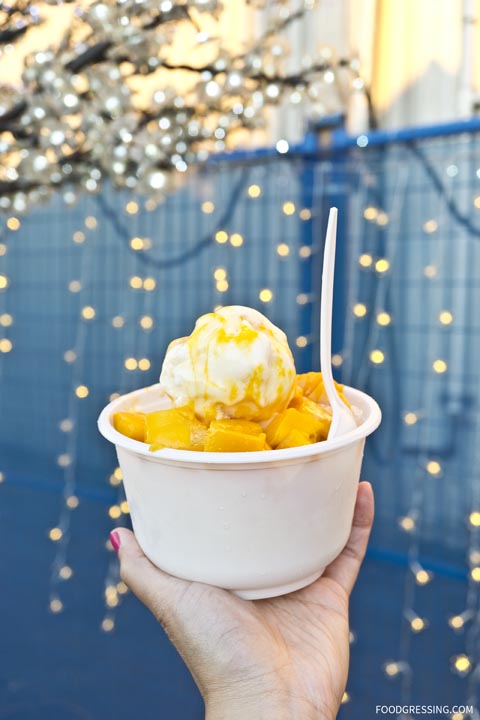 Takoyaki
A little bit sweet and savoury, these ball-shaped Japanese snack filled with minced octopus and tempura scraps are scrumptious eats.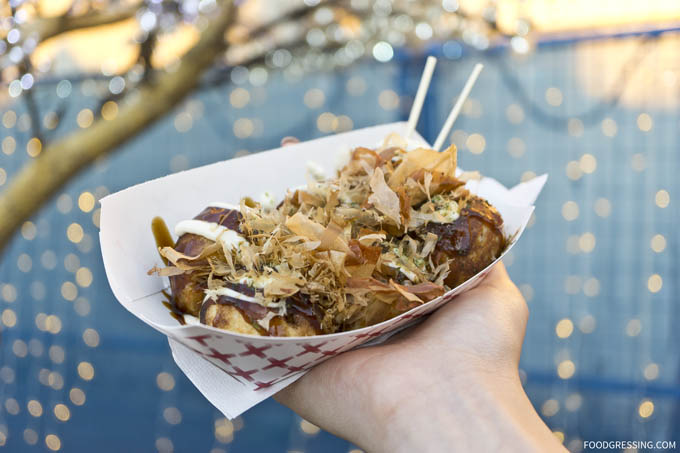 And there you have it, my round-up of my top 10 things to eat at Panda Market.  What is your favourite?  Sound off in the comments below.
Panda Night Market Information
Location: 12631 Vulcan Way, Richmond
Season: April 29, 2016 – September 11, 2016
Admission: Free
Website: www.pandamarket.ca