Disclosure: I was invited to a media tasting. All food was complimentary. Opinions are my own.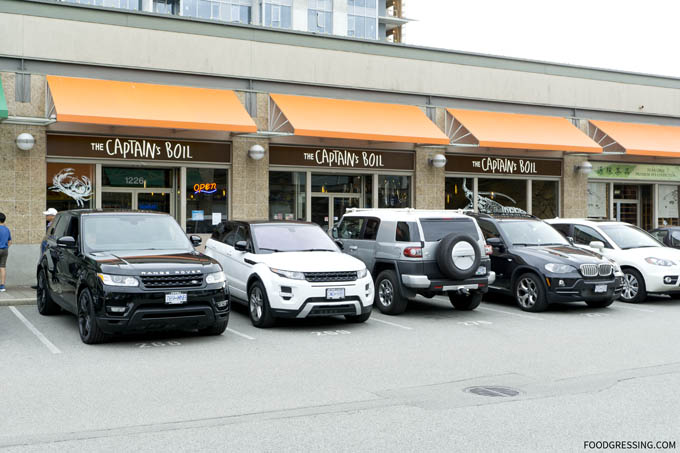 Seafood lovers, it's time to get down and dirty. Toronto-based chain, the Captain's Boil, is now open at 1226 – 8338 Capstan Way in Richmond. At the Captain's Boil, you can indulge in boiled Cajun- & Asian-inspired seafood feasts with a unique fusion flavour. The recipes were inspired by the 70s when Asian Fishermen who immigrated to the US Gulf Coast and gave traditional Louisiana Creole-inspired crawfish boil a twist by adding Asian spices and aromatics. I recently attended a very hand-on media tasting (more on that later).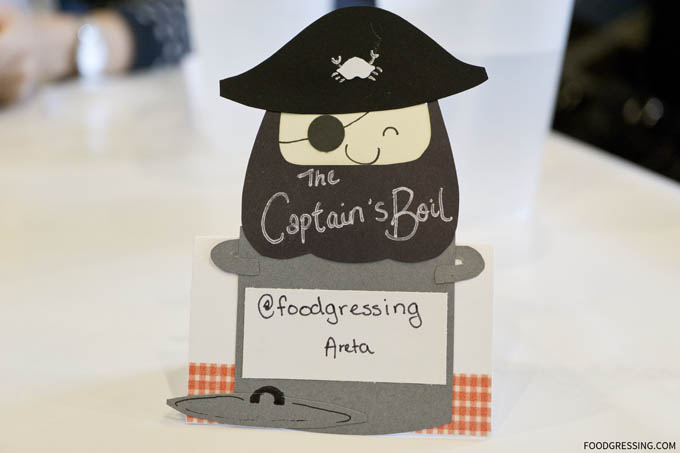 Richmond Location
Captain's Boil is located at the Union Square strip mall in Richmond. The restaurant is rather spacious at 2,200 square feet and can accommodate 92 diners. Each table is covered with paper and already has a roll of paper towel ready for you.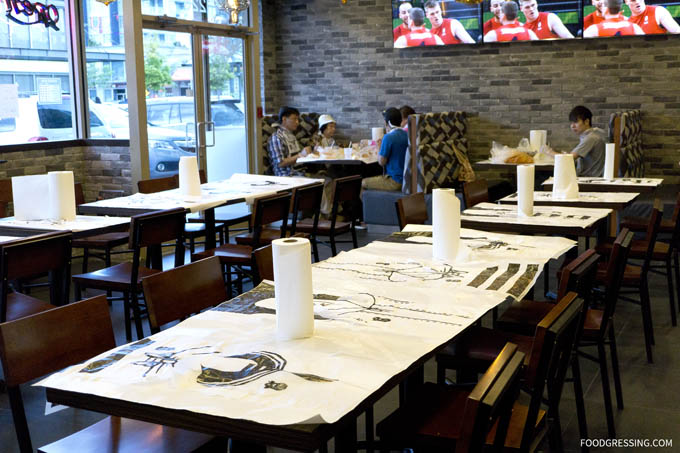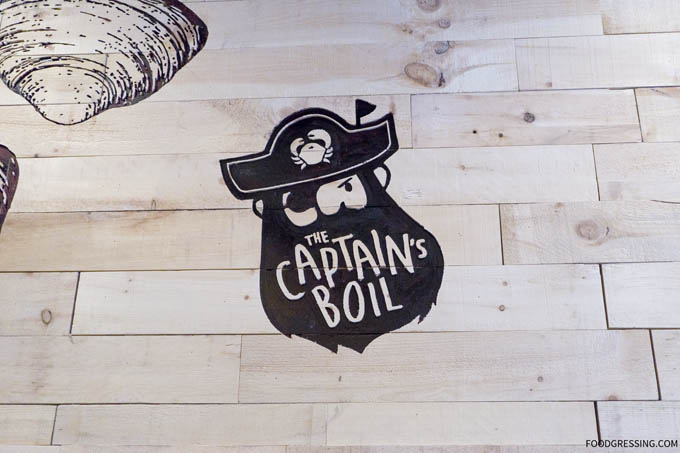 Forget the Cutlery
At the Captain's Boil, it's about getting up close and personal with the seafood. There is no cutlery and no chopsticks. Instead, you'll be wearing plastic gloves, donning a fashionable nautical-inspired bib and eating with your hands. The protective gear will help but you'll likely be taking the experience home..with the residual smell. Ladies, don't forget your hair ties. It's all in good fun.
Captain's Boil Menu
How it works is you first choose the seafood "catch" (King crab legs, shrimp, Louisiana crawfish, lobster, clams, mussels and more). Then, you choose your spice level (ranging from Mild to Fire) and your spice flavour (Cajun Cajun, Lemon Pepper, Garlic Sauce or the Captain's Boil – all three mix). The seafood is either market price or by pound. Side options include fries, corn, chicken tenders, fish & chips and more. Also available are sizzling plate combos like fish or chicken teriyaki.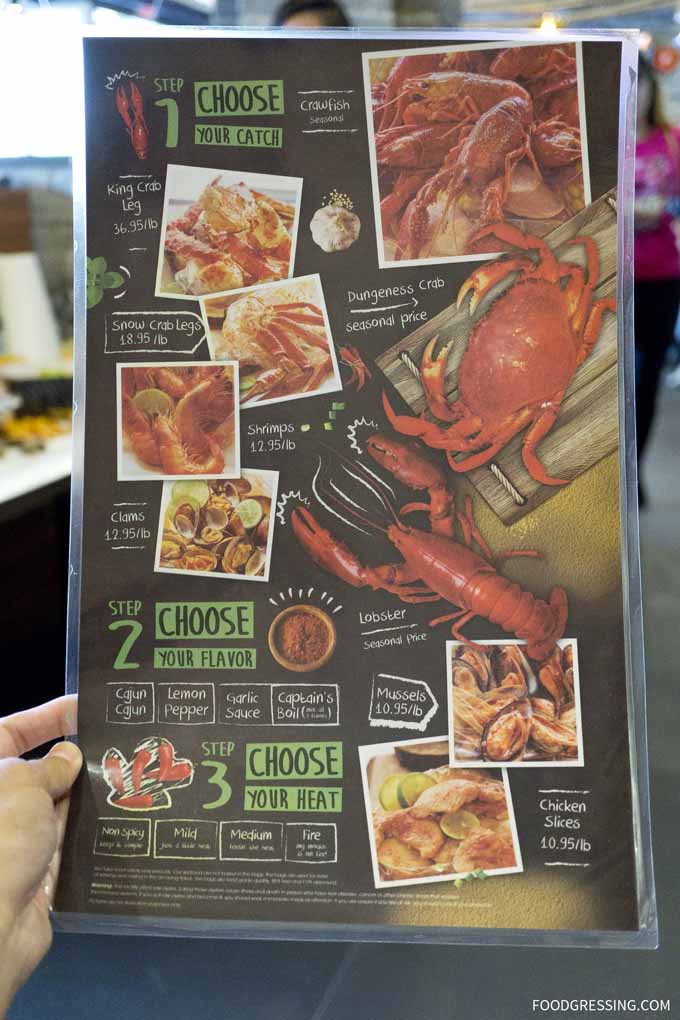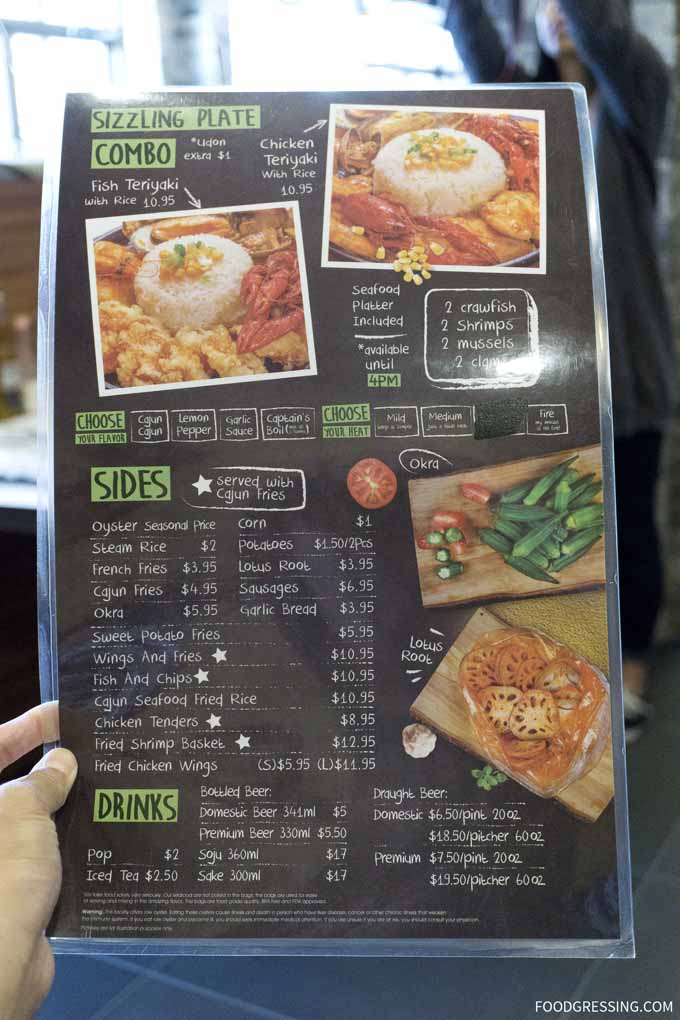 What I Tried
Our table of 7 had the following:
1 x Dozen oysters ($17.95)
1 x Fried shrimp basket ($12.95)
1 x Fried chicken wings ($11.95)
1 x Cajun fries ($4.95)
1 x Crawfish catch with four corn ($19.95)
3 x King Crab Leg ($110.85)
1 x Dungeness Crab ($45.95)
2 x Lobster ($99.95)
1 x Snow Crab Legs ($18.95)
1 x Shrimp with 3 potatoes ($17.45)
1 x Clams with sausage ($19.94)
1 x Mussels with lotus root ($14.90)
1 x Chicken slices ($10.95)
1 x Dinner Fish Teriyaki
2 x Premium Beer ($11.00)
3 x Domestic Beer ($15.00)
1 x Pop ($2.00)
2 x Iced Tea ($5.00)
3 x Corn ($3.00)
The bill would have been $478.87 including taxes but not tip, which averages to $68 per person.
We chose a mild Captain's Boil to flavour the seafood which I thought was very good. The seasoning was a bit on the heavier side from being buttery but it had a nice spicy kick to it. The seafood catches were piping hot and came in plastic, foodsafe bags that were dumped out onto the tables.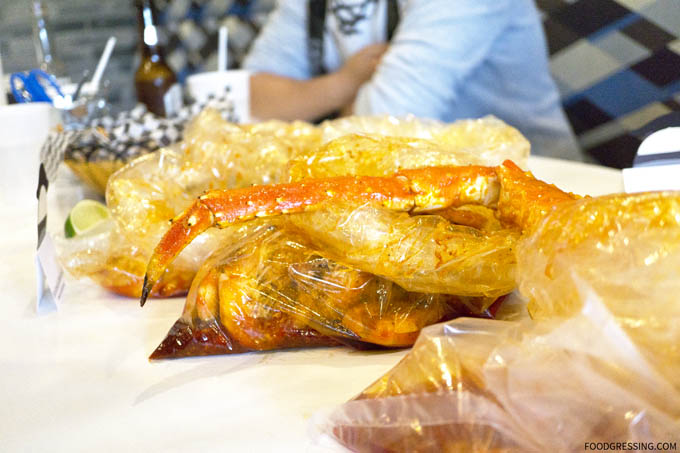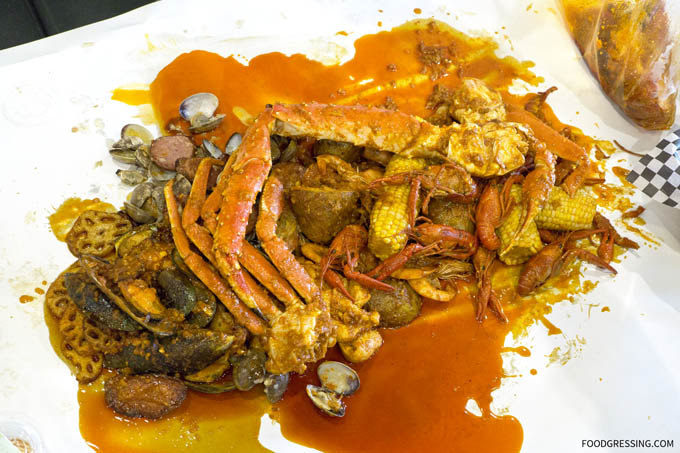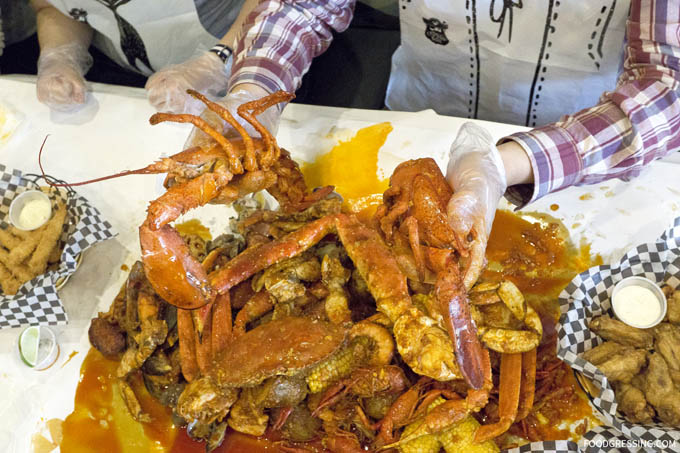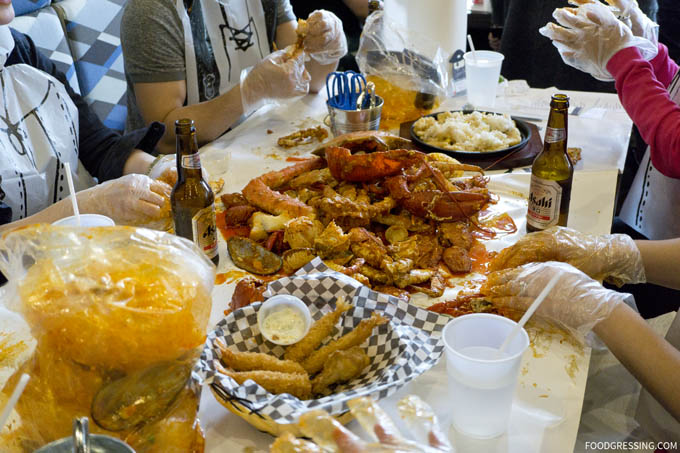 The sides (oysters, shrimp, chicken wings, fries) were also on point but the standout to me was the corn. I really enjoyed the corn which was wonderfully sweet and juicy.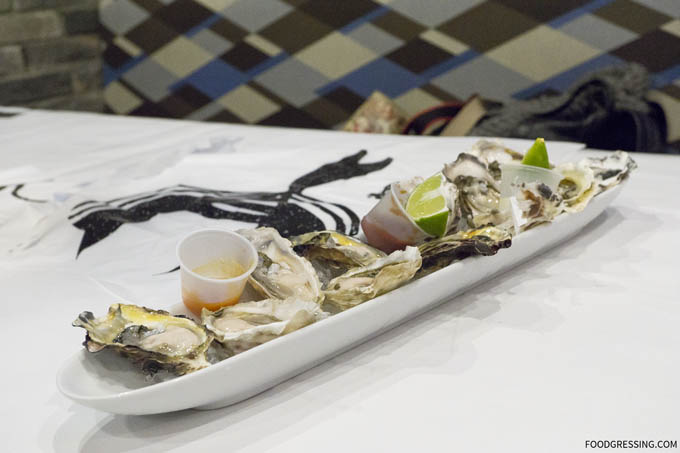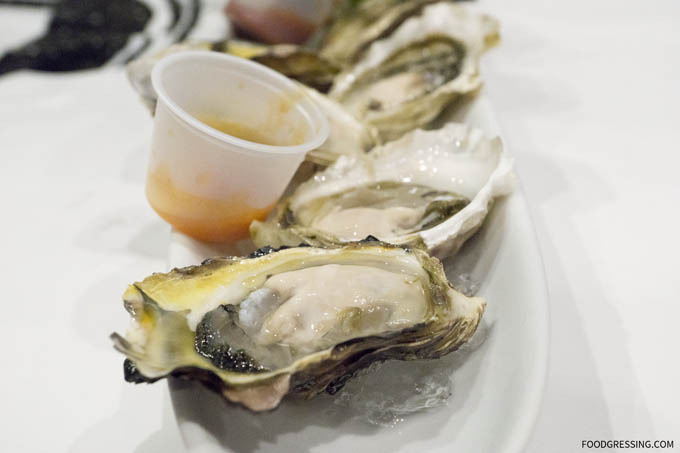 The fried items had a nicely crispy exterior and were not overly greasy.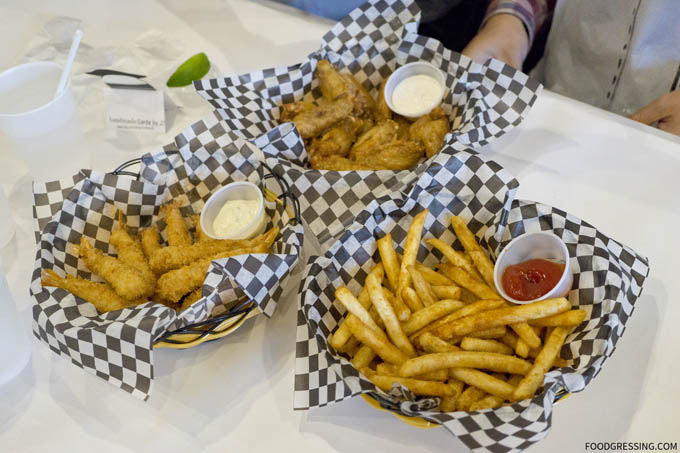 The dining experience was not cheap though reasonable considering the amount and variety of seafood we had. If I were to return, I would not order the King Crab Leg because one leg costs $36.95.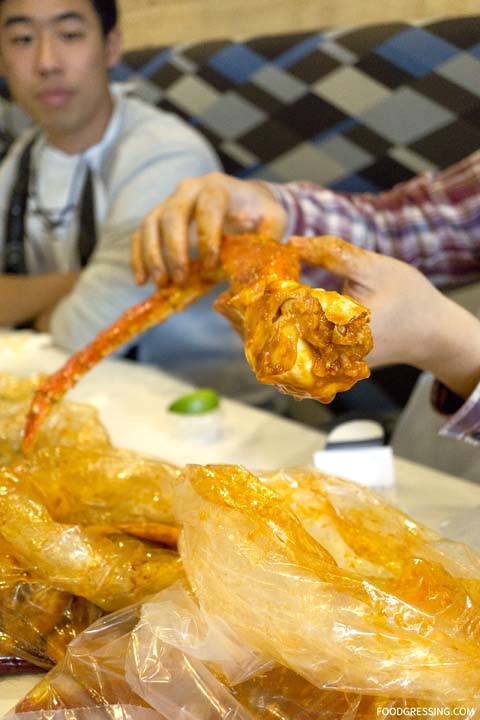 Overall Impression
The Captain's Boil is a fun and delicious dining experience to be shared with a group. Keep it mind it is a bit pricey since it's seafood. I'd skip the King Crab Leg ($$$). Rating: 4/5