The French Laundry reservations are one of the most difficult to get in the world. First and foremost, I have not had any success getting a French Laundry reservation but I just wanted to share my experience in this post.
Where to go for a French Laundry reservation
Reservations for The French Laundry are made online through their listing on Tock.
When are French Laundry reservations released?
The French Laundry reservations are open on the first day of each month at 10 AM PST for the following month.
So for example, July reservations are released on June 1 at 10 AM.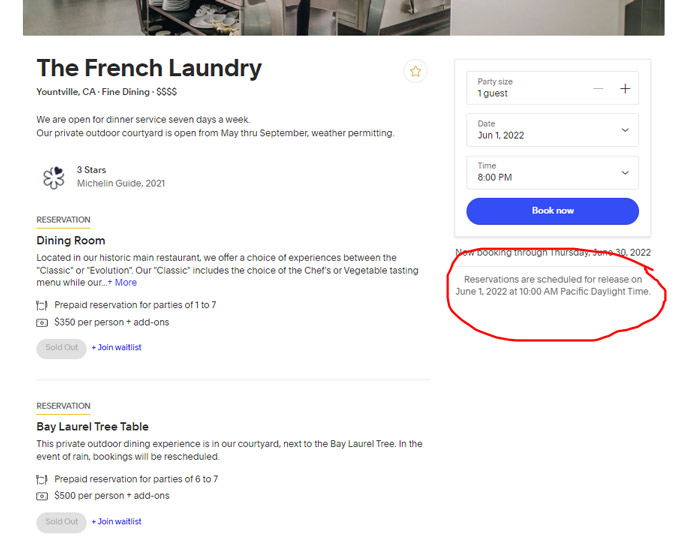 My Experience
So far, I have been unsuccessful but I'd like to share some thoughts on the 4 times that I have tried.
You definitely have to be there refreshing the page as the reservations open. I usually see reservations for tables of 1 or 2 people gone within the first two minutes. If you have a bigger group, the reservations might not be snapped up as quickly.
You might see a reservation available like the screenshot below.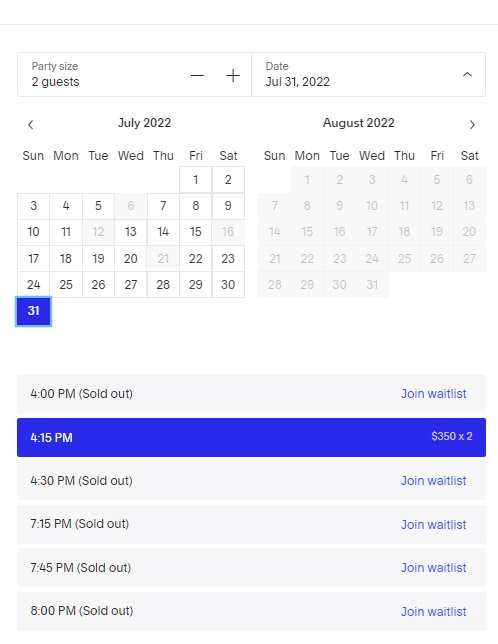 But when you click into it, it might just say that someone else has just selected it and it is no longer available. Very disappointing!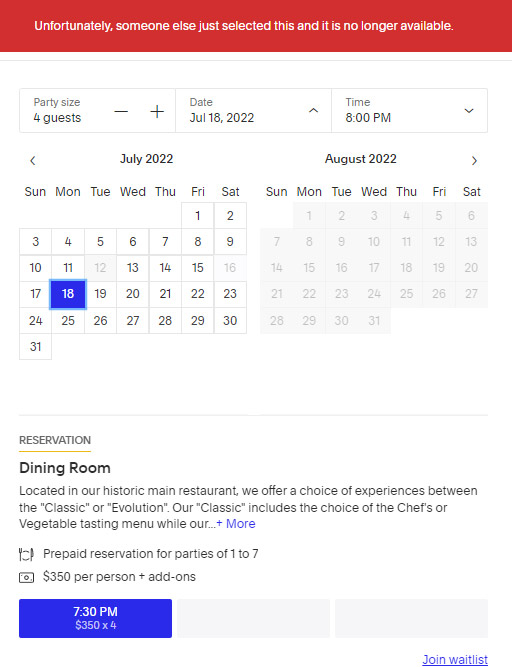 I have most experience trying to make a reservation for 1 (ie, myself only) and spots are very limited. Most dates seem to have only 1 table of 1 available at 4 pm.

Tables of 2 are most popular followed by 3 – 6 people.
If you have no luck getting a reservation for The French Laundry, you could try adding yourself to the wait list.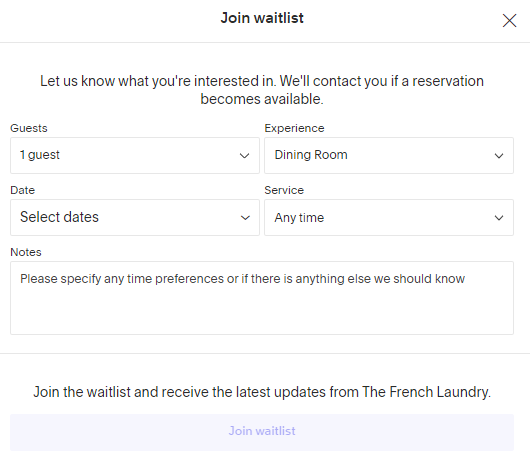 How to transfer your French Laundry reservation
Apparently, it is possible to transfer your French Laundry reservation within the Tock platform at face value.
Log in to your Tock account, navigate to My Account, select Your Booking and click the Transfer button next to the experience you would like to transfer.
You can check forums like this one on reddit for people who are advertising to transfer a reservation.
Buyer beware! Some people will transfer at face value while some might ask for a finder's fee.