Here's a look at all you need to know about The Alley and The Alley top drinks you need to try.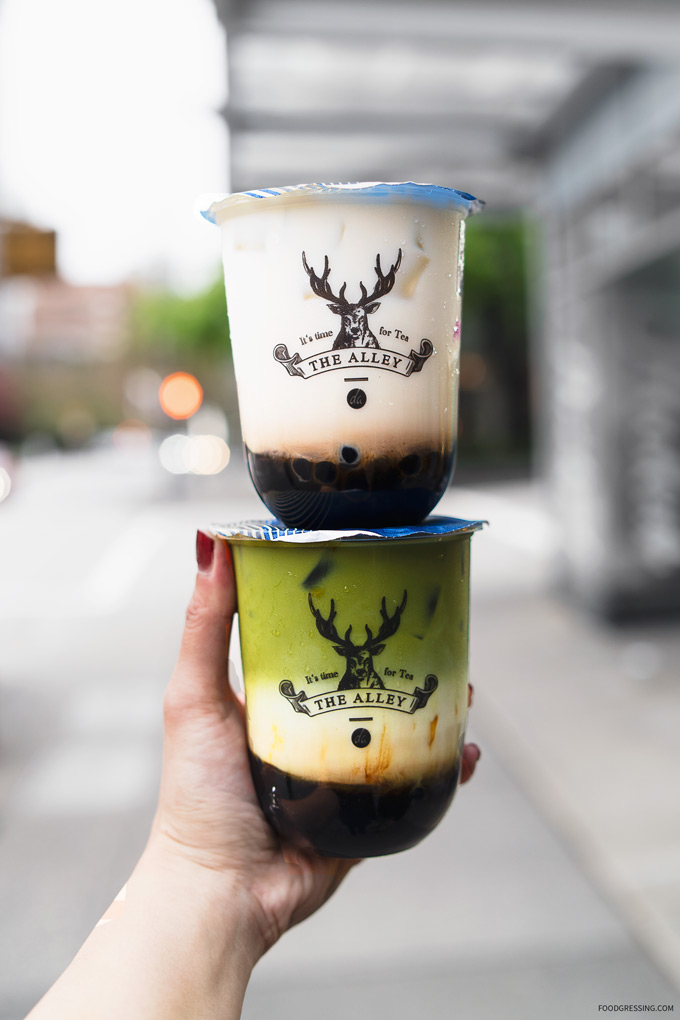 Where did The Alley come from?
The Alley is a Taiwanese-based modern bubble tea chain known for their Brown Sugar Deerioca (tapioca pearl) drinks.
Founded by graphic designer Mao-ting Chiu in 2015, this newer Taiwanese brand has grown to more than 300 locations across Taiwan, China, Japan, Canada, France, Australia, and USA.
The Alley's trendy and unique branding features their signature logo – a male deer or buck head – which has made it a social media darling.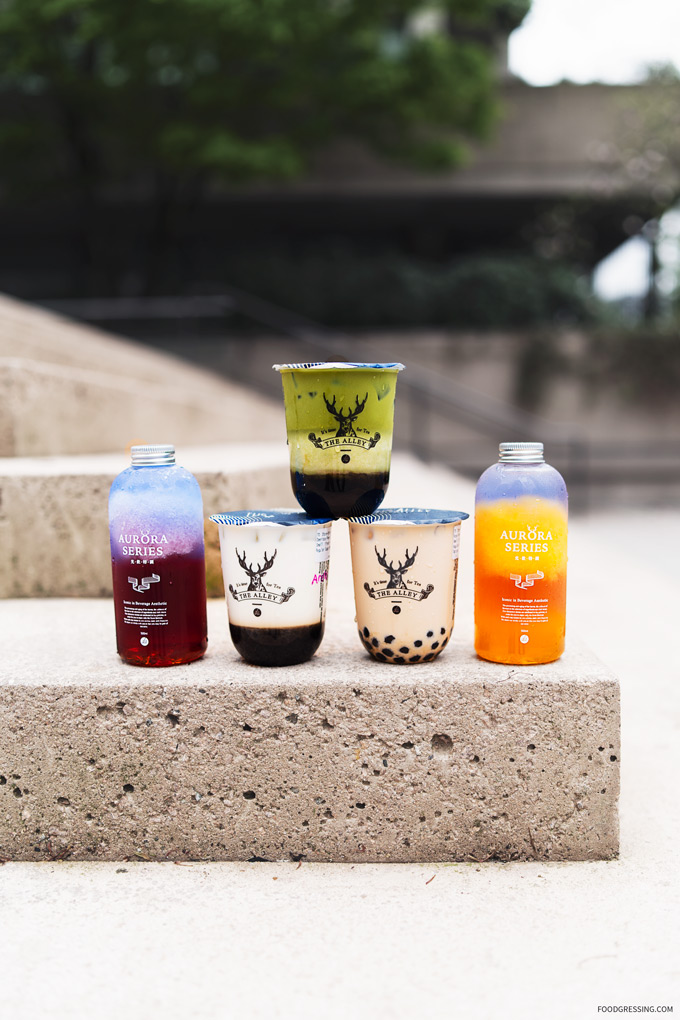 What is Deerioca?
The Alley freshly handcrafts their trademark tapioca pearls known as "Deerioca."
"Deerioca" is a word play on "tapioca" plus the brand's logo "deer."
The Alley makes their own Deerioca from scratch from making the dough to kneading and rolling the dough into small balls.
The brand takes pride in the texture and aroma of their pearls which each bite being unique and satisfying.
The Alley's Deerioca are slow-cooked in a brown sugar "lava" for two hours. The brown sugar is made using house-made cane sugar.
Their signature Brown Sugar Deerioca drinks include Deerioca Fever (using fresh milk or soy milk) and Deerioca Matcha.
The Alley Top Drinks
What is the best seller in the alley? Check out the list below on The Alley top drinks.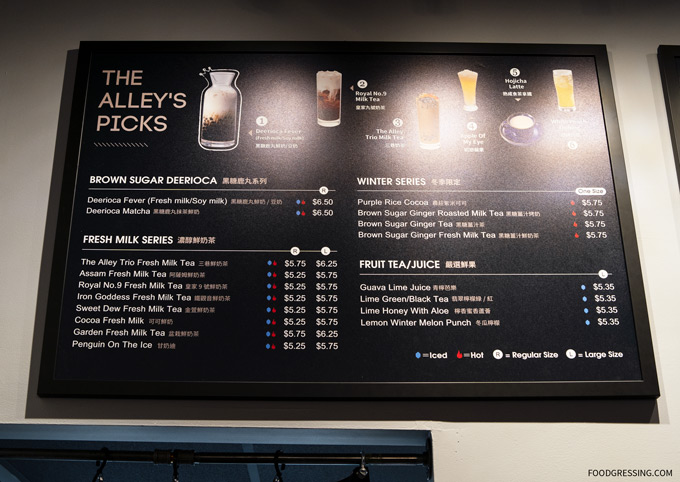 Deerioca Fever (Fresh Milk/Soy Milk)
Royal No. 9 Milk Tea
The Alley Trio Milk Tea
Apple of My Eye
Hojicha Latte
White Peach Oolong
Deerioca Fever (available with fresh milk/soy milk)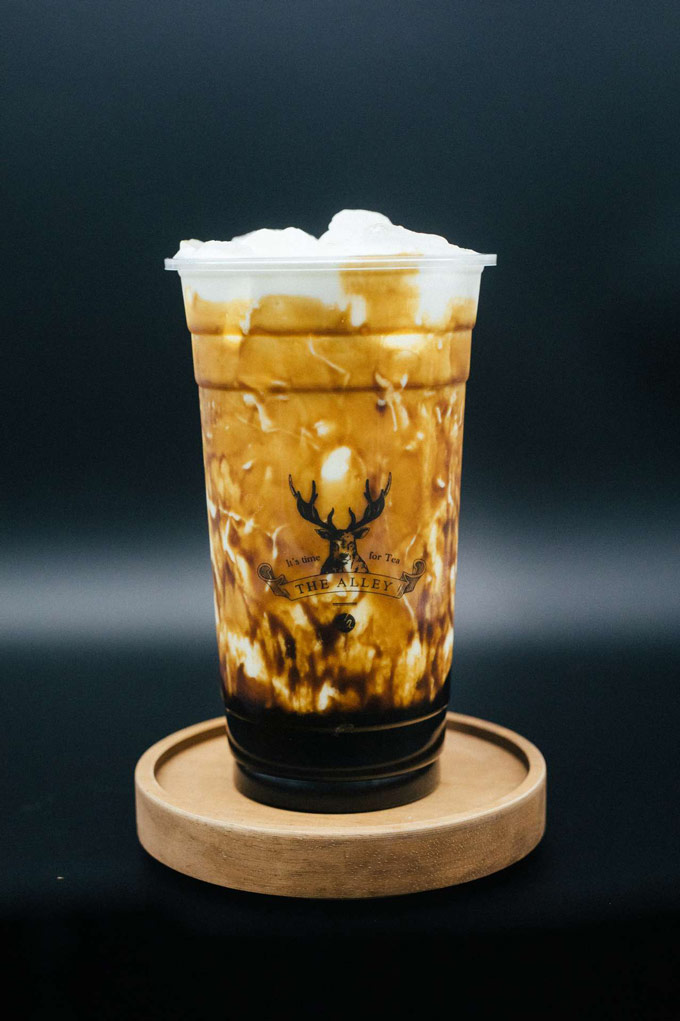 Royal No. 9 Milk Tea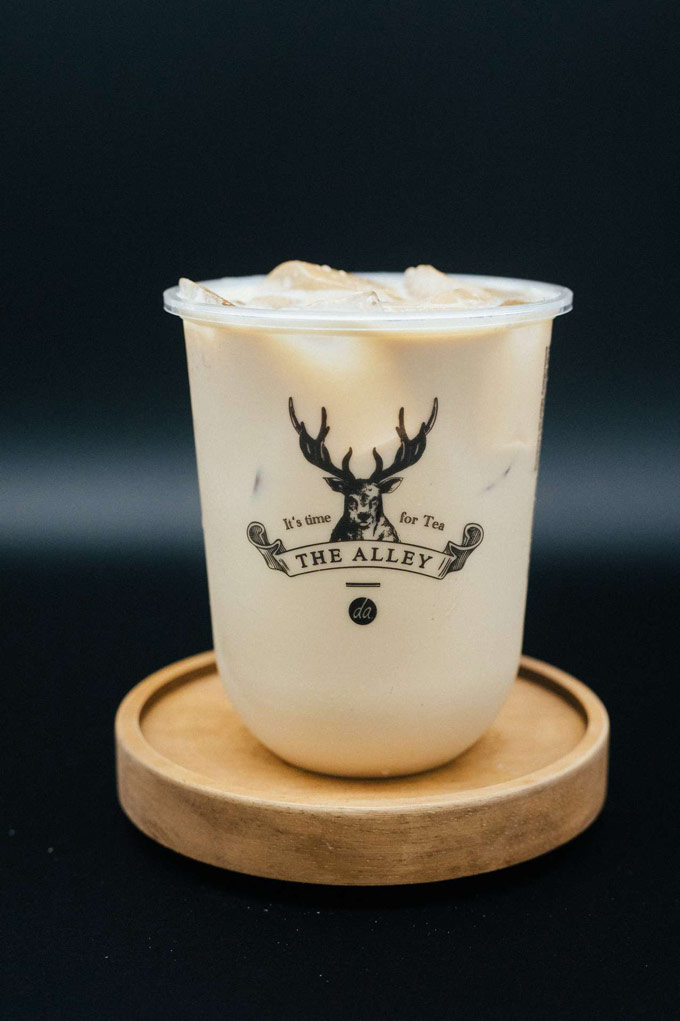 The Alley Trio Milk Tea (wwith boba, coconut jelly, konjac jelly)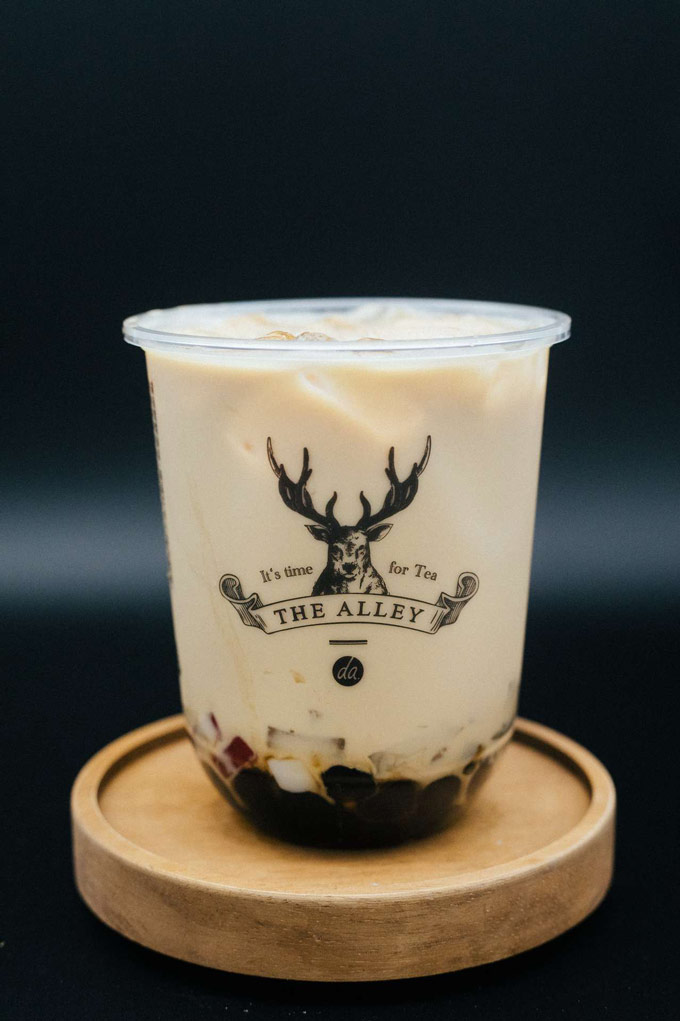 Apple of my Eye (has aloe)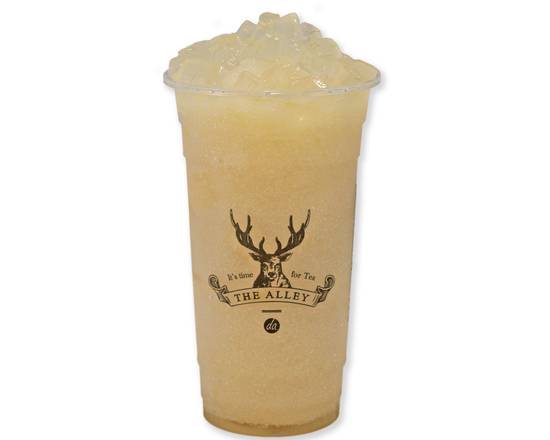 The Alley Menu
The drink options at The Alley include Brown Sugar Deerioca, Milk Tea Series, Fruit Tea/Juice, The Finest Collection, Winter Series, The Alley Original Brewed Tea, Fresh Milk Series, and The Alley Specialty.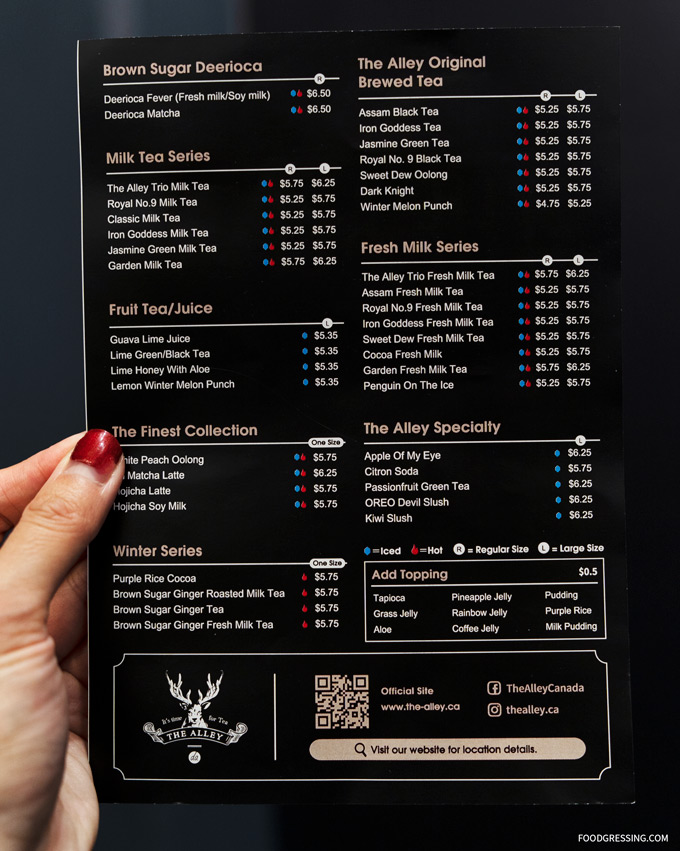 Brown Sugar Deerioca Series
Deerioca Fever (Fresh milk / Soy Milk)
Deerioca Matcha (Fresh milk / Soy Milk)
Deerioca Puff
Milk Tea Series
The Alley Trio Milk Tea
Royal No.9 Milk Tea
Classic Milk Tea
Iron Goddess Milk Tea
Jasmine Green Milk Tea
Earl Grey Milk Tea
Garden Milk Tea
Tea Latte Series
The Alley Trio Tea Latte
Assam Tea Latte
Royal No.9 Tea Latte
Garden Tea Latte
Earl Grey Tea Latte
Iron Goddess Tea Latte
Cocoa Fresh Milk
Penguin On The Ice
Snow Velvet Series
Snow Velvet Brown Sugar Latte
Snow Velvet Peach Oolong Tea
Snow Velvet Earl Grey Tea
Snow Velvet Peach Hojicha
Snow Velvet Peach Matcha
The Alley Specialty
Apple Of My Eye
Passionfruit Green Tea
OREO Devil Slush
Lemon Winter Melon Punch
Crunchy Series
Crunchy Tiramisu Milk Tea
Crunchy Brown Sugar Milk Tea
Crunchy Coca Milk Tea
Lulu Fresh Fruit Series
Lime Honey with Aloe
Kiwi Slush
Snow Strawberry Lulu
Orange Lulu
Original Brewed Tea
Daily Brewed Tea (Royal No. 9 Black Tea / Assam Black Tea / Iron Goddess Tea / Jasmine Green Tea )
Winter Melon Punch
Peach Oolong
Winter Series
Brown Sugar Ginger Roasted Milk Tea
Brown Sugar Ginger Tea
Brown Sugar Ginger Fresh Milk Tea
Drinks come in regular or large and some are one-size only. Regular drinks are $5.25 – $6.50 and large $5.75 – $6.25. The drinks can be customized for sugar level (regular, less, half, little, none) and ice level (regular, less, none).