Thanksgiving is a wonderful time to eat, drink and be thankful. Looking for ways to celebrate Thanksgiving in Dallas-Fort Worth 2022? This post covers Thanksgiving dinner in Dallas-Fort Worth, restaurants open for Thanksgiving in Dallas-Fort Worth as well as turkey to go and takeout options.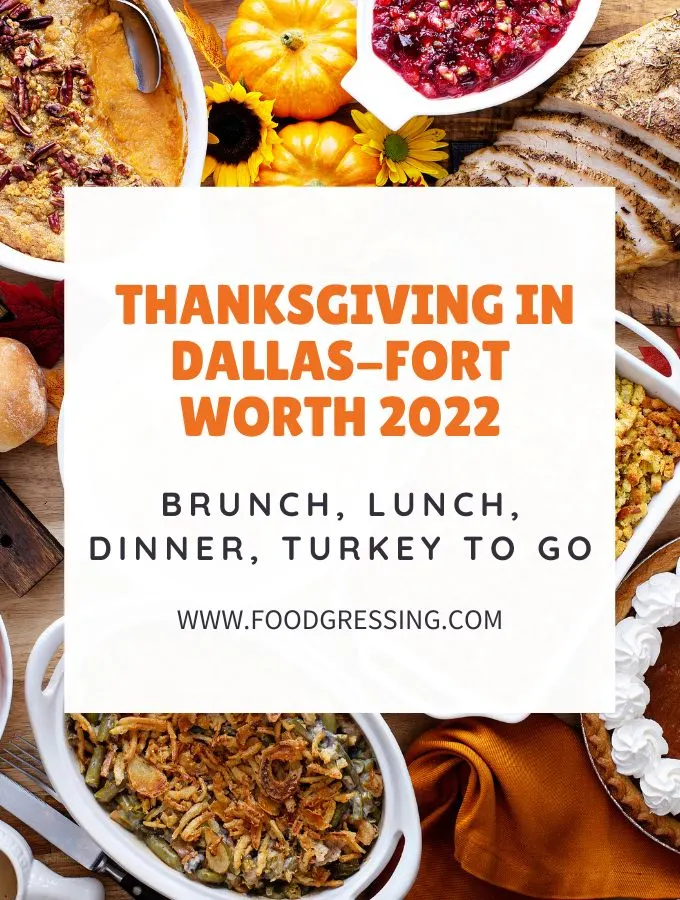 Thanksgiving in the US this year is Thursday, November 24.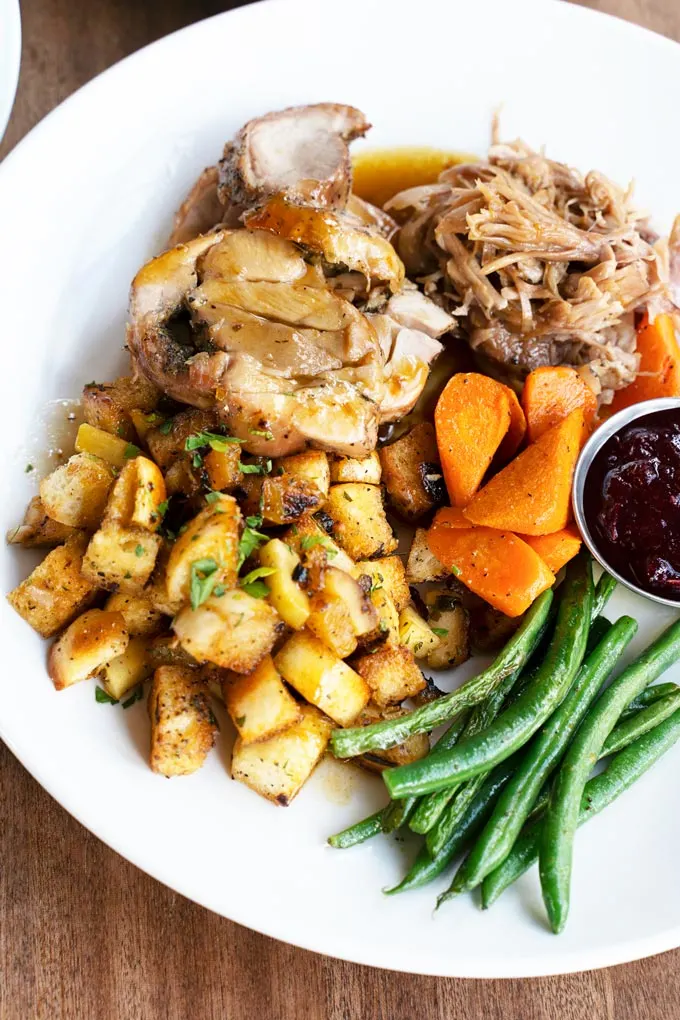 Please reach out to me [email protected] or @foodgressing on social media if you are a restaurant that wants to be featured. Provide all the details of your holiday offering in your message. For faster processing, please provide a ready to copy and paste excerpt in paragraph form in a similar format to the restaurants featured below.
This list is not exhaustive and is updated as information becomes available. I try to feature as much as I can but certainly this is not all that is out there. If your favorite restaurant is not on the list, contact them to see what they are offering.
Thanksgiving in Dallas-Fort Worth 2022
Truluck's
In addition to their regular menu of delicious seafood entrees, Truluck's will offer a traditional three-course Thanksgiving feast of turkey with everyone's favorite sides and a selection of desserts (menu attached). In addition, guests can enjoy two holiday specialty cocktails: the Holiday Nog ($15) and a Turkey Fashioned (their take on an Old Fashioned) made with Wild Turkey bourbon, spiced orange syrup, angostura, and orange bitters ($14.50). Reservations are recommended.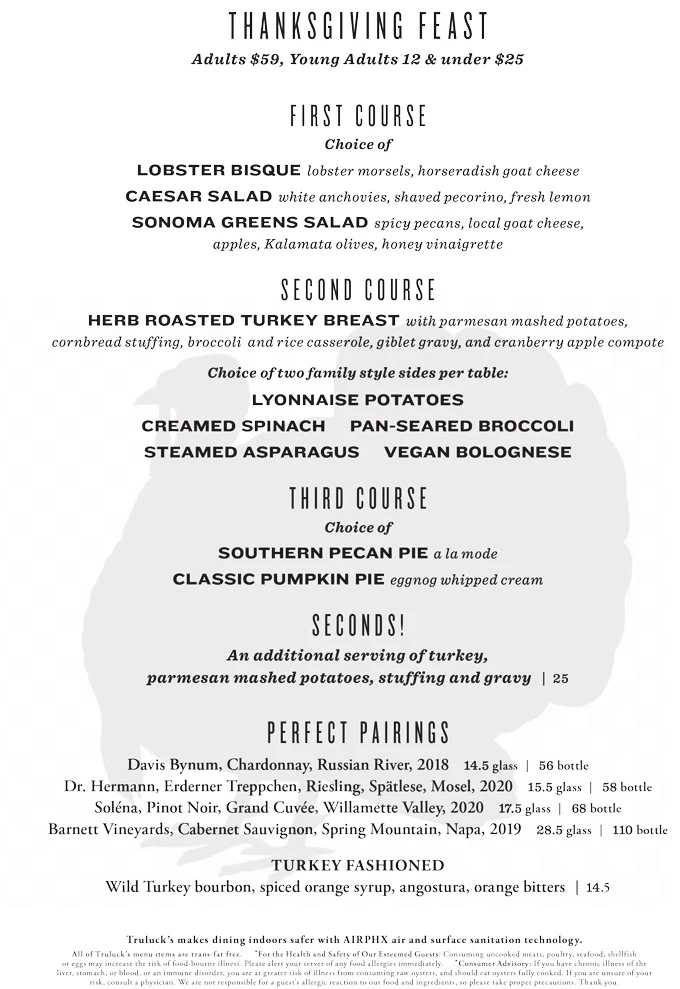 Perry's Steakhouse & Grille
Perry's Steakhouse & Grille – Park District, Perry's Steakhouse & Grille – Grapevine and Perry's Steakhouse & Grille – Frisco is offering a Thanksgiving Smoked Turkey Feature.
Perry's own Smoked Turkey Breast Meal will include your choice of Perry's Honey Crisp Apple Salad with Dried Cranberries, Walnuts and Maple Syrup Vinaigrette or Butternut Squash Soup, served with Pan Gravy, Mashed Potatoes, Green Bean Almondine, Sausage & Sage Dressing, Cranberry Relish and Homemade Bread: $49/person (+tax & gratuity) & to-go individual plate for $49/person (+tax & handling fee). Add an individual serving of Pumpkin Cheesecake for $9. Available to-go or dine-in. A credit card is required to hold your dine-inreservation. If you need to cancel, please do so within 48 hours of the reservation time to avoid a $15 per person cancellation fee. To-go options are available November 23rd –24th.
Dakota's Steakhouse
Dakota's Steakhouse, an iconic underground Dallas steakhouse, will be open on Thanksgiving Day and is serving a dressed up 3-course holiday menu
For those who dine out on Thanksgiving Day, Dakota's Steakhouse will be open from 11 a.m. – 4 p.m. serving a 3-course special menu of classically elevated holiday dishes for $125 per person (tax & gratuity included) and 50% off for kids under 12.
Guests can start their Thanksgiving feast with a choice of a Delicata & Asian Pear Salad, Butternut Squash Ravioli, Dakota's Clam Chowder, or Citrus Marinated Grilled Prawns. Entrees include a selection of Filet Mignon, Herb Roasted Turkey, Grilled Lamb Chops, and Roasted Halibut, all accompanied by seasonal sides such as Crispy Brussels Sprouts, Cornbread Stuffing, and Honey Glazed Carrots for the table. Save room for dessert with an assortment of sweet treats ranging from Mini Pumpkin Pies, Caramel Pecan Tarts, Spiced Apple Cake, and more.

Sloane's Corner
Sloane's Corner, a relaxed New American Bistro, is offering a festive take-home Thanksgiving feast so you can avoid the fuss of cooking and spend more time with your loved ones this holiday.
For those hosting at home, avoid the hassle of cooking an entire Thanksgiving feast and order the meal from Sloane's Corner. The restaurant will be closed on Thanksgiving Day, but Sloane's Corner is offering takeaway holiday dinners for $150 for 2 people and $60 for every additional person.
The menu includes homemade Parker House Rolls and a Baby Kale Salad and two entrees of choice between a Petite Prime Filet, Cedar Plank Salmon, and Herb Roasted Turkey. All dinner bundles include mouthwatering sides of Traditional Cornbread Stuffing, Brussels Sprouts with Bacon Vinaigrette, Delicata Squash with Rosemary Honey, and Buttermilk Mashed Potatoes. The best part? Take a whole homemade pie home, a choice of Bourban Pecan Pie, Caramelized Pink Lady Apple Pie, or Dulce de Leche Pumpkin Pie.
Available for pick up anytime on Wednesday, November 23rd between 11 a.m. – 8 p.m. The deadline for takeaway orders is Tuesday, November 22nd at 3pm.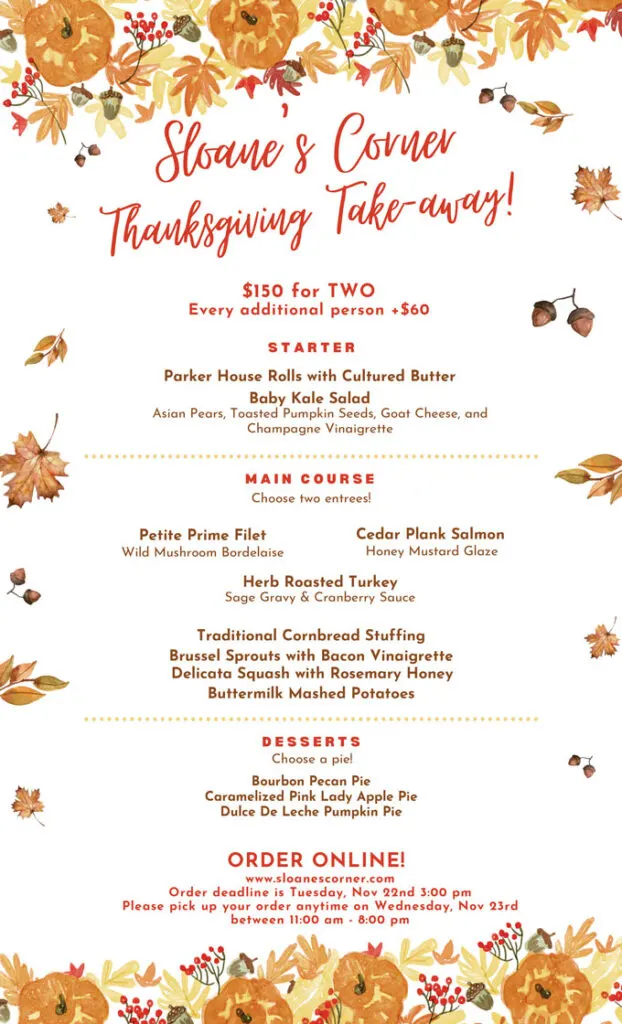 B&B Butchers & Restaurant – Fort Worth
Let B&B Butchers take the work out of Thanksgiving Day! Guests have the option to order from a prix-fixe menu ($90/adult; $35/kid, ages 11 & under. Excludes tax, gratuity and drinks) plus the entire dinner menu.
The prix-fixe menu includes an amuse bouche, three courses (appetizer, main and dessert) and family style side dishes.
On the way in or out, guests can grab complimentary hot apple cider and pumpkin cookies. Reservations are required.
Villa Azur Dallas
Villa Azur Dallas, the glitzy and unique 'eatertainment' venue located in the W Hotel in Victory Park is offering a gourmet menu for Thanksgiving Day this year. Created by Chef Yia Medina, who you may recognize from the Food Network, the menu includes classic flavors and exotic twists on favorite dishes.
The three course menu features a variety of dishes:
First Course choice of:
Fall harvest salad with baby arugula, pink lady apples, Texas pecans, and cranberries tossed in a balsamic vinaigrette
Hudson Valley foie gras torchon served with toasted brioche, brandy pears, and strawberries
Lockhart quail with a chanterelle mushroom rillette served over a carrot purée
Second Course choice of:
Roasted turkey breast roulade served with denominazione d'origine proetta prosciutto and onions in a garlic and rosemary sauce
Australian lamb double cut chops served with a fresh herb gremolata over ratatouille
Pan roasted sea bass served on a butternut squash purée with shallot crisps
Third Course dessert trio:
Tiramisu of sweet mascarpone, layers of espresso-soaked ladyfingers and cacao powder
Profiteroles served with housemade ice cream filling and a warm chocolate sauce
Dark chocolate ganache mousse cake
The prix-fixe Thanksgiving menu will be served for lunch and dinner on Thanksgiving Day. Lunch is available from 11:30 a.m. to 4 p.m. with dinner service beginning at 5 p.m.
Those looking to order their feast ahead of time to enjoy at home may order a whole citrus and herb butter roasted turkey served with family style creamed corn, garlic mashed potatoes, cranberry sauce, and your choice of corn bread for Texas pecan pie for $155. This option must be ordered by November 21, and should be picked up on November 23 from 7 p.m. to 10 p.m. or on Thanksgiving day from 10 a.m. to 12 p.m. for an additional $40.
Georgie
Georgie is offering a 4-course Thanksgiving dine-in priced at $115 per person. They are also offering Thanksgiving to orders which must be placed by Sunday, November 20th at 6pm.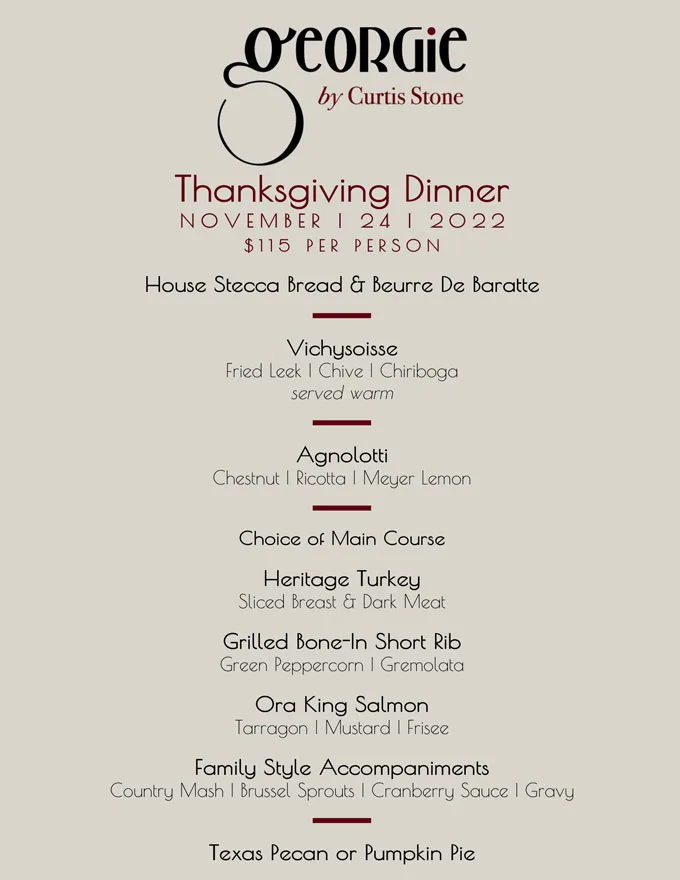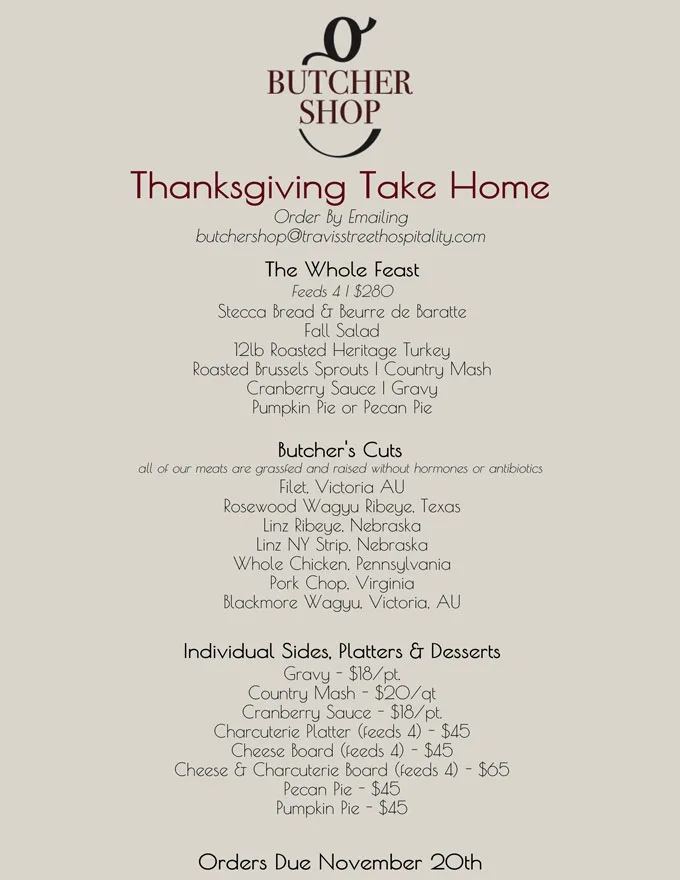 Eataly
Eataly is proud to offer a range of turkeys and smaller cuts, perfect for gatherings of all sizes. Pick from farm-fresh turkeys from famed butcher Pat LaFrieda, who shares the Eataly philosophy of good, clean, and fair food, or KellyBronze turkeys reared wild and free across 130 acres of woodland pasture in Crozet, VA. Pre-order a premium turkey today, and they will deliver the bird ready to cook in time for the big feast!
Now, that you've got your centerpiece — complete the table with everything from antipasti to dolci.
Kick off the festivities with a curated salumi & formaggi platter. Their cheesemongers handcraft each platter with care, selecting the best cheeses and cured meat for soirées all sizes.
Complete your Thanksgiving menu with our selection of high-quality ingredients and chef-prepared sides —like freshly baked bread and focaccia stuffing from our bakery, housemade fresh pasta, and family-style favorites like eggplant parmigiana and lasagna. Looking for something extra special? Discover their selection of fresh seafood platters and sustainable caviar from Calvisius fora decadent twist on tradition.
For dessert, pre-order their housemade Tiramisù della Nonna, bite-sized pasticcini, the show-stopping Toro cake topped with white chocolate cremino and toasted hazelnuts, and Torta di Mele for an Italian take on apple pie — all made from scratch by our pastry team. Plus, don't forget a Panettone or Pandoro to pair with your meal, and for breakfast the next day.
The Range Vintage Trailer Resort
The Range Vintage Trailer Resort (Ennis) is serving a Thanksgiving feast of smoked turkey with giblet gravy, cornbread chestnut dressing with Jimmy's sausage, mashed potatoes, sweet potato casserole, green bean almondine and jalapeño cranberry chutney. Priced at $45 per person.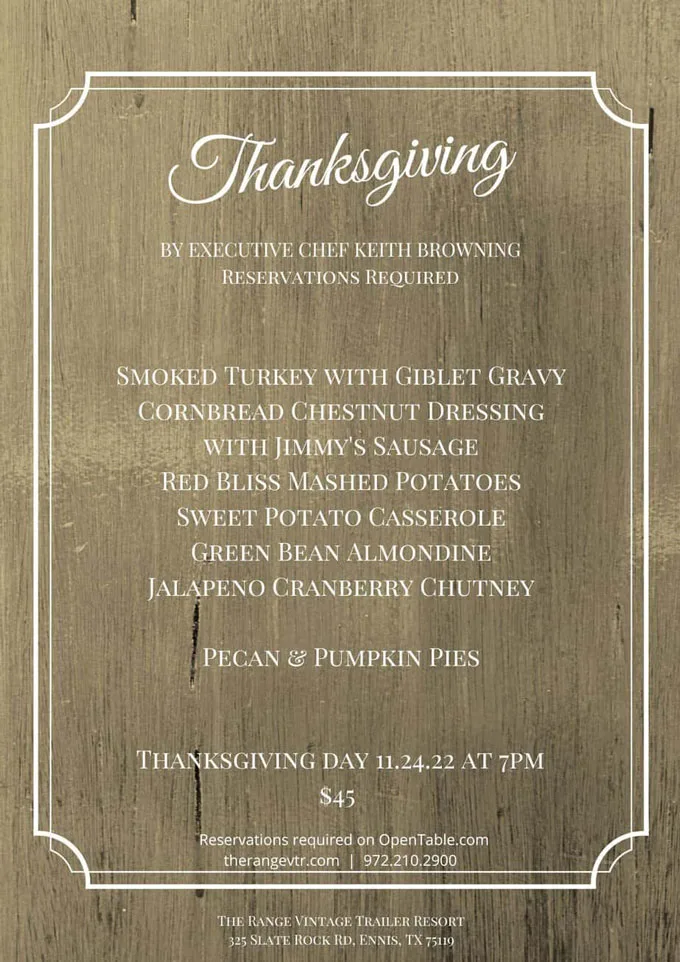 Fearing's at The Ritz-Carlton Dallas
Fearing's is offering a Thanksgiving in Dallas 2022 3-course prix-fixe menu on November 24. Priced at $145 per person ($90 for vegetarians and $45 per child).
Ferah Tex-Med Kitchen – Southlake
Ferah Tex- Med Kitchen – Southlake is offering a Thanksgiving in Dallas 2022 menu on November 24. Priced at $29.95 per person.
The menu includes Fresh Herb Smoked Turkey Breast with Bourbon Cranberry Glaze OR Honey-Pineapple Glazed, Southwest Cornbread Stuffing, Smoked Cheddar Whipped Potatoes, Green Bean Casserole, Green Salad with White Balsamic Dressing, and Dinner Roll. Add-ons are available for Holiday Dessert Tray for 4.
Romano's Macaroni Grill – University
Romano's Macaroni Grill – University is offering a Thanksgiving prix-fixe menu on November 24 from 11 am – 8 pm. Priced at $34 per person and $17 for children plus taxes & gratuities.
Serving a special, three-course, turkey dinner with all the trimmings. A dinner menu full of signature items will be served also.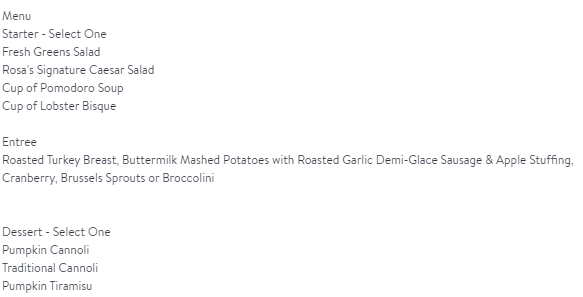 Yardbird Dallas
Yardbird Dallas is offering Thanksgiving in Dallas 2022 to-go available for pick-up on November 23.
Featuring classics such as Herb Roasted Turkey, Mashed Potatoes, Sage & Celery Stuffing, Green Bean Casserole, Bourbon Brown Butter Glazed Yams, Fresh Cranberry Relish, Biscuits, and Giblet Gravy. Includes all reheating instructions to make sure your home has the aroma of roasted turkey. An additional a la carte menu is also offered; Yardbird's Signature Fried Chicken for the family including 24 pieces of the world-famous 27-hour brined chicken, mac & cheese, and biscuits for all, and a whole Brown Butter Bourbon Pumpkin Pie for dessert. Small (serves 2-4 people, $240) and large (serves 6 – 8 people, $550).
Carbone
Carbone Dallas is taking Thanksgiving in Dallas 2022 reservations for November 24 from 12 pm – 6:45 pm. $195 per ticket.
Caesar alla ZZ, Tuna Calabrese
Spicy Rigatoni Vodka, Butternut Squash Tortellini, Mario's Meatballs
Glazed Turkey Breast
Cornbread Stuffing, Mashed Potatoes, Squash Agrodolce, Cranberry Mostarda
Pecan Pie, Lemon Cheesecake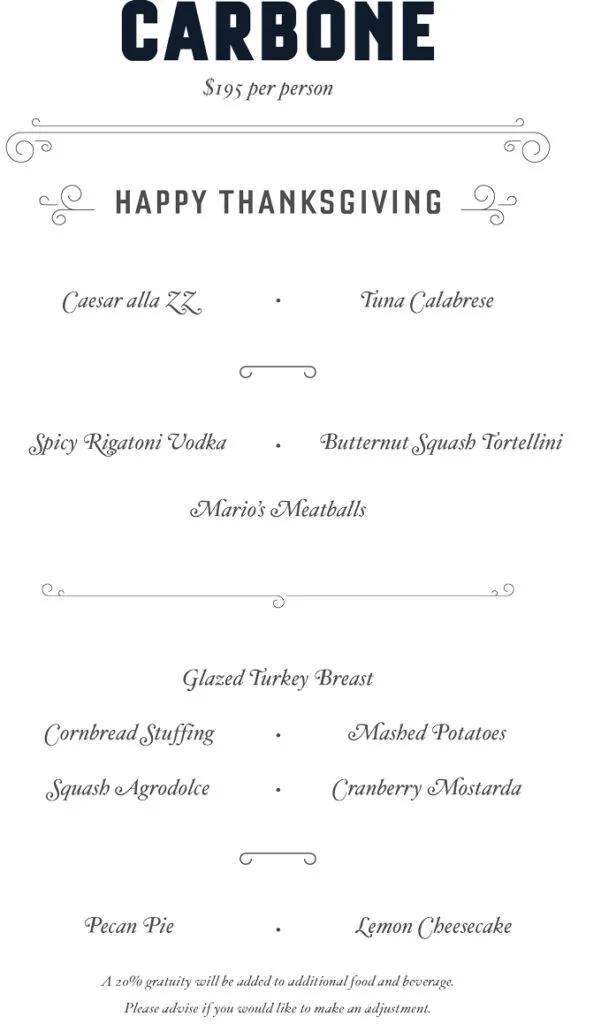 The Holy Grail Pub
The Holy Grail Pub (Plano) is offering their Annual Thanksgiving Day Dinner. Enjoy your choice of popular fried turkey or pork chops as part of their special four course Thanksgiving Day menu offered exclusively for $49 per person and $20 per child under 12 years of age. A four course drink pairing menu is offered for an additional $20 per person.
Thursday, 11/24. Seatings: 12, 2:30 and 5 p.m.
Appetizer: Smoked Corn Chowder with Chorizo and a Jalapeno Cornbread Waffle
Salad: Grilled Sunchoke & Pomegranate Salad w/ Feta, Shallot Vinaigrette
Entree (Choice of one): Deep-fried Turkey Breast, Herbed Mashed Potatoes w/ Sage Gravy & Pecan Porter Brussels Sprouts or Coffee-rubbed Pork Chops w/ Luxardo Glaze, Marshmallow Roasted Sweet Potatoes & Truffle Green Beans
Dessert: Spiced Apple Tart
Reservations are required and can be made at select seating times at Noon, 2:30 and 5:00 p.m. Open for regular service at 7 p.m. To reserve, call at 972-377-6633 or email [email protected].
Holy Grail Pub Thanksgiving To-go Menu:
Enjoy Thanksgiving at home or on the go with a ready-to-eat family sized feast from the Holy Grail Pub. Featuring a Hickory Smoked Turkey and all the sides.
Order by Monday, November 21 for pickup on Wednesday afternoon or Thursday morning. $129 per package (feeds ~6).
Hickory Smoked Turkey (~14 lbs)
Truffle Mashed Potatoes
Mixed Greens Garden Salad
Grand Marnier Cranberry Confit
Brown Butter Sage Gravy
Cheddar Jalapeno Cornbread
To Order: [email protected] or 972-377-6633.
III Forks
III Forks is offering a Thanksgiving Day menu on November 24.
Featuring pice-Rubbed Holiday Turkey Grandma's gravy, fresh cranberry-orange relish, sausage sage cornbread dressing, creamed potatoes, maple-glazed yams, & roasted autumn vegetables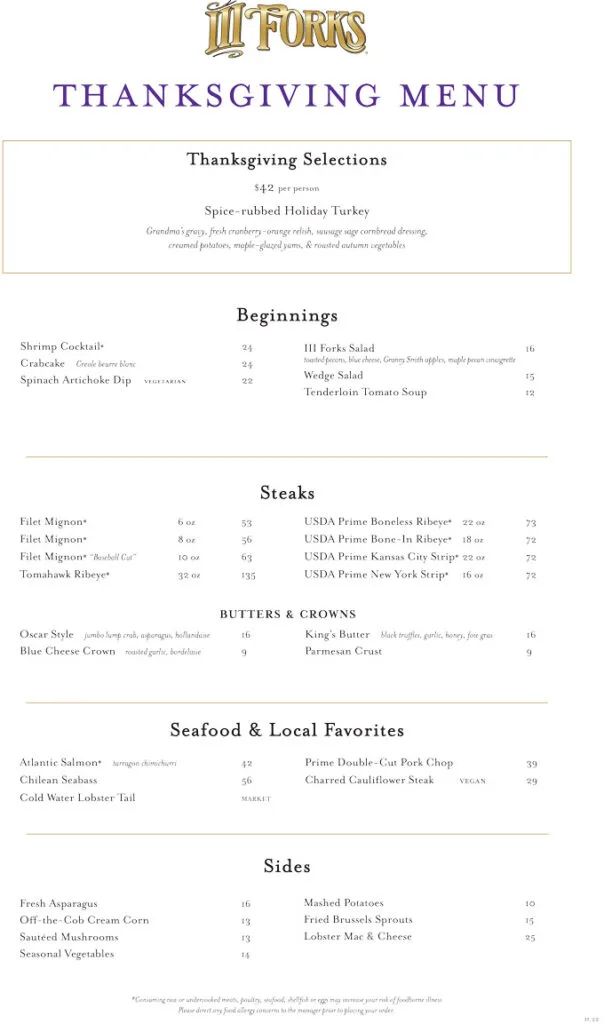 Cracker Barrel
Cracker Barrel Old Country Store is offering Thanksgiving Heat n' Serve Meals and Homestyle Holiday Pies available in a variety of flavors.
Their Heat n' Serve options provide a complete homestyle Thanksgiving turkey meal for any size gathering, prepared in two hours or less. Starting at $14.99 per person, the Thanksgiving Heat n' Serve Feast serves 8-10 and includes a full meal bundle of protein, sides, bread and dessert.
For others, the Thanksgiving Heat n' Serve Family Dinner makes the perfect meal for gatherings of 4-6, including the same favorites of the Heat n' Serve Feast like oven-roasted turkey breast with turkey gravy, sweet potato casserole, cornbread dressing, cranberry relish, choice of side and sweet yeast rolls.
Available for pick up Nov. 19-26, while supplies last. Guests that pre-order now and schedule pick up on Nov. 21 or 22 receive a free Bonus Card.
Buca di Beppo
Buca di Beppo is open on Thanksgiving day, offering a traditional Thanksgiving menu complete with roasted turkey breast and all the classic side dishes you love. Plus, your favorite Italian specialties from our a la carte menu are available as well for a true Buca celebration. Reserve your table and dine in, or pre-order your Thanksgiving Feast To Go and enjoy at home for an easy and stress-free holiday.
Their Traditional Thanksgiving Feast menu is available for dine in or take out, as well as catering for larger groups, and includes the following:
Sliced White Meat Turkey
Homestyle Gravy
Roasted Garlic Mashed Potatoes
Spicy Italian Sausage Stuffing
Seasonal Vegetables
Cranberry Sauce
Fresh Bread & Butter
Pumpkin Pie
They also offer a Thanksgiving Feast To Go available in two sizes, and perfect for leftovers, which everyone loves! SMALL feeds 3 people ($99) and LARGE feeds 6 people ($186). Make it an even bigger feast by adding your favorite classic Italian dishes including Baked Ziti, Chicken Carbonara and our World Famous Meatballs.
Pre-Orders Must Be Placed By 8am EST Tuesday November 22nd. COLD Pick up / Delivery: Monday 11/21 – Wednesday 11/23, 10am – 8pm. HOT Pick up / Delivery: Wednesday 11/23 – Thursday 11/24, 10am – 8pm.
Ruth's Chris Steakhouse
Ruth's Chris Steakhouse (availability & pricing may differ by location) is offering the following for Thanksgiving dine-in:
Choice of one starter: Caesar salad, steak house salad, or lobster bisque
Entree: Sliced Oven Roasted Turkey, Sausage & Herb Stuffing, Homemade Turkey Gravy and Cranberry Relish.
Choice of one side: garlic mashed potatoes, creamed spinach, sweet potato casserole or green beans with garlic
Dessert: pumpkin cheesecake & vanilla ice cream
They are also offering Thanksgiving to go. $175, serves 4. Available for pickup on November 23 from 12 pm – 4 pm.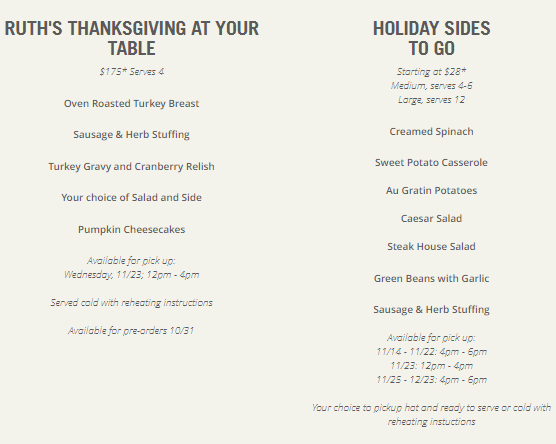 Boston Market
Boston Market is offering a variety of Thanksgiving meal options from $11.99 per person, prices may vary by market, starting today at all restaurants nationwide. Guests will have a choice between the Hot & Ready-To-Serve meals, catering and a la carte offerings.
The Hot & Ready-To-Serve meals include everything needed to serve between six and 12 people and can be picked up at any Boston Market restaurant the week of Thanksgiving.
For those ready to feed a crowd, groups of 10 or more can cater a hot, buffet-style dinner or individually plated meals that can be delivered or picked up.
Thanksgiving day-of offerings include a Thanksgiving Day meal for $15.99, featuring a choice of roasted turkey breast or half rotisserie chicken with mashed potatoes and gravy, vegetable stuffing, a dinner roll and a slice of apple or pumpkin pie. Restaurant hours may vary by location.
The Capital Grille
At The Capital Grille, guests can enjoy a chef-prepared traditional Thanksgiving dinner with an upscale twist, including Slow-Roasted Turkey with Brioche Stuffing, French Green Beans with Marcona Almonds, Cranberry-Pear Chutney and Sam's Mashed Potatoes, with the option to add Pecan-Crusted Sweet Potatoes with Hot Honey and Pumpkin Cheesecake at an additional charge.
In addition, those looking to enjoy dinner at home may order a bundle of the restaurant's Thanksgiving sides.
To place a pre-order for pickup on November 23 or 24 or to make a reservation, visit here.
Seasons 52
Seasons 52 guests can enjoy a lighter take on Thanksgiving with a spread of freshly prepared classics using peak-season ingredients.
The menu includes Oven-Roasted Turkey, Cranberry Relish, Mashed Butternut Squash and a Pumpkin Pie Mini Indulgence dessert, among other sides.
New to the Thanksgiving menu is the Pumpkin Spice Margarita, available at an additional charge only for the month of November.
The Seasons 52 Thanksgiving Green Box dinner allows guests to celebrate at home with turkey, all the in-restaurant fixings, salad and six Pumpkin Pie Mini Indulgence desserts.
Additional sides and desserts are available online. Boxes serve four to six people and are available for pickup on November 23. Pre-orders and reservations can be made at here.
Yard House
This Friendsgiving, "cheers" with a cold beer and adventurous menu against a backdrop of classic rock at Yard House. With over 100 craft and local beers on tap and menu options perfect for sharing—like the signature Poke Nachos, Jumbo Bavarian Pretzel and Onion Ring Tower—it will be an epic reunion.
Rye
Rye in Dallas is bringing back its Super Simple Thanksgiving to-go meal – an easy takeout option that you pre-order online, pick up and reheat the day of Thanksgiving.
Perfect for any family who wants to avoid the hustle and bustle of cooking a Thanksgiving meal, Rye's Super Simple Thanksgiving is sold à la carte and features classic holiday menu items like a Farm Raised Turkey, Smoked Gouda Mac and Cheese, Whipped Potatoes, Green Bean Casserole and much more. They even have the choice of three different dessert pies including Rye Whiskey Pecan Pie, Dark Chocolate Molasses Caramel Cream Pie and ROC Buttermilk Pie.
Orders must be placed by November 18 at 12 p.m. CST and will be available for pick-up the morning of November 23 at Rye in Dallas (1920 Greenville Ave, Dallas, TX 75206) or McKinney Square (111 W Virginia St, McKinney, TX 75069). Portion sizes vary and each item will come with reheating instructions.
The Honey Baked Company
The Honey Baked Ham Company has the following Thanksgiving offerings:
Honey Baked Ham® & Turkey Feast includes either an eight- or nine-pound Bone-In Half Ham with a Turkey Breast and four Heat & Serve Sides like Maple Sweet Potato Souffle, Double Cheddar Macaroni & Cheese, Green Bean Casserole or Tuscan Broccoli – sure to please all ages!
Turkey Dinner comes with a Turkey Breast and a choice of three Heat & Serve Sides.
Quarter Ham Meal has a Quarter Bone-In Ham and three Heat & Serve Sides.
Honey Baked™ Boneless Ham & Turkey Feast includes a Half Boneless Ham, Turkey Breast and four Heat & Serve Sides.
Desserts options include: Red Velvet Cake, Southern Pecan Pie and Triple Chocolate Cake.
All meal offerings above are available to purchase at your nearest HoneyBaked location or visit honeybaked.com to buy online and pick up in store.
Kona Grill
Kona Grill is offering Thanksgiving dine-in, delivery and takeout options.
Whether you're looking for a traditional feast or a twist on the classics, Kona has you covered, Traditional Roasted Turkey is paired with sauteed green beans, miso mashed potatoes, shoyu cream sauce, brioche stuffing (yum!) and ginger-yuzu infused cranberry sauce.
For a little something different, go for the Macadamia Nut Turkey, with macadamia-nut crusted turkey breast also served alongside Kona's take on the traditional trimmings.
Toast to a celebration with family and friends with the Pumpkin Spiced Old Fashioned and of course, you can't forget the crowd-favorite Pumpkin Pie.
Dine-in reservations are available from November 24-27, and pre-order is available for take-out or delivery online at KonaGrill.com. And as a reminder, through November 30, Kona is serving up the favorite flavor of the season with all things pumpkin. Build an entirely pumpkin-themed meal with a beverage, entrée and dessert, or mix and match with one of Kona's other classic grill or sushi items.
Maggiano's Little Italy
Maggiano's Little Italy has the following Thanksgiving offerings:
Family-style dine-in 3-course menu. Reservations recommended.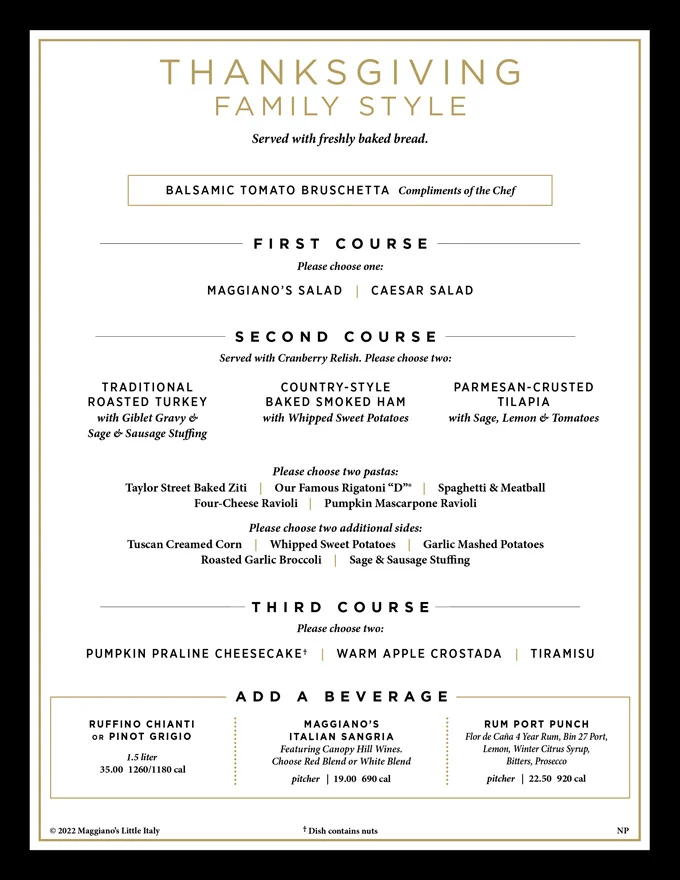 Their hot and cold prepared carryout bundles feed 4-5 people. Cold-prepared bundles are $179.99 and available for pick-up Tuesday, November 22nd and Wednesday, November 23rd. Hot-prepared bundles are $189.99 and available for pick-up Thursday, 11/24. Now taking call-in pre-orders. Online pre-orders start 11/16. Orders must be placed by 8 pm the night prior to pick-up.
Their takeout menu includes: Caesar Salad | Traditional Roasted Turkey with Giblet Gravy and Sage & Sausage Stuffing | Country-Style Smoked Ham with Ham Glaze and Whipped Sweet Potatoes | Spaghetti & Meatballs | Four-Cheese Ravioli | Garlic Mashed Potatoes | Cranberry Relish | Pumpkin Praline Cheesecake | Fresh Baked Ciabatta Bread.
Whole Foods
Whole Foods is offering holiday appetizers; holiday meals; a la carte entrees; holiday sides, soups & sauces; and more. They typically offer Classic Turkey Feasts; Surf and Turf Meals; Prime Rib Meals; Beef Wellington Meals; Braised Lamb Shank Meals; Atlantic Salmon en Croûte Meals; Vegan Meals and more. Check your local store for pricing and offerings.
Thanksgiving Meal Delivery Online Services
Omaha Steaks
You can build your own, ready to cook Thanksgiving dinner with Omaha Steaks. They ship nationwide or you can pickup at location closest to you. They offer Turkeys, Hams, & Roasts.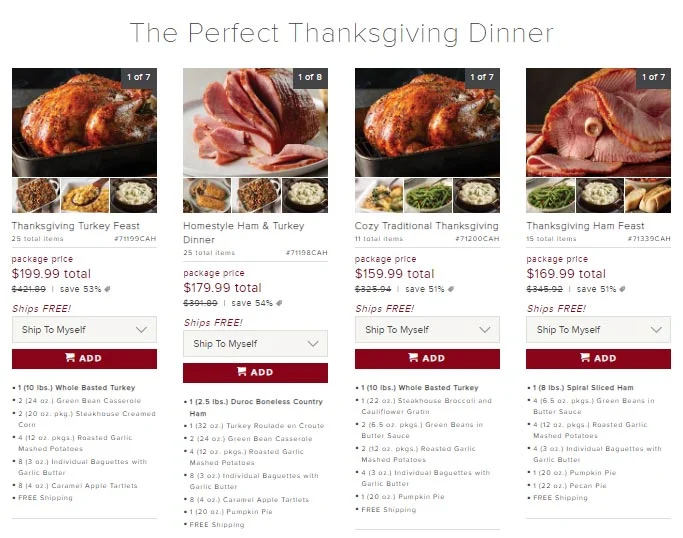 Some of the packages they offer include:
Custom Thanksgiving Feast for 4
Build Your Own Thanksgiving for 6
Build Your Own Thanksgiving for 8
Thanksgiving Turkey Feast
Homestyle Ham & Turkey Dinner
Cozy Traditional Thanksgiving
Thanksgiving Ham Feast
Whole Basted Turkey
Smoked Whole Turkey
Turkey Roulade
Spiral Sliced Ham
Williams Sonoma
Williams Sonoma has a number of Thanksgiving items including made-from-scratch sides or the whole feast that can be heated and served.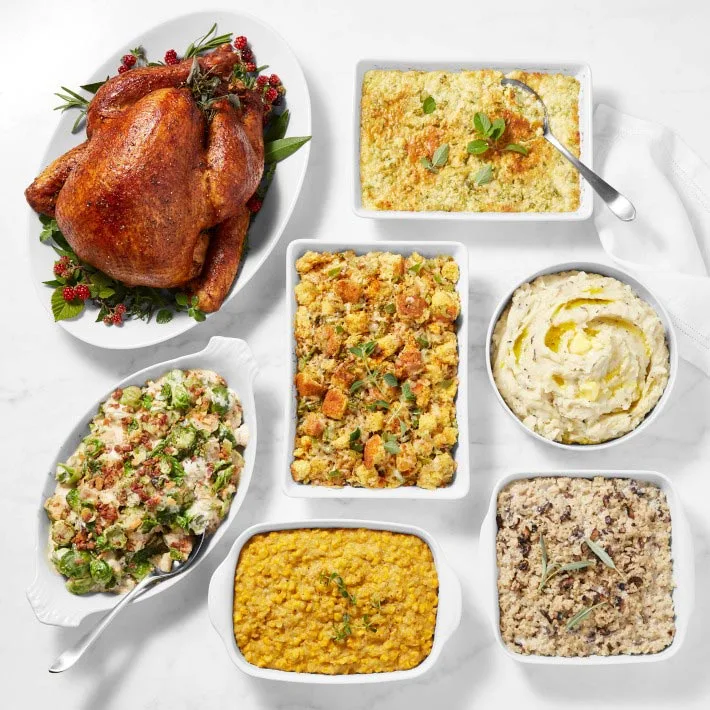 Their Deluxe Thanksgiving Dinner ($299.95) includes the following:
12-14 lb. Willie Bird Pre-Brined, Seasoned Whole Organic Turkey
Truffle Mashed Potatoes
Corn Pudding
Mushroom Risotto
Jalapeno Cheese-Bread Stuffing
Creamy Asparagus and Gruyere Custard
Brussels Sprouts Pancetta Gratin
Simply cook the turkey as usual then pop the side dishes in the oven for a straightforward route to a fabulous feast.
Harry & David
Harry & David has a Thanksgiving Turkey Feast ($249.99) which can be shipped to you: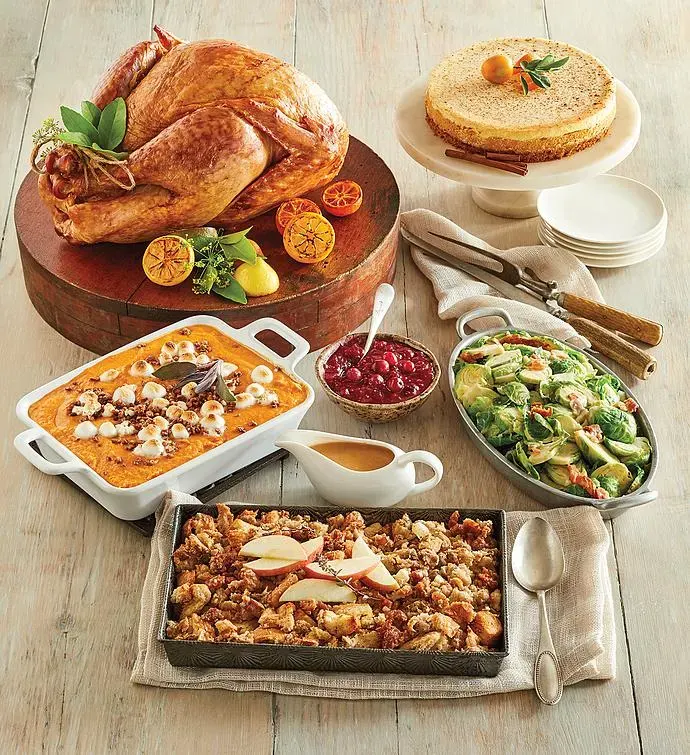 The menu includes:
Ready-to-heat oven-roasted turkey (10 lb)
Apple sausage stuffing (1 lb 14 oz)
Black Truffle and Almond Green Beans (1 lb)
Brown sugar sweet potatoes (1 lb 15 oz)
Pumpkin cheesecake [New York-style pumpkin layered cheesecake] (2 lb)
Classic turkey gravy (13.5 oz)
Spiced cranberry chutney (1 lb)
Home Chef
Home Chef, the leading meal solutions company with both a retail and online presence, is debuting a slew of holiday eats for home cooks looking to spend less time in the kitchen and more time making memories.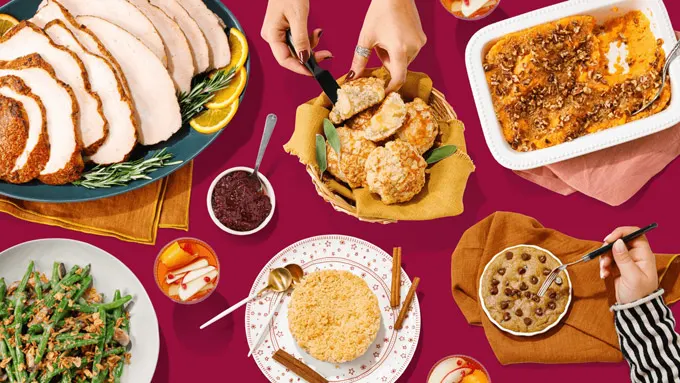 From Thanksgiving through the year's end, Home Chef serves up seasonal dishes everyone will enjoy in both meal kit and heat-and-eat formats – proving holiday eating can be tasty and easy.
During the week of Thanksgiving, order tasty fall recipes including:
Main Course: Turkey Breast Roast ($49.50, serves 6)
Sides ($15.98 each; serves 6): White Cheddar and Sage Biscuits, NEW Sweet Potato Casserole, NEW Grown Up Green Bean Casserole, Loaded Mashed Potatoes with Bacon, Cheddar, & Green Onion , and Brussel Sprouts with Caramelized Onion & Maple Glaze
Desserts (serving sizes vary): NEW Pumpkin Chocolate Chip Cookie Skillet ($7.98) and Apple Crisp Cake ($5.98)
Home Chef's Thanksgiving meal kits will be available to order online at homechef.com starting October 14, and orders must be placed by noon CT on November 18.
Beloved season's eatings from Home Chef are also available at Kroger Family stores nationwide to order ahead, pick up, heat and have on the table in no time.
Home Chef offers in-store holiday bundles that serve four to eight people – main courses, sides and desserts included.
These bountiful bundles make the menu for you, and they're easy on the wallet too, with options for a variety of gathering sizes and budgets.
The delectable dishes in stores* from Thanksgiving to holiday season's end include:
Main Courses: Home Chef Boneless Turkey, Home Chef Boneless Ham, Butterball Bone-In Turkey, Butterball Smoked Bone-In Turkey, Home Chef Bone-In Ham, and Prime Rib
Sides: Creamed Spinach & Cheese, Old Fashioned Bread Stuffing, Creamy Scalloped Potatoes, Broccoli Rice Casserole, Green Bean Casserole, Sweet Potato Souffle, Cornbread Dressing, Turkey Gravy, Mashed Potatoes, and King's Hawaiian Rolls
Desserts: Bread Pudding with Salted Caramel Sauce and Pumpkin Pie
Orders for in-store Heat and Eat Home Chef holiday dishes and bundles can be placed online here, over the phone, or in person at select Kroger Family stores across the country, starting with Thanksgiving orders on November 2.
Thanksgiving orders must be placed by November 22, and final holiday orders must be placed by December 22.
DIY Thanksgiving in Dallas-Fort Worth 2022 Meal Ideas
Board & Bread
Board & Bread, a charcuterie board catering company out of Frisco, TX, offers both in-person and online charcuterie styling workshops.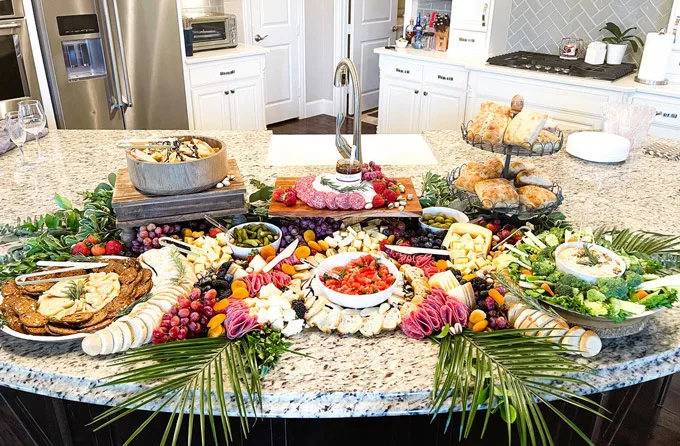 During these workshops, participants will have the opportunity to learn how to create and style their own charcuterie boards for family gatherings, private events, and the holidays.
Board & Bread's charcuterie board workshops include details on how to pair the proper foods on each board, including meats, cheeses, crackers, vegetables, and fruit.
The workshops also teach attendees how to create the best presentation for a charcuterie board, including how to arrange each item and how best to style the board for optimal appeal.
The charcuterie board workshops are available in person in Dallas and surrounding areas for groups of participants, as well as online through Zoom tutorial workshops.
The Zoom workshop includes one to one-and-a-half hours of live lessons and demonstration from Board & Bread, a question and answer session, one PDF of Board & Bread's "How-To and Tips & Tricks" Guide, one shopping list for each guest to purchase their own food choices, and other items
Holiday entertaining tips
Here are some tips on holiday entertaining including charcuterie board tips, how to cook the perfect turkey like a Chef, and virtual holiday party ideas.
Thanksgiving food list
Here is a Thanksgiving Food List to help you prepare or get inspired for your Thanksgiving celebration. You'll find ideas for Mains, Stuffing, Vegetables, Salads, Desserts and more.
Thanksgiving Quotes
Check out these Thanksgiving quotes and messages to demonstrate your gratitude for your loved ones this holiday season.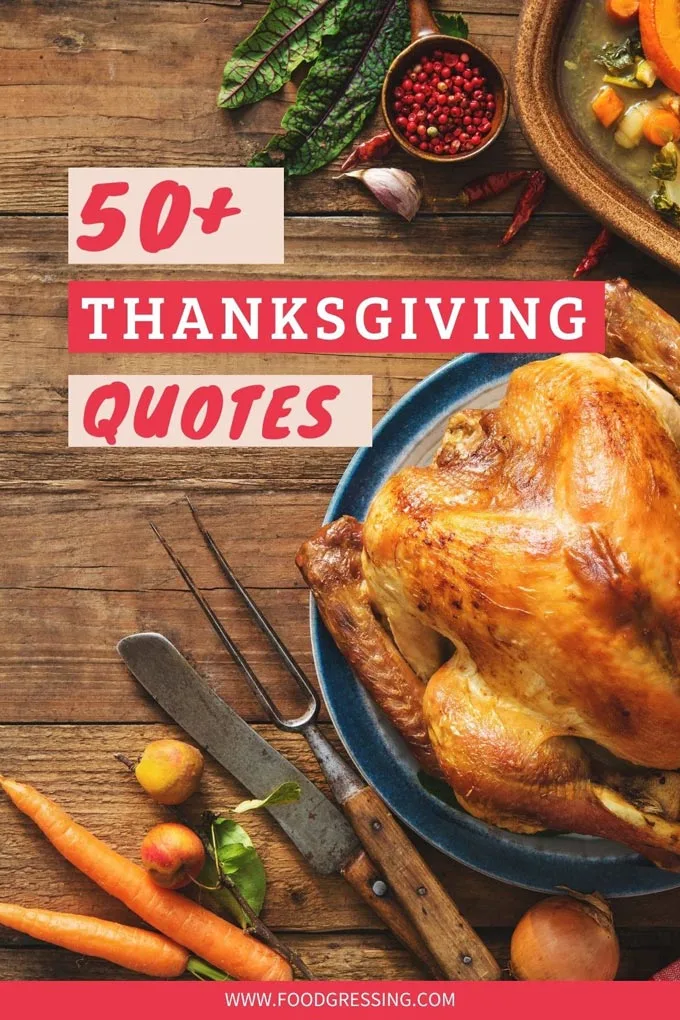 Captions about Family
Looking for captions about family for your social media post? Check out my post on 105+ creative and original captions for family pictures.