Newly opened in the West End neighbourhood is Ta Bom Korean Fusion Cuisine. Located at 1536 Robson Street (between Nicola and Cardero), this is Ta Bom's second location with their original restaurant in Coquitlam. I never made it to Coquitlam to try Ta Bom but I had heard positive reviews from other food bloggers who had dined there and enjoyed the experience. They made an announcement on Instagram of their soft opening this past Friday at 5 pm. With much eagerness, I took my family for dinner there just after they opened their doors. Here's a look at what they are offering and our experience there.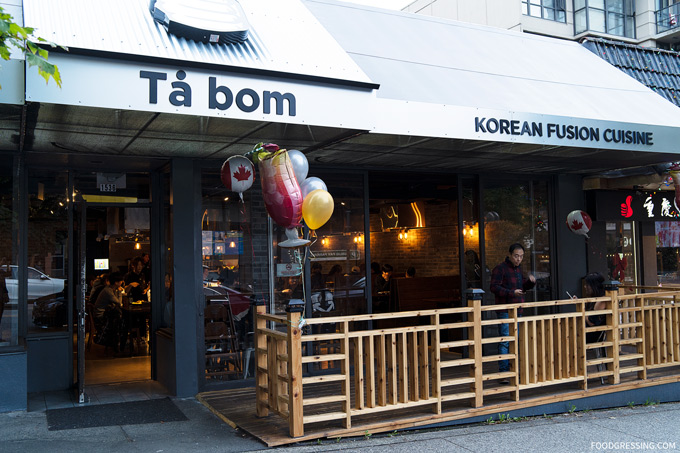 Larger Space
Ta Bom is reported to be almost double in size of the Coquitlam location. The space is over 2,500 square feet and can accomodate 80 – 100 people. I enjoyed the modern interior with exposed brick walls and a mix of dining tables and booth seating.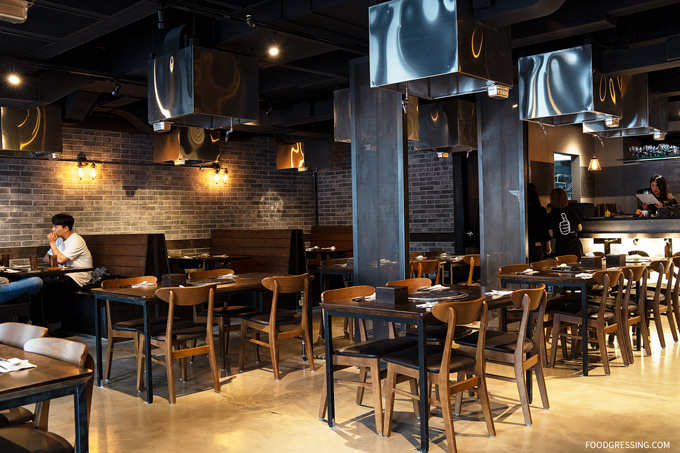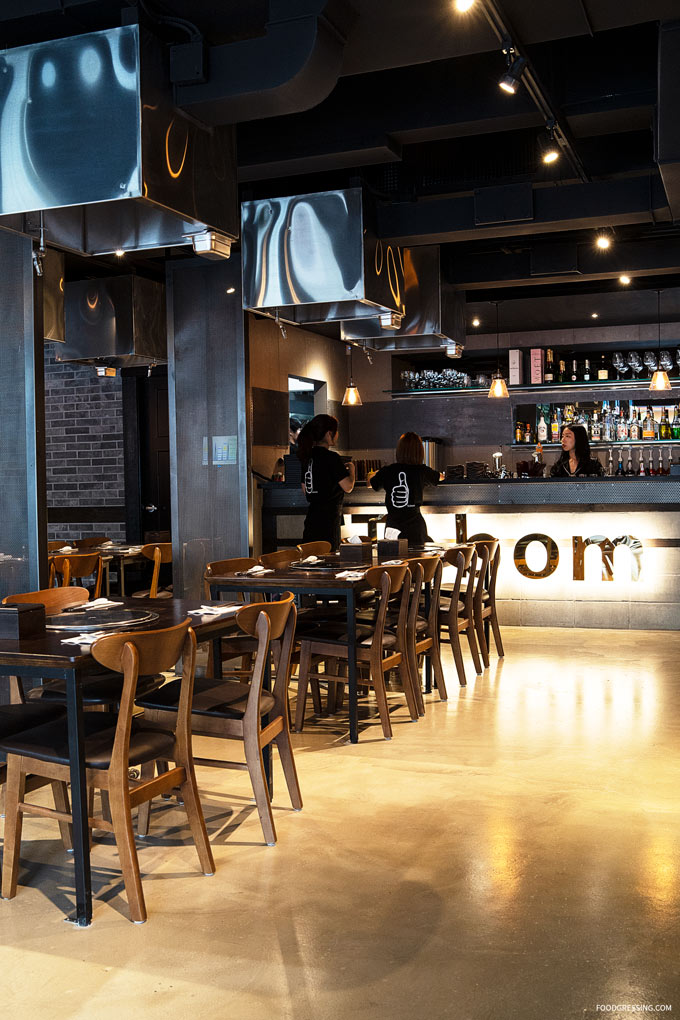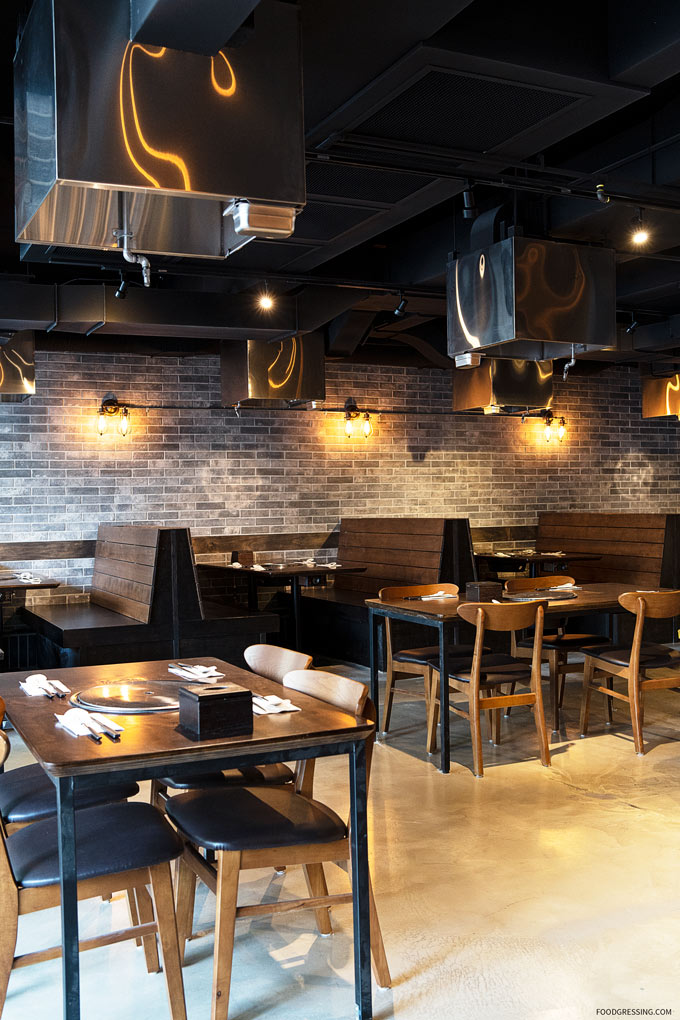 Tabom Menu
I have included photos of the menu below but for a higher-resolution of them download my compiled pdf here (large).
Tabom is known for their circular hot plates featuring choice of main dish (meat or protein – minimum 2 orders) along with side dishes. Meat options include dak-galbi (stir-fried spicy chicken), jeyuk bokkeum (stir-fried spicy pork), jukkumi-jeyuk-bokkeum (stir-fried spicy small octopus with spicy pork) and more. The hot plate already comes with egg and corn but you can order additional side dishes like rice cake, noodles, fried-rice and so forth.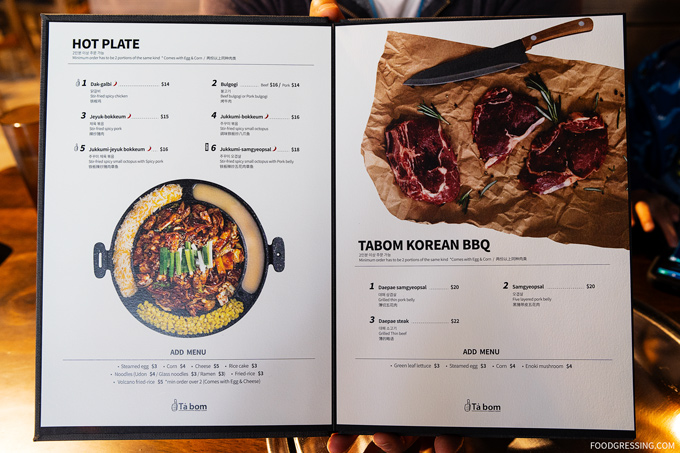 Also on the menu is the Tabom Signature Hot Pot, Korean BBQ, appetizers, stone bowl rice, noodles, platters, combos and so forth.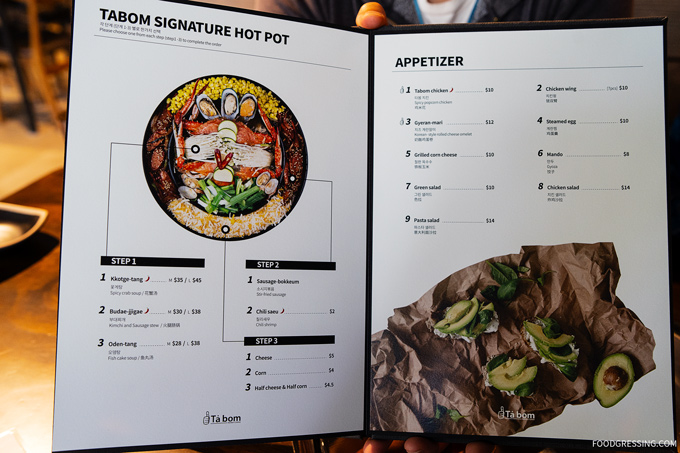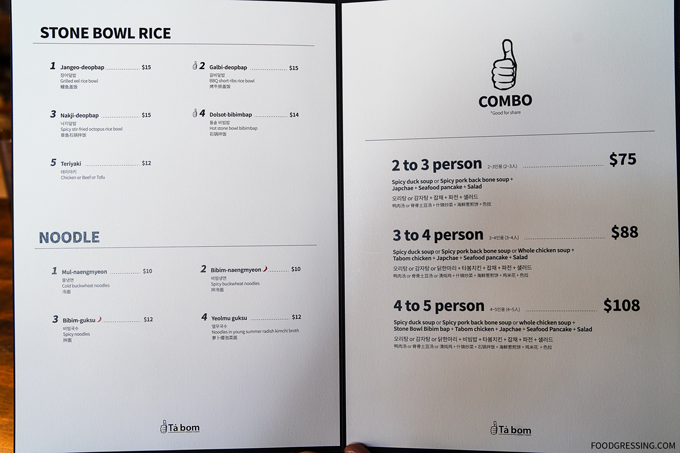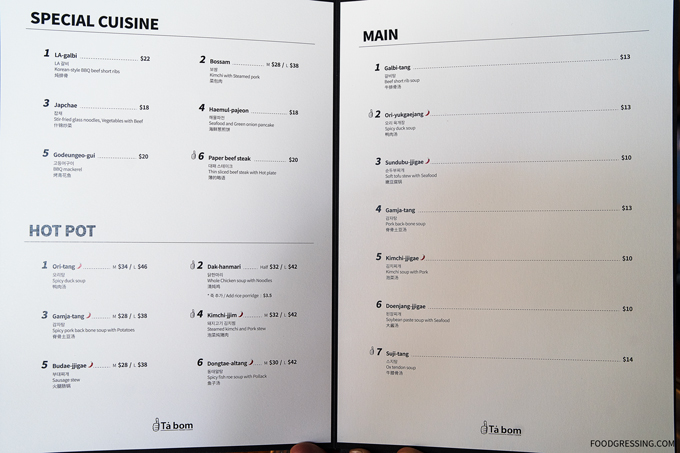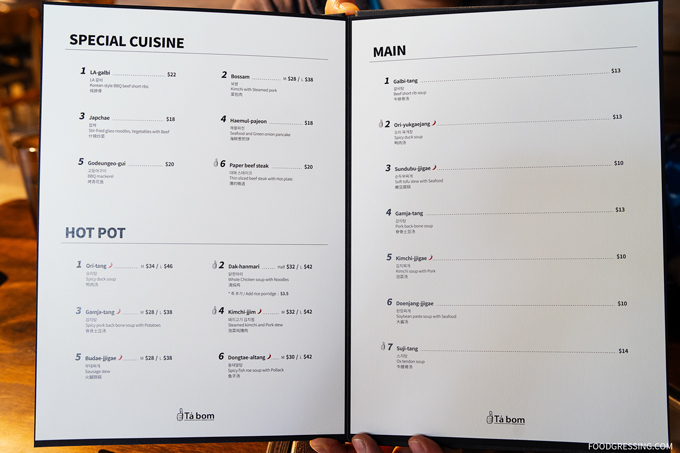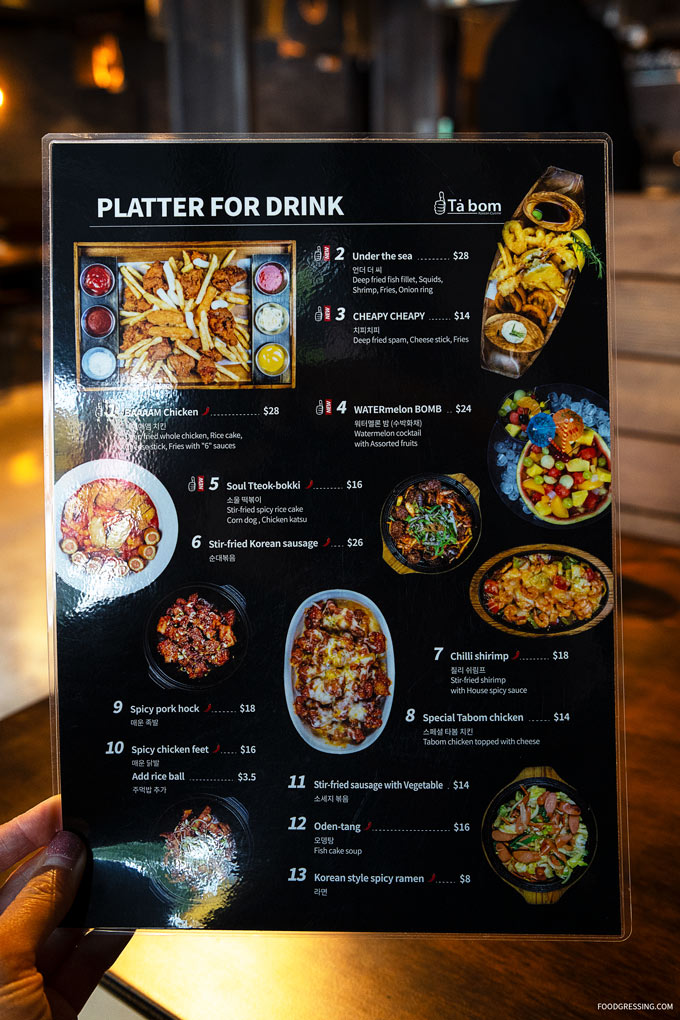 Ta Bom Robson also serves a variety of beverages including house wine, champagne, cocktails, Traditional Japanese alcoholic beverages, and other house-made drinks.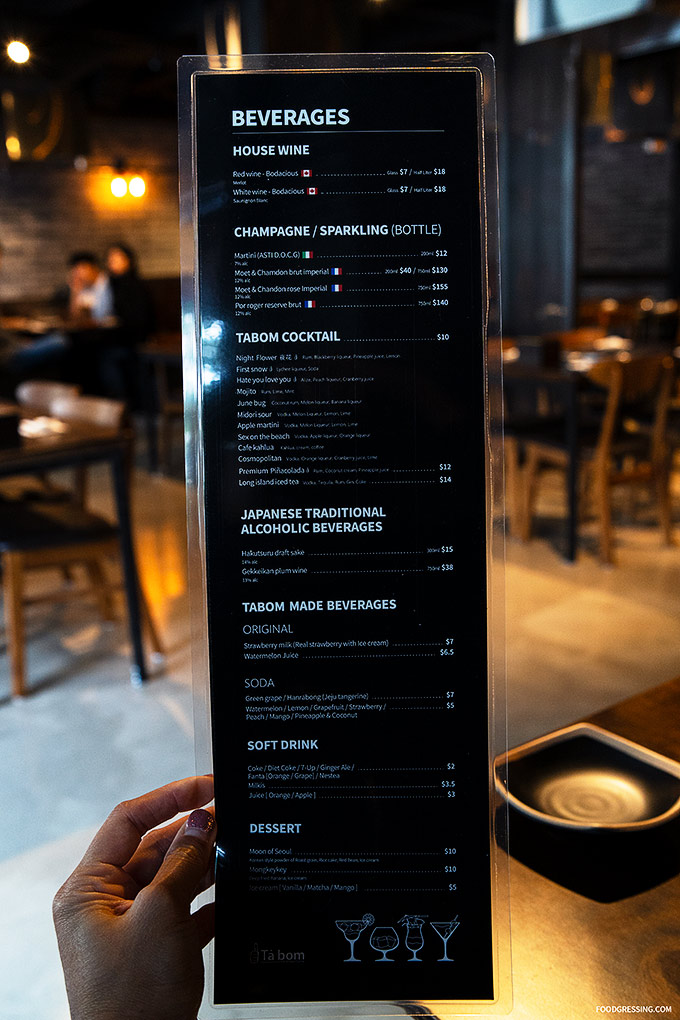 What We Tried
We had the bulgogi (pork) hot plate ($28) with cheese (+$5), corn and egg. For banchan (side dishes), we were provided kimchi, bean sprouts and potato.
The pork was nicely tender and the soup base was flavourful and on the sweeter side. The corn was also reasonable being juicy and sweet; I've had a bad experience before at a ramen restaurant (see post here) where the corn was not properly defrosted.
The side dishes seem a bit limited in terms of selection and portions compared to what other Korean restaurants offer. The potato was not very good as it was very hard.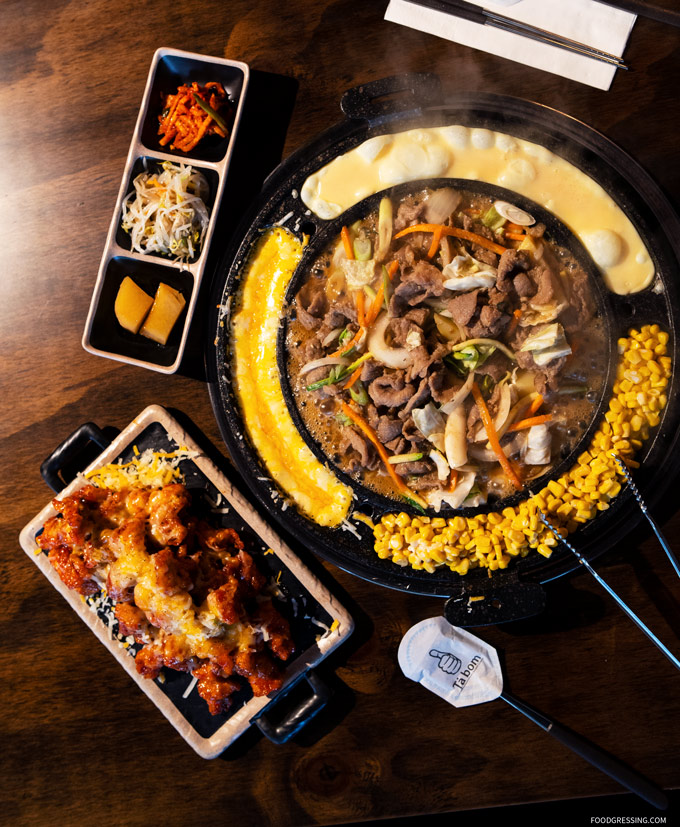 We also had the Tabom Chicken which was a spicy popcorn chicken topped with cheese. The chicken had a nice flavour being mildly spicy and the texture was also very good being tender and juicy.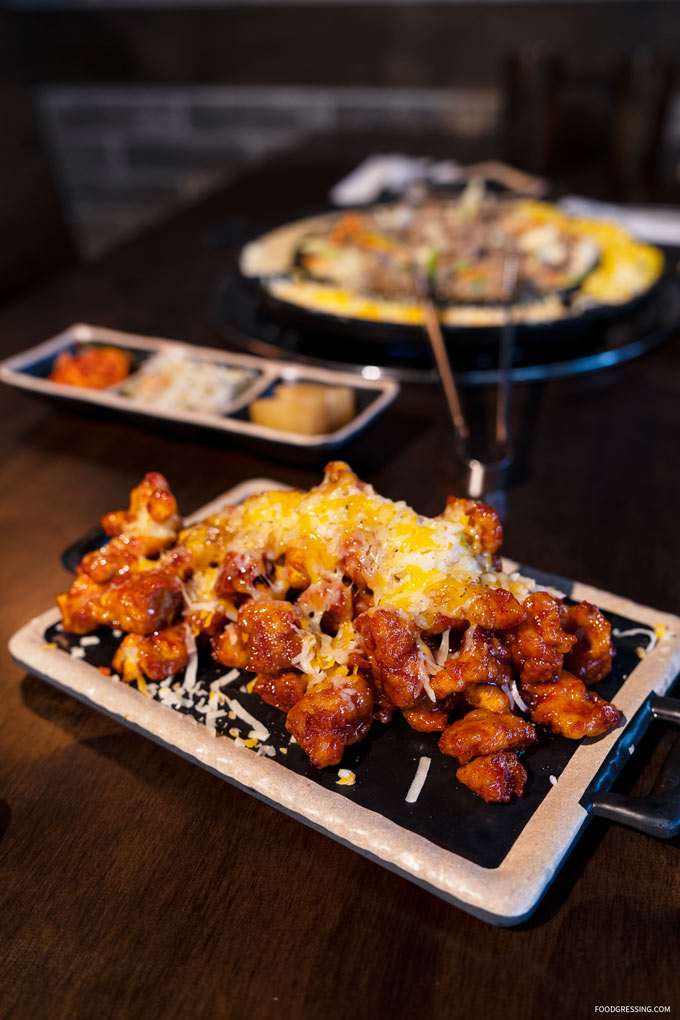 Service
Things were off to a good start when we were the first customers in the restaurant. It was pretty empty at that time and the servers were quite attentive. As the restaurant got busy, the service we received really suffered. In fact, we had originally ordered a Volcano Rice which was meant to be mixed in with the main dish and soup base on the hot plate sometime closer to the end of the meal. The rice didn't arrive in time before the soup base caramelized. The manager apologized for the delay, cancelled the order, and gave us a few coupons for a few dollars off on our next meal at Ta Bom.
Overall Impression
I thought the food was pretty good being more of a comfort food type with all the cheesiness in the dishes we ordered. It was flavourful but rich so I couldn't really eat to my usual capacity. Hopefully, the service improves after they fine tune their operations. Rating: 3.5/5
Ta Bom Korean Fusion Cuisine
Address: 1536 Robson Street, Vancouver, BC
Instagram: @tabom_korean_cuisine‎