One of the staple pastries found at Starbucks is the Almond Croissant. I tried it for the first time recently. Here are a few thoughts on the Starbucks Almond Croissant.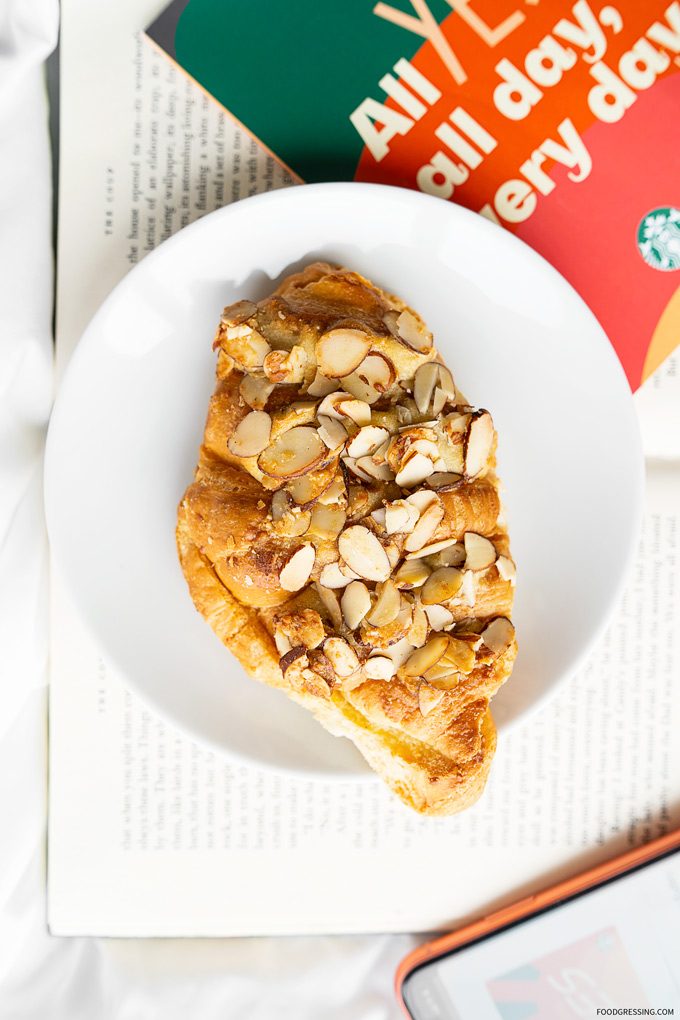 Description
According to the company, the Starbucks Almond Croissant features a rich, almond flan enveloped in a flaky, buttery croissant, then topped with sliced almonds.
Nutrition
Based on a serving size of 99 grams, the Starbucks Almond Croissant has 420 calories, 22 grams of fat, 75 mg of cholesterol, 390 mg of sodium, 45 grams of carbohydrates, and 10 grams of protein.
A regular Starbucks croissant has 260 calories but a smaller serving size (62 g). This means, that the Almond Croissant has 60% more calories than a regular croissant at Starbucks.
Price
The Starbucks Almond Croissant is priced at $3.25 + tax. Based on Vancouver, Canada pricing.
My Thoughts
I liked that the Starbucks Almond Croissant had a good amount of sliced almonds on top. The almond flan filling was rich, nutty and flavourful. The only thing is that the croissant looks pretty deflated; there isn't much of a rise.
The Starbucks Almond Croissant is OK for a croissant fix out of convenience while you grab your coffee. The price Starbucks charges for it is probably slightly cheaper compared to other bakeries in Vancouver where the almond croissant would be around $4.
To find out where to get the best almond croissant in Vancouver, I recommend my friend Hanson's (noshandnibble.blog) post found here.
Related posts: