Shizenya is a unique Japanese restaurant in Vancouver because they serve healthier and more natural Japanese food. In fact, Shizenya is the first natural food Japanese restaurant chain in North America that serves sushi with only brown rice and organic vegetables. They have two locations in Vancouver: one in Downtown on Hornby and one on West Broadway. I have been to the Downtown location several times over the last few years and here is a review of my experiences.
Natural Food Menu
The food at Shizenya is made with healthier ingredients such as brown rice rolls, non-oil teriyaki, organic green salads, quinoa cones, whole wheat tempura, and non-oil teriyaki. They also use Ocean Wise seafood which is great support for sustainability. Shizenya's menu is fully available on their website.
What I Tried
Here are the items that I have tried at Shizenya:
Beef Teriyaki combo ($9.95)
Dragon Magic Roll ($13.95)
Sushi and Udon combo ($10.45)
My first visit to Shizenya was in 2011 on a lunch outing with my friend. At that time, I had the beef teriyaki combo with sukiyaki beef, organic vegetable, teriyaki sauce, brown rice, spinach gomae, and organic salad. I was so impressed with the fact that the dish was not very salty compared to the beef teriyakis I had elsewhere. The brown rice really made me feel like I was eating healthier sushi.
Recently, I tried the Dragon Magic Roll which had 10 pieces of wild sockeye salmon, cream cheese, cucumber, organic brown sushi rice, grilled salt water eel(anago) and organic avocado on top sauce. While everything tasted fresh and delicious, I was disappointed that the roll did not have an "S" shape like what I had seen on their website and on other people's Instagram. I was hoping to post a photo of its neat presentation on my Instagram, but unfortunately I was given an average looking sushi roll dish.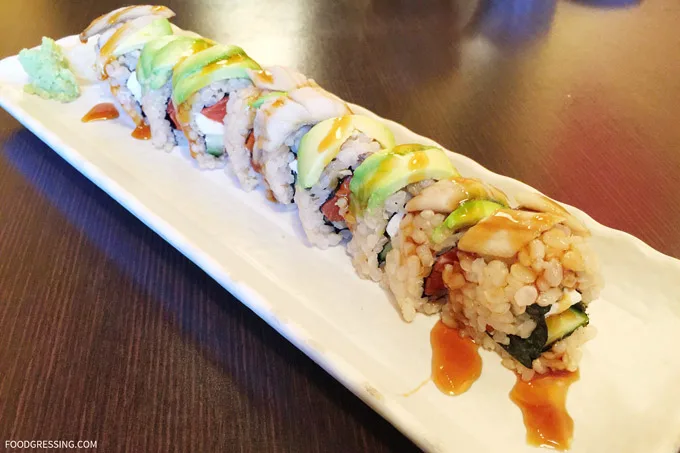 On another occasion, I had the Sushi and Udon combo which had chicken breast, vegetable udon noodle soup, dynamite roll, salmon roll and organic salad.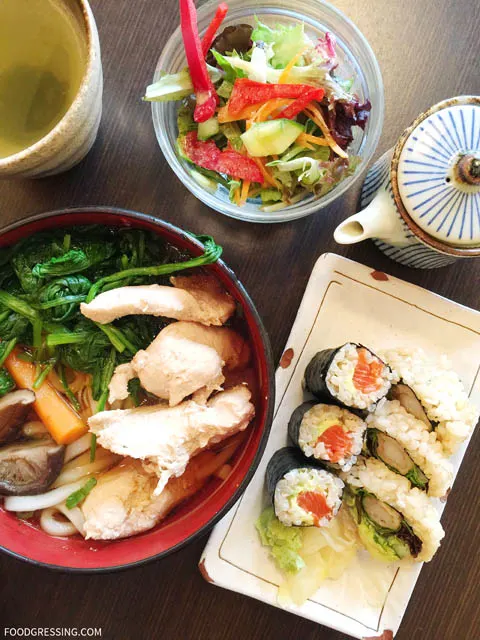 The portions of chicken were generous and I enjoyed the light soup.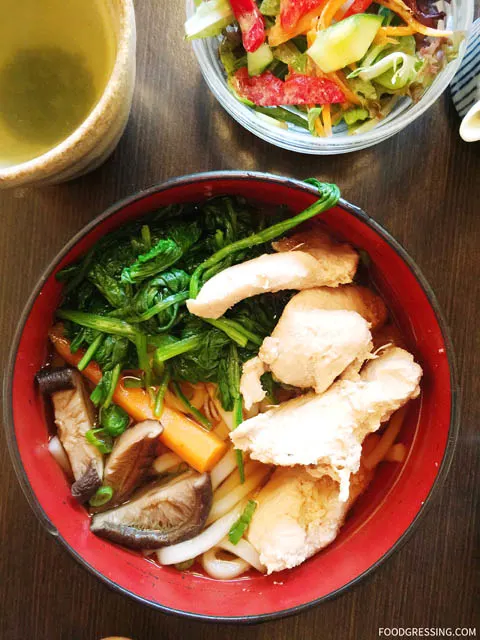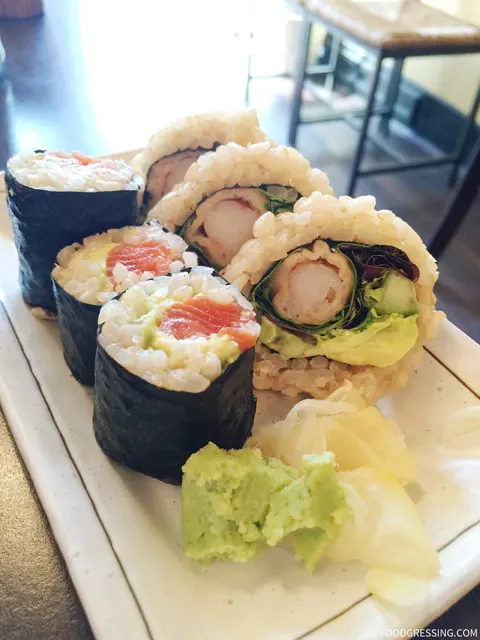 OVERALL IMPRESSION OF SHIZENYA
Love the MSG-free, additive-free, organic, natural and healthy Japanese food at Shizenya. Prompt and friendly service. Definitely recommend. Rating: 4.5/5
To see my review of Shizenya on West Broadway, click here.
Website: http://shizenya.ca/