Last month, I enjoyed some utterly mouthwatering mille crêpe cakes at the newly opened L'otus Cake Boutique in Richmond.  Though I have yet to visit Lady M for some world-class mille crêpe cakes, I am willing to settle for some local takes on this classic French cake with alternating layers of crêpe and cream.  While researching interesting places to eat in Seattle, I came across Instagram posts of mille crêpe cakes offered at Rain Cafe.   What stood out to me were that these cakes came in interesting flavours like taro, durian, cookies & cream and one "rainbow"-colored one.  They also seem to have them pre-made instead of requiring customers to pre-order.   I decided to visit to Rain Cafe to see how their mille crêpe cakes fared.
Note:  This is not a sponsored post.  This meal was not complimentary.  I did not receive any compensation or incentive to share about my experience.  The restaurant did not know that I am a blogger.
Asian Strip Mall
Rain Cafe is located in North Seattle in an Asian strip mall.  The interior is very spacious and seems like a good place to study, get work done on a laptop, get together with friends or just enjoy a meal.  They offer board games and even a keyboard piano and guitar for customers to use!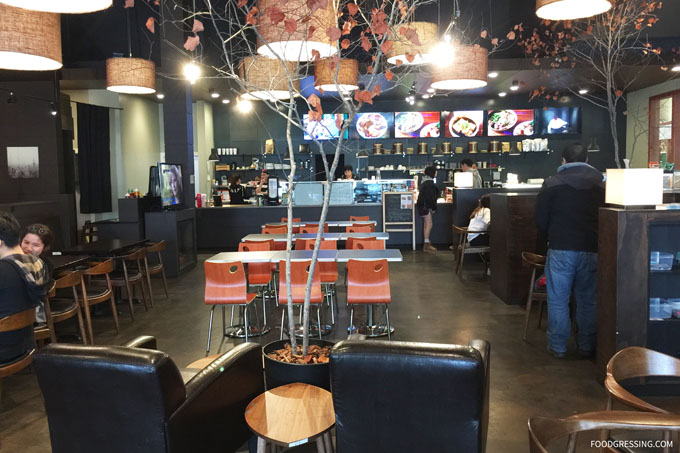 Seating is ample with a mix of booths, dining tables, and counter seating.
Rain Cafe Menu
Rain Cafe's menu seems to be a mish-mash of Taiwanese and Japanese dishes.  For appetizers, you'll find Taiwanese and Japanese street food like popcorn chicken and takoyaki.  For mains, they have Chinese-style oxtail soup but also unagi don.  Rain Cafe also has a small poke bar if you're in the mood for some poke.  Drinks run the gamut from coffee, tea to bubble tea.  The menu seems affordable with appetizers between $4-$6 and mains between $7 – $11.  Good for a student budget.
My primary interest were the mille crêpe cakes which they label as simply "layer cake."  The layer cakes are made in house according to staff and are placed in a display case.  At the time of my visit, the flavours for the layer cake were taro, matcha, cookies and cream and durian.  They also offer other types desserts like Japanese cheesecake and crème brûlée.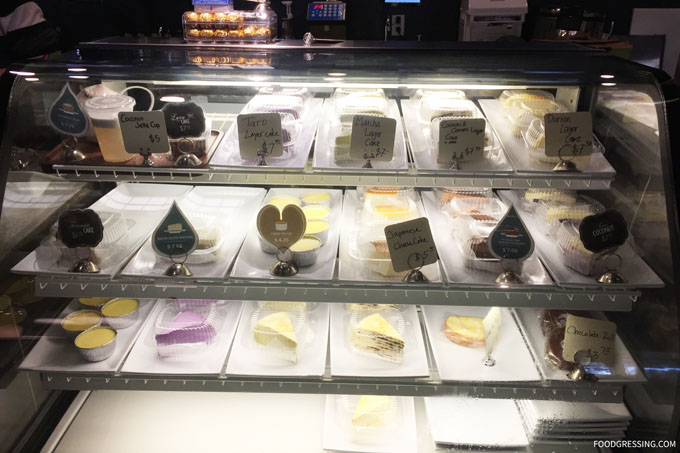 What We Tried
My family and I came in for some mid-day snacks and had the following:
Agedeshi tofu ($4.95)
Popcorn chicken ($4.95)
Taro layer cake ($7)
Cookies & cream layer cake ($7.25)
For the taro layer cake, you could taste the taro flavour.  I thought it was decently moist, light, creamy and flavourful.  In terms of presentation, it could be neater like the arrangement of the layers or perhaps trimming the edges.  But for a more home-style mille crêpe cakes or rather one that you would find in an Asian strip mall, I thought it was pretty good and satisfying.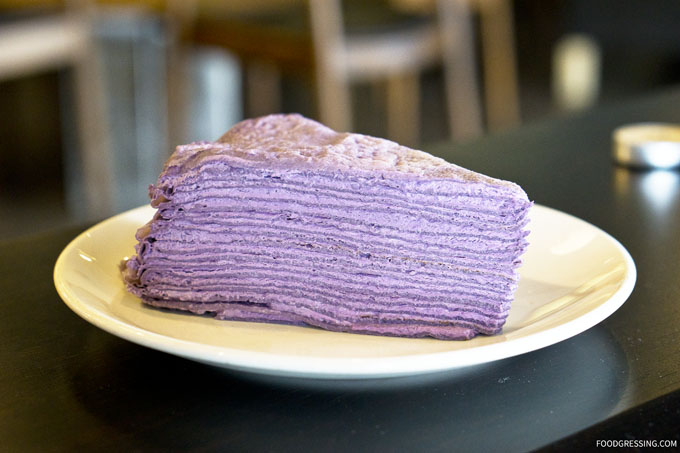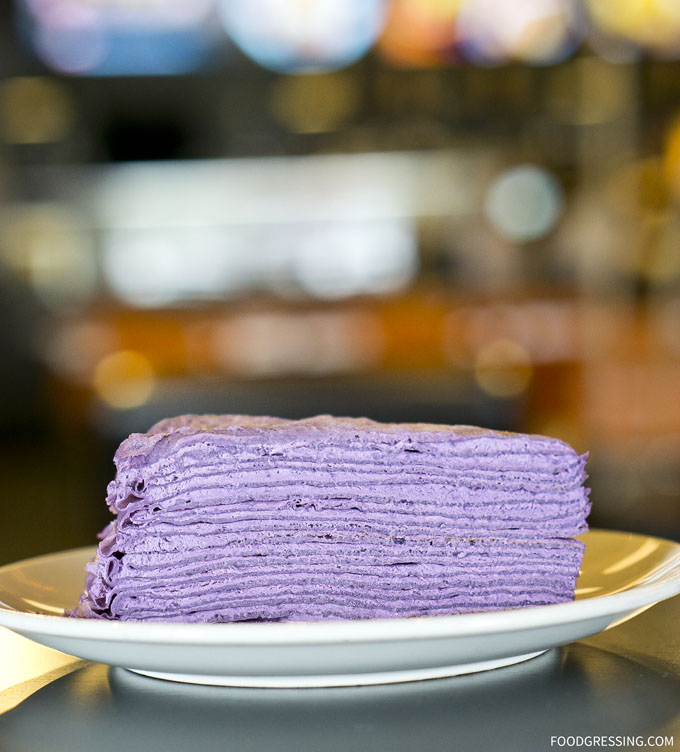 The cookies & cream is a more unique flavour for a layer cake.  It was less smooth than the taro cake because it had crushed cookie bits within the cream layer.  The cookie bits added som fun texture to an otherwise smooth dessert.  It did taste like cookies and cream and was delicious overall.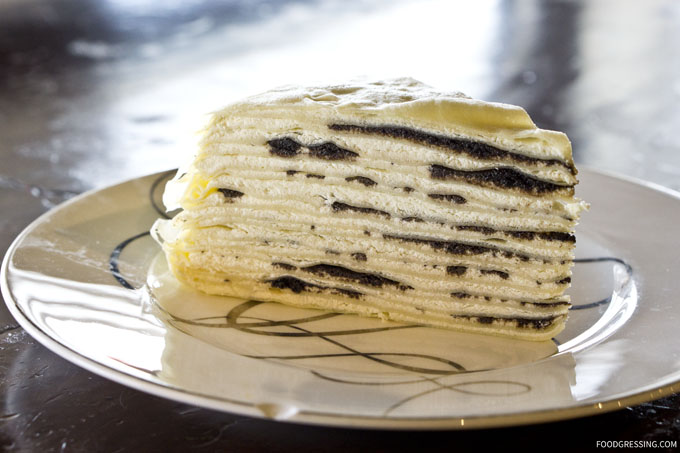 And here's a little video of me cutting into those cakes:
Aside from cake, we had some savouries like the original flavour popcorn chicken.  Good texture in terms of crispy on the outside and juicy and tender on the inside.  However, it was quite underseasoned even for original flavour.  Adding some more salt would improve the taste.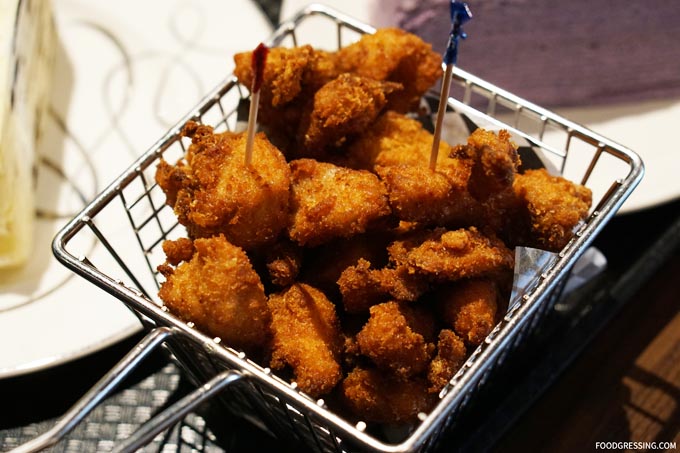 Agedeshi tofu is one of my go-to Japanese appetizers.  Crunchy on the outside, silky on the inside, and reasonably sweet and savoury flavours from the sauce.  Pretty good.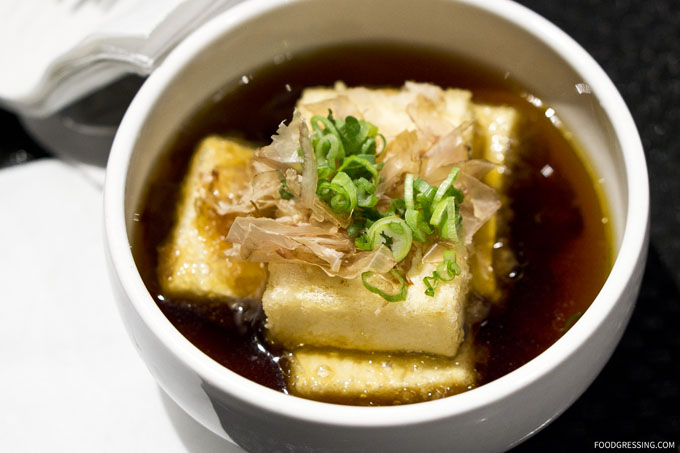 Overall Impression
All the food we tried from Rain Cafe was better than expected for the type of place it is.   Their cakes weren't the most polished in terms of presentation but still decently satisfying for the sweet tooth.  I wouldn't mind trying their layer cakes again in other flavours but the taro and cookies & cream were good.  Rating: 3.5/5