My friend is a chocolate lover.
I wanted to get her something for Christmas and thought the ideal gift was obvious – chocolates. But you see, my friend had a penchant for buying chocolates after a holiday like Christmas, Valentine's Day and Halloween where the chocolates were heavily discounted. Last year, for example, she loaded up on Ferrero Rochers on Boxing Day at London Drugs because they were 50% off.
To be honest, I had some less than ideal experiences giving people chocolates. I once gave a friend a box of Lindt chocolate which she immediately upon receipt said she saw them on sale at Sears. On a different occassion, I bought an assorted box of 90+ Hershey's chocolates to my office which someone thought it was leftover from Halloween. Nope, I paid full price and it was for the office not Halloween. Whether intentional or not, I had my share of awkward remarks by recipients of my *sweet* gesture.
I decided to get my friend chocolates that she usually does not buy – that is, the more expensive and artisanal types. I went with Purdy's Chocolate because they're popular, delicious and they have a convenient location at Pacific Centre. Oh, and they are never really discounted so no one can assume I got it on sale.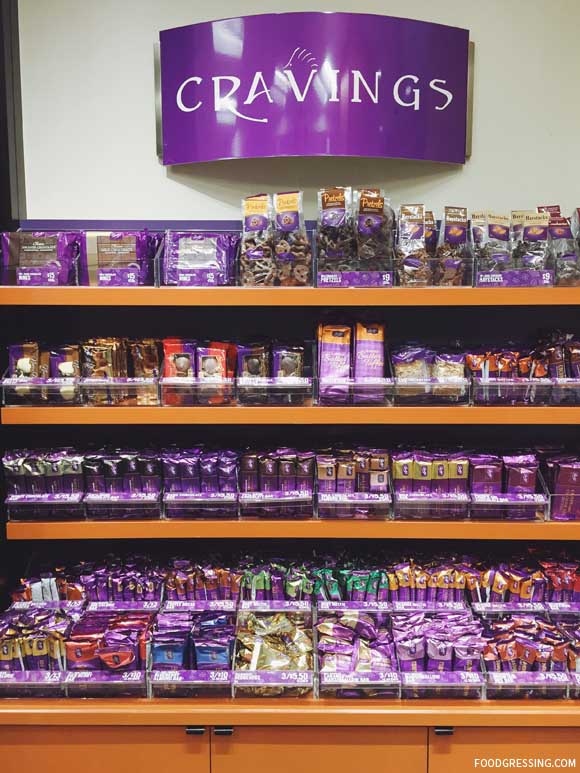 The big question: which chocolate type to get?
I browsed through the mouthwatering sections of the Purdy's Chocolates store filled with a tantalizing array of goodies. Chocolate bars, gift baskets, barks and brittles, candies, and premium nuts – the choices seemed overwhelming. I obviously appeared undecided and a few staff members were eager to help me a decision. One staff member suggested getting an assorted box of chocolates which was brilliant. I wondered why I didn't think of that!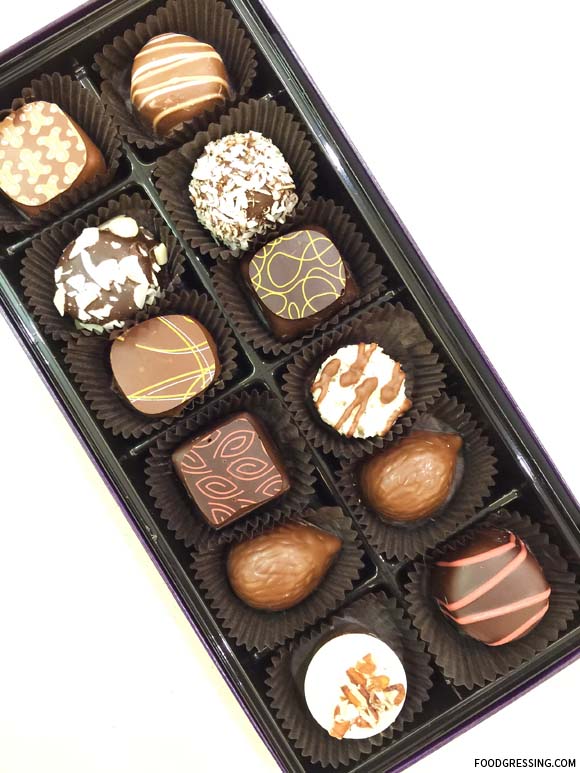 Create-Your-Own Assorted Purdy's Chocolates Box
I hadn't actually picked individual chocolates for someone before so the experience was new to me. The way it works is not by weight but by box. For a 12 piece box with regular Purdy's chocolates, the cost is $14.50 plus tax. If you have premium chocolates for half or more of the box, it is an additional $2.00.
I chose an assortment including Purdy's favourites like the hedgehogs (mini-sized) and holiday specialties. Some of the interesting Christmas chocolates were Christmas salted hazelnut flakes, Christmas smoothies, and Gingerbread chocolates. The staff member was very patient with me as I selected the chocolates.
My friend was pleasantly delighted with the chocolates from Purdy's. Being the awesome person that she is, we shared the box. My favourite was the Gingerbread Chocolates which are made with molasses, ginger, cinnamon, cloves, spices and pastry flake, enrobed in creamy milk chocolate. I totally recommend them.
Overall Impression
The create-your-own assorted Purdy's Chocolates box experience was overall very positive. I recommend going with this option next time you need to buy chocolates for the chocolate lover in your life. Rating: 4/5
For more information on Purdy's, visit them online and on social media: Facebook, Twitter, and Instagram.