On our family trip to Toronto, we ventured to Pacific Mall, the largest indoor Chinese mall in North America. The mall has a whopping 450 stores inside and is over 270,000 square feet. One can undoubtedly get thirsty after walking around such a large the mall, so I popped by Chatime for a refreshment.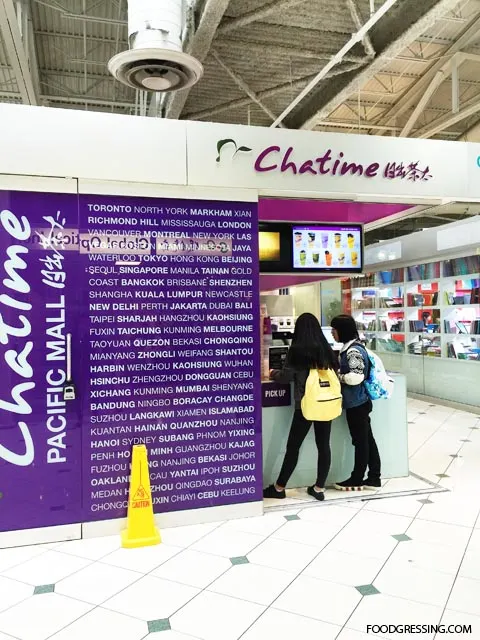 #1 BUBBLE TEA BRAND IN THE WORLD
Chatime is originally form Taiwan and now has over 1200 locations worldwide including Abu Dhabi, Miami, and London to name a few. 100 million cups of Chatime bubble tea are sold annually – now that's a lot of bubble tea!
QUALITY IS A PRIORITY
To ensure the perfect drink, Chatime tea is brewed fresh in store. Their emphasis is on *natural*, using real tea leaves and natural ingredients. They rely on natural flavours, rather than using preservatives, pre-made tea and tea powder. Real fruit juice is used rather than powder and pearls are discarded after a few hours in order to ensure freshness. Chatime tea leaves are sourced from Taiwan including from their own tea farm.
CHATIME MENU
Chatime has quite the selection of drinks which are organized by category. At Chatime Pacific Mall, there are Smoothie & Slush, Signature Milk Tea, Special Mix Tea, Fresh and Espresso Tea, and Mousse & Tea Latte. Drinks range between $4-$5. Zomato has decent pictures of their menu.
CUSTOMIZE YOUR DRINK
Chatime is about making the drink right for you. You can decided on the ice level (none, less, normal, extra) and even sugar level (0%, 30%, 50% and 80%). They also have 8 toppings available at $0.50 each: pearl, grass jelly, coconut jelly, red bean, coffee jelly, aloe vera, and rainbow jelly, pudding.
Chatime drinks come in regular (500 mL) or large (700 mL) for cold drinks and regular (500 mL) for hot drinks.
Student-Friendly
Chatime Pacific Mall seemed to be very student-friendly as I saw students with backpacks in line. This location had Chatime Student Passbook Program where students with valid ID can redeem a Chatime collectible notebook once they order a drink for each of the 8 categories.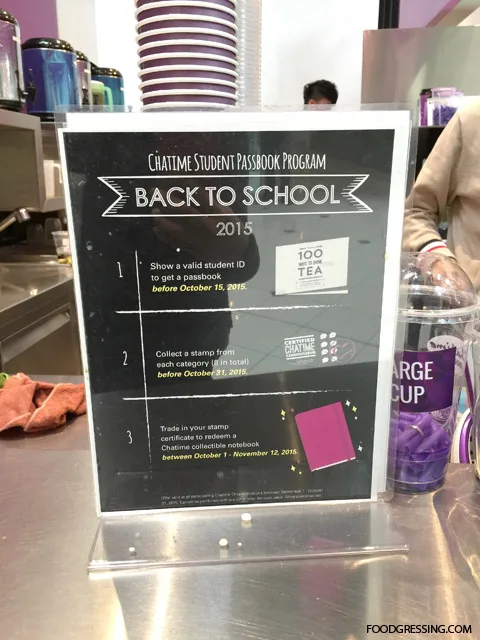 This Chatime booth also seem to be staffed by students. The service could have been a bit friendlier.
What I Tried
On that day, I ordered a large taro milk tea with coffee jelly, which was light and refreshing. I really liked the fine texture of the grinded taro flesh. The coffee jelly didn't have much appeal unfortunately. It is simply less fun than the chewy and sweet pearls. I decided to not order coffee jelly again in the future.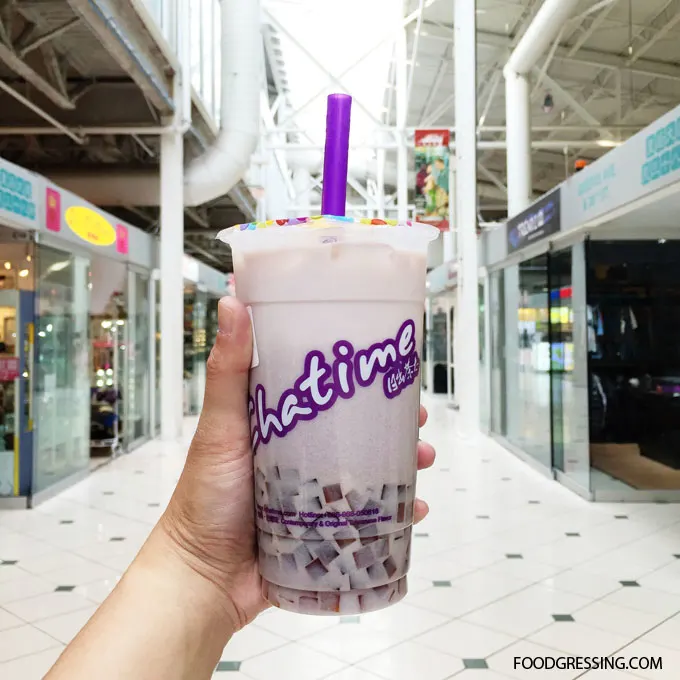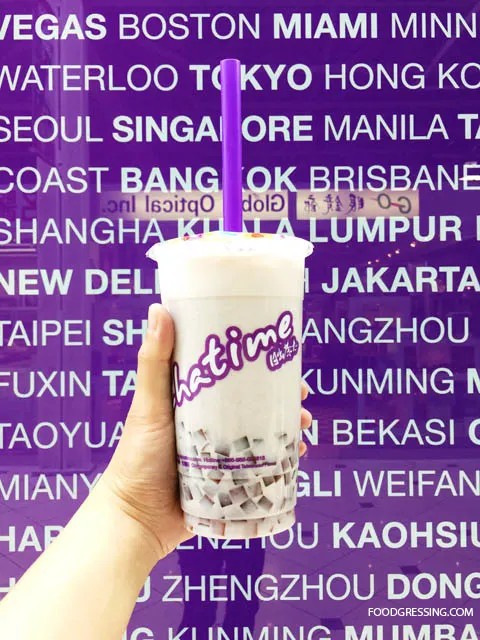 Overall Impression of Chatime Pacific Mall
Despite there being many bubble tea shops in Pacific Mall, I decided to go with Chatime because I enjoy the drinks from their brand. This particular location is student-friendly. Rating: 3.5/5